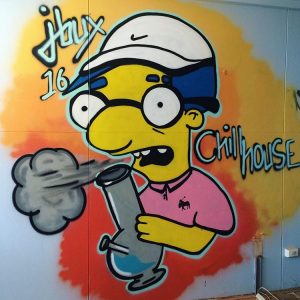 We first discovered the work of J Bux when out exploring an abandoned school on the outskirts of Sydney, Australia. In a place filled with your usual male rage vandal destruction – broken glass, shitty tags and the occasional pretty good throw up – J Bux's work jumped out. All pop culture, cartoons and girl gang attitude. Her work was everywhere! And we rushed around the place looking for it all. Our favorite being a mural of a smoking home made plastic bottle bong accompanied with the words "billies over willies." It was and is a perfect image.
(Picture below of J Bux's weed over dicks work – featuring that classic Australian home made bong)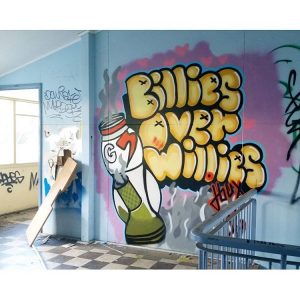 With work that references animals, marijuana and both American and Australian pop culture – 'The Simpsons', 'King of the Hill', 'Blinky Bill', 'Ciggy Butt Brain' to name a few. J Bux can readily be compared to fellow Australian LUSH. But were LUSH is all cynicism, politics and the male gaze, J Bux brings a sense of fun, femininity and sass – A unique vision from a unique artist.
With J relatively new to the art game, now is the perfect time to get to know her, by reading the Art Talk, below…