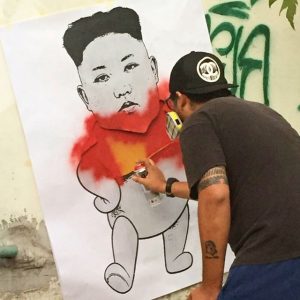 Headache Stencil is a Thai born street artist and owner of apparel brand 'Street of the Third World'.
Headache first came to Art Whore's attention back in 2014. He was in town and working with ole YT on a mural in St Peters and we got a chatting. His energy, drive and boundless creativity being quickly evident. We have been following his blossoming career ever since.
(Picture below of some of Headache's art in the wild)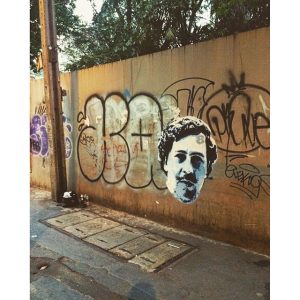 With Headache constantly travelling and working on his art and nascent apparel brand, now is the perfect time to get to know the man, by reading the Art Talk interview below…
Basics/Getting to Know
Name + D.O.B?
** silence **
My name's meaning in Thai is " The guy that happy in the war. "
City, State n Country you currently call home?
Hope to be Sydney soon. lol
City, State n Country your from?
Bangkok , Thailand.
(Picture below of some Headache art in the wild)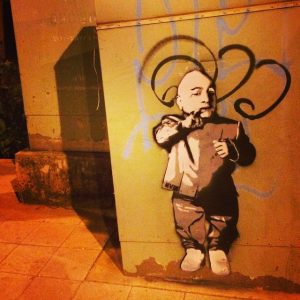 Describe a memory from some stages of your life ….basically trying to piece together your pivotal moments. Concerts, art, action-figures, romance, school, crime… ANYTHING man!
* age 5 – beginnings:
Trying to learned how to be creature.
* age 10 – continuations :
Spent time with Lego.
* age 15 – getting serious:
Trying to see how different of another gender.
* age 20 – young adult:
Green leaf ages.
* age 25 – further continuations:
Just realized that I'm a weirdo.
* age 30 – adult mode:
Sex shop in cambodia.
* age 35 – adult continuations:
Oow! I should have some hot girl beside me on that time.
(Pictures below of Headache as a kid and how he looks today)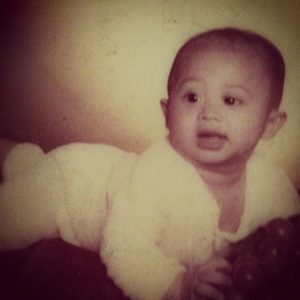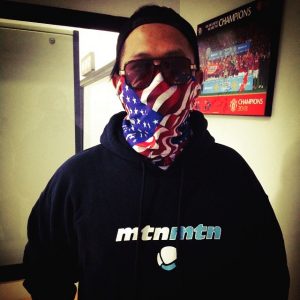 Personal motto?
Tiger in the cage is still be tiger.
Art Questions
Why the name Headache?
Ahhh… you have to stay with me more than one day.
Headache is the reaction that will happen to you.
Favorite other artist(s)?
You think he is basketball player right? Nahhh.. he is an artist.
(Pictures below of some Headache art in the wild)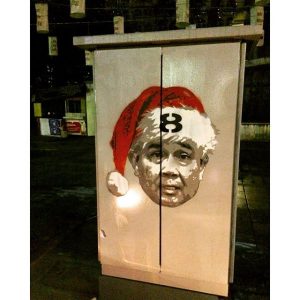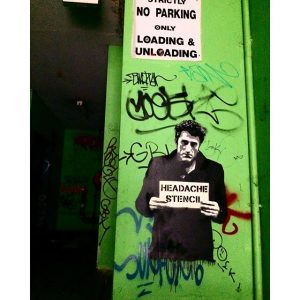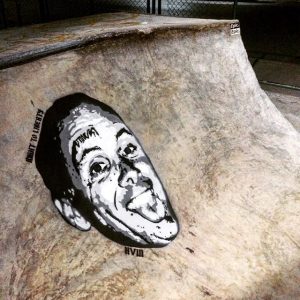 Worst aspect of the contemporary art-hustle?
Donald Trump.
Best aspect of the contemporary art-hustle?
Still be Donald Trump.
Do you consider what you are making to be 'art', 'design', re-hashed crap?
I want to be art terrorist.
When and why did you first start making 'art' (drawings, paintings, anything)?
I graduated from art university in Thailand.
But I really do "art"on the day military made coup in Thailand. Really angry of soldier on that day. Then go out to make graffiti.
What did you draw/make as a pre-teen child?
1000 buffaloes on A4 paper.
What did you draw/make as a teen?
Bulls fucking.
Any pivotal artistic moment/influence?
Ummmm… nope.
Describe the process of producing your stencil works? – (dot point all o.k.)
First thing…. You have to rolled the joint. After that is easy. lol
(Pictures below of Headache getting up)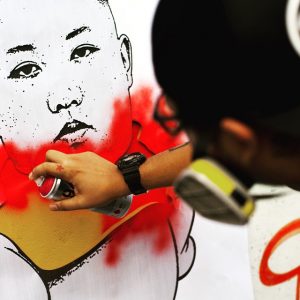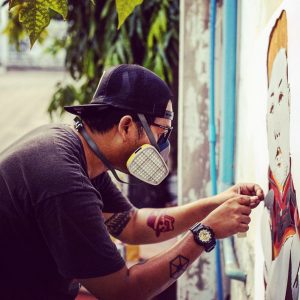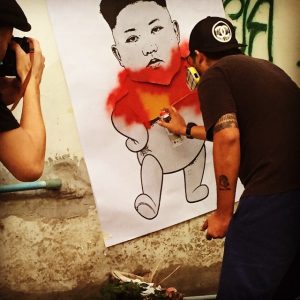 I know you have visited Australia a few times…
* highlights of your tips?
I went there 3 times now.
First time for study highschool in Adelaide.
Second and last time is for Stencil art competition in Sydney.
The last time is the best cuz I lost my glasses since day 4. And I live there 1 month without glasses. I can see only things within 50 metres. Then everydays are adventure movie for me. That's cool?
* What are your thoughts on Australia?
I love this peaceful country.
Everythings good except the bar security guard. They threw me out from the bar 5 times.
* what was it like collaborating with ole YT back in 2014 when you were in Sydney?
YT is one of god's product.
* who are some of your favorite Australian artists?
(Pictures below of the collab piece from Headache and YT)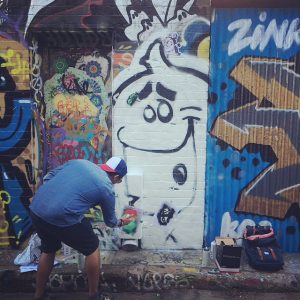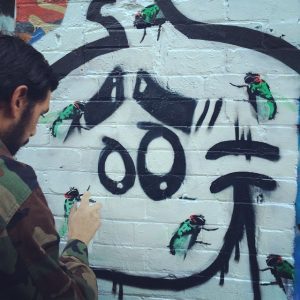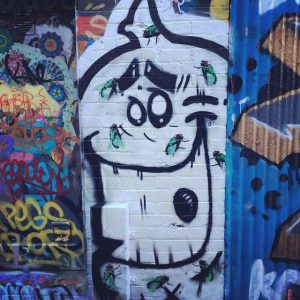 Apparel Questions
Why the name 'Street of the Third World'?
Also I come from the third world country but the third world in this name mean to my world. So… it's my street.
Who is involved and what role(s) do they have?
Now we have 4 designers to make different type of products. Such as skateboard stuff , beach stuff , jewelry ,etc.
We plan to launch all products within this year.
(Pictures below of some 'SotTW' board covers)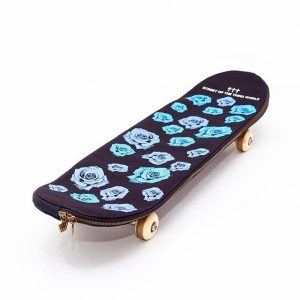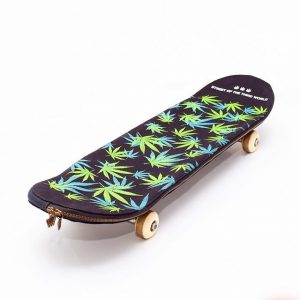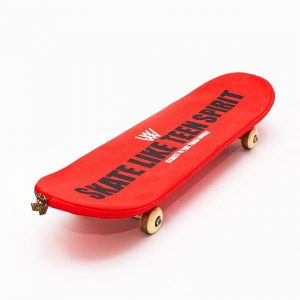 What sort of products do you plan on producing?
As I told that it's my street. Only bad boy and bad girl in my world. So I will made many things for badboy&badgirl.
So you can find skateboard stuff , snort tools , weed grinder , bikini , etc.
You will not know what we will have for sell in the future.
Where is the 'SotTW' product made?
All made in Bangkok.
I try to made all by human hand now. It's more value for me.
(Pictures below showing part of the 'SotTW' production process)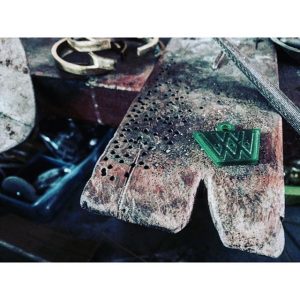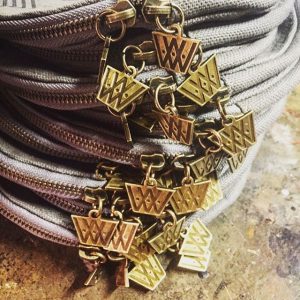 What are your thoughts on the current state of the Thai fashion scene?
We have our art-culture to mix with international trend in smooth way.
Top 5 clothing labels and why?
STUSSY – No wonder! It's Stussy
Original Penquin – Classic for me
Onitsuka Tiger – never changed style
Dickies – I like to wear shorts
Edwin – trust me , it's the best jeans.
Odds n Ends
Please describe your experiences growing up in Thailand?
Thailand is the best country for living if we have government that's not military. I was normal kid til I knew one guy that teach me to do "stencil".
Who was your 1st crush and why?
Alicia Silverstone from Empire Records movie. That was my first masterbration. lol
What role did toys play in your childhood?
Lego.
I'm 90' kids.
Does sex change everything?
Ummmm…. Yes , if you have nice boobs.
(Pictures below of some Headache art in the wild)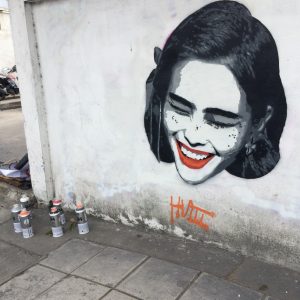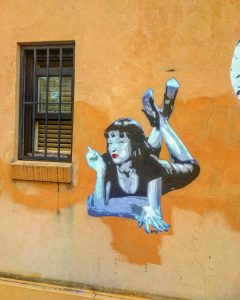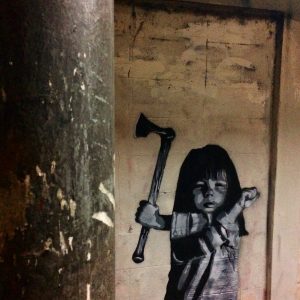 Favorite band(s)?
Radiohead , Placebo , Daftpunk.
Favorite TV show(s)?
Jackass , The Simpsons.
Favorite sport(s) + teams?
Soccer + Westham United.
They are original hooligans!
Favorite movie(s)?
Pulp fiction , Fightclub , American Beauty.
Favorite books and comics?
Weed Cookbook.
Please describe your latest dream in detail…
Ummm… Its something about having sex on the beach.
(Pictures below of some Headache art in the wild)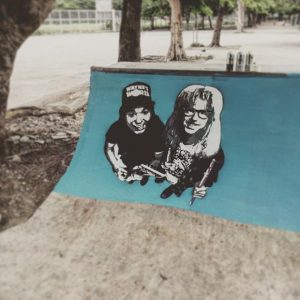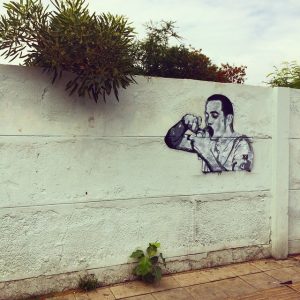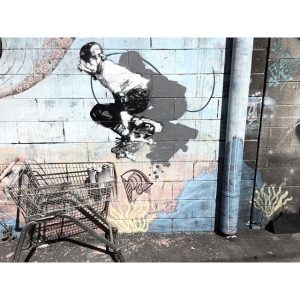 Have you ever tried psychedelics of any sort? And what was the experience like?
We have to spent more than 3 pages to talk about it. I come from Thailand.
You know that how easy I can find all sorts. lol
Of everything you have done what would you most like to be remembered for and why?
Stole dad's car for 3 months road trip.
Drugs – waste of time or gateway to the universe?
Fucx! They are stairs way to heaven.
Please describe what you think the Thai Psyche/Zeitgeist is today?
We love to party and we still be like that.
Just stupid government that cover now.
Which 1990's era cartoon, would you most like to see as a sex toy, and why?
(Please sketch a prototype as well.)
Addams Family.
How you think to gangbang with ghosts?
(Picture below of the Wendy Addams blow up doll)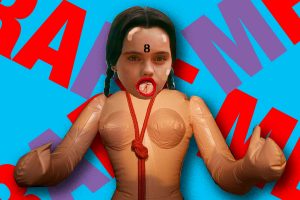 Who would win in a fight and why: a rake thin and nerdy early 20s skater Vs. A fat graffiti artist with a bag full of cans?
(Please draw the battle in all it's violent beauty!)
They all die by munchy smoker.
(Picture below of the victorious smoker)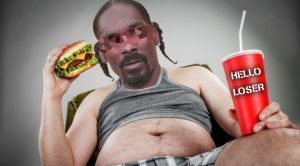 The Future
Any collaborations on the horizon?
Want to do with some artists in Sydney again this October.
Any major projects you want to hype?
Hope to be one of finalists of Stencil Artprize Exhibition in Sydney again this year.
(Pictures below of some stickers by Headache)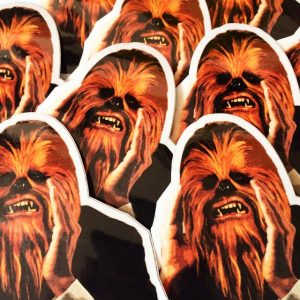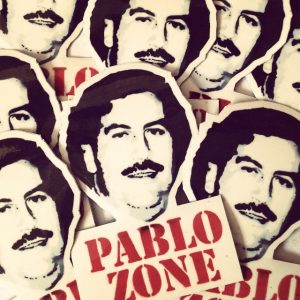 Links