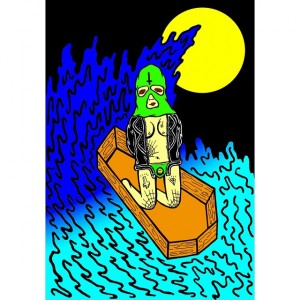 Yahya DK is a player in the small and tight knit underground arts scene in Indonesia producing both art and music at a frenetic pace.
Growing up in Indonesia Yahya was exposed to what he describes as 'the smell' of punk music and outsider art at a young age through bands such as 'Rancid' and 'The Ramones', tv show 'Jackass' and the visual aesthetic of pop and skateboard art.
(Picture below of Yahya)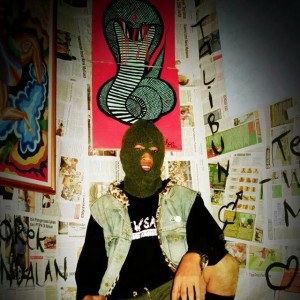 With ties to rising Australian art gang 'Loser Unit', a recent move into hand made patches, and a growing number of international fans, now is the perfect time to get to know Yahya by reading the Art Talk interview below…
Basics / Getting to Know
Name + D.O.B?
Yahya Kurniawan Dwi a.k.a Yahya DK.
4 August 1992
City, State n Country you currently call home?
I now live in the city of Jogjakarta, Indonesia.
City, State n Country guide from?
My home town of Magelang, Indonesia.
(Picture below of some art by Yahya)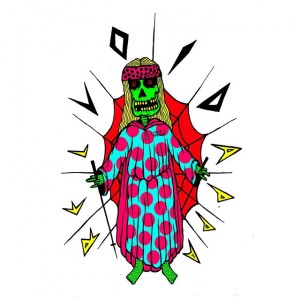 Describe a memory from three stages of your life … .basically trying to piece together your pivotal moments. Concerts, art, action-figures, romance, school, crime … ANYTHING man!
* Age 5 – beginnings:
When I was 5 years old I started trying to play bmx bike for the first time, when I ride the bike quickly I forget if I was not there his brakes and while on the road derivatives sepeta I could not stop and I hit a road divider so that my bike was broken into three sections and my head was slightly torn.
* Age 10 – continuations:
Age whereby when I was in elementary school and my first punk music know through magazines and tapes that I bought my first band was "RANCID" and "The Ramones", and since then I started smelling like punk music music.
* Age 15 – getting serious:
At this age I experienced something that to this day I still remember…
I had an accident which resulted in me "suspended animation" for 5 days…
The incident began when I come home from a party alcohol in my friend's house, when I go home I hit a Vespa motorcycle in intersection near my friend's house, after that I was unconscious for up to 5 days, but during the five days that I like being in a place that can not be imagined, the place is very dark and there was only one person who long queue and it seems that I was in between hell and heaven, but I have only experienced about 2 hours there, but in this world already 5 days.
* Age 20 – young adult:
Yes …this age I began to be in town Jogjakarta and began to enter into the world of art is more crowded, and began exhibiting art exhibitions.
(Picture below of some art by Yahya)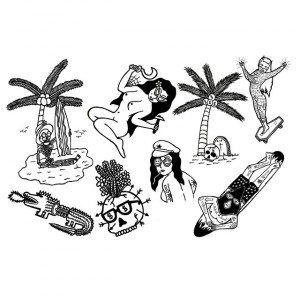 Personal motto?
Nothing that can not be if we want to try and continue to learn
Favorite band (s)?
The ramones, the strokes, the beachboys, king gizzard and the lizard wizard, and many more…
Smelling punk bands, rock n roll, experimental and bands are ridiculous … haha
Favorite TV show (s)?
The jackass, huh TV show is more to reality and more extreme and lebihkonyobro… hahah!
(Picture below of some art by Yahya)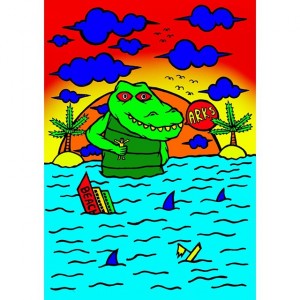 Favorite sport (s) + teams?
I love extreme sports like skateboarding bro, longboard and bmx bro… but the most I like is bmx bro; and rider / team my idol is garret Reynolds BMX rider from team nike 6.0.
Favorite movie (s)?
Marley, jackaas, madmax, thats the boat rocked, the hangover.
Favorite books and comics?
Skinhead, Norwegian black metal, and books about music history.
Art Questions
Favorite other artist (s)?
Worst aspect of the contemporary art-hustle?
When I began to lose the ideas to create works of art
Best aspect of the contemporary art-hustle?
Coolest aspect is that I can create my art work with the pictures that I enjoy doing.
Freer bro…
(Picture below of some art by Yahya)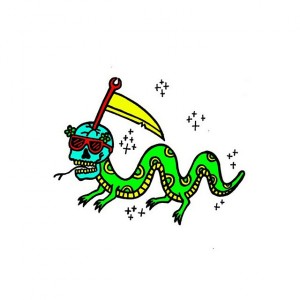 Do you Consider what you are making to be 'art', 'design', re-hashed crap?
Not bro…
When and why did you first start making 'art' (drawings, paintings, anything)?
I started to love drawing when I was still in primary school…
What did you draw as a pre-teen child?
I was drawing a lot of pop art models and more models to the drawings that seem ridiculous and satanic bro…
What did you draw as a teen?
Yes more often to the picture but amid the satanic character my character models are ridiculous.
(Pictures below of Yahya's sketch process)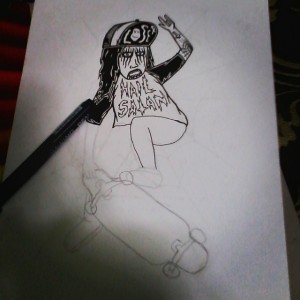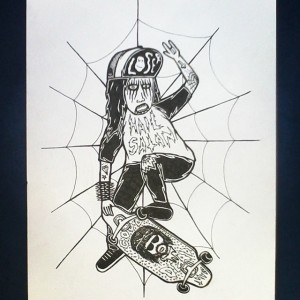 Any artistic pivotal moment / influence?
My first exhibition moments with my group because setlahit…
I am more excited and more have character.
Why + when did You decide to go in on the art hustle?
Yes it looks like more fun and more make my life enjor and happy bro… haha!
Describe the method of making your creations? (Dot point all o.k.)
* Your graffiti?
I prefer to methods graffiti wildstyle models and murals.
Karna more free to air espresi.
(Pictures below of Yahya getting up)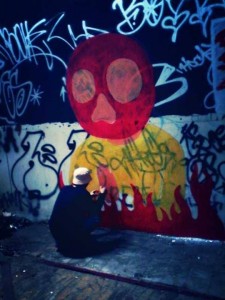 This method is more to say mostly drawing.
Thoughts on Australian art gang 'Loser Unit'? – I ask as I know you have worked with them in the past!
They are very cool and silly bro… i love it.
They sometimes also drawing satanic smell and almost the same with my style… they kult bro…
I love kara their work, especially the work of alex bro .. wild!
Music Questions
You are also an accomplished musician – release what do you get working in music as opposed to your other art?
Haha… I am not musicians bro… my music very silly… haha
Yes I can usually make music that ore to the arts, especially performing art…
(Picture of Yahya's band 'SELANGKANGAN MACAN' below)
You play in experimental black metal band 'SELANGKANGAN MACAN' …
* What does the name mean?
Yes my name was taken from the name tongkrongan when I was in school… tongkrongan very wild and ridiculous… crotch: Crotch and tiger: tiger….
Haya name savage tan look silly when spoken in my country…
(Pictures below of some flyers and art for 'SELANGKANGAN MACAN')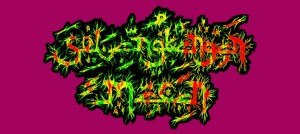 Yes my band only 2 people that me and my friend called "roy" band game that only with a laptop and vocals, with the flow of black metal karaoke bro…
* What is the typical gig like?
I play mostly punk gigs in the event and at the opening of the art exhibition…
If you want to invite selangkanganxselangkangan tiger to play in places you bro… hahaha
(Pictures below of Yahya's band 'SELANGKANGAN MACAN' live)
Thoughts on the Indonesian music scene in general?
I'm not too know about music in my country… I know only music underground music and its experimental…
Very cool, creative and silly bro…
Odds n Ends
What role did play in your childhood toys?
Andy in the movie toy story bro…
Please describe your experiences growing up in Indonesia?
Yes Indonesia is a country that many island… but for the world of art only in the bustling city of Jogjakarta and Jakarta bro…
Many cool artists and artists and bands that munkin you and I do not know aliranyasya bro… come from the city magelang and moved to the cities jgjakarta bro…
Merkipunmagelangjanjogjakarta only within 45 minutes if running using the motor but in a very quiet magelang art world of his bro…
Indonesia is simple but the country has many natural places very menajubkan…
(Picture below of some art by Yahya)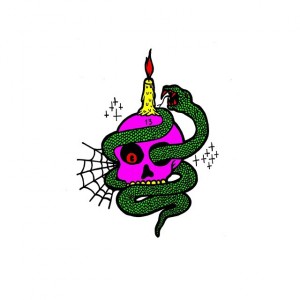 Who was your 1st crush and why?
My first goal adah my playmates under 2 years old I…
Does sex change everything?
Yes change tetati not too much bro.
Please describe in detail your latest dream …
Yes I want to be a successful artist and can follow the art exhibitions abroad such as in Australia and I'd love to be able to exhibit in Australia…
…and I can introduce my band flow into the wide world bro…
Have you ever tried psychedelics of any sort? And what was the experience like?
Never smoke weed bro… so make enjoy and fantasize… hahah
Of everything you have done what would you most like to be remembered for and why?
* silence *
Drugs – waste of time or a gateway to the universe?
 * silence *
Please describe what you think the Indonesian Psyche / Zeitgeist is today?
Very few and difficult to find bro…
Thoughts on Australia? – I ask as I know you have worked with many Australians
Australia is very interesting bro.
Very great and many artists whose image is very menajubkan art keseninya… very advanced and very cool band band… you cool cool bro… lifestyle…
(Picture below of Yahya with Australian Bo Svoronos – a Senior Producer of creative programming for Footscray Community Arts Center in Melbourne, Australia.)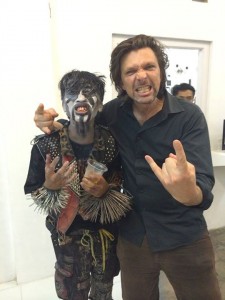 The Future
Any collaborations on the horizon?
I want to be able to collaborate with Art Whore!
Any major projects you want to hype?
Yes I have an art project with the name "bandits hell" ..projeck art often menbuatbkarya jacket with embroidery and kustohanpainting and manual embroidery bro …
Nb: sorry if there is something wrong bro… karena my bad english… haha ​​…
(Picture below of some hand made patches by Yahya released via his 'Hell Bandits' brand)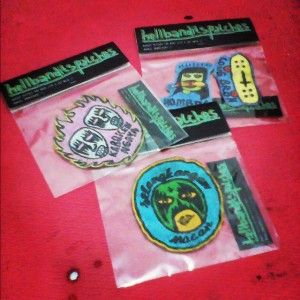 Links