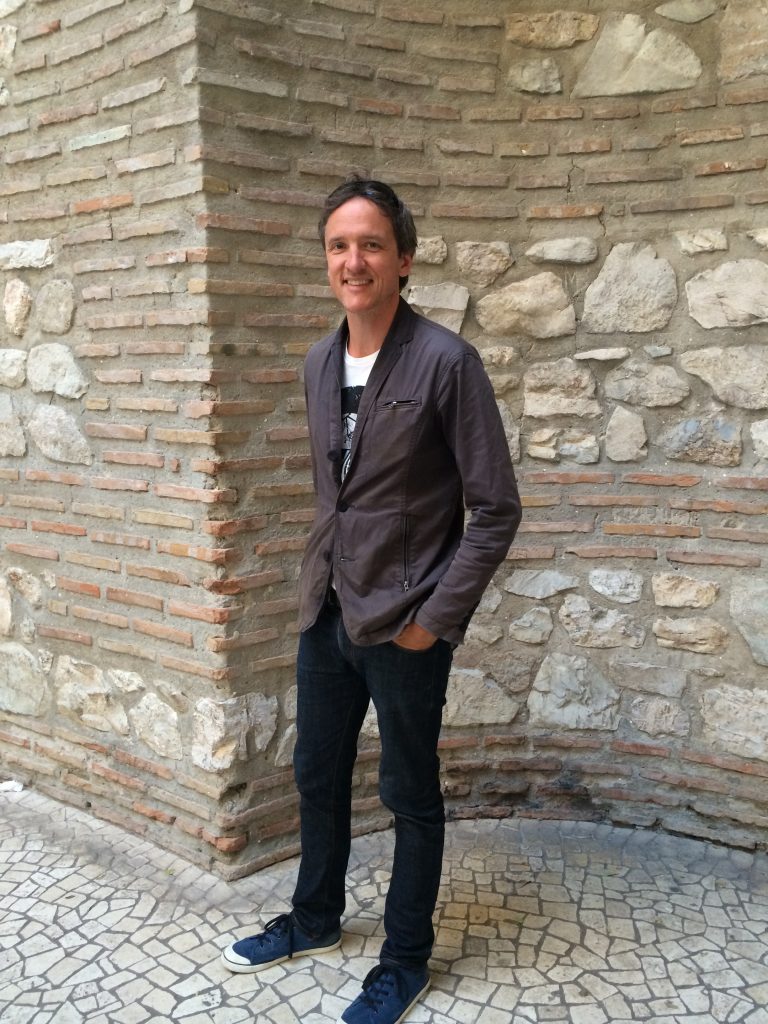 Prior to the 1980's each of the World's developed nations had their own local manufacturing industries – a result of globally implemented protectionist economic policy. Under these policies countries imposed high tariffs and other duties on foreign imported goods, preventing imports from being financially viable, so as to protect their local manufacturers. Toys are but one example of this.
Here in Australia, there is one man who has made it his mission to preserve and share the history of Australian manufactured toys – that man is Mr. Luke Jones from Adelaide, in the Australian state of South Australia.
Luke is an architect by trade, and has been collecting Australian toys since childhood; with Luke commenting:
"I've been collecting antique toys for about 35 years and have always had an ambition to have a carefully structured collection which I could be proud of as a long term achievement."
Recently, Luke began sharing parts of his collection with his 'Australian Toys' Instagram, the Instagram page has been so well received that Luke will be publishing a book showcasing his Australian toy collection in 2019 via Melbourne Books.
(Photo below of part of Luke's collection – a JA Holden Ampol Rally Car & John Sands Garage; 1956 – 1958 and early 1940s.)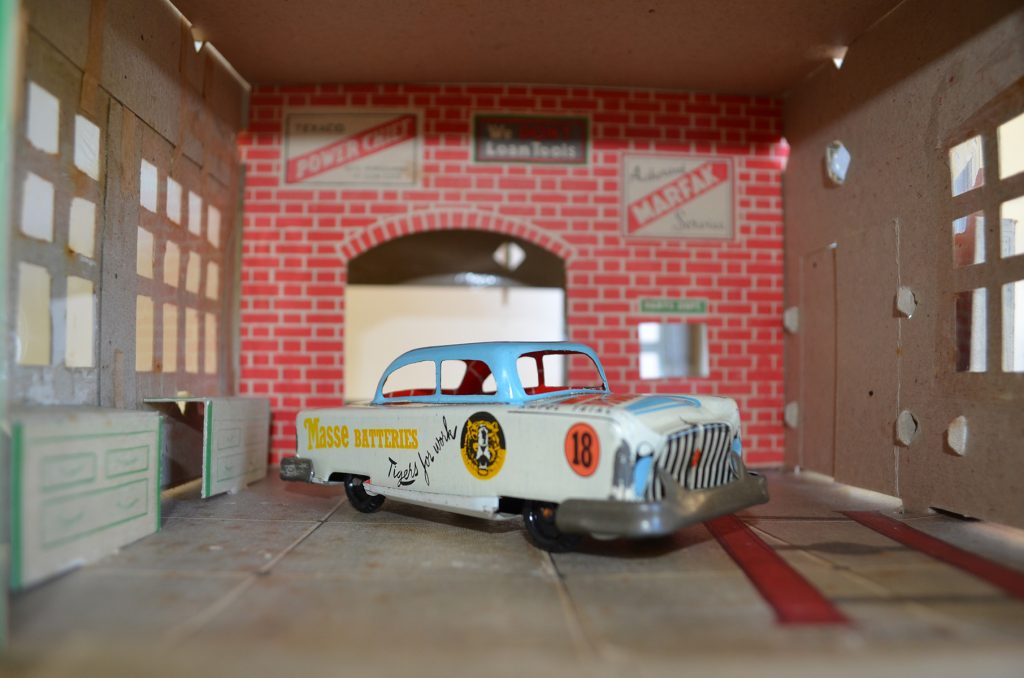 With Luke's book soon to be published, now is the perfect time to get to know about the origins of the Australian toy industry by reading our Toy Talk with Mr. 'Australian Toys' himself, Luke Jones below…
Basics/Getting to Know
Name + D.O.B?
Luke Jones
26th December 1973
City, State n Country you currently call home?
Adelaide, South Australia is my hometown and I live at Lobethal in the Adelaide Hills
City, State n Country you're from?
Adelaide, South Australia
(Photo below of part of Luke's collection – a Musicalectrix Thunderbolt Special; c. 1950.)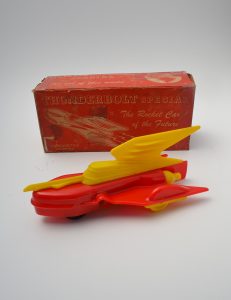 Describe a memory from some stages of your life ….basically trying to piece together pivotal moments. Concerts, art, action-figures, romance, school, comics, fashion, politics, crime… ANYTHING really!
* age 5 – beginnings:
I went to live in Italy when I was 3 months old with my family – for my father to study at an art college.  Indirectly this had a definite influence in my toy collecting.
* age 10 – continuations:
When I was 9 I had a newspaper round in North Adelaide and wanted to start collecting something with the money I was saving. A family friend – an Australian artist living in Italy – came to stay with us and said that antique toys were all the go in Europe, so I bought my first old toy just before my 10th birthday.
* age 15 – getting serious:
I never stopped collecting toys, but competing with horses started to take up a lot of my time, as well as diligently plodding through school.
A year spent overseas when I was 17 was helpful in getting a grip on the world.
* age 20 – young adult:
I spent 6 years at university studying architecture and while I still kept collecting, there is only so far that the holiday income from cherry picking would go!
* age 25 – adult mode:
Finishing university allowed me to get a job and earn money, as well as to put more effort into competing with the horses, all of which has been enjoyable.
* age 30 – fully formed:
Serious horse competitions and all the efforts involved with that just about dominate this time.  I did meet my wife to be also, which was a good thing.
I started my architecture practice that continues to sustain my habits.
* age 35 – meanderings:
Toy collecting, horse competitions, getting married, building a business.
* age 40 – middle age creeping:
I'm a family man now with a 2 year old boy and another arriving shortly which is a great place to be.
My architectural practice is healthy, and I'm in the process of getting a book published on my toy collection, which is a beautiful thing for me.
(Photo below of part of Luke's collection – a Winna Sports Roadster; mid – late 1940s.)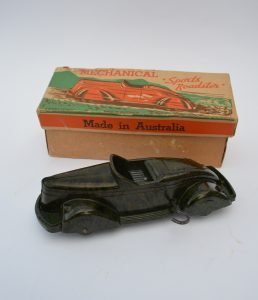 Personal motto?
No – I don't have such a thing.  I just do my best to get on with whatever I'm doing.
Design and Toy Scene Questions
Favorite toy makers?
Leckie and Gray from Melbourne made the best Australian toys, as far as I'm concerned.
What sort of toy usually spikes your interest and why?
A beautiful tinplate toy, such as a biscuit tin which can be used as a vehicle or some such toy.
Those made in Melbourne in the 1920s and 1930s are really impressive examples of a toymakers imagination, are brilliant representations of actual vehicles and often have appealing advertising as well.
(Photo below of part of Luke's collection – a Boomaroo COR Tanker; mid 1953 – 1956.)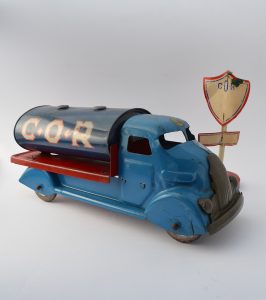 Thoughts on the current status of the Australian toy scene man?
I'm really not too sure, but it seems healthy enough.
There's not any particular community that I know of – it seems to be individuals doing their best to put their collections together, but the levels of participation and interest seem strong.
… and what about internationally?
Again I wouldn't claim to know, but the prices of really good toys are high and the demand seems strong.
(Photo below of part of Luke's collection – a Wyn Toy EH Holden Station Wagon; mid – late 1960s.)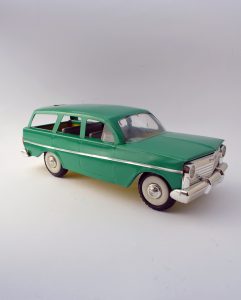 What role did toys play in your childhood?
I would say that toys played a big role.
I absolutely loved my antique toy collection which I always paid a lot of attention to, but I also had plenty of 'play' toys.
I really liked the simple small matchbox cars the most.
What are your favourite 3 toys in your collection?
That's quite a hard question to answer, but here are three for you:
(i) One has to be the first toy I bought, just before my 10th birthday.  It is a Coca Cola truck made in Italy in the mid-1950s and it's really important to me.  It's obviously not made in Australia, but with the number of Italian immigrants to Australia in those years, it's likely that it was played with by a youngster in Australia in the '50s.
(Photos below of Luke's Italian made Coca Cola truck toy from the 1950s)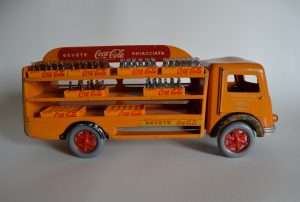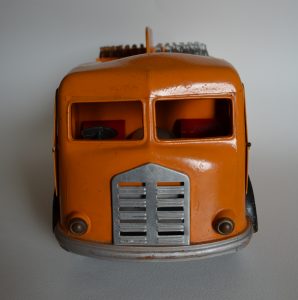 (ii) The second toy I'll nominate is an odd and slightly ugly toy of a VFL footballer, also from the mid 1950s (as you can see I have a pair of them – I think Fitzroy and Geelong).  It seems to represent something about the Australia of the time, for better or worse, and of course depicts our local sport.
(Photo below of Luke's Australian made VFL toys from the 1950s)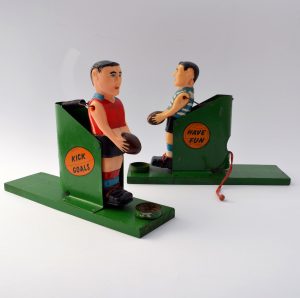 (iii) The third toy that I'll nominate is the Mills & Wares biscuit tin truck.  I think it's just a beautiful and simple graphic design on a biscuit tin and I like the direct regional association.  It's just a good looking toy. I also like it as I saw it in a newspaper advertisement when I was researching for the book and it was obviously a Leckie and Gray tin from the drawing in the ad.  When it turned up on ebay a couple of years later I could hardly believe my eyes.
(Photo below of Luke's Australian made Mills & Wares truck toy from the 1950s)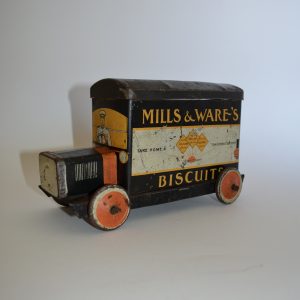 Whilst we know you through your work with the 'Australian Toys' Instagram and associated book – care to share with those at home the details of your other creative endevours… if any?!
I'm an architect with a practice and while I do a range of work, I specialise in buildings for horses.
I'm in the process of designing an equestrian centre with an associated museum of the horse in Australia, which is a joyful project to be involved in.
Along with the architectural design, I've also curated the art collection for the museum.
I do have other more minor collections – of colonial and modern art, Barossa Valley Germanic furniture and some historical documents, particularly relating to South Australia.
'Australian Toys' Questions
For those reading at home who may be unaware – please explain the who, what and why of 'Australian Toys'?
The book will illustrate and tell the history of Australian manufactured toys through my own collection.
I've been collecting antique toys for about 35 years and have always had an ambition to have a carefully structured collection which I could be proud of as a long term achievement.
As the story is told via my collection, it is in no way intended to be an encyclopedia or to pretend to be comprehensive.  It will reflect my own tastes and interests to an extent.
I do however think that my collection is representative enough to work as the vehicle for the story.
Who is involved in 'Australian Toys' and in what capacity?
I'm the collector and author.  My wife has a very good eye for the toys as objects and for graphic design and presentation, in addition to excellent communication skills. All are invaluable to me with the book just now!
(Photo below of part of Luke's collection – a Leckie & Gray Ginger Meggs Tambourine; early 1930s.)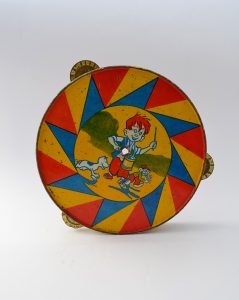 Care to share with those at home some details about your upcoming book? Such as what years it covers, the retail price, publisher; photo and page count etc.
The years covered by the book will be roughly 1900 to the early 1970's; it will be have a very high quality of graphic design and photography with 350 pages and full colour photographs.
It is currently with the publisher, Melbourne Books, and is due for release in May 2019 with an estimated retail price of around $70-$80 or so.
How large is your current collection of vintage Australian toys?
I really don't know, but possibly about 500 toys.
(Photo below of part of Luke's collection – Merry Toys Mixer Set; mid – late 1940s.)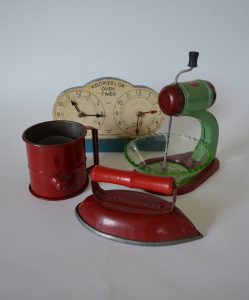 Where do you usually source your vintage Australian toys from man – we want to know all your tricks and tips!?
Hahahha. There are no great secrets or tips there – I've always been to suburban auctions in Adelaide and done my best to pay attention to others interstate. I've always visited antique shops whenever I can; inevitably ebay made a massive difference to collectors of any small and lower value objects, toys included – I've been buying on ebay since 1997 and it's worked for me!
I'm also friends with a small number of collectors and dealers who have sold toys to me over the years.
What were the major Australian toy making companies in the early to mid 20th Century – and do any of them exist today in any capacity?
Some names of the major manufacturers have lived on, such as Willow and Simpson, though not as toy manufacturers, while other major toy makers have long since disappeared, such as Leckie and Gray and Robilt.
The toy production before World War Two did not have any stand out names, more it was a number of smaller manufacturers.  Leckie and Gray certainly made the greatest variety of toys in the 1920s and 1930's but they are hardly known today because the toys are just impossibly rare.  There were a number of really major names in the post War years which are much better known – names like Boomaroo, Wyn Toy and Cyclops are more recognisable.
(Photo below of part of Luke's collection – a Leckie & Gray Crystomint Lifesavers Truck; c. 1935.)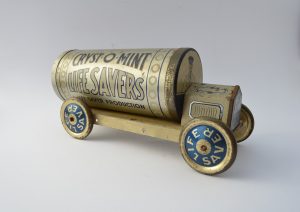 Do you know much about toy manufacturing methods and processes that were used to produce toys in Australia historically?
I have to confess this is not an area of great knowledge of mine.
My understanding of manufacturing methods is really only enough to get by – I'm more interested in the qualities of the objects than the way they were put together.  In this context I am interested in understanding the difference between a folk art creation, a 'backyard' type of construction and a full commercial manufacturing business – all three types are of interest to me.
If people wanted to collaborate, work with you, or even trade some toys – how should they get in touch?
I'm always happy to communicate about toys  – my email address is lj@c4architects.com.au.
If people would like to register their interest for the book or follow my sporadic online activities, they can contact me by email or by my 'Australian Toys' Facebook and Instagram pages.
(Photo below of part of Luke's collection – a Pope Supa Fort; late 1940s.)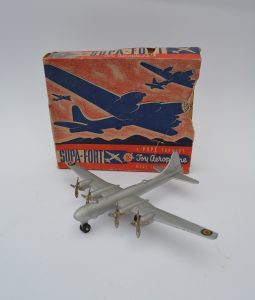 Links