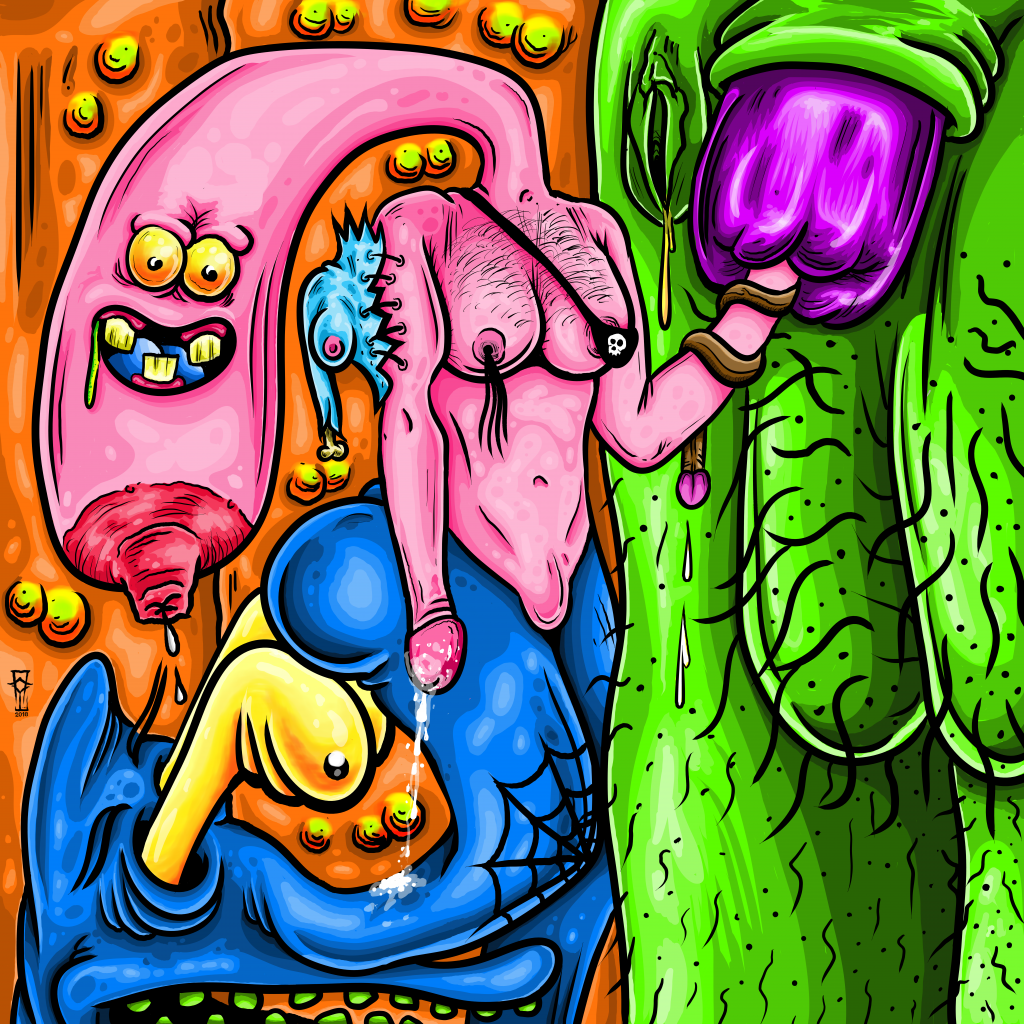 Aaron Lewin aka Berzerkaroth is an Australian artist who first caught our attention thanks to the beautifully gross art he provided for the 'Goredon' soft-vinyl designer toy from American artist 'Nate The Milkman'. After seeing that image as part of our daily social media toy-explore, we immediately jumped onto Aaron's Instagram and had our eyes and brain melted. Here was art that mixed the 1990's 'gross' aesthetic, with the vibe of the 1960's underground comics scene, and body horror – we have never seen anything quite like it!
Interestingly, and with a touch of sadness, Aaron posits the tragic deaths of his mother and grandfather, and an associated mental breakdown as the catalysts that led to him deciding to go hard in the art game a few years ago. With Aaron elaborating,
"My Mum had died at the age of 49 when I was 33. My Grandad died a couple of months later.
That was the Catalyst for my whole Artistic Development. I quit my Job. Had a complete mental breakdown and my only escape was drawing. I had an Instagram account with some random shit on it and started putting my art up…
I slowly gained confidence and posted more and more art. Cultivating some great friendships, amazing opportunities and great followers along the way."
(Some art by Aaron below)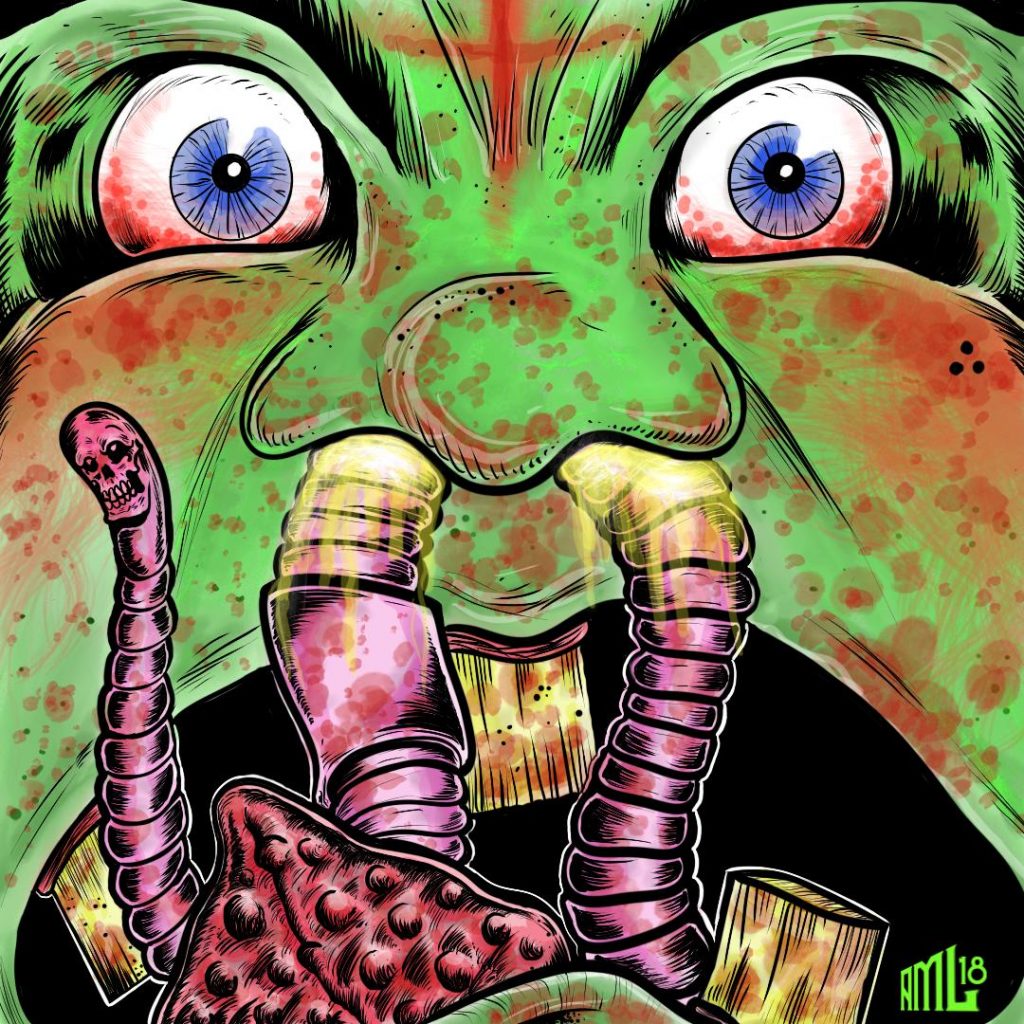 With Aaron constantly pushing hard in the art game, having recently finished his tattoo apprenticeship, and with more collaborations with Nate the Milkman in the works – now is the perfect time to get to know the man and his art, by reading the Art Talk interview below…
Basics/Getting to Know
Name + D.O.B?
Aaron Lewin
06/05/1983
City, State n Country you currently call home?
Busselton , WA, Australia.
City, State n Country you're from?
Bunbury, WA, Australia.
(Some art by Aaron below)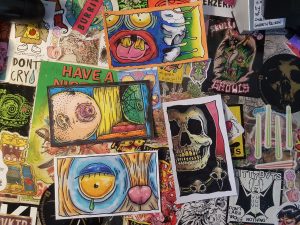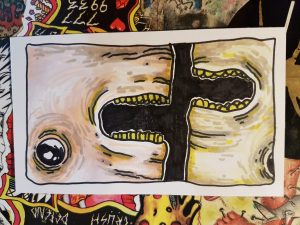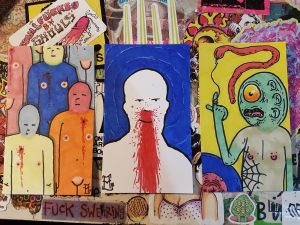 Describe a memory from some stages of your life ….basically trying to piece together some pivotal moments. Concerts, art, action-figures, romance, school, crime… ANYTHING really!
* age 5 – beginnings:
Cartoons were everything to me growing up. My favourites were Ulysses 31, Astro Boy, Inspector Gadget, My Pet Monster, Dino Riders, G.I. Joe and of course He-Man Masters Of The Universe.
I remember someone coming to my house dressed as Santa hand delivering gifts when I was about 5. I got Battlecat/Cringer. He was the final piece to my He-Man collection. My parents eventually gave all my MOTU toys away. I will never forgive them.
(Photo below of Aaron as a kid)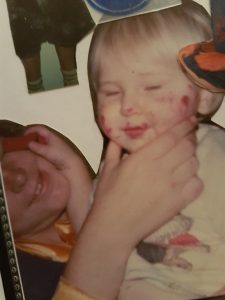 * age 10 – continuations:
As a 10 year old I was deep into toys, video games comic books and cartoons, It was 1993.
I remember the joy of going to the video shop and finding new stuff. My younger Brother and I were already deep into TMNT and so finding stuff like Biker Mice From Mars, Skeleton Warriors and Visionaries was a treat.
I was also obsessed with WWF Wrestling. Ultimate Warrior was probably my favourite.
I think I was about eight when my Dad first introduced me to Monty Python, Mad Magazine and The Toxic Avenger. That was a defining moment of my youth.
* age 15 – getting serious:
I was just getting into Punk and Skateboarding. I got my first Bass. A shitty Ashton that I still have. I got to go to my first big concert. It was Blink 182, Bodyjar, Unwritten Law and Mach Pelican.
The next year I went to The Vans Warped Tour in Perth and got to see Suicidal Tendencies, Pennywise and The Deftones.
I was obsessed with Tour Poster Art and album covers and started to find amazing artists such as Coop and Ben Brown. Plus my love for Reg Mombassa had started to show in my silly drawings all over my school books.
My favourite subject at school was Art. I wanted to be a Graphic Designer.
Also I got slashed with a pocket knife in the chin at our local Jetty by a younger dickhead. The only stabbing incident I have had … so far.
(Photo below of Aaron aged 15 with his younger brother)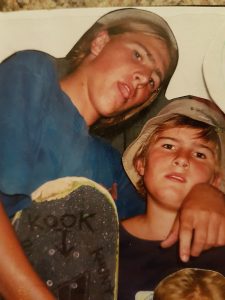 * age 20 – young adult:
I had a great girlfriend for three years (who is now my wife).
With the dream of being a Graphic Designer faded due to no local opportunities, most of my time was spent working in Vineyards, jamming with my mates and going to concerts being from rural Western Australia it was not as easy to get to gigs but I made the effort whenever possible.
There was always a healthy little local scene and we got a few good bands touring down south. I was drawing a lot but nothing serious, mostly sitting around stoned with mates.
I also suffered a serious head injury at a different job drilling bores that left me unable to work for two months. That was fun.
* age 25 – adult mode:
Got married. Started to draw more. Got a job for Local Council.
Went to loads of concerts and continued making noises with my friends. I always wanted to be in a band but have a shithouse memory and hate the idea of touring so I just enjoyed playing music with my mates. Me being the weakest link. We would sit around and brainstorm band names, all of mine were nonsensical and I would just draw silly logos.
I was really embracing absurdity and weirding out my friends.
(A photo below of Aaron in his 20s)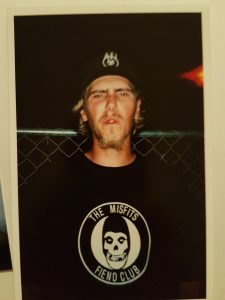 * age 30 – fully formed:
My wife and I had been parents for four years at this point. With two boys to care for I mainly focused on work and family time.
My job was good because it was outdoors and we worked everywhere so I got to take a lot of photos of random shit and met plenty of strange humans everyday. I also had a knack for finding doll heads and limbs, good condition animal skulls, money and lots of weird treasure.
I had an elderly Junkie try to introduce his Cult to me one day on a worksite. They were called The Temple Of WUG. He spoke of Abstinence and hidden Temples, whilst wearing a bandanna made from the torn part of his flanno. He approached all the guys I worked with and they sent him my way. He fukked off when the Mobile Pharmacist came and dropped off his fix.
It was a surreal moment.
One of many.
* age 35 – meanderings:
My Mum had died at the age of 49 when I was 33. My Grandad died a couple of months later. That was the Catalyst for my whole Artistic Development. I quit my Job. Had a complete mental breakdown and my only escape was Drawing. I had an Instagram account with some random shit on it and started putting my art up. Facebook was not as appealing to me anymore.
I slowly gained confidence and posted more and more art. Cultivating some great friendships, amazing opportunities and great followers along the way. My wife and I had another child after a year later. A little Girl to terrorize the boys.
(A recent photo of Aaron below)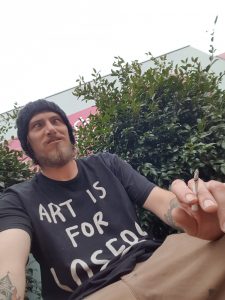 Personal motto?
It use to be: "Optimism Via Pessimism. Expect the worst and avoid further disappointment."
Probably still is.
Art Questions
Why the name 'Berzerkaroth' anyhow?
I was obsessed with Aussie Grind/Death Metal Legends "The Berzerker" and just put Roth at the end to sound like a ridiculous Barbarian name.
It was my first email name I could think of as a teenager and I have used it ever since.
When and why did you first start making art of any type!?
I assume it was when I was able to hold a pencil/crayon But my memory is not the greatest to be honest.
I have always been creative whether it was drawing, photography, noise making, sculpting, as long as I was creating something I was happy.
Any pivotal artistic moment(s) / influence(s)?
My most pivotal moment was when I first got approached by the amazing human that is Brian (@the_empire_lives_on) from Skullfukked By Ghouls.
After that a friendship was born and I was asked to collaborate and make a Magazine with him. It was a hark back to the old Cut out Mask magazines we had as kids but for adults. I called it Fukkfaces Magazine. It features 30 artists from around the world and was a blast to make. It gave me the experience of developing a magazine, connecting with other artists from all over the world and seeing it become a physical product that people actually bought.
Do you consider what you are making to be art, 'design, re-hashed crap?
I guess I am an Illustrator. I just call it Nonsense Art. But I try not to think to deeply about it.
I just enjoy making things and if people like it then that is a bonus.
(Some art by Aaron below)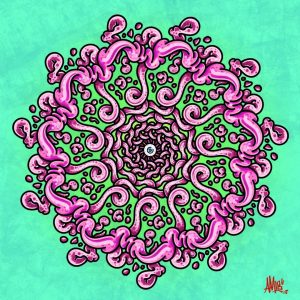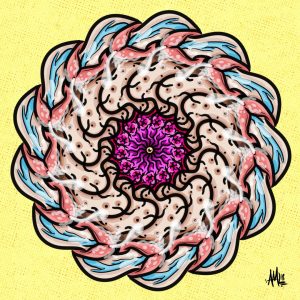 Worst aspect of the contemporary art hustle?
Having to appear like you are a salesman or spambot just to get enough eyes on your work.
Also I draw a lot of obscene stuff. So I can't really advertise a lot of it and I get shunned by a lot of platforms. Which has never been a surprise to be honest.
Best aspect of the contemporary art hustle?
The double edged sword that is the Internet.
Without Instagram I would not have my art in places all over the world and for that I am thankful. There are some amazing people I have met just because of that platform. And although I cannot live off it yet, I have managed to sell a lot of my art because of the reach it has.
More people in other countries have my art than anyone locally. Which is surreal.
Favorite other artist(s)?
Simon Bisley, H.R. Giger, Darick Robertson, Jacen Burrows, Boris Vajello, Josh Kirby, Terry Gilliam, Sergio Aragones, Don Martin, Frank Miller, Mike Mignola, Coop, Ed Roth, Jimbo Phillips, R. Crumb, Jeff Smith, Frank Frazetta, Martin Hanford and a shitload more.
(Some art by Aaron below)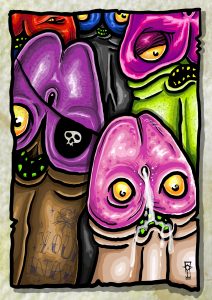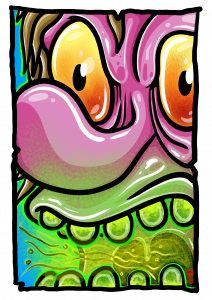 Describe the process of producing your art? – Dot point all o.k!
– your drawings and sketches?
Unless its a commission or a large drawing, I usually just go straight at it with a micron or other black pen. Most times starting with no idea of what I am even about to draw.
Then I use markers, preferably copics if I can afford them. Grey tones first and  then start from light to dark with colours.
I use a Uniball white gel pen for highlights.
– your paintings?
This is a medium I am yet to really grasp. I avoided it at school.
I use Paint Pens when I need to paint. I am aiming to change this and teach myself to paint…one day.
– your digital art?
Same Process as my drawings mostly. I use Autodesk Sketchbook, I'm too poor for Adobe.
The advantages of Digital are I have a back button and the use of layers.
Plus there are some great textures available.
How did you come to hook up with ole Nate McCartney aka 'Nate the Milkman' to provide header art for his Gordon soft vinyl toy?
We are mutual fans of each others work and he approached me to do some Header Art for Gordon The Garbage Goblin and Stomak.
I hope to collaborate with Nate for a long time coming. He is a great guy and an amazing artist.
(A drawing below by Aaron of the Stomak figure from Nate the Milkman, accompanied by a photo of the Stomak soft vinyl figure itself)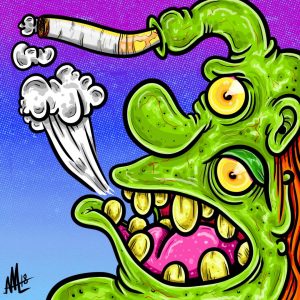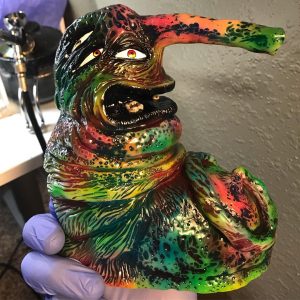 If people wanted to collaborate, work with you or just buy some art – how should they get in touch?
Either my Instagram or my Email. I have a Society 6 account. But only have two designs up so far.
Email is Berzerkaroth@hotmail.com
Odds n Ends
How's the whole getting-into-tattooing-thing treating you man?
I did an Internship/Apprenticeship for seven months in Margaret River. I loved every bit of it. Great people to work with and I loved the interactions with clients.
I appreciate the hard work and dedication that goes into learning the craft of Tattooing, As it is something you must do constantly to get better. But I don't think It is a career that I can commit to financially and time wise. I live a bit of distance from the studio and I need to focus on my family more now rather than later.
It was a hard decision to leave but better now rather than prolonging it.
(Some tattoos by Aaron below)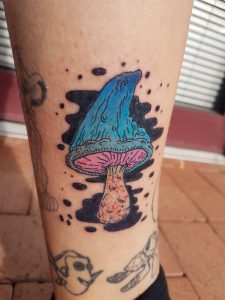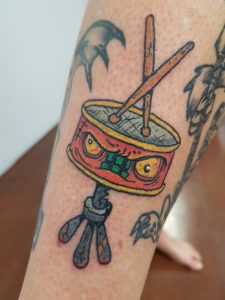 Please describe what you think the Australian Psyche / Zeitgeist is today?
Probably Identity. Australia is always going to be a hotbed for political discourse, especially now.
I think its great and healthy for a society to grow and progress but we still need to be able to enjoy humor with one another and I feel that the current Internet outrage culture is making lots of people on edge, people that would usually get along constantly over analyzing every single thing they say.
Context and intent are replaced by trial by Social Media.
But I do try to avoid talking about identity politics and I'm sure those that do let it consume their lives will tell me I'm part of the problem. I especially avoid doing it in my art.
I have no agenda other than to draw weird shit and get along with every cunt.
Who was your 1st crush and why?
My first celebrity crush was probably Claudia Schiffer.
Sports Illustrated was a great childhood memory.
Obvious reasons.
(Photo below Aaron's first crush – Ms. Claudia Schiffer back in the day)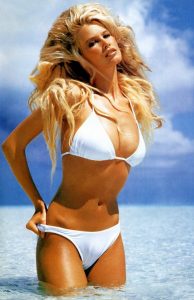 Does sex change everything?
As far as Maturing goes, not really. But everything has changed since we had Three kids.
It's certainly a different world now than when my wife and I met all those years ago. We had no Tinder, social media, no dick pics, online history, it was a grand old time.
Which cartoon character would you most like to see in a tribute sex toy, and why?
Popeye's Arm.
Cos it looks like a challenge.
(Art below of the Berzerkaroth tribute Popeye sex-toy)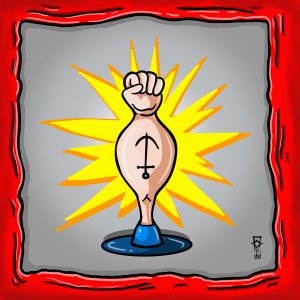 Who would win in a fight and why: Agro Vs. Ratfink?
Agro.
After so many years as a Sex Mad Puppet, Agro finds a Demonic Telethon cult that eventually gives him Wally Lewis's body… and like fuck does he want to lose it.
He commands his foot soldiers turn the intruding Ratfink into a puppet for him to play with.
Sorry Ratfink but Agro got the upper hand.
(Art below by Berzerkaroth of the battle in all its glory!)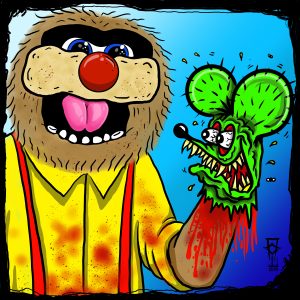 Please describe your latest dream in detail…
I can't remember my Dreams now. But I had a weird recurring dream when I was a kid…
It was a side scrolling style vision of me getting chased by sharp tree type creatures. And when I got to the end of their lair thing I would turn around and I would be like them.
I would run back and they would run like I was chasing them as they turned into marshmallow style cloud people.
I always woke up sweating and freaked out.
It happened for a couple of years.
Of everything you have done what would you most like to be remembered for and why?
Artwise, I am my own worst critic and hate it all. Haha but to be honest I don't think I have reached that point of decision yet.
I like the "Killer crowd" One of the first big digital pieces I have done.
Otherwise I would like to be remembered as being Loyal, Reliable and able to produce work worthy of wanting to invest time, money and affection for.
('Killer Crowd' – a digital work by Aaron below)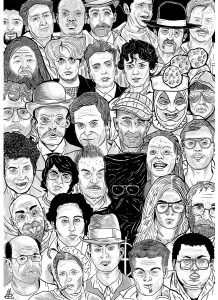 Drugs – waste of time or gateway to the universe?
Both. Depending on the Substance, Person, Surroundings, situation and many other factors.
I have certainly drawn many a picture… ahem lets just say enlightened. But I would certainly not give the drug credit for creativity.
What role did toys play in your childhood?
Extremely Important role. I have always had a weird imagination and would conjure all sorts of situations for my figurines.
My parents gave a lot of my toys away to their friends kids as I got older. Much to my disgust. I now get to live dangerously through my kids. haha
What are the top 3 items you own?
1) My Good Guy Doll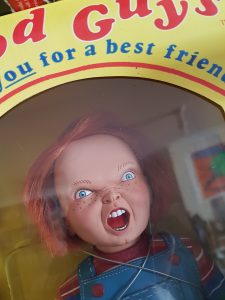 2) Gordon The Garbage Goblin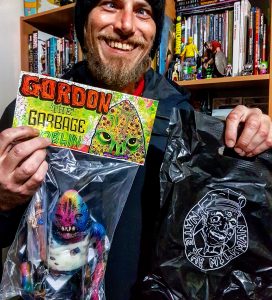 3) My Gunk Eye made by my good friend Scott AKA @skullsoup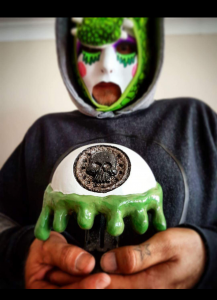 The Future
Any collaborations on the horizon?
I am going to be doing a zine with my Friend Sare (@alowerclass) about The Plague when I finally get my arse into gear.
Any major projects you want to hype?
I am currently working on an Album cover for Welsh Punk Rock band Ill Fate.
I have another bit of Album Art for Perth Punks The Bob Gordons coming out soon.
Also a header for Nate The Milkman's Stomak.
(Some art by Aaron below)
Links