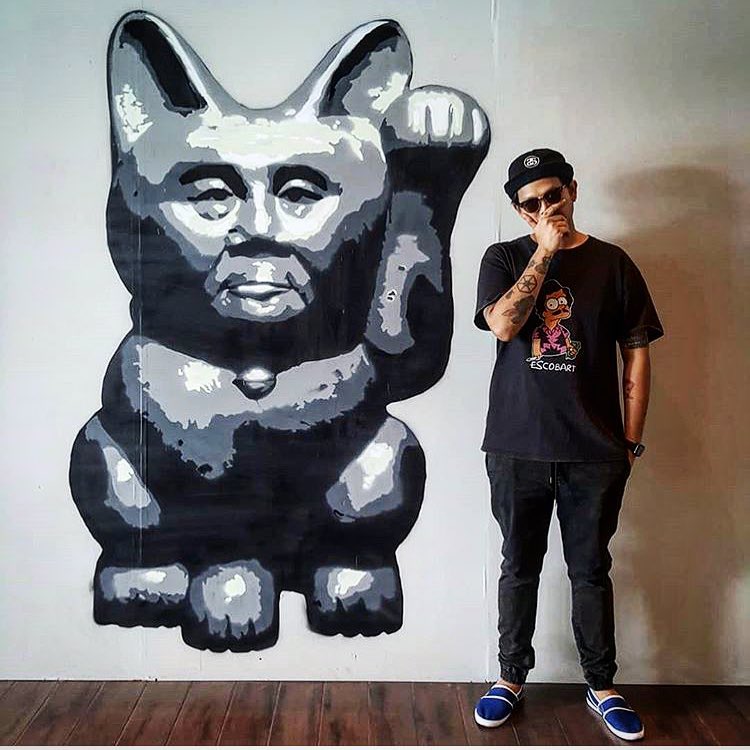 Governments constantly play a cat and mouse game with their dissenters: let them get away with too much, and the government looks weak, but if you apply too much pressure and start jailing political dissenters then the government looks authoritarian, and risks losing the faith of it's people. Currently this delicate balance is being played out between the ruling Government of the South East Asian nation of Thailand, and a rising number of political dissenters and agitators – such as Thai street artist Headache Stencil.
The current Military government of Thailand gained power in 2014 in a coup d'etat under the leadership of General Prayut Chan-o-cha. The Military allegedly took power in 2014 to restore stability, eradicate corruption and lead Thailand into an eventual Democratic election. However 4 years have passed since the Government took power and no free-election has occurred.
In the meantime Thai news has been filling with tales of generals on Government salaries – Deputy Prime Minister Prawit Wongsuwan in this instance – flaunting million-dollar watch collections, prominent successful Thai businessman Premchai Karnasuta seemingly avoiding criminal prosecution for poaching, an allegedly increasingly volatile and eccentric leader, and other tales of purported graft, malaise and political corruption.
(Some politically charged street art from Headache below – depicting Deputy Prime Minister Prawit Wongsuwan)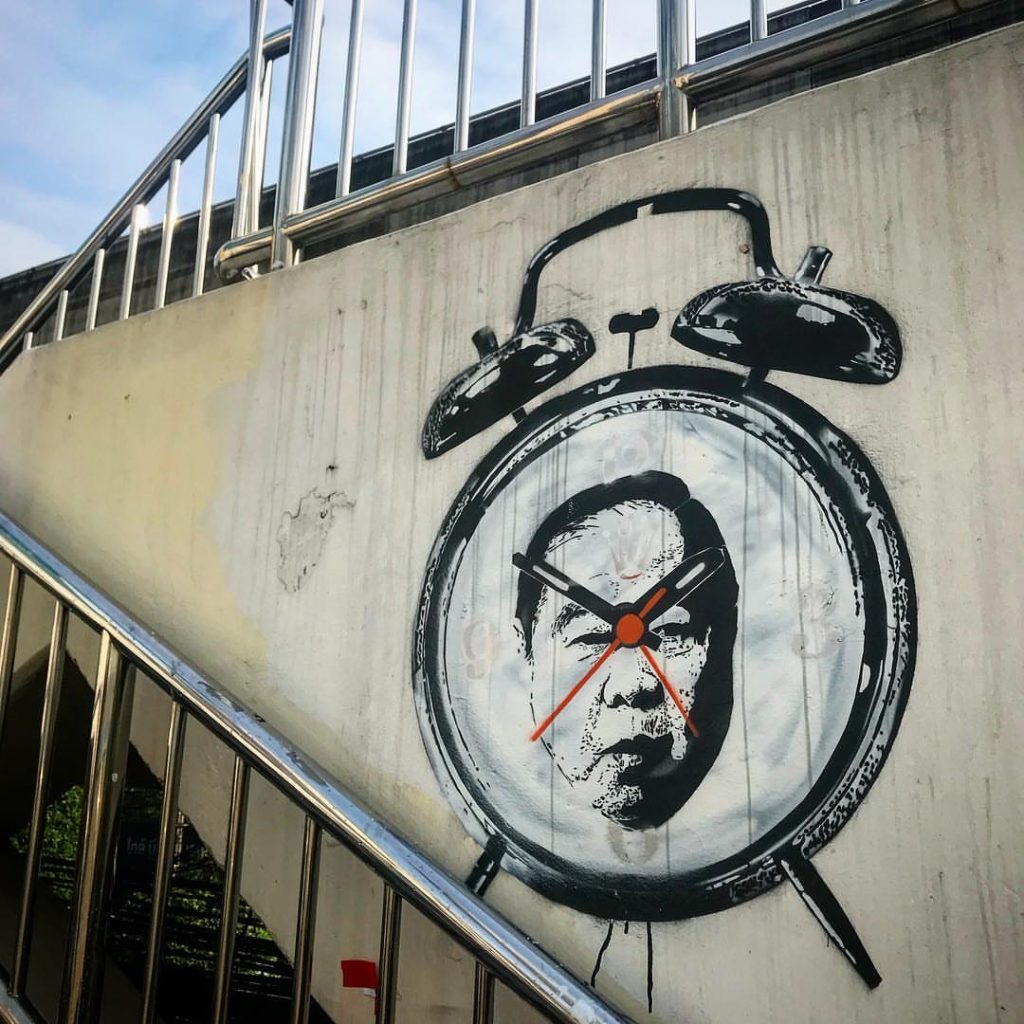 Headache has been commenting on these issues with his politically charged street art since the Military took hold in 2014.
Initially being ignored by the Government, Headache found himself under the harsh glare of the State and the Thai Police when an image he made – see it above – lampooning Prawit Wongsuwan and the watch-saga went viral early in 2018. Almost immediately after sharing his finished work to his social media; Headache found himself running from the Police, holing up in safe houses for nights on end, and hearing about his public art being whitewashed or buffed.
However, Headache's art had already been, and was continuing to be photographed and shared thousands of times by the Thai people on social media – turning Headache into a local hero. Indeed, it was his newfound status as a heroic supporter of the Thai people, and the love they have for Headache, that led to the Police and authorities eventually backing away from pursuing him. After all – Headache is now a Thai celebrity, and jailing a noted celebrity would cause many ripples that are unwanted by an increasingly nervous Government.
Importantly, Headache recently began teaching street art and stencil classes in Thailand, to encourage the locals to get involved in political street art. He has also just announced two upcoming 2018 shows in Australia – the first in Sydney at Joe's Table from the 21st to 24th of October, and the second is in Melbourne at Blackcat Gallery from the 24th of October to the 4th of November.
So in order to get reacquainted with everything Headache (we first interviewed him back in 2016) and to find out more about his upcoming Australian shows, we asked him some questions about them all. Read the answers, and get up to date with Headache, and the situation in Thailand by reading the article, below…
Catch Up
It's been a few years since we last spoke man! So…
* Recent life events you have to share with us – Pregnancies? Divorces? Jobs etc?
All good.
* Any other news or gossip you would like to share with our readers?
Just got a new bengal cat.
(Some upcoming sculptural art works from Headache below)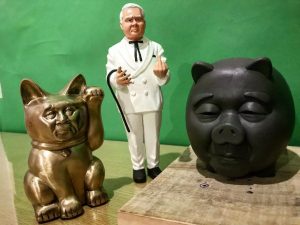 Graffiti / Street Art Workshops
We have heard that you are now holding graffiti / street art workshops in Thailand…
* For those at home, please outline the were, what, why and whom of your workshops?
Stencil workshops which're all about the social and political arts.
* Why have you decided to play teacher and pass on your artistic skills and knowledge?
Some people may think that I play this role to educate people but truthfully it's one of my plans to build my warriors. lol
* How have your workshops been received by the Thai people generally, and participants specifically?
Total number is almost a hundred attendees and unbelievably successful.
(Photos below of Headache getting his stencil on)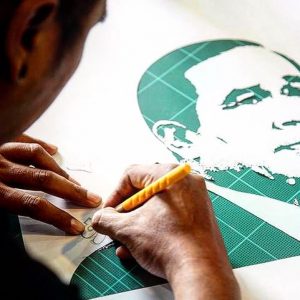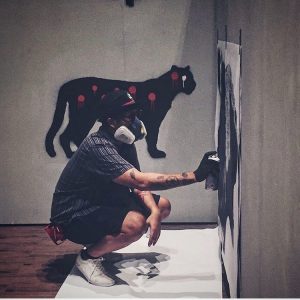 The Thai Watch Fiasco
* For those at home and the non Thai readers… Please explain what exactly is going on with Mr. Prawit Wongsuwan and his watches in Thailand?
A bitterly sarcastic tale about a rich powerful who still borrowed his friends' stuffs and all the hints of corruption has begun.
* What is the current political situation in Thailand?
Seems like we'll be lucky enough to have a new election coming so soon, hopefully we'll get our rights back for real cos it's been postponed for so many times.
(Some politically charged street art from Headache below)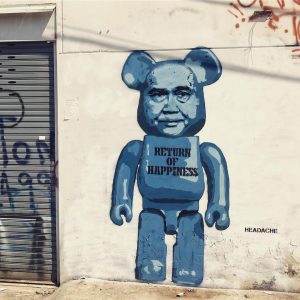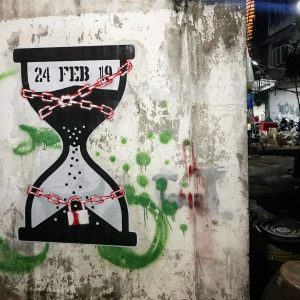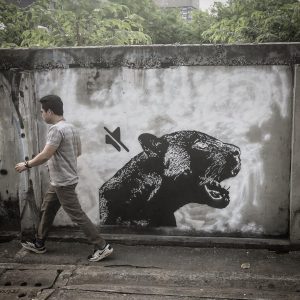 * How have the Thai people reacted to your artwork?
It's usual that we'll get both lovers and haters.
Lucky that still I've been loved.
* … and uhhh… what about the police and government – hahaha?
Seems like I'm the real HEADACHE for them.
* If you could play God – What would your ideal Thai government be, and why man?
Anybody who got voted by people and without weapons.
Upcoming Australian Tour
You have announced online that you will once again be coming to Australia to paint and attend some art shows…
* What are your plans on your upcoming Australian tour?
Most exciting trip ever. I'll have my own exhibitions in 2 towns: Melbourne & Sydney which are totally different concepts.
The first one is gonna happened at Joe's Table, Sydney on 21 – 24 October. It's about Thai Traditional Dance in the age of military.
Followed by Melbourne with the concept of the new standard of emotions under the regime of weapons. This will be held during 24 October – 4 November at Blackcat Gallery.
* Who are your favorite Australian artists at the moment?
I love his color's style.
(A flyer below for Headache's upcoming Australian art shows)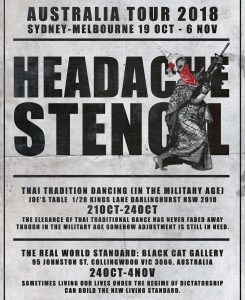 Links