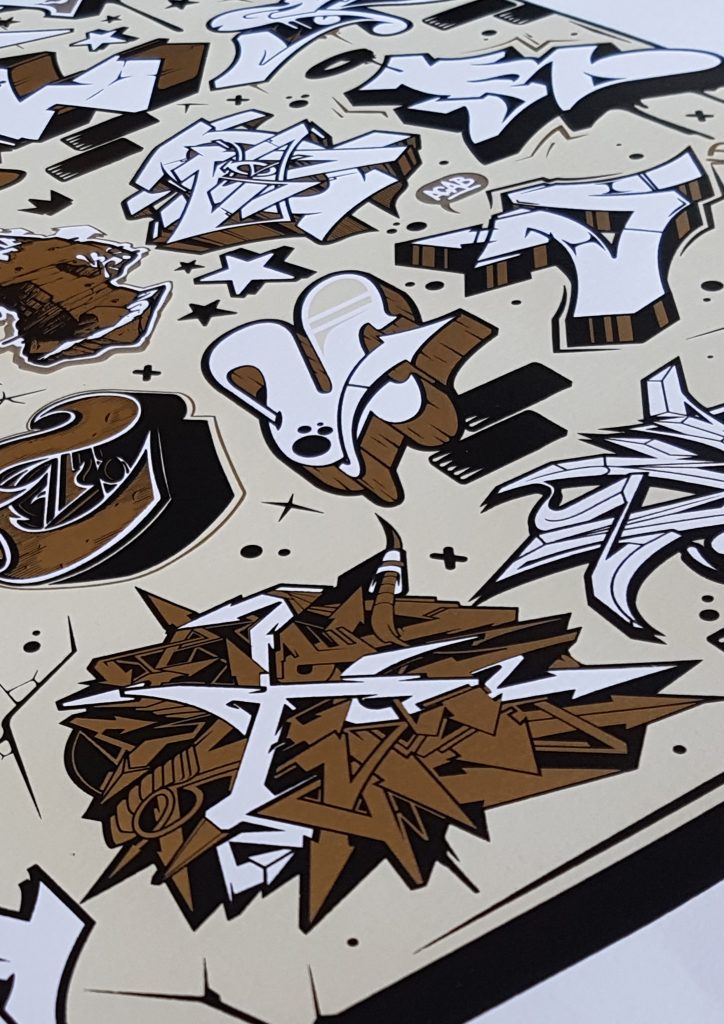 The Infamous Dogfight is a well loved member of the Australian graffiti, design, and street art scenes – being a pivotal member of KALIS's RAW Crew, a founder of 'Spilt Milk', and a highly regarded artist, collaborator and scene builder in his own right.
Dogfight's latest project is 'Toasted Posters' – a brand focused on releasing high-end, limited edition fine art prints from graffiti writers from all over the world; with a special interest in the Australian scene.
(Photo below of the man behind 'Toasted Posters', The Infamous Dogfight)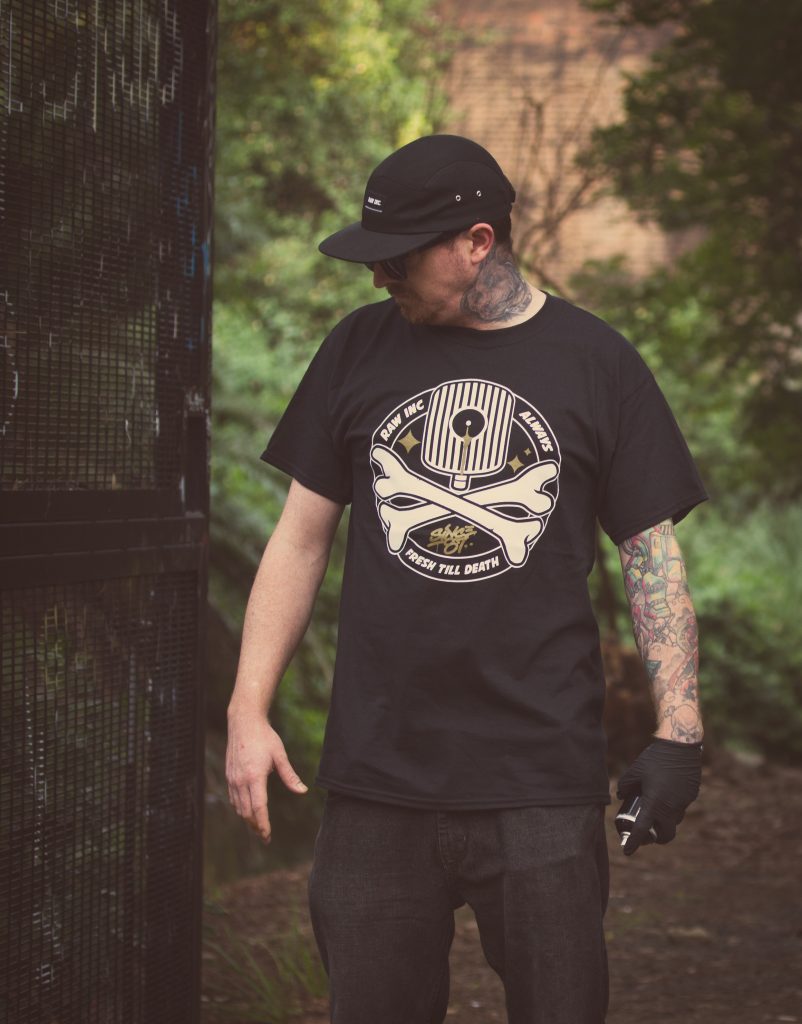 'Toasted Posters' debut release is the Block Rockers alphabet screen print which was released earlier this month. The Block Rockers print is hand produced by the talented craftsmen at 'Aisle 6ix' in Sydney; and features 26 artists each contributing a letter of the alphabet.
The result is an eye popping and beautiful work that combines many seemingly disparate aesthetics, into a perfect whole – Voltron style.
With 'Toasted Posters' recently launched, and their debut print currently available, get to know all about the project by reading our interview with Dogfight below…
You have just launched your new brand "Toasted Posters" with the release of your debut print "Block Rockers". Can you tell us a little about the project, and what the aim behind it is?
Toasted Posters is a project that i am undertaking with my wife Cassandra, We wish to create exclusive fine art prints, first and foremost, screen prints (nothing beats paint on paper in regards to prints), with exclusive artworks being commissioned and sourced from the graffiti writers who inspire us.
I am a huge fan of screen printed artworks and have been a long time collector: Artists like Ken Taylor, Rocking Jelly Bean, Ben Brown and Rhys Cooper have for a long time set the standard in high end band poster artwork and indie collectables, I wanted to bring that same feel and quality to the graffiti world.
Original canvases and black book sketches have long been sought after from Graffiti writers but can sometimes feel almost impossible to obtain.
My aim is bundle the electric energy of black book style artwork into poster form and use modern paints and techniques to make something really special that honours these Artist's and their skills.
I thought the best way to let people know what we are about is the "Block Rockers" print, I think it perfectly encapsulates our vibe and hopefully will have people looking forwards to what we do next.
Care to go into detail about the debut release from 'Toasted Posters' – the Block Rockers alphabet screen print?
Every single letter is created by a different Australian Graffiti writer, Combining 26 different Artists and styles in one complete piece.
I have seen a ton of Graffiti alphabets but never one like this, I personally think it's a really special piece and I was beyond honored and humbled at the response from those involved.
When i set out to create this project, i only wanted to ask artists who were friends, people i had painted with or artists i had some kind of involvement with in one way or another.
The list of Artists speaks for itself and i look forwards to working with each one of them again in future endeavors.
(Photos below of the Block Rockers print from 'Toasted Posters')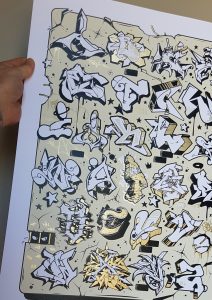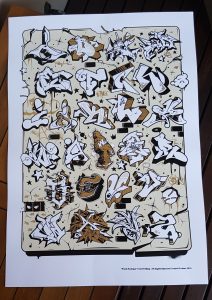 Who are the artists involved in the Block Rockers print, and what letter did they each contribute?
A: Peak – B: Dupe ACR – C: Pick SCI – D: Dont RBS – E: Aruks HWC – F: Cautz TKP – G: Amuse SWB – H: Iker KCT – I: Inks TNS – J: Smerk – K: Carbn UMP – L: Ruben TKP
M: Mibs ATR – N: Keys NRC – O: Dogfight RAW – P: Peque VRS – Q: Sofar NBS – R: Reak NSC – S: Sook TTK – T: Tenfold DE – U: Musk – V: Shine MIA – W: Whens MIH
X: Demon TNS – Y: Yeps RBS – Z: Zink KOS.
Where, how and by whom are your screen-prints produced?
The first couple of releases will be printed by Aisle 6ix in Sydney, they print by hand which is very important to me.
The long term goal will be me personally printing every piece myself but as i am in the process of an Interstate relocation, it just isn't possible for our first few releases but it is the direction we are heading in and what will be part of the core foundation of this enterprise.
(Photo below of some 'Toasted Posters' gear.)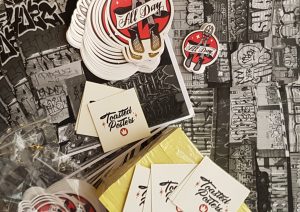 What to you, makes a good screen print and why?
First and foremost good art, original, visually stimulating and stylised line work.
In regards to the presentation or screen print itself, a great use of colour whether its a 1-2 colour print or a 12 colour print.
Screen print colour placement is a real art in itself as you are working with a medium where each individual colour takes a good whack out of your budget. I want to see an interesting use of textures and a bit of a play with the wide range of specialty paints available that can't be digitally printed, all presented on a nice high quality paper. I'm a big fan of using standard paper sizings so prints can be framed easily by the owner without always having to pay big bucks for custom framing.
All of these elements are things i want and will utilise in our fine art print range.
Any plans for future releases?
Definitely, our next release is another piece i am very proud to present, I have been working with one of my all time favourite Australian Graffiti Writers, Friend and Old School Legend "KSINO".
The piece is straight fire! it features a Sydney skyline with an absolutely stellar rendition of the predator as a graffiti writer, cans and all.
(Photo below of one of the screens used to make the Block Rockers print)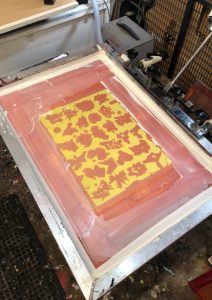 Will you be releasing other objects with 'Toasted Posters' – or just sticking to screen prints?
Yes, i have been in talks with some self publishers in order to stock rare and limited edition graffiti magazines, books and zines on our website, we currently offer a free copy of the "ADL GRF ZINE" with purchase of the block rockers print and have a few boxes of out of print "Blitz Kreig" magazine on the way that will also be featured on our site.
Aside from that, there will be limited edition, miscellaneous products such as pins, patches and sticker packs.
The website itself, we would like to build into an interesting environment with content such as exclusive articles and videos – we currently have one article up where I discuss the making of the "block rockers" print, with Inks TNS, Demon TNS, Ruben TKP & Keys NRC who were all featured artists on that print.
An article on rare underground graff zines is also in the works, that will surely be a fantastic read for any one involved in this culture.
If someone wanted to get their hands on one of your screen prints, collaborate or just get in touch – how should they go about it?
Visit us at www.toastedposters.com we have a full online store, we will also provide a list of stockists/retailers as things progress and we also have an Instagram presence @toastedposters.
Any additional comments, news or info to share with our readers?
Another important thing i wish to note is the fact that every print purchase made from us contributes to paying/commissioning an artist to create a new work for toasted posters, which means your money isn't going to an individual looking to profiteer from his peers but your assisting in financing Artists to create and distribute their craft.
We have a great list of artists already lined up to create prints and I have a good idea of who i will invite in the future.
Links