(Picture above of Spider tattooing by @rol_or_die)
James aka 'Spider Death' is an Australian artist, tattooist and musician. A self described vagabond, Spider travels constantly around the globe: Russia, Japan, America and all over his native country of Australia to name a few. He is a soft and considered speaker, who explodes into a fireball of rage and energy when on stage singing. Attributes which are evident in his art.
Working primarily in black and white – Spider's tattoos and art involve themes of violence, bondage and criminality. With references from classic illustration, Russian criminal tattoo, Japanese art and wood block printing.
(Picture below of a tattoo by James)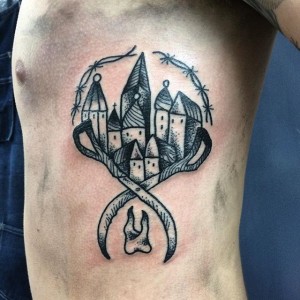 With Spider only recently unveiling his most recent band 'Death Church' and constantly pushing his art and tattooing, now is the perfect time to get to know the man, by reading the Art Talk below…