(Picture above of Spider tattooing by @rol_or_die)
James aka 'Spider Death' is an Australian artist, tattooist and musician. A self described vagabond, Spider travels constantly around the globe: Russia, Japan, America and all over his native country of Australia to name a few. He is a soft and considered speaker, who explodes into a fireball of rage and energy when on stage singing. Attributes which are evident in his art.
Working primarily in black and white – Spider's tattoos and art involve themes of violence, bondage and criminality. With references from classic illustration, Russian criminal tattoo, Japanese art and wood block printing.
(Picture below of a tattoo by James)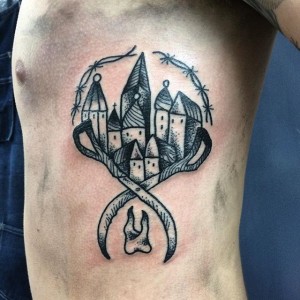 With Spider only recently unveiling his most recent band 'Death Church' and constantly pushing his art and tattooing, now is the perfect time to get to know the man, by reading the Art Talk below…
Basics/Getting to Know
Name + D.O.B?
Spider Death – the "spider" part comes from back in 98′- I was a super young punk and got a web tattoo on my elbow. Back then it was still a taboo for such a young kid to have one.
The "death" part comes from a few years later after that when I faked my own death for April fools. The newspaper even printed it.
I'm 36….
City, State n Country you currently call home?
Kings Cross – but I'll settle anywhere.
City, State n Country you're from?
I was born in Hornsby, NSW. Although I spent a lot of time in the USA growing up.
My father is a systems analyst, he was building the Internet or something….. We spent years back and forth, we lived in Atlanta and California. San Fran was great for a young punk rocker coming of age – Atlanta was a boring dead end white trash nightmare.
(Picture below of some art by Spider)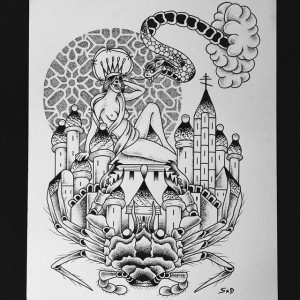 Describe a memory from some stages of yr life ….basically trying to piece together your pivotal moments. Concerts, art, action-figures, girls, school, crime… ANYTHING man.
So growing up in the Bay Area was pivotal – I got deep into the underground punk scene there. It was mid 90's crust was still in but this new thing called "power violence" was huge. It was really fast as fuck goofy hardcore.
I saw bands like spazz, capitalist causalities, and other "slap a ham" bands frequently.
Some other greats- his hero is gone , dystopia, noothgrush, defiance.
* age 5 – beginnings:
Growing up with my twin sister.
* age 10 – continuations:
I dunno – school.
Started drawing heaps.
* age 15 – getting serious:
Started becoming interested in heavy metal and punk.
Got some great "hand me down" metal shirts which included "slayer" and "anthrax".
We started travelling back and forth Australia to USA.
* age 20 – young adult:
I moved back to oz – left the nest. Got a job and moved into "punk street" in enmore. There were 3 punk houses in this one street in enmore – it was tight.
Started a band called "sewer cider" and a fanzine called "mindless commodity ".
I started writing letters to punks all over the world, trading tapes and zines. That's when I started making artwork for bands too.
Life was good- we made our own cider and housed touring bands at our place quite frequently. I was living with other people in bands too.
(Picture below of Spider aged 21)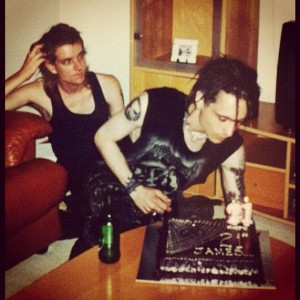 * age 25 – adult mode:
I decided not too drink or do drugs or even smoke – for a while. We partied so hard at punk street it was getting in the way. I moved to my own place and stayed off everything completely for a bit over ten years.
Around this time I started a new band called "smash n grab" a crossover band that kind of just revolved around violence. The shows were gnarly. I used to tape a ten dollar bill to me head and invite people to get on stage and try and knock me out. A riot generally broke out. Blood everywhere. I was producing heaps of artwork at this time and because I wasn't partying I spent most of my time boxing or getting tattooing.
I became really interested in tattooing at this stage.
* age 30 – fully formed:
Started my apprenticeship tattooing – maybe a year before this – it was a hard couple years but I was forever great full. The best thing that could ever happen.
Formed "deathcage" we released 4 7″ers, an LP , a split 5″ and a split LP. We toured around Australia a bit and also embarked on a European tour – that was incredible. 19 shows in twenty days all over Europe. My best mate Honest stu came along too!
I also got re united with this girl I met in art school called Lauren Lau. We fell in love, Lauren was and has always been a big artistic influence in my life. We parted ways for a year but then reconnected again just recently.
We have travelled the world together and had some great times.
I started travelling / tattooing around this time too.
It was a gamble but seems to be going well.
* age 35 – further continuations:
Deathcage disbanded – I started death church. A death rock group- kinda like Christain death in a more abrasive contemporary way.
(A recent picture of Spider playing 'Street Fighter', below)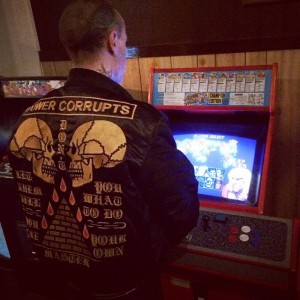 Personal motto?
Adapt or die
Favorite band(s)?
Septic Death
Rudimentary Peni
Big Black
Joy division
Christain Death
GISM
The Germs
Discharge
Favourite TV show(s)?
Don't watch it – haven't had one or a computer for many years.
Favourite sport(s) + teams?
Nah…
Favourite movie(s)?
Cruising
Repo Man
Predator
Control
Favourite books and comics?
I mostly read auto biographies.
Lemmy and Arnie  wrote good ones.
Art Questions
Favourite other artist(s)?
Pushead, Sugi, Alex Heir, Yeap.
Worst aspect of the contemporary art-hustle?
 silence …
Best aspect of the contemporary art-hustle?
 silence …
(Picture below of a poster for one of Spider's tattoo tours)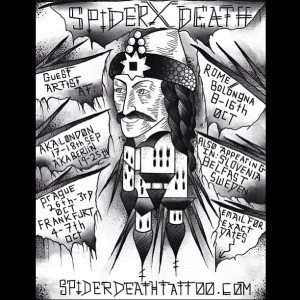 Do you consider what you are making to be 'art', 'design', re-hashed crap?
Everything in some way or another is an "homage" "ripped off" "inspired by" or "rort"- you just gotta put your own spin on it.
When and why did you first start making 'art' (drawings, paintings, anything)?
I was bored with life – tv sucks.
What did you draw as a pre-teen child?
Only monsters – no realism or still life ever. You make monsters look like anything- no rules.
What did you draw as a teen?
Same as above.
Any pivotal artistic moment/influence?
When I first saw artwork made by Pushead for Metallica I was blown away. Early stuff for them…
(Pictures below of some works on paper by Spider)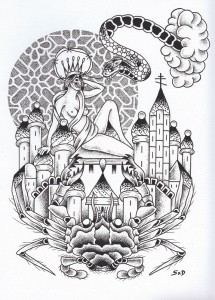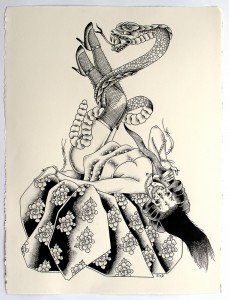 Why + when did you decide to go in on the art hustle?
Ok – it was a transitional thing really. When I was screen printing and drawing for bands – they would give me copies of their release as payment – then sometimes money. I first probably started making money off it after my first show at the heights called – anti social.
The reason – well why would I make this stuff if I can't share it with people?
Describe the method of making a Spider Death work? (dot point all o.k.)
I usually mull over a concept for a week in my head.
When I start actually drawing it I use pencil, never rub any lines out. Then bring out parts with red and green sharpies and use liquid paper to fix mistakes. Then I trace it over and over – about three times. Once I have a solid piece I'll draw one more time onto thick paper using a light box.
I only use a 0.8 and a 0.3  art liner now and Indian ink.
* your tattoos?
Same process really minus the art liners although I draw with the placement of the body.
(Pictures below of some tattoos by Spider)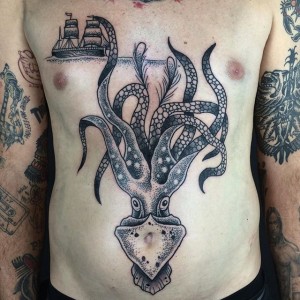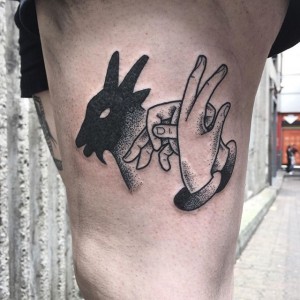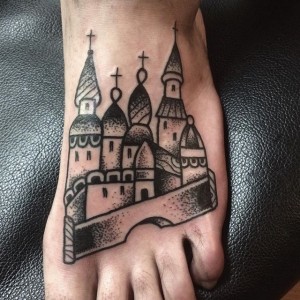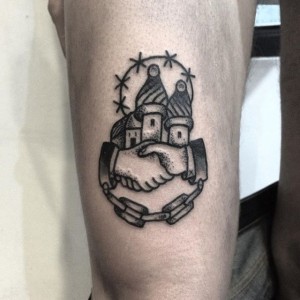 You and Sydney art gallery institution 'China Heights' have a long seemingly ongoing relationship…
* How did you and 'China Heights' come to connect?
I had a mate Rowan who introduced me back 8 years ago.
Ed and I became quite close – over the years I've had two solo shows there and a split show with my partner Lauren Lau.
We have also put out a bunch of merch too.
* Favourite show ever at 'China Heights' and why?
Nate gamble, French, Kill Die.
* Highs and lows of your 2012 show with Lauren Lau – Born Against ?
It was great – we had a heap of support for it too.
Gave us both a kick in the ass to make more stuff.
* Thoughts on 'China Heights' role in the current Sydney and Global art scenes?
Ed works hard – and has been for a while. People notice it – the place is an institution now.
(Pictures below of some Spider ephemera available from 'China Heights')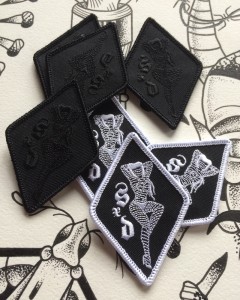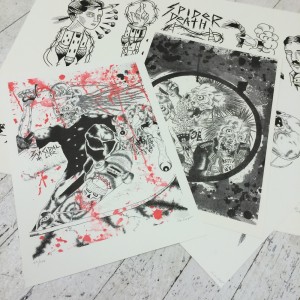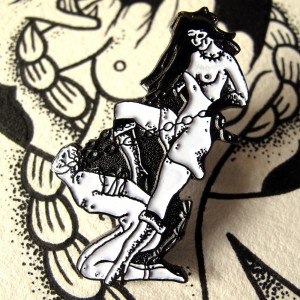 Tattoo Questions
Worst tattoo customer ever and why?
I've never had a worst customer. Although some people just shouldn't get tattooed…
Thoughts on the rise of facial tattoos?
"That's a great face tattoo" said no one ever.
Haha I don't know- I don't do it. I would get it myself – seems like a cry for attention unless you are a tattooist or an inmate.
What are your favourite tattoo machines to work with and why?
Morgan pettit – the best ever! I only use coils.
(Picture below of a tattoo by Spider, based on a design by 'Blurble')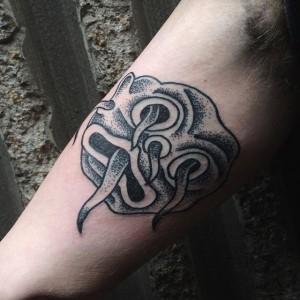 Thoughts on the rise of home tattooing?
It's dirty, cheapens the craft and can be dangerous.
It's like an artist selling paintings outta their studio and dogging the gallery that represents them.
Which celebrity, in your opinion, has the best ink and why?
I always liked Nick Cave's skull tattoo – the placement is cool and it's a timeless design.
(Picture below of ole Nick Cave + his tattoo)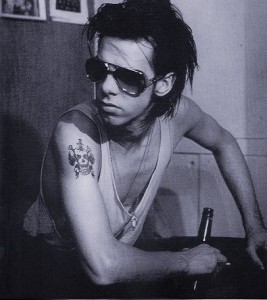 What are your top 5 personal tattoos and why?
It's just become one big one – my body is a collection of punk artwork from numerous records I've collected over the years.
I have a nice geisha head on my leg by Alex at lighthouse.
You are a self described 'nomad tattooist'…
* what does your average year look like – itinerary wise?
I usually travel to Melbourne and Brisbane once a month.
Overseas at least 3 times a month.
I generally don't book anything further than two months ahead.
* why the decision to hawk your wares internationally?
 silence …
* care to share any interesting travel tales?
Russia comes to mind – forget what you think you know. Moscow is beautiful.
This one time in Milan these guys tried to mug me at the train station. It was 1am- I was lost and realised I couldn't get to my spot where I was crashing.
Anyway – I couldn't fight all these guys- I was out numbered 4-1 and I had a suitcase with me. So I pretended to be crazy- I punched myself in the nose and screamed at them. Blood started pissing out so I started throwing it at them like a sprinkler. They freaked the fuck out and bailed. The station master came and told me to beat it. I had no where to go. I heard of a squat nearby by my mate in bologna. I rolled down- half of it had been burnt out by nazis a month back. They let me stay there- I slept under a smashed window, freezing cold, I could hear manic voices of ice heads in the next room plotting something…
Anyway they were nice Italian boys. Thanks for letting me crash.
(Picture below of Spider's travel case)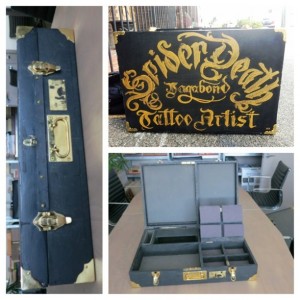 Thoughts on the recent laws in Australia and also internationally that are bringing a level of beaurocratic oversight and regulation previously unknown to tattooing?
The laws were brought in to keep the outlaw bike gangs out.
I don't think it worked. It has made it harder for people to travel or even own a shop.
It's just a cash grab.
Dogs.
Music Questions
Are 'Deathcage' over or just in hibernation?
Dead and buried.
(Picture below of 'Deathcage' and some of their releases)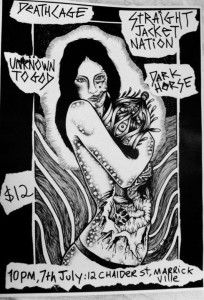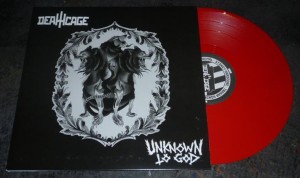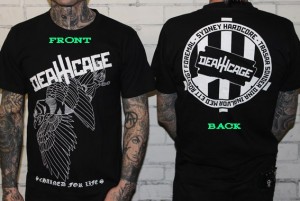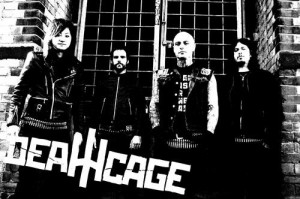 How did you and the guys in your most recent band, 'Death Church' come to connect?
Milon moved here from NZ and I tattooed him once. He told me he wanted to start something – I put the word out and then meet Spannah .
I already knew Kieren for some 15 years – I just called him and said "I'm starting this band – I need a bass player, you are in" he was down.
(Pictures below of 'Death Church', some of their releases and flyers)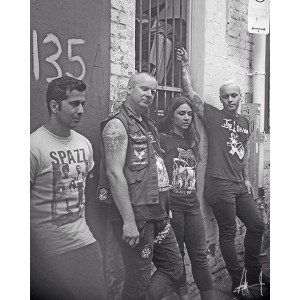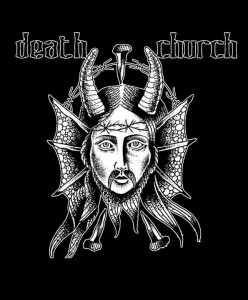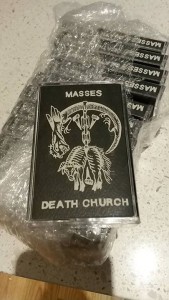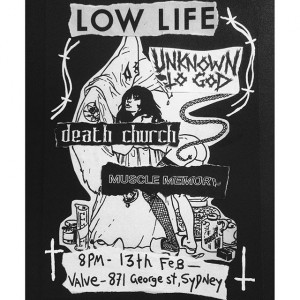 Thoughts on the state of the Sydney punk scene?
Up and down – it doesn't know what it is. But I reckon it's alright. It would be great if there were more bands, but hey- what you going to do huh?
What does punk music and culture mean to you and why?
Freedom, an outlet, whether it be a message or a release of aggression.
You don't have to live in a world or society you have no love for , you can build your own.
I know you are a fan of the current NYC scene – with label 'Toxic State', bands such as  Anasazi, Dawn of Humans, L.O.T.I.O.N and the art of Alex Heir/'Death to Traitors'
* do you know any of those guys personally?
I know Alex pretty well – I've always been a fan of his art and how prolific he is. I went to his place a few times and partied a bit – really nice bloke.
Oh and Lauren and I had a big night with Chi last April – haha we were burning around Brooklyn listening to Alien Sex Fiend. I thought we were going to die in that car.
* thoughts on the art of Alex and 'Death to Traitors'?
See above
* why do you think the scene in NYC is currently blossoming so much?
It's  New York man. Everything is cutting edge.
Bands like "perdition" paved the way for the current contemporary scene there now.
They kinda showed that there is more to New York than Cro mags etc.
(Picture below of a tattoo by Spider, based off a design by Alex Heir)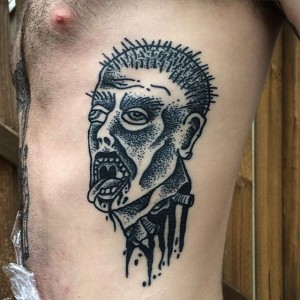 Odds n Ends
What role did toys play in your childhood?
I did collect action figures – he man and all that.
I got bored with them and snapped the arms off and melted them together to build eight legged super heroes. My thumbs were so black by the end of it.
Who was your 1st crush and why?
No idea.
Does sex change everything?
Yeah I guess so – unless it's your job…
Please describe your latest dream in detail…
It was a nightmare….
Which 1990's era cartoon, would you most like to see as a sex toy, and why?
 silence …
Who would win in a fight and why: a TN n Polo Cap wearing lad Vs. A crust punk on their way to a gig?
Interesting – I would say the punk steel cap boots win over Nike any day.
Although the lad is probably tweeking on some fried rice so it'll be a good battle.
(Picture below of the battle in all it's violent beauty.)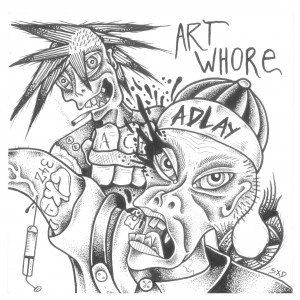 Have you ever tried psychedelics of any sort? And what was the experience like?
Love and peace – I really ain't into that. More the other side of the spectrum.
Drugs – waste of time or gateway to the universe?
I wouldn't say a gateway to anything – but you'll have a good time.
Please describe what you think the Australian Psyche/Zeitgeist is today?
 silence …
What is it like living and creating in Sydney these days?
When I'm there it's pretty sweet – lock out laws is fucking everyone up. In a sense that small bars are closing down, bands have no where to play and people have nothing to do.
It's ok if you are a dealer- no lock out laws there.
One person can't hold their drink and we all get punished – it's a joke.
It's not even about staying out all night and getting fucked up. It's the fact that we have a curfew – fuck that shit we can look after ourselves.
(Picture below of Spider over the Sydney Harbour)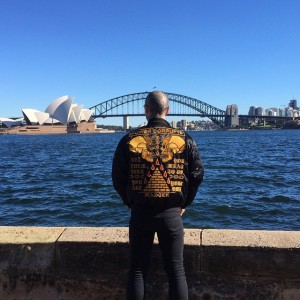 I know you are an avid collector…
* please write a brief timeline of your collection history?
I collect mostly records, a small robot collection.
Religious icons from Russian or Eastern Europe.
* item(s) you have lost, sold or given away that you wish you still had and why?
Nothing really – records I sold I have always gotten back.
* top 5 items you would like to own and why?
Tangible things come and go- and experience is worth a life time. I'd like a time machine – so I can go back in time and see some bands that are dead and gone. Grow up in a different decade, a different country, a different world.
Also a private jet with a pilot would be great- I get over 100 flights a year….
* favourite items you own and why?
The germs "forming" 7″ 1st press
Poison idea "pick your King" 7″ clear 1st press
A bunch of Japanese hardcore  and almost complete  pushead collection.
(Picture below of some of Spider's tin robot collection)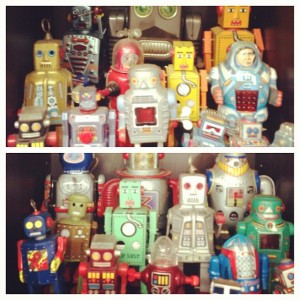 The Future
…Death church are doing two more flexis and fanzines.
We aren't playing again for 6 months…
I hope to go back to Europe very soon.
Any collaborations on the horizon?
Another one with Kane, we are going to Perth soon I think?
He just tried to call me – it's about that….
Any major projects you want to hype man?
Nah… I'll let you find it.
Links