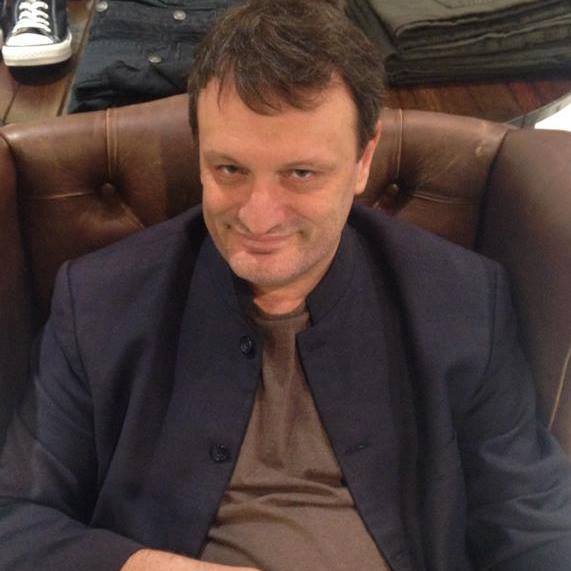 Richard Wolstencroft aka Richard Masters is an Australian director, nightclub owner, writer and general provocateur. In his mid twenties during the 1990's Richard gained Nationwide fame as a result of establishing the 'Hellfire Club' – The first S+M / kink based club in Australia, which Richard ran from 1993 to 2003. Originally beginning in Melbourne, and later expanding into other territories such as Sydney.
Importantly, with 'Hellfire' Richard not only championed outsider sexuality and fashion, but also music – with musicians as diverse as Ollie Olsen, Andrew Till and David Thrussell regularly DJing their experimental electronica at the night.
(Richard and friend photographed back in the 'Hellfire Club' days)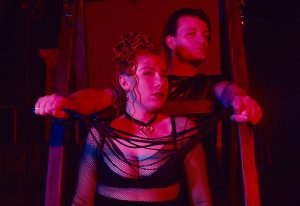 Whilst gaining fame, fortune and infamy with the 'Hellfire Club', Richard also found himself establishing the 'Melbourne Underground Film Festival' aka 'MUFF' in the year 2000. This was established – like 'Hellfire' – out of Richard's sheer will, desire and need.
In this instance as a result of one of Richard's own films not being selected for the more mainstream 'Melbourne International Film Festival'. Instead of complaining and wallowing, he started his own competing festival to champion underground and emerging film of all type – gaining international recognition for himself and many of the directors and creatives involved in the festival over the years since.
Indeed, Richard is so committed to artistic freedom that he is willing to put his own safety and freedom on the line – which he did in 2010 by screening the banned in Australia film 'LA Zombie' from infamous American director Bruce La Bruce. An act which resulted in his very home being raided by police.
And as Richard has been at the forefront of Culture creation, he has also been making movies himself since his teen-age years. Most notably 'Pearls Before Swine' (1999), 'The Beautiful and Damned' (2008) and the documentary 'The Last Days of of Joe Blow' (2012).
However, Richard's lifetime of personal creation and support for the arts was recently challenged when he made an objectively shocking, scientifically wrong and simply hurtful Facebook comment on the eve of the successful Gay Marriage campaign in Australia late last year. As a result of his comments, Richard became a pariah – seized upon by the social-media-outrage-mob-mentality. He was attacked – both verbally and psychically. A series of events which culminated with Richard publicly resigning from his role at 'MUFF' and making a very sincere and open apology.
Richard was seemingly another tragic case of a man's worth being judged on a single instance of public discourse, as opposed to a lifetime of action.
BUT Richard, like the zombies in the aforementioned Bruce La Bruce film, just can't be stopped – as he admits in his Culture Talk below, he has re-taken the reigns of 'MUFF' and has many other projects on the boil.
Read all about them and much more, below…