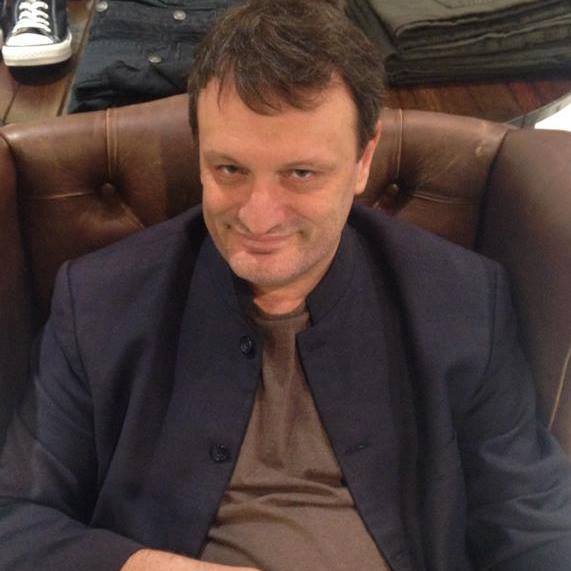 Richard Wolstencroft aka Richard Masters is an Australian director, nightclub owner, writer and general provocateur. In his mid twenties during the 1990's Richard gained Nationwide fame as a result of establishing the 'Hellfire Club' – The first S+M / kink based club in Australia, which Richard ran from 1993 to 2003. Originally beginning in Melbourne, and later expanding into other territories such as Sydney.
Importantly, with 'Hellfire' Richard not only championed outsider sexuality and fashion, but also music – with musicians as diverse as Ollie Olsen, Andrew Till and David Thrussell regularly DJing their experimental electronica at the night.
(Richard and friend photographed back in the 'Hellfire Club' days)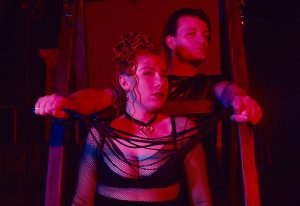 Whilst gaining fame, fortune and infamy with the 'Hellfire Club', Richard also found himself establishing the 'Melbourne Underground Film Festival' aka 'MUFF' in the year 2000. This was established – like 'Hellfire' – out of Richard's sheer will, desire and need.
In this instance as a result of one of Richard's own films not being selected for the more mainstream 'Melbourne International Film Festival'. Instead of complaining and wallowing, he started his own competing festival to champion underground and emerging film of all type – gaining international recognition for himself and many of the directors and creatives involved in the festival over the years since.
Indeed, Richard is so committed to artistic freedom that he is willing to put his own safety and freedom on the line – which he did in 2010 by screening the banned in Australia film 'LA Zombie' from infamous American director Bruce La Bruce. An act which resulted in his very home being raided by police.
And as Richard has been at the forefront of Culture creation, he has also been making movies himself since his teen-age years. Most notably 'Pearls Before Swine' (1999), 'The Beautiful and Damned' (2008) and the documentary 'The Last Days of of Joe Blow' (2012).
However, Richard's lifetime of personal creation and support for the arts was recently challenged when he made an objectively shocking, scientifically wrong and simply hurtful Facebook comment on the eve of the successful Gay Marriage campaign in Australia late last year. As a result of his comments, Richard became a pariah – seized upon by the social-media-outrage-mob-mentality. He was attacked – both verbally and psychically. A series of events which culminated with Richard publicly resigning from his role at 'MUFF' and making a very sincere and open apology.
Richard was seemingly another tragic case of a man's worth being judged on a single instance of public discourse, as opposed to a lifetime of action.
BUT Richard, like the zombies in the aforementioned Bruce La Bruce film, just can't be stopped – as he admits in his Culture Talk below, he has re-taken the reigns of 'MUFF' and has many other projects on the boil.
Read all about them and much more, below…
Basics/Getting to Know
City, State n Country you currently call home?
Melbourne, Victoria, Australia, Planet Earth
Describe a memory from some stages of your life ….basically trying to piece together pivotal moments. Concerts, art, action-figures, romance, school, politics, crime… ANYTHING really!
* age 5 – beginnings:
Dr Who.
* age 10 – continuations:
Super 8.
* age 15 – getting serious:
My First Feature I worked on Marauders – collaborating with Mark Savage.
* age 21 – young adult:
First Feature I directed – Bloodlust.
* age 25 – adult mode:
First successful business – Hellfire.
* age 30 – fully formed:
University – La Trobe – Philosophy Degree (honours) – Political Philosophy.
* age 35 – adult continuations:
Melbourne Underground Film Festival.
* age 40 – meanderings:
The Beautiful and Damned my third feature.
* age 45 – middle age creeping:
The Last Days of joe Blow – my porn documentary about Michael Tierney (Joe Blow).
* age 50 – middle age freak out:
I'm only 48 – ask me in two years.
Personal motto?
Fuck em if they can't take a joke.
Art Questions
If you had to give a dictionary-type definition of various culture-world terms… what would they be…
Here goes:
– Good art?
Kubrick, F.Scott Fitzgerald, Yeats, Bret Easton Ellis and Coleridge.
– Bad art?
Ai Weiwei and Damien Hirst.
– A curator?
Me.
– A critic?
Me.
– An artist?
Me.
– Art itself?
Beauty and Terror.
– Freedom of Speech / Freedom of Artistic Expression?
Total – Absolute.
Favorite artist(s)?
Rousseau, David, Vermeer, Delveaux, Bacon, Rosetti, Warhol, Chapman Brothers.
Are there any shared aspects in art you love, and if so – what are they man?
Eroticism and Mystery, Horror and Order.
(Some old 'Hellfire Club' flyers below)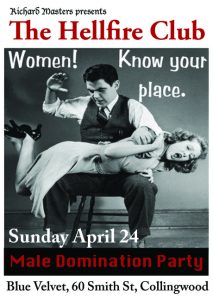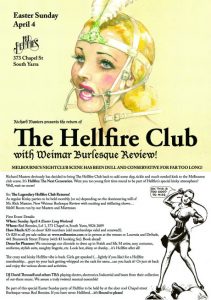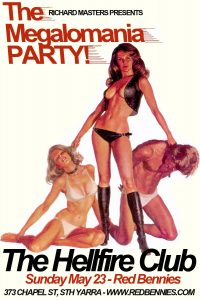 Worst aspect of the contemporary art-hustle?
Wanker critics talking about lame conceptual art.
Best aspect of the contemporary art-hustle?
Very little.
Whilst we know you through your film making and work with the 'Hellfire Club' and 'the Melbourne Underground Film Festival' aka 'MUFF' – care to share with those at home the details of your other creative endevours… if any?!
My New Feature The Debt Collector – starring John Brumpton.
'Hellfire Club' Questions
For those reading at home who may be unaware – please explain the who, what and why of 'Hellfire Club'?
I am Richard Masters – he is my other self.
If you had to describe S+M culture, to a recently landed Alien visitor – what would you tell 'em?
There way the world is – turned in to Sexuality. Dominance and Submission as ethos and philosophy, fascism as sexuality.
Got any interesting 'Hellfire' related tales to share with our dearly depraved and deliciously delightful readers?
Too many to talk about.
(Some photos of 'Hellfire Club' nights in the 1990s by acclaimed photographer Ilana Rose below)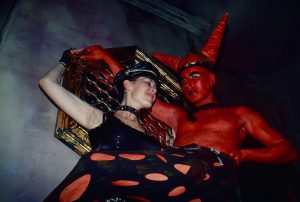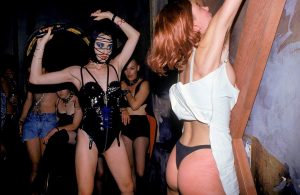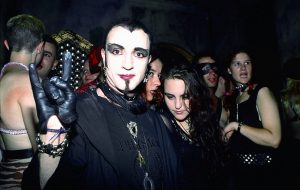 'MUFF' Questions
You have recently departed MUFF – or at least your role as Festical Director – recently…
No I have un-resigned. I am not leaving the festival. I apologised – but did not resign.
I have more work to do at 'MUFF'.
My critics can get fucked if they can't handle people say stupid shit sometimes on the internet.
– What role if any do you currently play at MUFF?
I run the fucking thing and always will as long as it's around.
– Care to comment at all about the events which led to you vacating your director's role?
I didn't leave – I thought FUCK those assholes. So I thought "I'm staying on – running MUFF as total free speech absolutist event – and so that is that.
Say way you like at MUFF – that includes me. I'll say what I like – if you don't like it – pls don't come as we don't want you.
(Richard with George Clooney)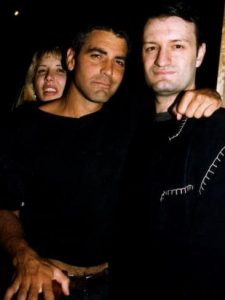 Have you taken away anything from the events that happened… advice to share for others going through similar things… etc?
People are often cnts. PC'ness is 1984 Thought Policing.
My critics behaved like Witch Hunters and even went after many people I know – like the goddamn Gestapo. These people are witch hunting, Neo McCarthyist scum- to behave in such a way, just because someone said something they do not like.
My private speech is just that private – it was not connected to MUFF or on any MUFF site. They conflated the whole issue, the culture of outrage, manufactured the whole crisis and they can get fucked I have decided. I'm going too fight these bastards. So I will.
– Highlights from your many years at the Helm?
Every year I stick it to the wowsers and bastards of this world and I have fun doing it, while supporting and discovering the very best filmmakers this country has to offer.
MUFF does this not MIFF.
WE have discovered every major Oz filmmaker the last 20 years. Not them as they are snobs and PC dullards.
Punk Questions
What does punk music and culture mean to you, and why?
I like the DIY attitude.
Favorite punk band?
The Damned.
(Richard with artist and musician Peter Christopherson)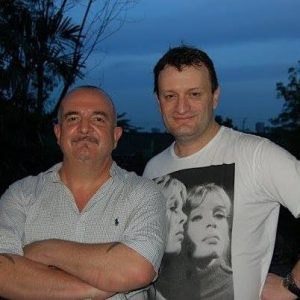 Is punk dead?
I am punk.
Trump is punk.
Odds n Ends
Who was your 1st crush and why?
Private.
Does sex change everything?
What do you think?
Please describe what you think the Australian psyche / zeitgeist is today?
Australian are sadly mostly sheep – but a few are woke and they are my friends.
I try and wake others.
Which cartoon character, would you most like to see in a tribute sex toy, and why?
Stupid – New Question.
Who would win in a fight and why: Bela Lugosi Vs. Andy Warhol?
Bela, of course.
(Promo image for Richard's 1999 film – 'Pearls Before Swine')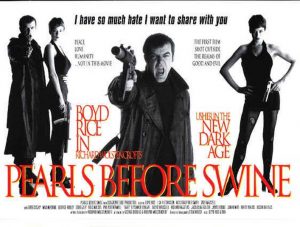 Drugs – waste of time or gateway to the universe?
No comment.
Ahem…
What role did toys play in your childhood?
None of your business.
What are the top 3 items you own?
None of your business.
Please describe your latest dream in detail…
I had a recent dream I was in a dream of David Lynch – or was he in my dream?
I can't tell but one of us was in each other's dream!
Of everything you have done what would you most like to be remembered for and why?
Being a Trouble Maker – who supports free speech, ran interesting events and made cool Indy Cinema.
If people wanted to collaborate and / or work wth you – how should they get in touch?
Facebook.
The Future
Any collaborations on the horizon?
Lots.
Any major projects you want to hype?
The Debt Collector is my next feature.
I am finishing it this year.
Links