Lewis Morley Jnr aka Lewis P Morley is an Australian artist, sculptor, toy maker, special effects craftsman, prop maker and all round creative wizard. We were introduced to Lewis thanks to our mutual acquaintance Mike McGann – as Mike, Lewis and fellow artist Marilyn Pride all lived together during the 1970's in a self described sci-fi fan commune in Sydney, Australia.
Lewis was born in 1957 and is part of the first generation of children to grow up with television. He importantly also came of age in the 1960s, a time of sci fi, space exploration, pioneering work in stop motion / visual effects, comic books and toys – all inspirations that guide Lewis' creative work to this very day. With Lewis himself stating:
"The wonder of childhood is still an important motivator for my work, on some level almost all the stuff I do is satisfying my inner child!"
Importantly, both of Lewis' parents were also artists. His father being celebrated photographer Lewis Morley Snr, and his mother Patricia an accomplished illustrator. So it is safe to say that Lewis was destined by the gods themselves to lead a creative life! And indeed he has done just that.
(A photo of some of Lewis' recent miniature art below)
Lewis has only just retired from his professional work, and is still making art of all types at a furious pace. So we decided to ask Lewis some questions about his many years in the Australian film industry, his father, Mike McGann, toys, comics, fandom, giant robots, and much much more.
Read it all, in the Art Talk Interview, below…
Basics/Getting to Know
Name + D.O.B?
Lewis P Morley.
November 1957.
City, State n Country you currently call home?
Blue Mountains, NSW Australia.
City, State n Country you're from?
Richmond, Surrey, UK.
Describe a memory from some stages of your life ….basically trying to piece together pivotal moments. Concerts, art, action-figures, romance, school, politics, crime… ANYTHING really!
First – I must mention Mr Gerry Anderson – Via his Supermarionation TV puppet shows like Stingray. He introduced me to the concept of completely built worlds, for which I will be forever grateful.
* age 5 – beginnings:
My first pet, a Siamese cat. I absolutely loved her, but I had really bad asthma, my eyes swelled up red and watering and my nose ran like a tap every time I touched her, so she had to go.
My first experience of something I really wanted being bad for me!
(A photo below of Lewis as a young child in 1961)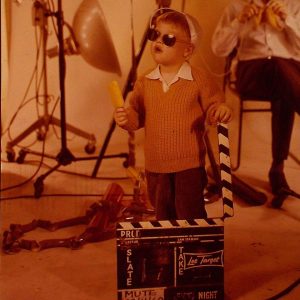 * age 10 – continuations:
1965 – OK, I was only 8, but I remember my parents had just bought their first B&W TV set. I wasn't allowed to just watch it, but my mother was cooking supper so I sneaked into the lounge and turned it on, just to see what was on…
The first image was some kind of Mission Control. I couldn't believe I was seeing this, then I saw the spacecraft they were about to launch, a flying saucer carrying America's first family in space… It was the first episode of Lost In Space and I was hooked! Those first few episodes were really good SF adventure, then Dr, Smith went weird!
Around the same time, I remember seeing a copy of TV Times – In England at that point, there were only two TV channels, but you had to buy a program guide for each of them.
This particular issue had a big green aircraft launching up an inclined ramp in front of palm trees. It was for a show called Thunderbirds and it was coming SOON!
(A photo below of Lewis as a child in 1967)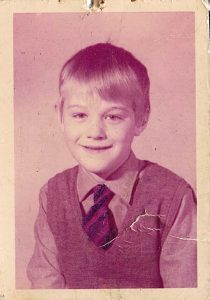 1968 was the year 2001: A Space Odyssey premiered and I saw it in Cinerama on it's first run. The monolith scared the Bejeezus out of me and I'd lie in bed at night, seeing my partly opened bedroom door silhouetted by the passage light and I'd think I was in that creepy hotel room!
* age 15 – getting serious:
I was in Australia by this time, I'd had to leave all my friends and history behind. Our friend Babette Hayes was a superstar Interior Designer who had emigrated earlier and she convinced my parents the future lay down under!  It's been a lifelong friendship that continues beyond my parent's deaths and she has really helped all of us in so many ways!
I was never really smart in the maths department, just good with my hands, so I had to choose a job that played to my strengths. In the days of free Tertiary Education, trying to upgrade your skills was a really good idea, so I went to Sydney College of the Arts (now UTS). I didn't have the maths for Industrial Design and and didn't consider myself an Artist, so Graphic Design was out too.
But Interior Design had the most model-making requirements, so I took that, unconsciously following in Babette's footsteps.
In 1976 my dad visited America and brought me back a tiny blow-molded Japanese Robot. The design work blew my mind! Two years later that design appeared again as a Shogun Warriors toy and my fate was sealed! It was Giant Robots all the way down!
(A photo below of Lewis and his father in 1970)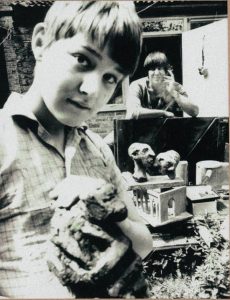 * age 20 – young adult: 1980
I graduated with a Ba:Int. Des, and a strong desire to do ANYTHING but Interior Design!
So I started work in an Architectural Model making firm, Star Wars had recently come out and my dreams were to make model spaceships for a living, but I knew that sort of thing only happened in California.
After about a year I discovered a studio called Createk that made special props and costumes for TV ads, so I jumped ship and after a year of slaving in pretty unpleasant situations, I had learnt enough to quit and go freelance.
About this time I learnt about Sci-Fi Fandom and met cool people like Nick Stathopoulos who was into painting and sculpting stuff, fantasy artist Marilyn Pride who had her own invented universe called The Red World and Mike McGann who was into Forbidden Planet.
Mike suggested we should get a share house and become an Artistic SF commune, which sounded like a great idea!
Nick's parents wanted him to be a Lawyer not an Artist, so it ended up being just the three of us, but we did it anyway and my life would never be the same.
"So, a Feminist, a Socialist and a Fascist walk into a share house…"
To be fair none of us really knew what the others (or maybe even ourselves) were really like, but the only alternative was a continuing life of stultifying normalcy with our parents, so this was our big chance to get out of their homes and be creative.
We rented an old corner store in Petersham which had plenty of floor space for three young Turks with things to do. Rents were cheap in those days, $40 p/w with Mal and Mike chipping in $10 each and me $20 ( 'cos I had a job!)
And for a while it worked pretty well.  Music was an important inspiration. I played "Superman" and "Thunderbirds", Marilyn played Steeleye Span and Bernard Herrmann and Mike played "Is Paris Burning?" and Drinking songs of the Waffen SS.
It wasn't long before Marilyn and I decided to get together and move on, but we parted with Mike on pretty good terms and Kevin Dillon moved in after we left.
Marilyn and I were a couple now, but no marriage – Take that, Patriarchy!
We scraped together our savings, which together with loans from the Bank and my parents, allowed us to buy our OWN corner store and work from home!
…Just to annoy you wanna-be first home owners, here was the financial landscape in 1984…
Our house was bought for $60,000. Mortgage Rates were 14.5%
We paid off the Bank loan of $20,000 in three years.
We sold the house five years later for $160,000.
Fast Forward to today, and it's current calculated estimate is $1,905,583.
Excuse me, but that's fucked!
* age 25 – adult mode:
1985 – THE GOLDEN AGE!
Having made Mike up as Popeye the Sailor Man for a print ad, I met Bob McCarron, Make-up Artist extraordinaire, who took me on as an assistant on "Razorback", which kick-started my film career, whilst my TVC (Television Commercial) work kept going great guns!
I met up with a bunch of other Gerry Anderson fans and we built proper filming miniatures for a VFX (Visual Effects) company called Mirage, which was pioneering the use of motion-control photography in Australia.
Nick Stathopoulos, Marilyn and I attempted to tell a Red World Story using stop-motion animation, but it was a creative bridge too far. And we crashed and burnt in the borderland between creative intent and physical ability…
(A photo below of Lewis as a TV show guest in 1985)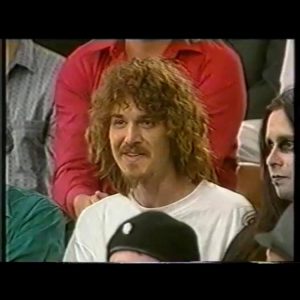 * age 30 – fully formed:
1989 – I got to build most of a full-size Lost in Space robot in 11 days flat and  performed in it for a Mitsubishi Star wagon TVC. This led to me meeting a bloke called Glen Ware – Australia's #1 Lost in Space Fan, who eventually hired me to make a proper one for a stage show that would change to my life!
I got the offer to go to Queensland to work on a new series of Mission: Impossible. A firm favourite from my childhood – I even remember sculpting a papier mache head which reminded me of chief character Dan Briggs.
My Father said "Don't go", but I thought "screw that" and Marilyn and I headed to the gold coast and shoved our snouts into the trough of "More money and harder work than we had ever imagined!"
We were members of the IMF for two seasons and unlike many of the other workers who pissed their money up the wall, we scrimped and saved. With savings interest rates at 17% it was a good time to have money in the bank! With all our savings and selling our first house, we could afford to build the architect-designed home studio of our dreams, in the bushy Blue Mountains!
(A photo below of Lewis working on his craft in 1989)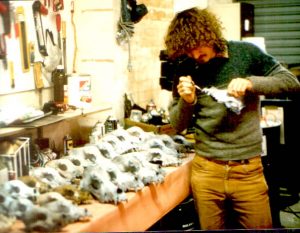 * age 35 – meanderings:
1992 – Our house (The house that Jim Phelps built) was completed – just. Our amassed "fortune" had been totally consumed in it's construction. I had less than $3000 left in the bank and was worried about Provisional Tax, but luckily the jobs started coming again. I investigated the new-fangled Computer Graphics, but never really got into it, I liked building practical models too much!
I had an idea for a SF story about Space Diplomats, but it didn't have enough depth to go anywhere…
We got a flat mate to help with the costs, she was studying to be a Vet Nurse with a text on Ancient Egyptian disease. The chapter on Achodroplasia featured an exquisite sculpture of a female dwarf who was steering a royal barge. The pose was so self-assured, I was instantly struck by a type of beauty I'd never encountered before. I wondered who this person was and where she'd been…
Later, I convinced Marilyn to incorporate her into the Red World story as a background character.
I made two properly built Robots for Glen Ware and he eventually brought Jonathan Harris (the original Dr, Smith) out to Australia for a Theatre Tour with me inside the Robot – I'm the only guy who has ever played opposite Mr Harris, apart from the original Bob May.
Bob May visited later and signed the bubble of my robot. It can be seen to this day in Sydney's Powerhouse Museum.
A bloke called James Gurney published an amazing book called Dinotopia and suddenly Marilyn's Red World Stories were unlike anything ever seen before, except for Dinotopia. She made it a big point never to read the books or see the film, but her story is still substantially different in look and intent.
(A photo below of Lewis inside the Robot and Jonathan Harris in 1994, as well as the Robot on display at the Powerhouse Museum in 2013)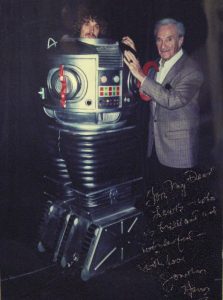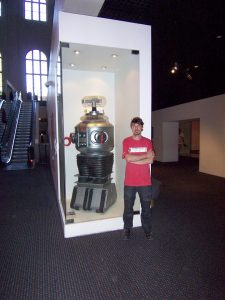 * age 40 – middle age creeping:
1997 – Dark City was my best ever miniatures job and also the best quality film I have ever worked on! I thought this was the start of something really big, but no. It was the last time I would make filming miniatures for a movie. Computer Generated Imagery was gaining ground and I was out of the loop.
Luckily I managed to transition into film Art Departments, where I made concept models instead.
(A photo below of Lewis working on Alex Proyas' film 'Dark City' in 1997)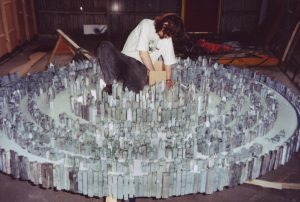 1999 – I worked on Red Planet which was a poor film, but my high water mark as far as collaboration and design input went.
Marilyn and I decided to tell her amazing Red World Stories as a graphic novel.
We were gearing up to begin and Marilyn had a crisis of confidence, wailing "I can longer see my characters". I was upset, but also still raring to do something.
That Ancient Egyptian dwarf must have had a back story – I recalled my Space Diplomats concept, slapped the two stories together and "Peregrine Besset" was born!
The Internet was just starting as a research tool – I wish I knew then, how to use it the way I do now!
I had some howling factual errors into Besset's Egyptian adventures that I intend to fix at some point. However, I did discover an Artist's models site which featured extensive photos of a young dwarf woman who was just as sassy as that Egyptian sculpture and she became the physical model for my drawings.
My original first issue was photocopied and hand stapled. I tried selling it at one of the Supernova conventions and Mike turned up and bought a copy. I was touched at his generous encouragement, given it was story about a bisexual Egyptian dwarf, in a group marriage with an Aboriginal couple – which is pretty far outside his comfort zone!
The Supernovas didn't really go anywhere, but I did get to meet Jason Jordan, one of the artist creators of "Demonskin" a comic about giant cannibalistic mutants living in the sewers of New York, who are tracked down by a cop who "just can't follow the rules".
As weird as it sounds, we did a cross-over tale which still holds up and looks like a million bucks thanks to Jason's page art and Marilyn's cover painting!
(The 'Peregrine Besset' X 'Demonskin' crossover comic featuring cover art by Marilyn Pride)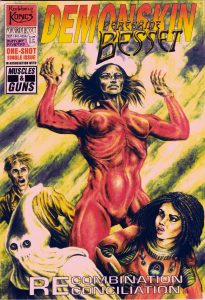 Ultimately I wrote and drew a 5 issue mini-series and wrote two additional stand alone stories, the Demonskin cross-over and "Red World Holiday" with Marilyn doing art throughout. Besset drives a double decker bus, meets sentient dinosaurs, overcomes her war trauma and learns to love men all over again.
Recently I reconnected with Jason. These days he's given up the comics and he's a sort of Rabbi. He said to me "I'm amazed you were able to make that character sexy…"  and I thought "Yeah, that was  my underlying intent – Sexy is an attitude, not a body type!"
2001 – I was working on The Matrix sequels. One sequence featured a vehicle slamming into a building. That evening I saw the Twin Towers come down on TV and  I was left feeling as if I was just working on glamourized gun-porn.
(A photo below of Lewis in 2001)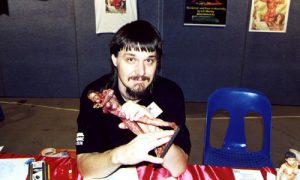 * age 45 – adult meanderings:
2002 – A DREAM COMES TRUE!  Whoo Hoo! I get to work on Star Wars Episode II! Not as a VFX model maker, but a props maker and sculptor. I create a series of full-size sculptures for the Jedi Archive – which are ironically replaced in post-production with miniatures built in the US!
The job isn't quite the dream I imagined, thanks to the bunch of overseers imported from England who keep making jokes about Australians being their convict dregs  (Oh, Ho Ho! – so funny guys, tell that one again – which they did, over and over…) But at least they gave me two hours to design as many laser pistols as possible, which the prop department then made up. One, built by Tom Perry got selected by GEORGE to be Sam Wessel's gun, so probably in the history of Western Civilization, that will be the closest I get to IMMORTALITY!
2005 – Star Wars Episode III, but this time nothing was left to chance. Everything was pre-designed, even if it was only a tiny photocopied scribble, that I used to carve a full size blaster rifle out of Jelutong wood. I also spent a LOT of time making full size light-saber damaged  droids which were taken to set and George said "Nah, we'll do 'em in post".
Whenever I watch that finished film, I can't see a single thing that I worked on (You'll have to buy the Visual dictionary to see any of my stuff!)
MIKE NEWS! 2005 – the Cronulla Riots, Skips and Lebs were running skirmishes along the beach. Marilyn and I watched it on the news and there was Mike in his element, fronting the reporters as the spokesperson of Aussie dissent.
I've never discussed it with him, but he may well see it as his finest hour.
(A photo below of Lewis at home in 2007)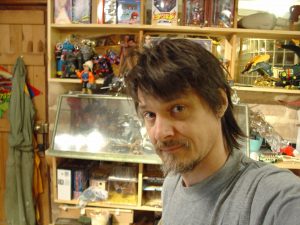 * age 50 – middle age freaking:
Actually I never really had a mid-life crisis, having kept all my good looks and hair – thanks dad! But I did have a mid-career crisis…
It began with working on George Miller's Justice League:Mortal film (appropriate, huh?) which was cancelled in pre-production.
This was followed in short order by Alex Proyas' Paradise Lost (appropriate, huh?) which suffered a similar fate.
The film work was becoming less of a full-time affair and more like seasonal work.
Then it became like… sometimes.
* age 55 – settling:
2012 – The Wolverine and I got to build segments of a full size Silver Samurai prop.
2015 – Infini and I designed and built a bunch of combat helmets and futuristic weapons using my trusty laser cutter. I also built a miniature refinery with Pete Owens, but it was never  filmed as they decided it would be cheaper to "do it in post".
I really pulled out all stops to finish a Red World Doll's House Miniature and suffered my traditional post-frenzy illness – Only this one went on for an entire month. I got whooping cough, then an agonizing fever, and MY hearing disappeared overnight. Permanently. My tonal range was destroyed, but my ears were still sensitive to noise.
It was "Goodnight Ladies" to my film career as I couldn't stand the sound levels at Fox Studios.
Soon after that, I hit the mother of all runarounds on a fixed price TVC and when they ignored my updates and then asked if I would start again from scratch, I say "I could – but I'm not going to…"
GAME OVER – welcome to retirement!
(A photo below of Lewis' Silver Samurai prop he made for 'The Wolverine' in 2012)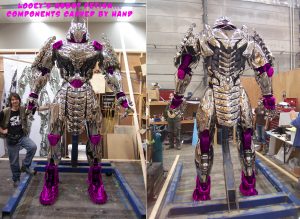 * age 60 – adult continuations:
The hearing thing is a real drag, but like the Politicians, it allows me to "spend more time with my family".
Being freed from the unrealistic demands of fuckwits, I can now concentrate on the unrealistic demands of myself.
In many ways, the stuff I'm working on now is some of the best I've ever done, so being freed from the treadmill, but still having a dream, is working out fine…
Mike rang me up the other day, just the same as ever. He wanted to know if I had a machine that would cut out stencils of the Eureka flag, I told him to get creative with a piece of cardboard and a stencil knife.
I didn't tell him I really resent people taking MY Australian symbols, like Eureka or the Southern Cross and trying to brand them with their ideology. Stop wrapping yourself in MY flag, Pauline Hanson – stick to burqas!
I still have a soft spot for Mike, he set in train a series of events that changed my life.
I try not to let my friends religious or political beliefs colour my appreciation of them as a person, but it can be really hard some times. Just recently, I discovered another of my long time friends, whom I admire and draw inspiration from, holds similar views to Mike and it really broke my heart.
I imagine him leaning back in his G-Plan lounge chair, stroking his duelling scar and sighing:
"Ach, my poor friend, you are zo veek!"
I like these guys, but I really wonder if, come the revolution, will we be crouched on opposite sides of the street lobbing Molotov cocktails at each other?
Personal motto?
"Uh, it's not as good as I hoped, but next time it'll be great!"
Favorite artists and why?
Derek Meddings and Mike Trim, who designed Gerry Anderson's vehicles – although I didn't discover their roles until decades later.
Shigeru Komatsuzaki, the God of model-kit box art. Loose, but insane dynamism in everything from Japanese battleships to giant robots, and his Thunderbirds and Captain Scarlet paintings have never been topped!
Bob McCall for his amazingly loose but dynamic space art as seen in 2001: A Space Odyssey, Star Trek The Motion Picture and The Black Hole.
Stelio Fenzo, 1980's Italian fumetti artist. Looser than Leone Frollo, but his Jungla stories blew my mind with his masterful "spotting of the blacks" – although the tragic Wally Wood is still the master of that graphic technique!
Hmmm, most of these guys are… "loose" in technique. I think I admire them because I can see how they've put their art together and it's something I can aspire to.
Worst aspect of the art hustle?
Just because I can "see" a finished sculpture in a block of marble, I forget others can't.
Also, people who think they're Designers or Art Directors, but haven't a clue about the practical aspects of bringing their "vision" to fruition. Any jackass can pull some photos off Google and say "That's my design". The trouble is, they then expect to see that EXACTLY.
The days of collaborative exploration are over and I'm tired of making other people look good…
Best aspect of the art hustle?
I've always approached briefs as if they are an Olympic event and I can achieve a personal best in the attempt.
Weirdly, when I went to work at Weta (another personal dream) I found that my attitude was the prevailing corporate ethos, but coupled with zero feedback, it meant you never knew if anything was good enough – I didn't realize that living on Mount Olympus would be so tiring!
Over the years, I've really enjoyed teaching students and "giving something back to the next generation". I've had at least one written testimonial saying I'd changed someone's life and I've got that feeling from several others too.
Seeing someone "get it" then run into different and surprising directions with the knowledge is a reward in itself.
Sadly my recent hearing disability has finally put paid to that career (alongside with my nascent global video conferencing lectures, which never really took off). Maybe if real-time subtitles get really good…
(Art below from 2014 when Lewis was at WETA)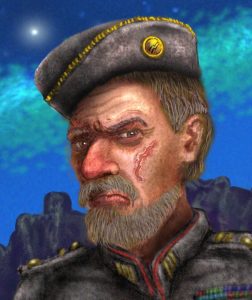 When and why did you first start making art?
I have stuff from Junior School, but I know it goes further back than that…
I remember making a cardboard steam engine on my mother's kitchen table and mixing up black and yellow poster paint and getting an unexpected yukky green colour, I think that's my first memory of colour mixing. I may have been around 5 years old…
Any pivotal artistic moment/influence?
After the inspirational blast of seeing Star Wars, I tried to sculpt a plasticene monster face so I could cast it in rubber (never having done either before) – and found I just… could!
It opened my eyes to the possibility that if I wanted something badly enough, I had the innate ability to create it. Previously, if I hadn't done something, my default position was that I couldn't.
I used to tell my students two things.
1) They have permission to be creative
2) The person holding them back is usually themselves.
What are your thoughts on the general Australian art scene today?
I really admire people like Ron Mueck who use their model-making skills to create art.
I'm not so keen on other artists that leverage their art off the backs of their uncredited technicians…
I've even lectured at the MCA about the Art of Ricky Swallow – who makes his own stuff but having the technical skills AND having something unique to say, is a hard double act.
I've never really connected with anyone who thought my twisted version of reality (see Yellow Submarine tin-toy) was a bankable asset. As it is, I'm more interested in telling my own stories, and screw what other people do or don't want!
Do you consider what you are making to be art, design, sculpture, re-hashed-crap…?
Nowadays, all of the above, but "re-hashed-crap" is filtered through my own distorting mirror of reality.
I really enjoy creating beautiful objects, but I want to use my own hands to do it. One of my tools these days is a laser cutter, but to me it's just a better X-acto knife.
I have little interest in 3D printing a finished object because it lacks the touch of a craftsman's hand.
(A photo of Lewis' work-desk below)
Describe the method and materials used for your work?
Generally I often scribble down ideas using pen or pencil, but for far too long I was worried my technique wasn't good enough.
I only recently started using Visual Journal books, I finally decided the quality of the drawing was irrelevant, it was the spark of an idea that was important.
I still love using balsa wood and polystyrene foam because they are quick. I just finished making some miniature boot shapes, and carving them out of balsa took right back to my childhood!
The wonder of childhood is still an important motivator for my work, on some level almost all the stuff I do is satisfying my inner child!
* your cartoons?
I draw a semi-autobiographical strip called "Mally & Looey" which is loosely based on reality. Most of our friends get a look-in sooner of later. Poor ol' Mike hasn't been honoured yet, but there's a hilarious escapade we got up to while he was out of the share house.
Originally I wanted to publish three strips a week on Facebook, but writing and drawing Mally & Looey, Peregrine Besset AND Red World Scribes was just exhausting and the quality suffered. M&L and Scribes featured my cartoony style, but PB was meant to be my Stelio Fenzo style and it was coming in "off model" too often, so I decided to concentrate on the most popular which was M&L.
One day I'll go back and tweak the PB art that annoys me…
I used to do roughs in blue pencil (when everything looks great!) then ink using a brush pen and scan into Photoshop for colouring. Now I draw directly into Photoshop using my Cintique Companion.
Even so, the layers are now blue rough, a new red anatomy layer to correct stuff, then the ink and colour layers. I add a colour halftone filter over the finished art to try and reference those old Gold Key Comics that used to impress me as a kid.
(Some Peregrine Besset art below and also a photo of Lewis reading the collected trade-paperback)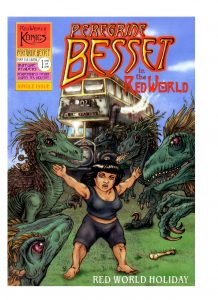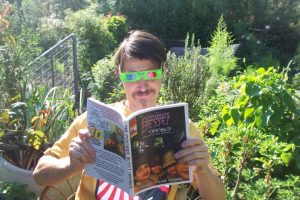 * your drawings and illustrations?
I'm never really happy with my drawings etc. They look fine while I'm doing them, then after a while when I look back, all I can see are the faults.
If I'm such a frickin' genius, how come I can't see shite when it's right in front of me? The trouble with working digitally is the piece is never really finished, you can continue futzin' infinitely but it won't make it any better.
Ignoring my own advice, I never seem to use traditional media these days, although the stuff I did 20 years ago looks pretty good.
Note to self: Just get out the acrylics and pastels and go channel Shigeru!
* your prop work?
My ethos has always been to make something that is visually indistinguishable from the original item. Check out these tin robots I made for a VW TVC. (see pic) That's all cardboard, balsa wood and heat formed styrene folks!
The trouble is, that level of fidelity is now expected as standard, due to the rise of Google-powered "Art" Directors. My final film job was background props for Alien:Covenant.
(Yea! I got to work on an Alien fillum!) My brief was computer rendered to total photo realism, so my only real challenge was to make my objects match the photos EXACTLY – Fine for another personal best, but no sense of contributing anything to the process. I was just a bio-robot version of a 3D Printer and once those fuckers can print effectively in colour, the "creatives" can get rid of all us annoying humans in the basement…
(Photo below of some fake tin robot toys made by Lewis)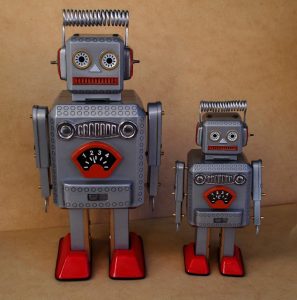 * your toys – such as your amazing series of 'Tin Toys that Never Were'?
Yeah, this is more where I'm headed, along with doll's house miniatures of Marilyn's Red World.
Balsa wood and cardboard are still my friends, but silicone rubber, urethanes and fibreglass are just as important these days – thanks for the on-the-job-training, film industry!
I use the laser cutter a lot more. In the old days, I'd cut an entire window frame out with just a scalpel and steel rule, now I can make something that looks machined straight off and having to start from scratch again is no longer a huge drag.
Check out my tin-toy Yellow Submarine, carved from styrofoam with laser cut portholes – ok, it's a LOT more involved than that, but that's the starting point!
(Photos below of some of Lewis' 'Tin Toys That Never Were' – including the aforementioned Yellow Submarine tribute)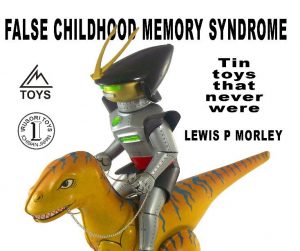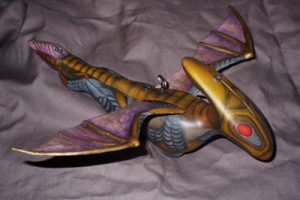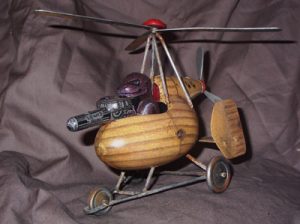 What does an average day making art involve for you?
Get up, make breakfast, sweep the floor, walk the dogs, morning coffee; STUDIO TIME!!!!
Afternoon Tea, STUDIO TIME!
Prepare supper, 7 o'clock news, watch some TV or… MORE STUDIO TIME!!!!
Shower, sleep.
Repeat.
Mike McGann Questions
* What impact did Mike have on your personal and artistic life and why?
I used to think "Ha ha, he's got that little Spaced Out spaceman rubbing up against the leg of that voluptuous blonde! – Who'd put their fetishes out there so blatantly?"
Of course nowadays I'm always drawing my dwarf of colour, with her big belly and drooping breasts bulging out of her dungarees, so I've meekly got in line behind Mike!
(Some of Lewis' self admitted fetish-on-display art below)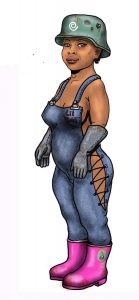 * What are your thoughts on Mike's art and current status in the Australian art scene?
Marilyn always said "…his art could be so much better if he just took the time to work on it" – but then she says that about herself and me too!
Mike's art has always had a good line to it (better than mine!), but he did use to depend too much on clip art as a short cut to actually drawing content – It used to drive me crazy, to see him trace a fleet of spaceships where the perspectives would all be flying off in different directions and he'd just reply: "It's the Enterprise, what's your problem?"
Mike always paraded his attitudes (if not his politics) in his art and that's fine, his stuff is distinctive!
I'm not even in the Australian Art Scene, so I have no idea what his status in it is…
Lewis Morley Snr Questions
What impact did your father have on your artistic life and why man?
Both my Mother and Father had a big impact on me, although I probably didn't appreciate it as much as I should have done.
MY father was a Photographer and week-end artist and my mother was an accomplished  book illustrator.
My dad grew up as the little brother to his family's golden boy, so he was always fiercely competitive and that washed over in his attitude towards me. He'd always do something for me, but he'd just present me with the finished article, never take me through the process. When I got into plaster moulding, I had to teach myself, as my Dad's techniques were pretty irrelevant to what I wanted to do.
My mum tried to take me through the process of graphics a bit more, but because she was so good I'd tend to shrink back and let her do it like dad. After she unexpectedly died, I found all her sketch books, but it was too late to discuss anything by then! I wish I'd talked to her more, but somehow neither of my parents really connected with what I wanted to do.
I showed them my first comic and I had to ask my dad what he thought. His erudite, constructive reply in full, was "Bad." – Thanks, pal. That really gives me something to work with.
It turned out my mum hadn't even read it, she just glanced at the pictures and tried to guess what the story was about. As such, she thought Besset was a prostitute, which probably annoyed my dwarf no end, as she's never taken money or had to pay for sex!
After my mother's death, my father and I decided to have a joint show and we started preparing. Some of my work can be seen in my book 'False Childhood Memory Syndrome'.
My dad designed some assemblages he'd wanted to do and I made the plywood structures for him, but when he came to actually start the work, he had a panic attack and it just never happened.
It was kinda sad to see him tying himself in knots over no longer being able to "get it up" creatively, but I guess his competitive nature had finally come back to bite him in the bum.
(A photo of Lewis Snr and Jnr, below – both proudly presenting Lewis' creations)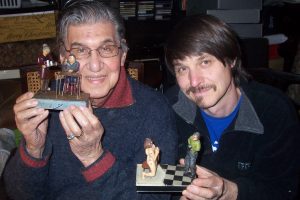 Any memories of your father you would care to share with our readers?
He had this annoying habit of saying things like "I saw this wonderful thing – but I didn't get it for you;"  or "David McCallum, was here last night, but I didn't wake you up."
He came home once and said "I made this great rubber raft for your Action Man (UK version of GI Joe) out of styrofoam, but then I painted it with enamel spray and it went phhhhhuuuuh!"
And I thought, if you were going to spend all that time, why didn't you make it at home with me? That way I could have been part of the process and learned something!
Maybe that's one reason I became a teacher and enjoyed it so much.
Speaking of teachers, I really must mention the pathetic excuse for a human being, who taught me at Junior School when I was 10 years old.
I was drawing flying saucers during one of his lessons, not realizing he had come up behind me.
He gripped me by my blonde Beatles-cut hair, hauled me out of my seat, twirled me in a circle and shoved me back down again. I spent the rest of the period combing loose hairs out of my head with my fingers.  Thanks for nothing, Mr. Jenkins – and by the way, I'm now older than you, smarter than you and I've STILL got more hair than you had!
Why do you think your father's photographs gained him fame and fortune at the time, and importantly, continue to be highly regarded today?
Despite the amazing output of photos he produced in the 60's, he is really only remembered for the Christine Keeler portrait. At the time it gained him notoriety, but no fortune.
I remember him taking me to the pictures to see a Pathe documentary that had been filmed in his studio.
I think this film encapsulates his dreams – he always wanted to be known as an artist, not a photographer, but it was never ever to be. Even after his death, the NSW Gallery of Art was interested in his photos, but not the artworks he had left behind…
He always had a good eye and I look at his photos today and marvel at the composition and intent. At the time of his death, the Keeler shot had been rediscovered (along with the rest of his oeuvre) and it earned him a modest recompense that will hopefully allow me to live in comfort in my twilight years!
Odds n Ends
Who was your 1st crush and why?
Emma Wade at age 8, blonde plaits… Sigh.
Although honourable mention must go to Rosamon Alexander, a very well developed Jamaican lass who completely redefined "sexy" for the rest of my life.
How I wish I'd told her how I felt – ah well, we were only 12 at the time…
Does sex change everything?
See specially drawn Mally & Looey strip, below!

Please describe what you think the Australian zeitgeist is today?
People shuffling around, hunched over, with their faces uplit by the glow of LCD's… – Phone Zombies!
Which cartoon character, would you most like to see in a tribute sex toy, and why?
Volspina from Shinkon Gattai Goddannar:
– A Giant Robot.
– A Giant Female Robot.
– A Giant Pink Female Russian Robot.
(Lewis' Volspina tribute sex toy below)
Who would win in a fight and why: Godzilla Vs. a gang of rowdy Koalas?
Here, the image speaks for itself!
(The results of the epic battle, below)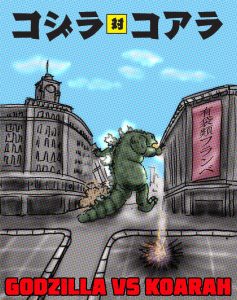 Drugs – waste of time or gateway to the universe?
Yeah, don't do 'em. Don't drink. Don't smoke – my Chinese Grandmother cured me of that little vice by giving me a puff of her Old Holbourne rollie at age 5!
I don't drink because I'm enough of a dick while I'm sober and despite what one of my flat mates thought, I'm not "even better" when drunk. My dwarf does all my drinking for me and she takes it waaaay too far!
I don't do drugs because they kinda scare me, I've got more creativity than talent or time to do it… I don't need my horizons expanded that way and I'd hate to get my brain rewired in the process.
What role did toys play in your childhood?
What is this childhood of which you speak?
For me it is just my life…
What are the top 3 items you own?
In terms of Giant Robots, it would have to be three of these puppies, but I'm not telling you which ones.
Too bad they're out of their packages, otherwise they'd have to be worth oohh, a couple of bucks!
(Photo below of Lewis' toy collection)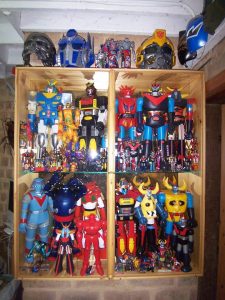 Please describe your latest dream in detail…
I don't usually remember my dreams, but this one was a gym scene with lithe blondes in leotards….
Huh? Where's them black ladies and dwarves?
Of everything you have done what would you most like to be remembered for and why?
Like my poor Daddy, it would be cool to be remembered as an artist, but I guess I'll settle for having my name on two Star Wars films.
I suspect that will be my immortality – too bad most people refer to them as "the crap ones"!
If people wanted to collaborate, work with you or just buy some art – how should they get in touch?
The collected  Peregrine Besset Omnibus is out of print now.
If I could get 50 interested people together, I could do an updated reprint. Hmmm, how does that Kick-starter thing work?
The Future
Any collaborations or major projects on the horizon?
I really hope Marilyn gets her Red World Story out there (Dinotopia notwithstanding). She's working hard on it again and Besset now features as an important secondary character.
I'm trying again to film a Red World Story, this time as a Supermarionation inspired rod-puppet film!
I have dreams it will get finished this time and wonderful, maybe with the voice talent of Cate Blanchett as Marilyn's heroine, but who would voice Besset is still open to speculation.
(Some prop work by Lewis below)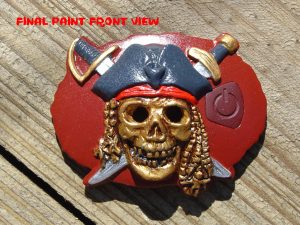 Links