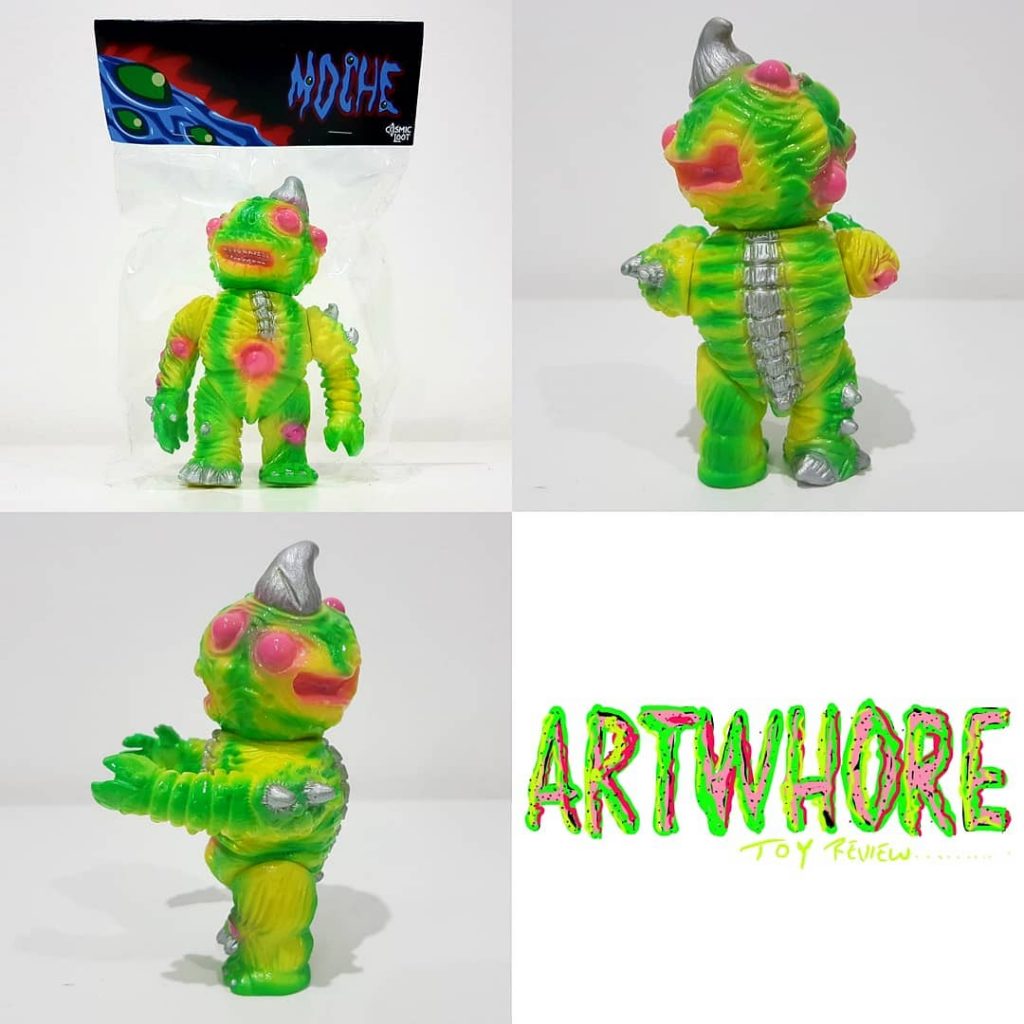 Produced By = 'Cosmic Loot'
Figure Name = Moche
Custom By = 'Cosmic Loot'
Release Details = Cosmic Loot  – Moche resin – Competition Prize – One Off
Material = Resin
Country of Production = France
Height = 15.5 cm (horn to foot)
Depth =  5.75 cm (belly to back)
Width =  8.5 cm (shoulder to shoulder)
No of Parts = 5 (body / torso + two arms)
Released = August 2017 (Via an Instagram Competition)
Sculpt Debut = February 2017
Release Price = 35 Euro (for the unpainted version)
Genre = Resin Art Toy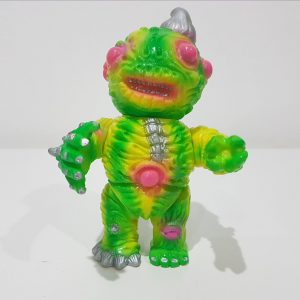 Read the full review and pics after the jump…
Back Info
Moche is the debut release of French based brand 'Cosmic Loot' – the brainchild of Mr. Thomas Giquet.
The Sculpt
Equal parts wormhole alien diety, and abomination from the primordial swamplands, the Moche stares with it's many eyes. Chirps and gurgles from it's two mouths. Grasps with it's strong, crystal covered left hand; as  it's 4 pronged stump hangs threateningly at it's side. All the while slowly hobbling on it's misshapen legs – one primate-like and with a blinking eye for a knee. The other fat and solid, all covered in spikes.
The sculpt work is top notch,  hidden details and great textures making the piece pop.
And letting us all know just how much the people at 'Cosmic Loot' care – Moloch is topped off with hand carved company information ("Moche 2017") on it's feet.
However, whilst the sculpt work is Grade A, we must note that the creature itself lacks that certain 'X Factor'. It lacks much personality.
Indeed ole Moche exists as a great mixture of various monster 'tropes' (simian shaped body, multiple eyes, spikes, visible spine and multiple mouthes) and the result is original, yes. But also derivative – like mashing up all the colours of the rainbow until all your left with is a dull grey.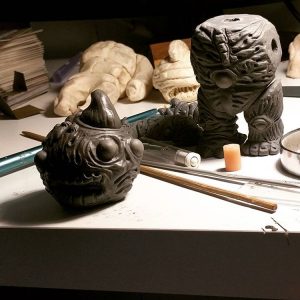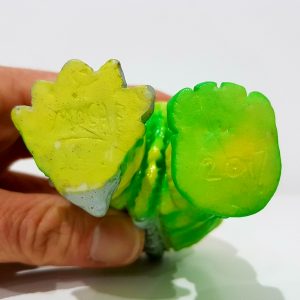 The Material
We weren't 100% on this – but were pretty sure ole Moche is made out of rotocasted resin due to it's weight. So we asked Thomas who let us know:
"Yes, it's rotocasted, but the resin was solidifying quickly so it wasn't perfect."
And checking some of the joins on the figure reveal that the base material is off white in colour – perfect for customs.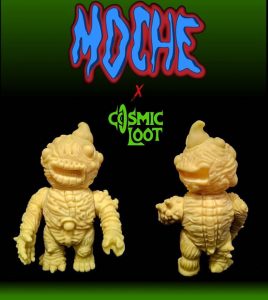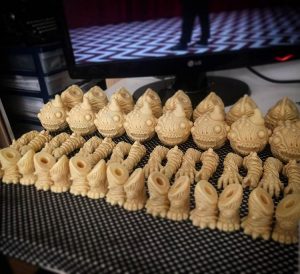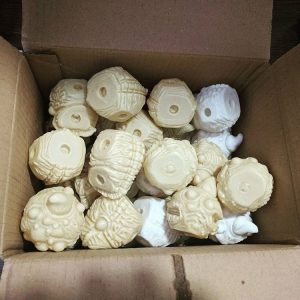 The Smell
Unlike any resin or soft vinyl we have smelt before… Moche smells like mouldy playdough, only sweeter.
Organic. Human even.
It could be the paint, it could be the resin, it could be the very soul of France stinking up the place. All cigarettes, coffee, sex and no showers… We can't say for sure, but we dig it.
The Custom Work
Moche is painted in the classic Japanese kaiju style – clashing colours and minimal detailing.
A yellow base, with green sprays on top for the underlays. Topped with pink highlights for the eyes and hand-painted detailing on the exposed horns, nails, spine and toes done in silver.
Hawaiiian Summer Kaiju fun basically!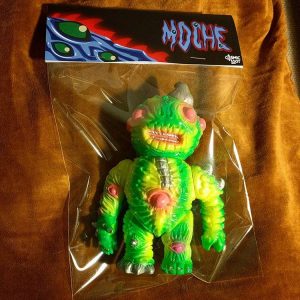 Playability 
* Can it Stand = Yes
* Can it Sit = Sorta (You need to use one of the arms as a support)
* Is it Easily Breakable = Not really (could probably survive being dropped onto concrete)
* Accessories = None
Thanks to magnetic joints, this figure has some of the best playability we have ever seen in a resin art toy:
Spin all the body parts 360 degrees? Check. Take the figure totally apart and rearrange into a multipilicity of unique forms? Check. Mix and match it with other magnetic items in your house like your fridge, or some knives? Check.
What else more could you want!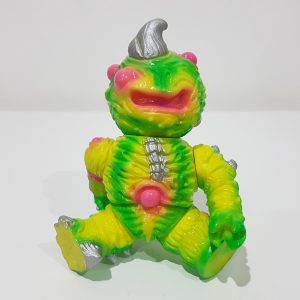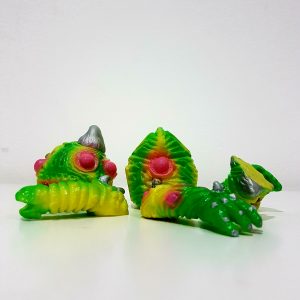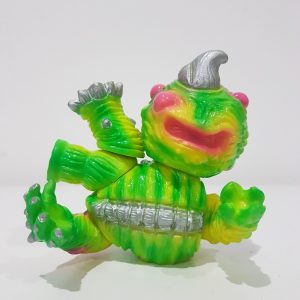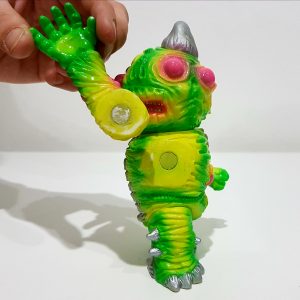 Flaw(s)?
A quick hold in the hand reveals no issues or flaws. But a long gaze and a minor issue becomes apparent – some of the paint on the joins is missing. We can only guess due to rubbing and / or those areas not being clear coated.
That said, for a totally hand-made object, it's basically perfect.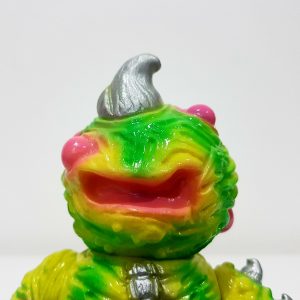 Summery
Overall Moche is amazing and represents the pinnacle of what can be achieved with resin. A lovingly created, highly playable, expertly sculpted art toy. Quality and production wise, we can't fault it… except to say that in setting the bar this high, most other resin figures pale in comparison.
BUT, and this is kinda a big but… The figure just seems to lack that 'X Factor' as we mentioned. We can't quite put our fingers on it… but ole Moche just seems to lack soul as a monster.
As a creature. Moche is no star. He's more background and forgettable.
…maybe that's just us though?
One line summery? 'Moche' is a perfectly executed, if albeit derivative first release from a brand we should all be keeping our eyes on!
Links