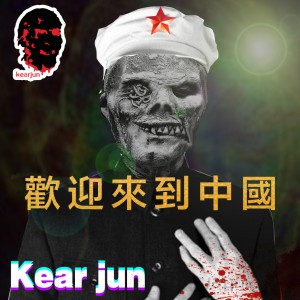 Jun and 'Kearjun' are part of the growing underground art scene in China, recently releasing the Youzha soft vinyl figure to much acclaim.
The Youzha figure is designed and sculpted by Jun in loving tribute to both one of his favorite films ('Zombi 2'), and breakfast foods (the Chinese fried bread dish known as 'Youtiao'). Interestingly, Jun chose to have his figure produced in China, as opposed to the usual place of manufacture for soft vinyl toys, Japan. A bold move by Jun which will hopefully solidify China as a reputable place for artists to get work produced, as opposed to the sweat-shop style factories it is famous for.
(Picture below of the Youzha soft vinyl figure by Kearjun)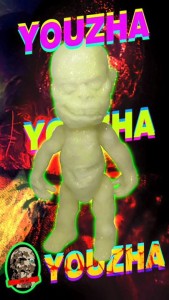 Jun's artistic vision is a mix of pop art and surrealism, stating that, for him,
"I believe everything can be art, even my breath at this moment if I'm willing to."
With his Youzha vinyl figure ready to debut in painted mass market form, and lots of other figures and art planned, now is the perfect time to get to know Jun aka Kearjun by reading the Art Talk interview below…
*N.B – the Art Talk with Jun was graciously translated by Jun's dear friend Gabrielle*
Basics/Getting to Know
Name + D.O.B?
My name is Kearjun.
Jun is my Chinese first name.
(I'm sorry. I wanna keep my family name in secret, thanks! J)
D.O.B: 18/07/1990
City, State n Country you currently call home?
Beijing, China
City, State n Country your from?
Beijing, China.
I'm local Beijinger.
There is not only the Great Wall in Beijing, haha!
Describe a memory from three stages of yr life ….basically trying to piece together your pivotal moments. Concerts, art, action-figures, romance, school, crime… ANYTHING man!
* age 5 – beginnings:
When I was a child, there was Ultraman played on TV. It was too amazing for me even just to move a step to do anything else.
I bought my first vinyl toy in a store near my home. I was so excited, holding the toy running around happily. Haha!
And I can still remember the first magazine about Ultraman that I bought, was a book introducing heights, weights and powers of different kaijus.
* age 10 – continuations:
*silence*
* age 15 – getting serious:
There opened a CD shop across the street of my home. There were a lot of wonderful CDs and movie discs, even quite a lot of B class films in that shop.
I began collecting movies and CDs since then. And I spent rest of my time on drawing because it's my hobby.
By the way, I can receive the signal of MTV channel when I was very young, so I knew the Rolling Stones, Kiss and many other metal bands, and I knew what hip pop is at a very young age.
* age 20 – young adult:
I moved to a new house that year.
I found out a lot of old stuff when I did the package. They were all toys made of paper or mud.
It was not that open in China when I was a kid, so I would draw out the image from TV, and made them out with paper or mud. Wow! It was interesting when I saw them again, and I made toys again since then.
(Pictures below of some sculpts by Jun)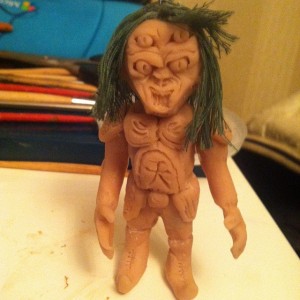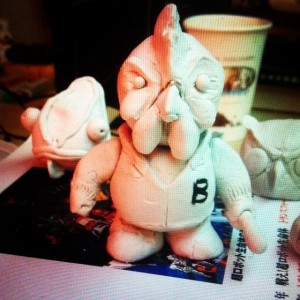 Personal motto?
As for art, my motto is: follow the desire of instincts.
As a person, I believe: the fragrance always stays in the hand that gives the rose.
Favorite band(s)?
Ah! It's difficult to choose!
All different kinds of music make me excited. I can only say, at this stage, my favorite hip pop is 'the chronic', and favorite rock is 'metal to metal'.
Favorite TV show(s)?
The Dragon Club and CCTV (China Central Television) Film Channel, they are my favorite even now.
Favorite sport(s) + teams?
Los Angeles Clippers, Blake Griffin is awesome!!!
Favorite movie(s)?
The Rocky Horror Picture Show!!!
Zombie movies by Lucio, Akira Kurosawa (くろさわ あきら), and HongKong Kongfu films produced by Shaw Brothers (Hong Kong) Limited, they are interesting!
Favorite books and comics?
Haha! I love weird and interesting comics which may be of minority interest.
Art Questions
Favorite other artist(s)?
(Picture below of a one off Warhol tribute Youzha by Jun)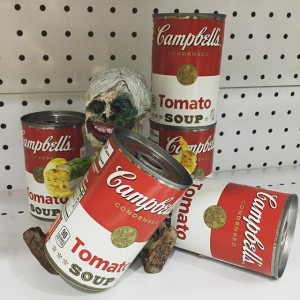 Worst aspect of the contemporary art-hustle?
Why so expensive!!! I can't afford any.
Best aspect of the contemporary art-hustle?
I think the most wonderful one is that modern art promotes that artist in only a kind of lifestyle.
It doesn't have to be painting or sculpturing anything.
Anything that can release your emotions or feelings, and express your bare happiness, can be taken as art. Thanks to Marcel Duchamp!
(Pictures below of some sketches by Jun)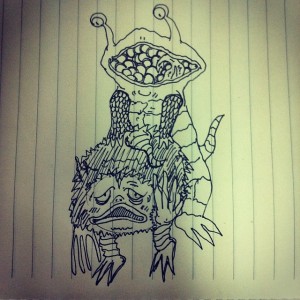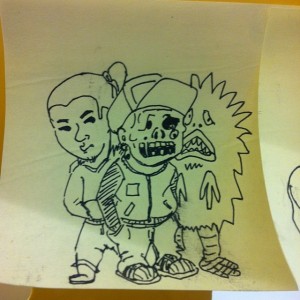 Do you consider what you are making to be 'art', 'design', re-hashed crap?
I think art is an expression of desire without any thoughts. But design needs to experience the process from strong excitement of ideas to rational clearing, and then creates in an understandable way.
My design thoughts are actually a kind of commercial thinking way that I insist.
When and why did you first start making 'art' (drawings, paintings, anything)?
I started drawing since I was very young.
I liked drawing characters of a cartoon with a pen and a piece of paper when I watched one. I kept on drawing on the school table during some boring classes.
I believe everything can be art, even my breath at this moment if I'm willing to.
What did you draw as a pre-teen child?
I mainly drew some characters in some cartoons, something in my mind, mythologies, or anything.
What did you draw as a teen?
During my teenage time, I also drew some erotic pictures, haha!
Now, maybe everything.
Any pivotal artistic moment/influence?
It might be the first time I saw real Ming Dynasty furniture. Chairs without nails, simply using structures to build, carved patterns, all of them are fascinating.
I used to believe foreign artists are greater, and was deeply influenced. But later, I realized Chinese culture is also mysterious and wonderful.
I'm obsessed with it and proud of being a Chinese!
(Pictures below of some Ming Dynasty furniture)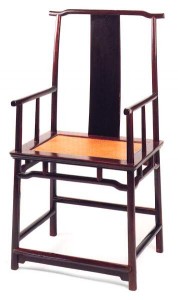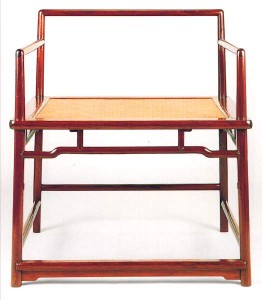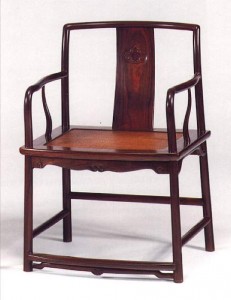 Why + when did you decide to go in on the art hustle?
I love drawing when I was a small kid.
Actually, I went to art school quite late. It was high school when I turned to go to art school.
I did quite well in mathematics and physics, and usually got high scores. So I believe I can balance emotional and rational thoughts, though sometimes it's difficult.
Describe the process of producing a self designed soft vinyl toy in China? – from original sculpt, moulding, production, to finally holding that sweet sweet vinyl in your hands your creations? (dot point all o.k.)
I can answer this question together with the next one. I love the movie Zombi 2 by Lucio for a very long time.
At first, I bought the disc in a CD shop just because of the cover of it. However, it turned to be that the image of this zombie just showed up for a very few minutes (I love the fight between sharks and zombies deeply). Haha!
Later, I searched out the disc occasionally and thought about the image. I think this simple sculpt is the soul of the whole zombie, so I made it out at once. The whole process was quite smooth. I found it amazing, and had to make it!
At first, I also tended to produce my toy in Japan, and I had sought advice from Ricky. Thanks for his patient answering. But due to the money in my pocket, I could only choose to produce in China.
To be honest, I was a bit worried at the beginning, even had the thought if they were not good enough, I would just keep them for my own pleasure. Afterwards, a friend introduced a quite good factory to me. With patient communication, I found some videos of Japanese producing process, and related pictures, and waited patiently.
The quality was not bad when I received them.
Of course, I asked Gabriella to emphasize they were produced in China when people asked through emails. Not bad, people like it.
I appreciate all the friends who like my work, thank you for offering me such an opportunity to express myself.
(Picture below of the poster for 'Zombi 2', directed by Lucio Fulci)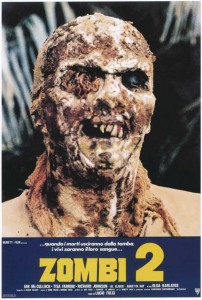 Why did you decide to produce your toys in China… as opposed to the traditional home of sofubi – Japan?
Japan dose have very high skills in producing. If I have the chance, I would do some in Japan. There is some craftwork can only be made in Japan. I also wish to have a chance to work with Japanese factories to create better forms and work.
What are the back narratives / tales to some of your kaiju creations such as:
I watch a lot of movies, paintings, mythologies, everything that can impact my brain before my creation.
I love listening to music when I create, just letting my CDs play.
* the 'Shit Baby' aka 'Zombie Baby' resin?
Do you mean 'Dr.Face'?  It was a very occasional chance that I made it, a very random idea.
I love enjoying this random, though it's not mature, somewhere not reasonable enough.
It's name is just like its face. That it is!
(Pictures below of the Shit Baby resin work by Kearjun – from sketch to final resin)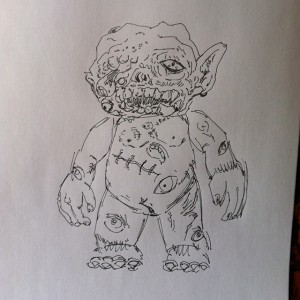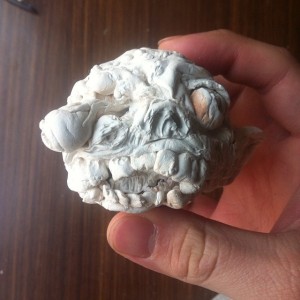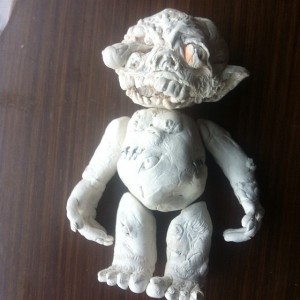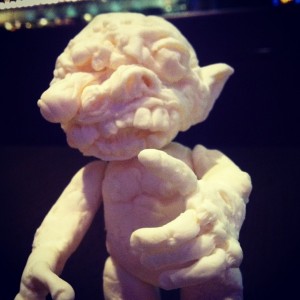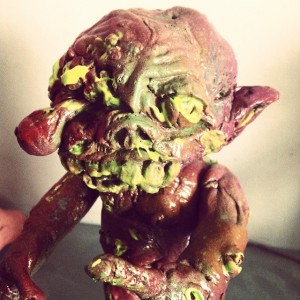 * the 'Youzha' soft vinyl?
As for YouZha, it's a bit thin and long, which reminds me of my breakfast, so I named it after it.
I wish you can find a smile on your face when you research its name.
(Pictures below of the Youzha figure, art, sculpt and namesake food)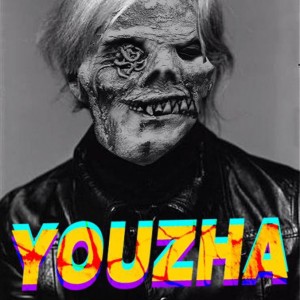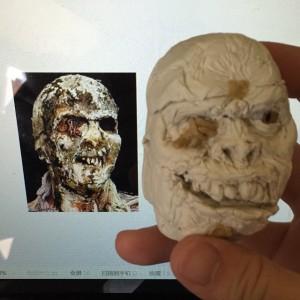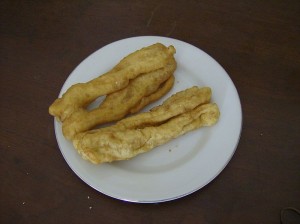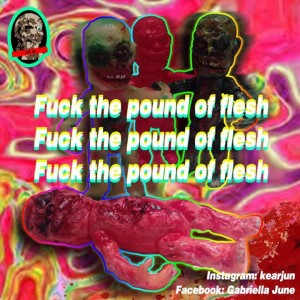 What role does Gabrielle play in 'Kearjun'?
She is a good friend. I'm glad she can help me deal with everything.
She is responsible and careful. This allows me devoting myself fully in creation.
I'm very excited every time she told me some great artists like my work! It's more than words can describe!
Please explain your thoughts on the hype beast clusterfuck that is the 'Nag Nag Nag' figure by Shig – i ask as i know you have produced some tribute sculpts and are a major fan?
Haha! I may say, it's a kind of showing respect. There are totally no commercial thoughts. I just purely like NagNagNag, but I can't afford one, including BGT, and a lot of work by other designers.
The reasons why I seldom purchase, one is my poor English, another is my laziness. It's a bit bothering for me to participate in lotteries.
But I like Nag so much, so I made a mini one just for fun, and posted some pictures. Haha!
If the artist of Nag sees this article, please don't get angry of me.
(Pictures below of the tribute Nag Nag Nags by Kearjun)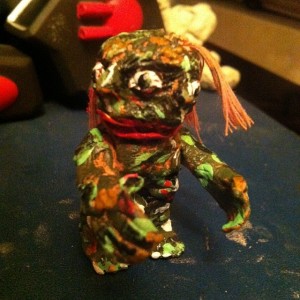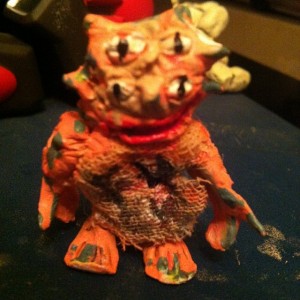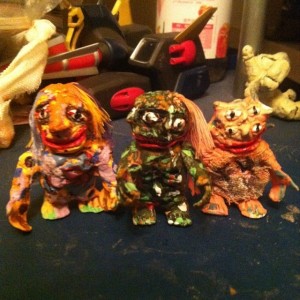 Odds n Ends
What role did toys play in your childhood?
Toys are very indispensable friends for me, and they are springs of many of my inspiration.
What drove you to become a toy collector?
I can't help buying toys when I meet some I like.
I collect a variety of kinds, so I don't think I'm qualified as a collector.
I'm not accustomed to social, so I didn't show most of my collections.
Please describe your experiences growing up in China?
Haha! I can guess there would be similar questions like this.
What I wanna express is that China is not as weird as people imagine though we are developing very fast, though our culture and thinking are very different.
It's similar to your ideas toward Japan.
I'm proud of being Chinese. My growth experience in China is very happy. I have my family, parents and friends who love me very much.
Who was your 1st crush and why?
Madonna Ciccone.
She is sooo beautiful!!! Even if she is old now, I still think so.
Does sex change everything?
Sex is only a necessity in life, just like eating, drinking, and sleeping.
But I have to admit, I'm obsessed with it.
Please describe your latest dream in detail…
My dream for now is I wish there could be more and more people liking my work.
Compared with money, I prefer the happiness of collectors.
But I will not release more than 5 figures of every version because painting more than 5 for one time is too painful. And it will ruin the interest and artistry of the work.
I apologize for that.
Have you ever tried psychedelics of any sort? And what was the experience like?
I always believe in a sentence of Dali: I don't need drugs, my art is drug.
(Sorry, I can't find the original sentence; it's my translation from Chinese – Gabriella­)
Of everything you have done what would you most like to be remembered for and why?
I want to be remembered most for my identity as a Chinese because it's my proud.
I wish I can bring different ideas and thoughts to people around the world, no matter they think it's good or bad.
Drugs – waste of time or gateway to the universe?
I would say waste of time.
There are a lot of things can make people excited and obsessed, why drugs?
Please describe what you think the Chinese Psyche/Zeitgeist is today?
Ah! It's a huge question. I don't know how to answer you. China is too big. People have different lifestyles and customs in different districts.
I remember there is a saying that the degree of open of a country is directly related to the degree of its acceptance to sub culture. China has already opened her gate. She's also accepting different stimulations of different cultures. She's progressing.
What I wanna say, welcome to China, I will treat you well if you come to Beijing.
What is the Chinese art scene like currently?
Actually, China always has quite a lot of gifted artists. Maybe it's because of the expression or other aspects, people can's notice it. But feel it, it would be a pleasant experience.
My friends and I usually gather together to share latest work. It's interesting!
What are your thoughts on Australia? I ask as i know Gabrilla has visited and it's also a major hot spot for Chinese tourism and investment.
The whole family of my cousin has immigrated to Australia.
Many of my friends went to Australia for studying as well. I have plans to visit Australia next year. Wish we can meet, but please get me a translator first. Haha!
Gabriella also told me some museums and opera house she had visited. She likes them very much, and wishes to visit again if she has a chance.
Australia is a very comfortable country!
The Future
Any collaborations on the horizon?
Gabriella told me she had talked to some designers and artists about collaborations. I'm very excited!
The cultural impact of collaborations with any designers and painters makes me thrilled.
I enjoy the creation of collaborations.
Colors, sculpts must be fantastic! Welcome!
But please, no more than 5 of each version, thank you!
Any major projects you want to hype?
Not yet.
My attitude to do things is : do my best of today because I don't know what will happen tomorrow.
I'm not a fortune teller, I can't foresee the future.
Links