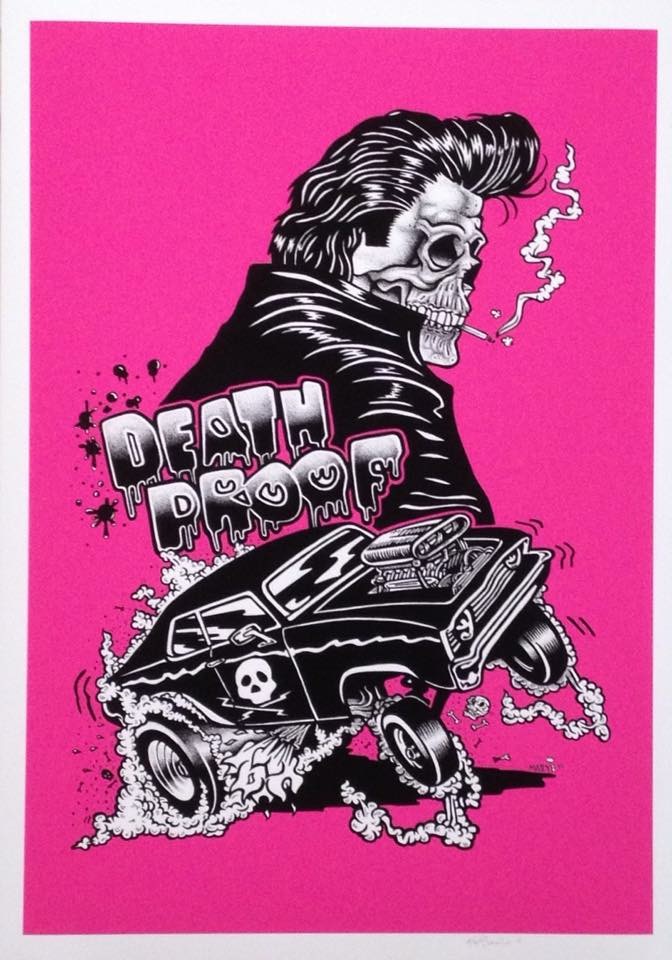 Matthew Bourne is an Australian artist making major waves in the local scene with beautiful works that combine surf culture, graffiti, hot rod art and comic style graphics; into a wholly unique and eye catching style.
Works that are full of intricate detail, imbued with a sense of movement and usually topped off with vibrant colour. Oh so much colour!
Whilst a lifelong creative, it was only recently, in his late 30's and 40's that Matt decided to venture hard into the art game, with the man himself stating
"As I headed into my late 30's I was missing my creativity a lot. I had a stable job, so for me to kick start my art felt right..but it would have to be after hours, late night hustle….fuck it, don't care, I need to do this, now."
(Art below by Matthew)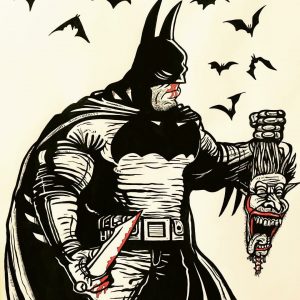 With ole Matt quickly on his way to becoming a major presence in the global scene, and currently a featured artist in the 2018 'Bein Narly' festival here in Australia – now is the perfect time to get to know the man and his art by reading the Art Talk Interview below…
Basics/Getting to Know
Name n DOB?
Matty Bourne
14 06 1974
City, State n Country you currently call home?
Beaumont Hills, NSW , Australia.
City, State n Country you're from?
Baulkham Hills, NSW Australia.
(A recent photo of Matt below)
Describe a memory from some stages of your life ….basically trying to piece together pivotal moments. Concerts, art, action figures, romance, school, politics, crime… ANYTHING really!
* age 5 – beginnings:
Had quite a normal childhood.
Fond memories of frequent roads trips to Umina Beach most holidays. We would stay at the local caravan park, not far from the beach.
I did love drawing, but not flowers or birds, just armored vehicles, army, guns, helicopter's and tanks. Mum would purchase McDonald colouring in calendars where I could practice using colours and improving in between the lines.
* age 10 – continuations:
Loved cartoons like Masters Of The Universe, Banana Man, Roger Ramjet, Fat Albert, anything Walt Disney, Popeye, Astro Boy and Tom Cat.
I became obsessed with Heman figurines – Heman, Skeletor, Battle Cat, Beastman, and Man At Arms.
When I first watched Empire Strikes Back I was changed forever that day. How the birth of technology in film started a new generation of special effects and Jedi followers.
I had a Rubik's Cube which I tossed not long after, not as smart as I thought.
*age 15 – getting serious:
Most of my time was spent drawing super hero's and reading comic books. A new love of manga grew after watching the manga classic Akira.
On weekends me and my best mates would head into the city and skate till the sun went down and caught the train back to Parramatta.
* age 20 – young adult:
After High school finished I entered uni life , UWS Nepean studying graphic design major in Illustration. I spent all my time at Uni and working two jobs to pay the bills. Didn't have much time for partying.
I remember the LA riots which turned America on its head. A very dark day in history indeed.
Finished Uni in 1995.
(Art by Matt below)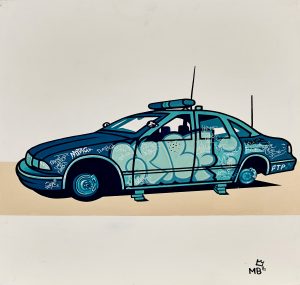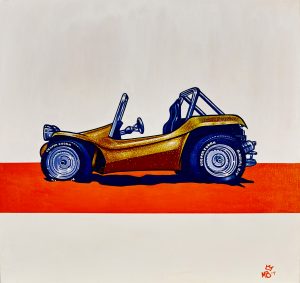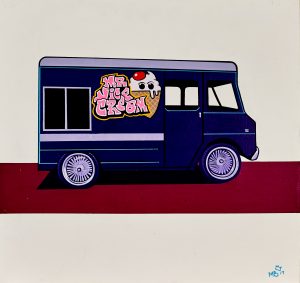 * age 25 – adult mode:
Hadn't been able to settle down in the art Industry as a graphic designer, story board artist.
Got a steady 95 job, got married to the love of my life and bought a 3 bedroom house in Kings Langley. My creative side took a back seat but that's ok.
The Sydney Olympics in 2000 stopped a nation. It was a fantastic time for all Australians. Quite proud to be an Australian hosting such an historic and important event.Everyone around the world witnessed a country that new how to party. I remember going into town a lot, and just having a really good time.
2001 was also a time for mourning, 911 happened and I remember exactly where I was, on a holiday in America having breakfast watching TV when the second plane hit. I'm pretty sure Ian Thorpe went to visit the Twin Towers the day before, lucky mother fucker.
* age 30 – fully formed:
Most of the artwork I produced came from regular commissions for family, and friends.
I took over my fathers courier business which kept me busy for awhile.
Both myself and the wife became parents for the first time, to a healthy baby boy "Connor". Really proud how he's grown and matured over the years. Now he's 13 in high school. Proud dad moment!!!
* age 35 – meanderings:
Myself and my wife both became parents for the second time to a healthy baby boy Max. Watching him grow is amazing, totally different to his brother. Very loud personality, he's 9.
Around this time the whole world became witness to the launch of Facebook. "Over night" fad the press called it….wrong.
Being a little bit of a Hobbit fan I peed a bit when Lord of the Rings came out. Hats off to Peter Jackson, creating such an oscar winning film but inventing new technologies with VR.
As I headed into my late 30's I was missing my creativity a lot. I had a stable job, so for me to kick start my art felt right..but it would have to be after hours, late night hustle….fuck it, don't care, I need to do this, now. So making a conscious decision I started building relationships and networking within the Industry.
* age 40 – mid life freak out:
It's pretty fucking true, when you hit 40 one thing hits you like a tone of bricks. Have you done every thing in your power up to this point in your life that makes you happy. Is there any regrets and can you make more positive choices to change things for the better, well I did anyway, and I definitely contemplated a lot more about life. One thing that needed change for me is making more art, surround myself with talented like minded people who share the same passion and involve myself more within the art community.
It was now or never to make my mark, somehow, bit by bit.
In short over the last three years I have had two solo shows, participated in many group exhibitions, and charity events. Met many awesome beautiful people, many I call my friends. I have curated and collaborated in art shows and recently last year in July was one of my proudest moments to date. With the help of friends and artists within the arts community, and one of the best Galleries in Sydney, Ambush Gallery I created a show called " The Streets x Portraiture". The show was a great success but It did take its toll. I was mentally and physically exhausted from 15 months producing work on 5 hours sleep everyday till the opening. Working a 9-5 my only choice was to hustle hard from 8pm 2am. Emailing, communicating, painting, coordinating, travelling, filming, editing, organising, could only happen during my lunch break at work, at night or on weekends, frustrating but what do you do. After the show finished I slept for a solid 2 months and re connected with my family and friends.
I haven't picked up a pen, pencil or brush for three months. Its nothing deliberate but I just needed to chill. 2018 on the other hand is another kettle of fish.
Personal motto?
Be positive, humble, passionate, love what you do and live life with no regrets no matter how old you are…and FUCK the haters…..its still a work in progress.
Art Questions
Favorite other artist(s)?
Worst aspect of the arthustle?
There is so much ego and a whole lot of hate!!!!!
I do believe for one to succeed in such an Industry you need to be confident in yourself worth, stay true to your creative life's journey, and to stay on track no matter how many times you fall, believe in yourself.
Best aspect of the arthustle
The talented, beautiful, selfless, humble, interesting, unique, quirky, driven people within this Industry.
Seek out the gems within the crowd, and surround yourself with positive good people.
It still amazes me how people don't get it, be good to others, and great things will happen. If you bullshit, are bad, selfish, egotistical, and hate on others you will be surrounded by fuckwits.
Good people come last? nope, fuckwits do.
(Art by Matt below)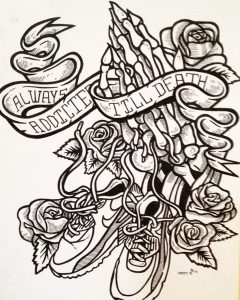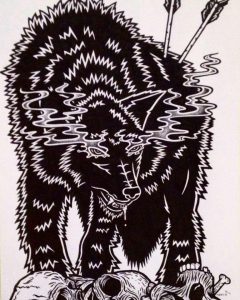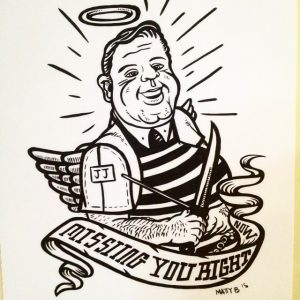 Do you consider what you are making to be art, design, rehashed crap?
A combination of the two…. art and design.
When and why did you first start making art?
Started in high school. It made me feel alive and it was something I was good at.
Any pivotal artistic moment/influence?
Proud moment in my life.
Describe the process of producing your art? – Dot point all o.k!
* Your digital works?
More of a traditional artist.
* Your pen + ink?
Rough it out, useing a light table to trace rough. I will keep layering till pencil rough become's good enough to ink up. May take up to four traces on paper before I'm satisfied. Up to this point all roughs are drawn on tracing paper.
Final piece will be a nice canson paper or equivalent.
* Your sketches and drawings?
Same process as ink just in pencil.
* Your murals / graff?
Either sketch up design with basic rough, scan image and project up onto wall.
(Photos below showing some behind the scenes art action from Matt)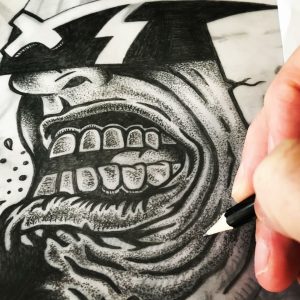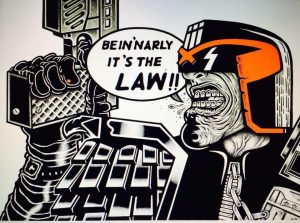 Odds n Ends
Who was your 1st crush and why?
1970's Lynda Carter as Wonder Women.
Why, cause she was really hot, and she was Wonder Women.
(Photo below of Lynda Carter – Matt's first crush)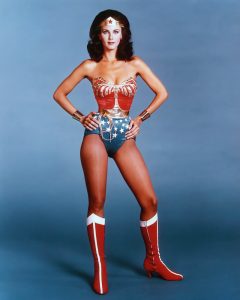 Does sex change everything?
Yes it does, sex is beautiful.
It is the best drug in the universe.
Please describe what you think the Australian zeitgeist is today?
What is Australia's "Spirit of our time". We are the "lucky country", not surrounded by boarders, walls or cultural indifferences but seeking a balance with social diversity by living together in harmony and respect. To acknowledge our ancestral wrong's and by remembering those who have fallen for our freedoms.
Let's move forward step by step in becoming one nation with a beer in one hand and a snag in the other. Let's drink to the future and celebrate what we have. Rejoice to the, sun, surf, and sand we the people of Australia call home.
Let's love, learn and prosper with a forever enduring sunburn.
Which cartoon character, would you most like to see in a tribute sex toy, and why?
(Please sketch a prototype of your design.)
Not real sure on this one, but I suppose Patrick, Sponge Bob's best buddy.
Why, he would be a great fit for someone.
(A Patrick from 'Sponge Bob' tribute sex toy by Matt below)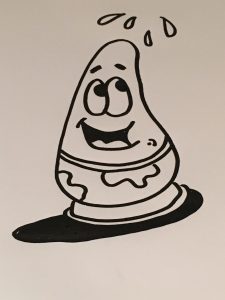 Who would win in a fight and why: Crocodile Dundee Vs. Batman?
(Please draw the battle in all it's violent beauty!)
Crocodile Dundee.
Why, cause he's Australian and Paul Hogan is a legend.
(Art by Matt of the epic battle below!)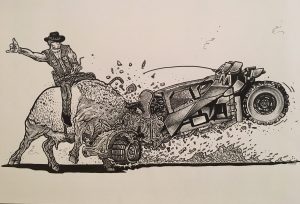 Drugs – waste of time or gateway to the universe?
Gateway to the Universe…..only in moderation thou kids, otherwise that shit goes downhill real fucking quick.
What role did toys play in your childhood?
Huge, toys are the gateway to a kid's creativity and imagination.
For me cartoon figurines like He Man, Batman, Astro Boy, even Lego should be a staple in every kids home.
Toys made me feel happy and free.
Please describe your latest dream in detail…
I was the project manager for a special charity event with Gary Vaynerchuk as the key note speaker. The whole stadium was electric with the best positive vibe I had ever experienced.
Gary owned the crowd delivering his no holds bard speech and as the night came to a close we all went out with the team and partied till the sun came up.
(Art by Matt below)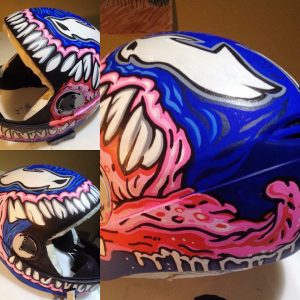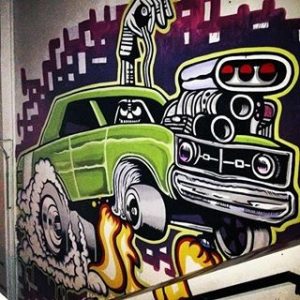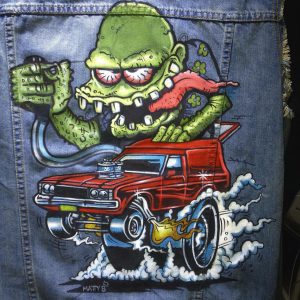 Of everything you have done what would you most like to be remembered for and why?
Man, this is hard hey…but here goes.
Being remembered as a loving husband and father.
Instilling a moral compass with my two boys. For them to respect the elderly and be grateful for what they have and to love family and friends. I want to be remembered for encouraging them to follow their dreams and not be afraid of failure. Nothing comes easy and understanding fulfilling dreams requires handwork. Never be the bully, and project your mates from them. Right is right , wrong is wrong. Keep the friends that make you happy close to your heart, you never know when at your life's lowest point requires someone pulling you out of trouble.
Choices you make in life often change future outcomes, so if it feels wrong consider another option. For me this is the most important thing.
As with my art I would like to be remembered for trying my best to follow my artistic endeavors later in life. Living life with no regrets no matter what age you are. Yes I started late but fuck I gave it a good hard crack.
That I was well respected and trustworthy, a man of my word and someone who could be relied on.
Realising if your journey and passion is true, with a lot of handwork you can achieve anything. Being humble and never taking those that help you for granted.
A person who contributed a sense of achievement in the art community and had a positive attitude in everything I did.
Someone that inspired others to follow their passions.
If people wanted to collaborate, work wth you or just buy some art – how should they get in touch?
Either DM through my Instagram account mattthewbourne10
Email at mattbourneart@gmail
call 0425233062
F/Book Matt Bourne Art
The Future
Any collaborations on the horizon?
No collaborations but I'm pretty busy with several shows in March running in conjunction with the Beinnale this year. So head down bum up. Haven't touched a brush for several months so looking forward to that.
Any major projects you want to hype?
From September leading up to the Christmas break I have been working hard trying to put a few major things together.
If everything goes to plan I will be looking at launching something really special in spring. Can't say what it is but I've dreamt of this for sometime now.
(Art by Matt below)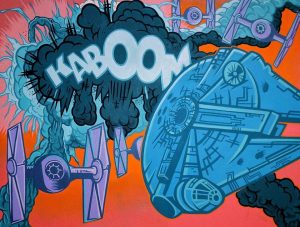 Links