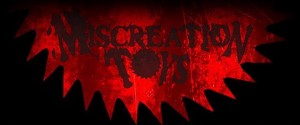 Jeremi Rimel and his company 'Miscreation Toys' are responsible for some of the most technically detailed art figures in the scene today, something Jeremi has accomplished with no formal artistic education.
Jeremi and 'Miscreation' are most well known for their Autopsy Babies line of  art figures he has been making since 1996. Recently Jeremi has begun releasing his Autopsy Babies line in multi-piece-resin-runs, which has allowed more art lovers to own some 'Miscreation'. In continuing to help spread 'Miscreation' and his Autopsy Art around the world, Jeremi has recently teamed-up with Luke Rook of 'Grody Shogun' fame, to release a soft-vinyl/sofubi line of Autopsy Babies, which will debut in late 2013 either at NY Comic Con, or Designer Con.
(Picture below of the Gergle resin figure – bloodstained edition. Part of Jeremi + 'Miscreation's Autopsy Babies line)
So now is the perfect time to get to know Jeremi Rimel, 'Miscreation Toys' and the Autopsy Babies by reading the interview below…
Basics/Getting to Know
Name + D.O.B?
 My name is Jeremi Rimel and I was born on November 5th, 1980.
City, State n Country you're Repping?
  I'm from Albuquerque, NM currently living in Charlottesville, VA. 'MERICA
(Picture below of Jeremi 'Miscreation Toys' repping)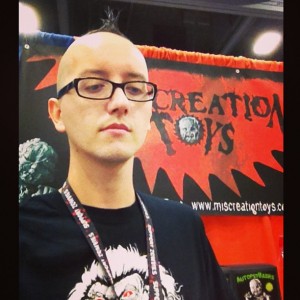 Describe– a memory from three stages of yr life ….basically trying to piece together Mr. Miscreation's pivotal moments. Concerts, art, action-figures, women, school, college… ANYTHING man.
* age 10 – pre pubes:
 I was a very quiet kid who usually had only 1 or 2 friends each year of middle school. I was into the usual video games, toys, and comics.
 I was really into drawing growing up, I had many compliments on things I created in school and that skill somehow bridged many social anxieties for me.
* age 15 – pube rage:
 I kind of backed off of the toys and comics by this time, I was more concerned with girls, horror movies and the music that I was into.
* age 20 – acceptance of pubes:
 Wow, You must really be into pubes or something? Haha, yes so by this time I was already customizing dolls and selling them online to fellow weirdos around the world.
(Picture below of some resin Autopsy Babies by Jeremi)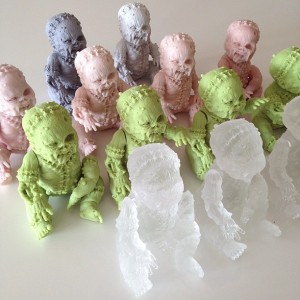 Personal motto/quote?
 "LEEROOOOOOOOOOOOOOOOOOOOOOYYYY JENKIIIIIIIINS!" – Leeroy Jenkins
Favorite band(s)?
 Always been a fan of the darker/ alternative/ gothier stuff; Joy Division, The Cure, Cocteau Twins, Siouxsie and the Banshees, Bowie, NIN.
 More recently been listening to Umbrella Brigade, Brighter Fires, Bella Morte, Synthetic Division.
Favorite TV show(s)?
 I stayed away from TV for quite awhile but have been pulled back into it with TV shows like The Walking Dead, Game of Thrones and my all time favorite Breaking Bad, which takes place in my hometown of Albuquerque!
Favorite sport(s) + teams?
 The only sport I'm really into is MMA, I've been following it ever since my brother showed me the Japanese MMA stuff in the 90's.
 When I saw my first "soccer kick" to the head I was totally hooked. I have so many favorite fighters!
(Picture below of a 1-off Autopsy Baby called Sebastian, by Jeremi)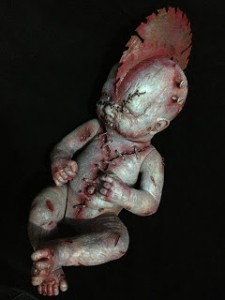 Favorite movie(s)?
 So many, its hard to think of top favs; Pulp Fiction, Clockwork Orange, Hellraiser, Hellbound, The Wall, Gremlins, Labyrinth, Dark Crystal, Beetlejuice, Toxic Avenger, Nosferatu, Metropolis, Night of the Living Dead, Return of the Living Dead, Eraserhead, Pans Labyrinth,The Devils Rejects, Texas Chainsaw Massacre, Creepshow, Gummo, Looper.
Favorite books and comics?
 I like reading true crime, stuff on serial killers, Scary Stories to Tell in the Dark.
 Not so much into comics anymore but I loved the Mcfarlane Spiderman/ Venom stuff and collected the shit out of Image Comics when they first started out, Spawn, The Maxx, Savage Dragon. Also loved the original Crow comics by J. Obarr.
Specifics on Art
Do you consider what you are making to be 'art', 'design', re-hashed crap?
 It's art, design and re-hashed zombie crap to an extent!
When and why did you first start making 'art' (toys, drawings, paintings, anything)?
 When I was a kid drawing was my thing, I remember in 1st grade I drew a picture of a pretty detailed t-rex that everyone in the class had to come over to me and check it out.
 I guess I felt good enough about it to try laminating it with scotch tape and ended up ruining it, haha.
 I started to customize toys to look creepy later on when I was kind of a miserable teenager, it fit the general aesthetic of objects I wanted around me.
 I started to make early versions of the Autopsy Babies in 1996.
Why + when did you decide to go in on the art hustle?
 Many years ago I landed an article in Bizarre Magazine about my horror dolls. After that came out it was kind of hard to keep up with the demand for them.
 That interest in something I created made me realize I could actually pursue what I was doing as a career.
Any formal art training?
 No, pretty much figured it out by myself along the way.
Any pivotal moment/influence?
 My siblings have always been a big influence. No matter how weird or gory it was, it was cool to them and that meant a lot.
(Picture below of the Think Up DIY Vinyl Bust by Jeremi + 'Miscreation Toys')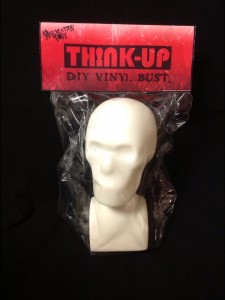 Company motto?
 Death to cute toys.
Favorite 'other' artist(s)?
Worst aspect of the contemporary art-hustle?
 There is so much great artwork out there, its so easy to get lost in it.
Best aspect of the contemporary art-hustle?
 There is so much great artwork out there, its so easy to get lost in it. Haha!
Miscreation Art Questions
Describe the method of making a 'Miscreation' sculptural piece?
(Picture below of a 1-off Autopsy Baby by Jeremi)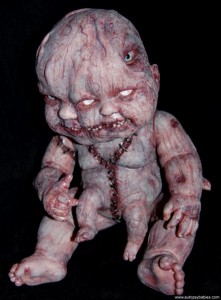 Well, I will usually take an old toy or doll and basically 'Frankenstein' it into a somewhat disturbing creature of some sort. I don't care too much about keeping things even or perfect, it doesn't have to make sense really.
 I will start with a doll as a canvas, transform its texture with custom tools, carve, sculpt over it, then add a few layers of paints.
 I like to emphasize the eyes and teeth in my works.
– your prints?
(Picture below of a Skeletal Batman digital print by Jeremi)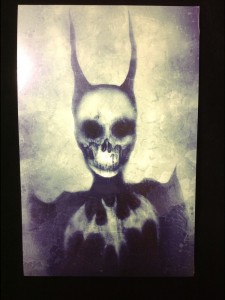 The prints I sell are photographs of art dolls I've made in the past and a little digital art I've been dabbling in. (Such as the skeletal Batman)
– your masks?
(Picture below of a Raven mask by Jeremi)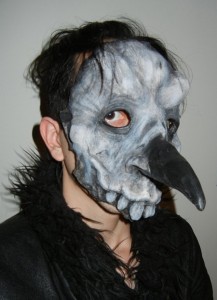 Many of my doll/ sculptures have featured masks in the past and I've done a few art masks of different types.
 I love masks and have a wall of them in my office area. The presence of Halloween is pretty much year round in my house.
Are all your works by made by yourself? If you use collaborators; whom and in what capacity?
 Yes pretty much, I do work with a company that casts the resin for me and I am currently looking into working with a couple other artists to paint (in their style) limited edition runs of my toys.
Miscreation General Questions
Why the decision to focus on baby's with your art?
 It started with just wanting to make a really creepy doll, I noticed many odd looking baby dolls at toy stores and thrift shops and just knew it was something I could work with.
 No, I don't have anything against babies, kitties, or puppies for that matter!
What are your thoughts on Kid Robot? They are a big player in the scene, and I know you have customized a KR 'Munny'…
(Picture below of a 'Kid Robot' Munny customed by Jeremi)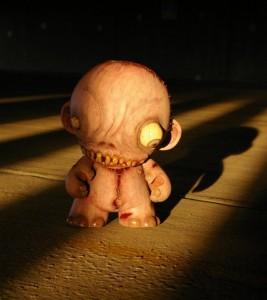 I didn't know who Kid Robot was until a friend told me about the "Munny" many years ago and suggested I should work on one, so I looked into them and ordered one. I had fun with it and ended up customizing quite a few!
 I haven't payed much attention to many of their releases in the last few years but when Alex Pardee's "DigesTED" came out, I loved it and had to get one for myself.
 I like seeing KR do more sculpted out designs with their toys instead of just designs printed over dunnys. The Marvel stuff they are doing now, can't really say I dig.
Toy Questions
Is the rise of 'art' toys an indication of the changing nature of 'art'? OR just a bunch of nerds with too much $$$ and time?
 Art toys are a way for us nerds to keep playing with toys in our later years in a more adult art collector type of way, haha.
 I don't think its really changing the nature of art, its just making us look at something in a different way and appreciate it more.
Favorite toy/figure?
 The Runaway Brain (Neon color) by Span of Sunset
(Picture below of Jeremi's fave toy, The Runaway Brain (neon), by 'Span of Sunset' from 2007)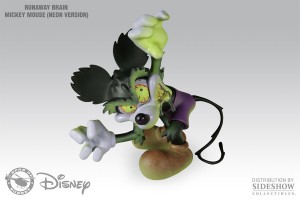 How did you and Bob Conge AKA 'Plaseebo' form your bromance – I ask as you have released a custom 'Plaseebo' Night Gamer figure?
(Picture below of the 'Miscreation Toys' x 'Plaseebo' Night Gamer figures)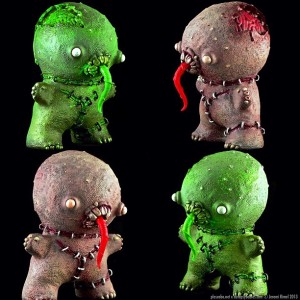 I met Bob online after noticing his really weird looking custom toys and was really into his style.
 Before I released the Think-Up bust we were in communication and I got a lot of advice from him about toy production.
 We did a mash-up with his Plaseebo Mummy and my Think-Up Bust in the past, and recently we did the Autopsy Edition Night Gamers which were a big hit.
You have an upcoming 3D sculpted figure in the works… why the decision to use 3D sculpting + printing? – what was the process involved in producing the 3D sculpt?
(Picture below of a 3D sculpted and printed Autopsy Baby)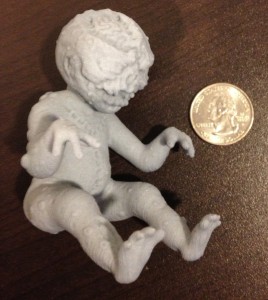 3D printing is fascinating to me, I've been wanting to try it out for quite some time now.
 I looked into different venues to get something digitally sculpted/ printed and discovered an Ipad app where I could just sculpt digitally on there and have the finished product printed up and shipped to me.
 The process is disgustingly simple and is going to be so great for toy makers. Excited to see how the 3D printing technology is going to get better!
What does your wife/girl/woman/family make of the whole perpetual adolescence/Peter-Pan/man-child aspect of toy art + toy collecting?
 My girlfriend Nicole loves weird ass toys as well so its not a big deal around the home, I'm in the toy business so family and people around me get it.
(Picture below of Jeremi's girl, 'Miscreation Toys' hustling)
What are your thoughts on the recent rise of 'art-toy' bootlegs – as typified by artists such as Morgan 'The Sucklord' Phillips?
 I'm all for them, the Cracky Smurf Bootleg Figure is the cherry on top to anyone's collection! Retroband's Creepshow figures are fucking brilliant as well!
The Future
Any collaborations on the horizon? Any major projects you want to hype man?
 I'm currently working with Luke Rook in Japan on my first sofubi 'Autopsy Zombie Staple Baby' release.
 It should be shown at NYCC if things work out but will definitely be available at Designer Con in November!
(Picture below of the wax prototype for the upcoming 'Miscreation Toys' Autopsy Baby sofubi/vinyl)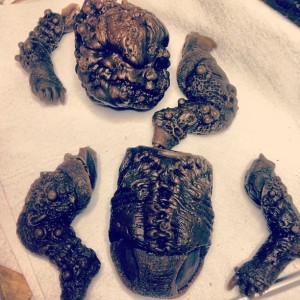 Links