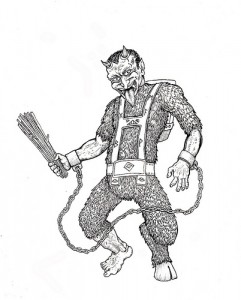 Eric B AKA Mr. Krotpong is a man bringing something new and exciting to the art-toy scene, namely a focus and love of European folk tales and history, a marked change from the usual subjects of choice for toys, namely Japanese and Asian pop-culture and mythology.
Mr. Krotpong has so far released a figure of the Krampus, a figure connected to the myths and tales of European yule season which had been generating a lot of praise within the scene.
(Picture below of Mr. Krotpong's figure, The Killer Krampus – painted and produced by Mr. Krotpong)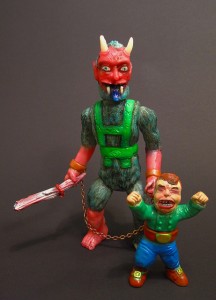 So now is the perfect time to get schooled on Mr. Krotpong, and the Killer Krampus, by reading the interview below…
Basics/Getting to Know
Name + D.O.B?
 Eric B. AKA Mr.Krotpong. I'm old enough.
City, State n Country you're Repping?
 Longtime resident of Texas, USA .  Currently living in Austin.
(Picture below of a drawing by Mr. Krotpong)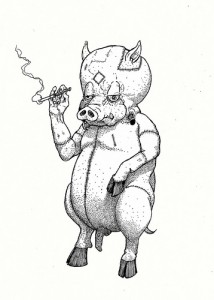 Describe a memory from three stages of yr life ….basically trying to piece together Mr. Krotpong's pivotal moments. Concerts, art, action-figures, women, school, college… ANYTHING man.
* age 10 – pre pubes:
 I was an imaginative child, and always toy obsessed. This was in the 1970s and both my parents worked, so I often had free reign to wander around when I wanted during the day after school, and all day during the summer.
 I would save my allowance and spend hours going to  toy stores and discount stores, buying little things, and lusting afer what I couldn't afford. I wanted a mountain of toys.
* age 15 – pube rage:
 I have had some sort of job since I was 13, and had two part time jobs when I was 15. The shitty one was working at a fried chicken restaurant (still don't really like fried chicken), I made ok money though for being 15.
 My fun job was working for a friend in the neighborhood, he had a mobile comic shop. Once a month we would set up in his garage and sell comics. When convention time was afoot we would travel and set up shop all over Texas.  It was cool because I got to meet comic book creators from all over. Sergio Aragones and Mike Mignola were highlights, super nice guys.
 I continued to buy toys (my comic book obsessed coworkers thought I was nuts). I also discovered Japanese toys, a revelation!
 I started going to concerts, which evolved into going to punk shows. Which became a life changer for me.
* age 20 – acceptance of pubes:
 I spent my early twenties flailing around Houston. It was fun but not a happy time.
 It was a very violent town at this point and I had this awful feeling that followed me around everywhere, that I was going to get killed for no reason. I'd had numerous guns pulled on me and been shot at a couple of times. I was a shit-magnet.
 I was getting back from visiting some friends in Austin and stepped out of the bus terminal on South Main in downtown Houston and got robbed. After that I packed up my things and moved to Austin, where I have since put down roots.
(Picture below of some Killer Krampus figures, painted by My. Krotpong)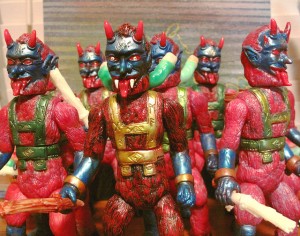 Personal motto/quote?
 "Yesterday's weirdness is tomorrow's reason why."
 ― Hunter S. Thompson, The Curse of Lono
Favorite band(s)?
 I have worked in record stores on and off for a long time. I like so many different things, it would be hard to nail it down to one genre much less one band.
 Currently I am listening to the Country Teasers, Hoax, Chelsea Wolfe, Demdike Stare, The Bug, Mexican Institute of Sound, Napalm Death, Gas Rag, B.Dolan.
Favorite TV show(s)?
 I watch cartoons.
Favorite sport(s) + teams?
 Sports are boring.
Favorite movie(s)?
 The Godfather 1&2, Goodfellas, Strange Brew, Evil Dead 2, Alien, The Thing, Touch of Evil.
Favorite books and comics?
 I am a huge fan of Hunter S. Thompson. I read pulp fiction, Jim Thompson, James Ellroy, etc. I read a lot of historical non-fiction, as well as dry technical manuals.
 Unless I am in the mood, I have a low tolerance for bullshit in my reading material.
Specifics on Art
Do you consider what you are making to be 'art', 'design', re-hashed crap?
 I make toys. I also draw and paint.
 The toy thing really feels like all of the puzzle pieces are clicking into place with me, though. It's art in the sense that it is something that I created and each one is different, unique.
(Picture below of some uncut, unassembled and unpainted Killer Krampus vinyl)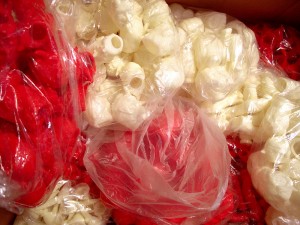 When and why did you first start making 'art' (toys, drawings, paintings, anything)?
 I've been drawing my entire life. I would fill notebooks when I was in school, because school was boring.
 Now I have to make time to create because my life is very busy.
Why + when did you decide to go in on the art hustle?
 I have been told by lots and lots of people that it is nearly impossible to make any money at the art game. So I've been doing it for fun up until very recently.
 The one time I accepted money for a 7 inch single cover I did for a friend's band, it fucked up our friendship (over $35, I might add). So when I do make stuff for records, or flyers, I generally take payment in copies of whatever it is.
 I've sold lots of paintings, but they take quite a bit of time for me to do. I've made giclees of some of my larger paintings and sold quite a few of them. It's fun, but the gallery scene here is made of bullshit.
 The toy thing was an epiphany. I've been fairly successful at it, and I keep everything in house. Aside from the manufacture of my figures in Japan, I am responsible for everything else. That level of control is very comforting to me.
Any formal art training? Or pivotal moment/influence?
 Spent some time at art school. Didn't do anything for me except put me in debt, so I dropped out.
 I read Drawing on the Right Side of the Brain, by Betty Edwards. It made me incredibly angry, because every art instruction class I have ever had in my life was cribbed directly from this book. I could have saved myself a lot of trouble… It's a great book if you want to learn to draw.
(Picture below of 'The Right Side of the Brain' by Betty Edwards – a Krotpong recommended text)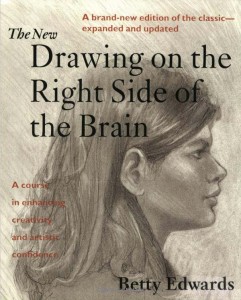 Company motto?
 Scaring Children with Toys Since 2013
Favorite 'other' artist(s)?
Worst aspect of the contemporary art-hustle?
 It takes so long to get stuff done. My figure has only been out since May, but that's after nearly two years of development and work.
Best aspect of the contemporary art-hustle?
 I have a more robust life, met lots of cool people. I make toys! It's fucking cool!
Toy Questions
Is the rise of 'art' toys an indication of the changing nature of 'art'? OR just a bunch of nerds with too much $$$ and time?
 Art is what you make of it. Good and bad. Whatever makes you happy, if that is toys then great!
Favorite toy/figure? (I'll allow self promotion)
 Kazuo Umezu's Makoto Chan. The manga are scatalogical and hilariously wrong. The figures  are as well. They come equipped with various levels of snot, turds and germs. Bizarre. I have a whole shelf full.
(Picture below of 3 toys from Kazuo Umezu's 'Makoto Chan' manga)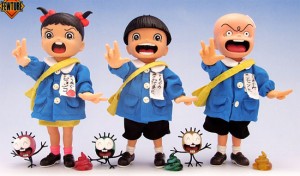 You recently released your first figure, 'Killer Krampus' – a toy that the scene has embraced with open arms: Greg Mishka is hyping it, JM Rampage has done a run, Skinner is in the works to do a run…
– what is the character's back story?
 Krampus is there to scare the little children into being good. It goes back to the 1500s in Austria, and southern Germany, with lots of similar offshoots in other countries.
 We need the Krampus in this country, so many spoiled brats need so much terrorizing!
 From Wikipedia:
 Krampus is a beast-like creature from the folklore of Alpine countries thought to punish children during the Yule season who had misbehaved, in contrast with Saint Nicholas, who rewards well-behaved ones with gifts.
 Krampus is said to capture particularly naughty children in his sack and carry them away to his lair.
 Krampus is represented as a beast-like creature, generally demonic in appearance. The creature has roots in Germanic folklore, however its influence has spread far beyond German borders.
 Traditionally young men dress up as the Krampus in Austria, southern Bavaria, South Tyrol, northern Friuli, Hungary, Slovenia, the Czech Republic, the Slovak Republic and Croatia during the first week of December, particularly on the evening of 5 December (the eve of Saint Nicholas day on many church calendars), and roam the streets frightening children with rusty chains and bells.
 Krampus is featured on holiday greeting cards called Krampuskarten.
 There are many names for Krampus, as well as many regional variations in portrayal and celebration.
(Picture below of a folk-art rendition of the Killer Krampus)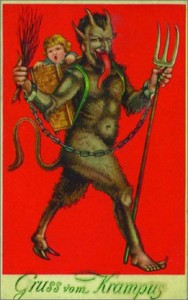 – what was it like working on the sculpt – you have mentioned it took you 2-months to sculpt it?
 Actually it took longer because I abandoned an earlier version of it and started over. I sat at my computer table and watched Shaw Brothers Kung-Fu movies on Youtube until I finished. It was fun.
– what was the process involved in getting your original sculpt, turned into Japanese vinyl?
(Picture below of the wax original, used to produce the mould for the Killer Krampus vinyl)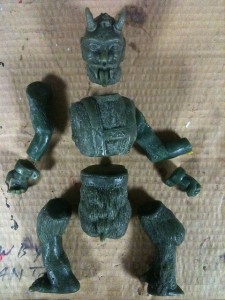 I contacted Ricky Wilson in Japan, got some quotes from him, finished the sculpt and sent it to him.
  He is a machine! He tweaked my figures a little, got them where they needed to be.  Made some beautiful wax, which was then destroyed to make the molds. He took care of everything on his end to a T.
What are your thoughts of the toy forum scene as a way for fans and artists to communicate? Is it a real 'community' or just a virtual locker-room shit talk? I ask as we are both members of Skullbrain…
 Skullbrain is a fountain of knowledge that runs toxic every once in a while.  I have had nothing but good experiences there, but I know that is not the case for everyone…
What does your wife/girl/woman/family make of the whole perpetual adolescence/PeterPan/man-child aspect of toy art + toy collecting?
 My wife appreciates the craft and work that go into making toys, but doesn't really get my obssession with them.
(Picture below of the Killer Krampus figure, as painted by JM Rampage of 'Rampage Toys')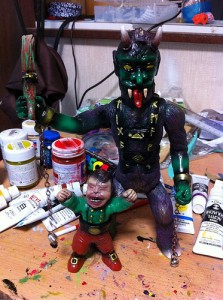 Mr. Krotpong Art Questions
Describe the method of making a Mr. Krotpong piece? (dot point all o.k.)
 I sit in my garage and sweat while I paint in the summer, freeze in the winter. I work on the computer. I draw and paint.
 I use my current lifetime of knowledge to make the best Krampuses and Kinder I can.
Making toys is but a small part of your artistic life… What do you get out of making toys that you don't get through 2D art?
 Pure pleasure, and a quick, definitive stopping point.
(Picture below of a painting by Mr Krampus)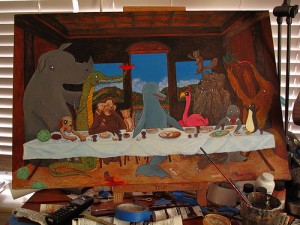 Are all your works by made by yourself? If you use collaborators; whom and in what capacity?
 At this point I just get people to paint my stuff. JM Rampage did a fantastic job. I suspect Skinner will as well.
 There might be a collab in the future, but as I am very new to this, we'll just have to see…
Mr. Krotpong General Questions
What led to your interest in European folk-tales and mythology?
 My grandfather was German. I have good feelings about the Krampus and want to promote him in this country.
(Picture below of Killer Krampus featured in 'Hyper Hobby Magazine')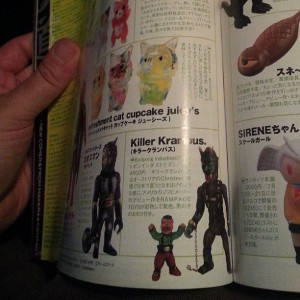 Please describe what significance European folk-lore has in your life?
 I try not to be evil. Bad people are always having their ass handed to them in folktales.
What are your favorite European folk-tales?
 Struwwelpeter, Tales of Grimm, Story of the Root Children
What are your favorite European folk-monsters?
 The Krampus!
(Picture below of the head-sculpt on the Killer Krampus)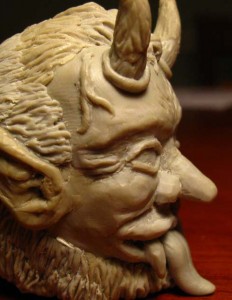 The Future
Any collaborations on the horizon?
 JM Rampage is making a micro run for NYCC. Skinner's run is coming out at some point. We'll see about the rest.
Any major projects you want to hype man?
 Not really.  I've got another sculpt I am about to start working on. It's going to be horrible and imposing.
Links