Chris Yee aka 'Yee The East' is an Australian born artist and illustrator gaining a name for himself thanks to his highly detailed black and white illustrations.
He is most known for his semi autobiographic creation Boo Boo Lou – a smart ass Asian kid constantly getting up to mischief.
Chris' work evokes the comic art greats such as Jack Kirby, and Jim Steranko yet imbues them all with a unique mix of Asian culture, and 1990's references.
(Picture below of Chris' most well known creation, Boo Boo Lou)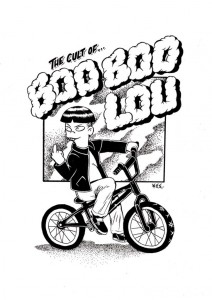 With a highly regarded solo show back in 2013, and lots in the works for the rest of 2014, now is the perfect time to get to know Chris Yee by reading the Art Talk interview below…
Basics/Getting to Know
Name + D.O.B?
Chris Yee
24 years old
City, State n Country you're Repping?
East Ryde, Ryde or Die, We out here!
(Picture below of 'Brooklyn Zoo' by Chris Yee)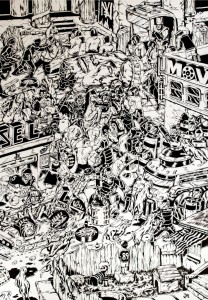 Describe a memory from three stages of yr life ….basically trying to piece together Mr. Yee's pivotal moments. Concerts, art, action-figures, women, school, crime… ANYTHING man.
* age 10 – beginnings:
Sitting with my twin brother Andrew drawing Spawn and Dragonball characters everyday after school, WWF Attitude era playing on TV, waiting for our mum to come home with food.
* age 15 – getting serious:
Went on a bit of a hiatus from drawing, But after I got permenant ringing in my ears after an Xzibit concert (it was really good though!) I went back to drawing like an addict to try and get my mind off of the sounds until I got used to it.
* age 20 – adult mode:
Discovered the calligraphy brush as a way to create linework.
Middle of Uni doing a degree in design that ended up taking me 7 years to finish.
(Picture below of a color work by Chris)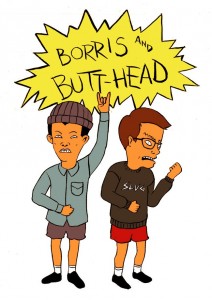 Personal motto?
Some you win, but dim sum, you lose.
Favorite band(s)?
At the moment I'm really into those rough "reggae remixes" of songs.
Not even niche or indie ones, like 00's popular rap songs. That's that good drawing material.
Favorite TV show(s)?
Buffy
Favorite sport(s) + teams?
I really liked the 2007 Detroit Pistons, with the Wallaces.
Also Allen Iverson standalone as he was thug as hell.
I don't follow sports closely though unfortunately.
Favorite movie(s)?
Dazed and Confused.
Kevin Smith stuff.
Reality Bites.
Favorite books and comics?
Black Hole by Charles Burns, Most Paul Pope stuff, Shortcomings by Adrian Tomine, Spawn, Invincible.
Art Questions
Favorite 'other' artist(s)?
Worst aspect of the contemporary art-hustle?
The stresses of client side.
Best aspect of the contemporary art-hustle?
Getting paid for your own style.
(Picture below of 'Book Club' by Chris)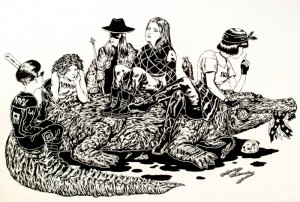 Do you consider what you are making to be 'art', 'design', re-hashed crap?
It really depends, I'd say I'm more on the illustration side of things.
But I usually define illustration as drawing to a brief and you being strict to a client's demands.
But if it's for myself without an objective end goal (like drawing a comic) then I guess that would be purely art.
When and why did you first start making 'art' (drawings, paintings, anything)?
I had my first show with my brother Andrew and good friend Tim Duong after getting an opportunity to exhibit in a free random office space when I was 20.
It was nothing serious but all good fun and things kinda went from there.
What did you draw as a pre-teen child?
Heroes and villains.
Image comics, Spiderman and Dragonball type stuff.
What did you draw as a teen?
I was really obsessed with tattoo art for a while and tried to learn how to draw flowers, type and Japanese woodblock style stuff.
I also tried some highschool graff Wild Style type but I sucked.
Any pivotal artistic moment/influence?
Shonen manga, Hokusai and general western comics – I think they all show themselves a bit still in my work.
Why + when did you decide to go in on the art hustle?
I still work in part time design as a day job but the art stuff has just become a natural extension.
I'd be drawing for myself regardless If I was paid for it or not.
Describe the method of making a Yee the East work? (dot point all o.k.)
* your highly detailed black and white pieces?
Starts off with a loose line work layer using a 2h or hb.
I then go straight in inking with a pentel calligraphy brush or a windsor and Newton series 7 + indian ink. That's the fun part. Let it sit and dry and rub out the lead later.
I'll try and make as little mistakes as possible, and if there's a stuff up, I'd usually fill it with black.
* your colored works?
It's usually acrylic on canvas or digital colour.
With colour stuff Ill try and prep the ink lines as clean as possible using less black then I usually would. Scan it at 300dpi.
I then remove the transparencies and layer the colours in photoshop using a wacom tablet and add gradients, noise etc.
(Pictures below of the original black and white, then the later color version, of some of Chris' art)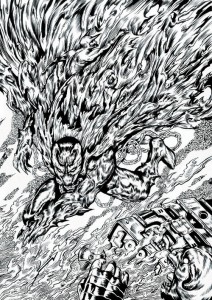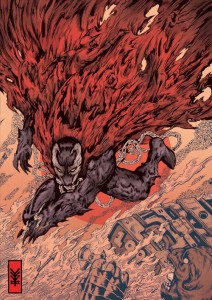 Please describe how Mr James Jirat Patradoon impacted your life and why?
Sydney OG.
I first found out about Jirat's work when his empty mag cover came out and my friend showed me during art class when I was in highschool.
It blew my mind knowing that this guy was from Sydney.
We're now drinking buddies and go to karaoke together, what a guy.
Also please go into hopefully graphic detail about your bromance with Gerald Leung?
We had a joint Kaiju show together at the tate (glebe) after knowing each other for half a year.
He is Sydney's brackmetal sweetheart and a god of stippling and ink.
A good friend and an even better cover singer of The Black Parade also.
(Picture below of Chis and Gerald)
What were the highs and lows of your gallery show 'Menace' held originally at 'Kind Of', with a later book launch at 'Capsule' back in late 2013?
The highs was definitely the number of works, the curation and help by Faz and kind of – gallery for letting me have this type of show, The tonne of support from friends, everyone that came through and also the huge and consistent push from KC and the good people at Capsule Store.
The low was definitely customs holding my books back 3 days in transit so I didn't actually have any for the launch itself!
Still had a ball and the books turned out great in the end.
(Pictures below of the flyer and a show pic from Chris' 'Menace' show)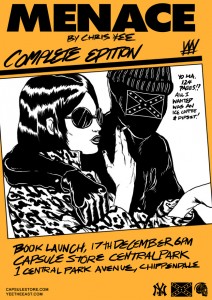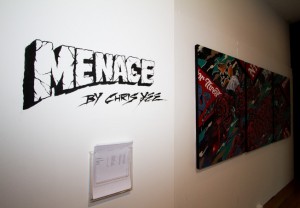 Your creation Boo Boo Lou is amazing and a dentist's wet dream… And you mentioned in your 'Infront' interview – back in October 2013 – about his existence as a kind of Asian Bart Simpson…
* what is the character's back-narrative and bio?
He's your regular cheeky Eastwood suburb kid of the 90s growing up and getting up to no good with his friends.
I didn't want him to fit any Asian sterotype in character besides how I genuinely felt growing up in Australia.
* what is his artistic origin tale?
That classic characterisation of Bart Simpson with that blatant visual twist.
A flip on the "Black Bart" phenomenon of the 90s.
To me, Bart is the coolest cartoon kid of my generation. Everyone deserves a Bart haha.
* what do 'The Simpsons' mean to you?
It's influenced everyone I know growing up in my generation regardless of career or life choice.
Even in this day and age its super hard to be cynical of that series and the impact it's had.
* please describe your experiences growing up in Australia?
I was born and raised here so I don't really know any different.
Even after travelling recently for a long time, it will always feel like home to a large degree.
(Pictures below of Chris' creation Boo Boo Lou on some of his many adventures)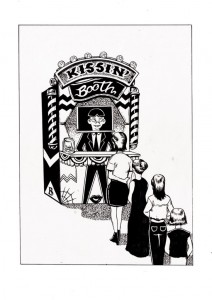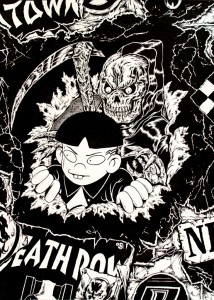 What were the highlights of the recent Stella Leung (at 'The Tate') and James Jirat Patradoon shows (at 'China Heights') – i ask as i know you went and they are both Sydney art pals of yours.
They both killed it in their respective fields. Stella came out the gate super strong for her first solo show just mastering what she does best.
Jirat came through with some new animation and conceptually heaps different from his last solo show in Melbourne (which was only a month before).
Odds n Ends
What role did toys play in your childhood?
We got heaps of hand me down Transformers and He Man stuff from older cousins.
(Picture below of a 1994 series 1 Spawn figure from McFarlane Toys)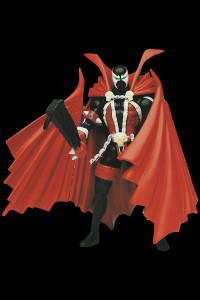 Who was your 1st crush and why?
Probably that girl in Knight's Tale or Winona Ryder.
I have no idea why.
Does sex change everything?
Oh yeah 100% I think the most important and hard thing in illustration is portraying women.
There is an extremely fine line in being tasteful and being extemely in the wrong haha.
Please describe your latest dream in detail…
I don't have cool dreams or can really remember recent ones.
I once had a dream that I was drinking a coffee I was fiending super badly for.
When I woke up, I satisfied that dream by drinking one in real life and it was the best.
(Picture below of some of Chris' art)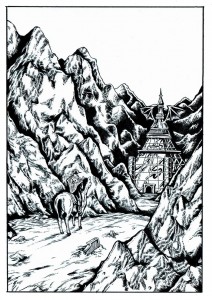 Have you ever tried psychedelics of any sort? And what was the experience like?
Not at all unfortunately.
I know some people who do and it really helps with their art and is essential to their practice.
But for me personally, I can barely draw when I'm red off one beer. Ask any of my friends!
Of everything you have done what would you most like to be remembered for and why?
Consistency. I think that's the key to being a modern artist.
Drugs – waste of time or gateway to the universe?
Undecided.
Do you believe in Aliens or the paranormal? That's the real question.
(Picture below of some of Chris' art)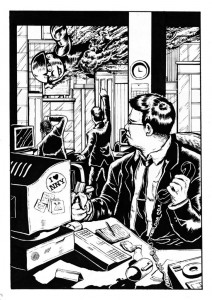 Please describe what you think the Australian Psyche/Zeitgeist is today?
It's funny – I feel there's a very good sense of community morale and talent in Sydney at the moment but at the very same time there is the age old tall poppy syndrome that still exists.
More than anything, In Sydney there's a good rate of young emerging artists of different styles coming out which has to be healthy for the culture.
The Future
Any collaborations on the horizon?
Some freelance and live painting stuff.
Trying to work on a new body of work.
Any major projects you want to hype man?
I haven't got much to openly say now (but to all of my 5 fans) I have definitely been quietly working on some new material for the last quarter of the year. Hold on we're goin home!
Thanks for having me!
Links