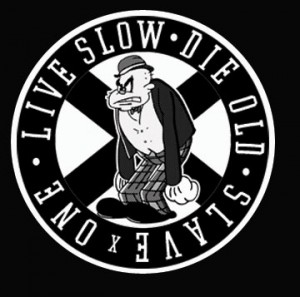 Adam Taylor is an American artist best known for his work as one half of art group 'Slave x One'.
'Slave x One' began in late 2007 and have been steadily releasing designs, resin sculptures, apparel and toys ever since.
'Gero', the debut vinyl from 'Slave x One' has generated an immense amount of praise in the scene. With fans and artists alike being drawn to it's shape, texture and personality.
(Picture below of the Gero vinyl figure – Spectreman edition – by 'Slave x One')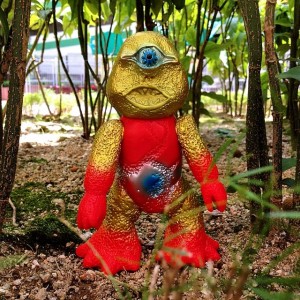 With new vinyl and art in the works, and many collaborations on the way, now is the perfect opportunity to get to know Adam and 'Slave x One' by reading the Art Talk below…
Basics/Getting to Know
Name + D.O.B?
Adam Taylor. 1978
(Picture below of Adam)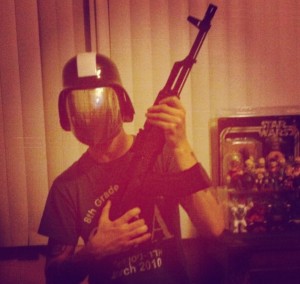 City, State n Country you're Repping?
Baton Rouge, Louisiana, USA
Describe a memory from three stages of yr life ….basically trying to piece together Mr. Taylor's pivotal moments. Concerts, art, action-figures, women, school, crime… ANYTHING man.
* age 10 – beginnings:
OK. Around 10-years-old is when I started to become a lil skate rat punkass kid.
Around this time my mom was in full swing buying me transformers, g. i. joe, and star wars toys.
Also, i receive my first skate board and it was an Alva Fred Smith III board with tracker trucks and G&S Bam Bam wheels.
* age 15 – getting serious:
I was still a punk ass kid but now I was into Graffiti and Skating everyday! Searching out spots to destroy was an erryday thing.
* age 20 – adult mode:
I moved to the west coast and became an actor for a few years. My best friend and  SLAVExONE co-owner Danny moved to LA as well and worked with me selling bootleg purses and jewelry at my store EXPENSIVIKA in downtown LA.
Those were crazy days!
Personal motto?
"I'd rather be lucky than good any day."
-Bob Dobbs
Favorite band(s)?
Rice , U.N.L.V. , Mr. Bungle… too many others to list.
(Picture below of an old 'Slave x One' ad)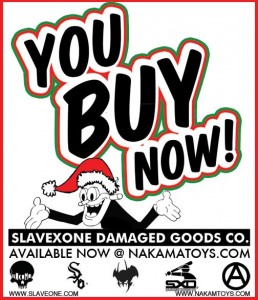 Favorite TV show(s)?
Cosby Show, Beavis and Butthead, Green Wing, Black Books, Peep Show, Whites, Spaced, That Mitchell and Webb Look, SouthPark.
Favorite sport(s) + teams?
1918-1920 Chicago White Sox during the Black Sox Scandal Years…
Only sports ever worth watchin. You had to be there.
Favorite movie(s)?
Evil Alien Conquerors, Godzilla vs Megalon, Army of Darkness, The Astro-Zombies, Event Horizon, Cat People (1942 version only)
Favorite books and comics?
The Invisibles by Grant Morrison, The Odyssey and The Iliad, My Way by Sammy Davis Jr.
Art Questions
Favorite 'other' artist(s)?
Worst aspect of the contemporary art-hustle?
PRICKS
Best aspect of the contemporary art-hustle?
Getting inspired and meeting new artists and gaining exposure.
(Picture below of Adam on the art hustle at the 2012 New Orleans Comic Con)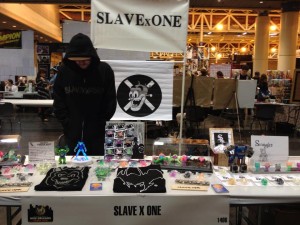 Do you consider what you are making to be 'art', 'design', re-hashed crap?
All of the above.
When and why did you first start making 'art' (drawings, paintings, anything)?
I've been making art since before I can remember.
What did you draw as a pre-teen child?
I used to draw skateboard designs for brands that I made up, and all sorts of weird monster comics such as The Bliterator in 1988.
(Picture below of some Bliterator comic art done by Adam as a child)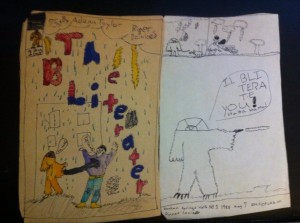 What did you draw as a teen?
By then I had gotten into drawing imaginary punk band logos and album covers.
Any pivotal artistic moment/influence?
Moving to Los Angeles and seeing other artists doing the things I wanted to do and surviving in a professional atmosphere inspired me.
Why + when did you decide to go in on the art hustle?
I don't why, really. Boredom? We are attention whores? Who knows why?
All I know is in Los Angeles around 2005, Danny and I survived by going out wheat pasting and painting every night and continued doing so for 4 years as opposed to getting 'real' jobs.
Describe the method of making a 'SLAVExONE' piece? (dot point all o.k.)
* your design work such as t-shirts?
Any design we make for a shirt or whatever is usually influenced by all the pop culture we have been been exposed to…
Old disney, punk/hardcore band designs, monsters, cartoons, old logos, etc.
(Picture below of a 'Slave x One' T-Shirt)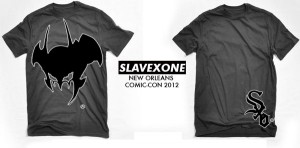 * your resin work?
Your standard pressure pot ghetto casting of bootlegs and junk.
I think I'm done with resin for a while.
(Picture below of some 'Slave x One' resins)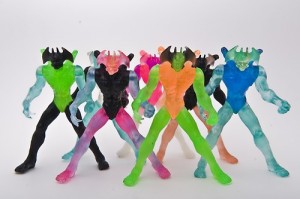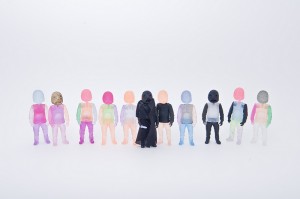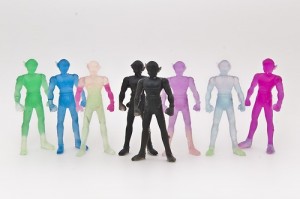 What was the process involved in producing your soft vinyl creation 'Gero' – from initial idea, to drawing, sculpt and finally holding that sweet Japanese vinyl in yr hands?
I drew up Gero, who is a monster I have drawn for years based off of a smog monster idea.
He was originally called Ramen Purge and made out of vomit ,but I changed him up over time.
My lady, Erin, and I sculpted Gero together and sent him out to Nippon.
A year later we now have vinyl! Dream come true!
(Pictures below of the Gero – from initial drawing, to sculpt, to wax and final vinyl prototype)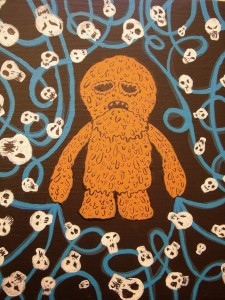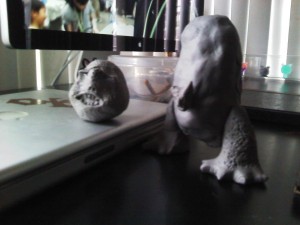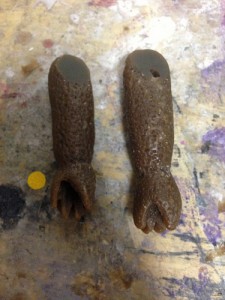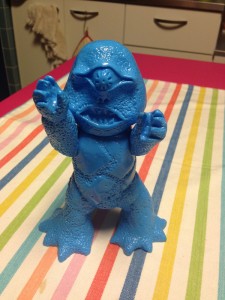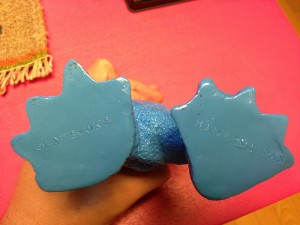 What is the back narrative to 'Gero'?
Born out of toxic waste and leftovers, he roams planet earth devouring pollution and breathing out clean air helping Earth sustain it's atmosphere.
He defends Earth from evil space monster attacks.
Honestly, without Gero this planet would be destroyed.
You have mentioned a past involvement in the street art world… Care to elaborate more for those at home?
I painted lots of billboards, a few installations, bombed the city, many art shows, and slowed down after getting arrested too many times.
You released a few resins back in 2011 and 2012 – what was the tale behind those? And any more resin in the works?
No more for now. I really wanted to get started making toys on my own and resin was an accessible medium.
(Picture below of a print by Adam)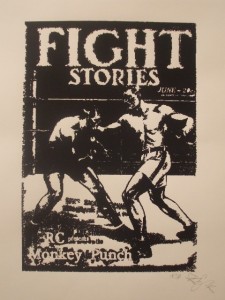 What is the back tale – both the fictional narrative and artistic creation – for your Mel resin from 2012?
It was a bootleg of a Gargamel figure from The Smurfs.
I, personally, wanted to have lots of them in many colors and found out that other people wanted them too.
(Picture below of an army of Mel resins by 'Slave x One')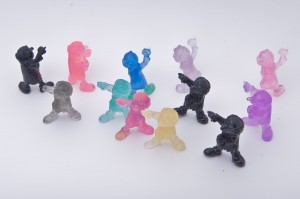 You have played in bands – such as 'murmur'; what do you get out of making music that you don't get from other art?
Hearing Damage
(Pictures below of 'murmur' – both relaxing and playing live)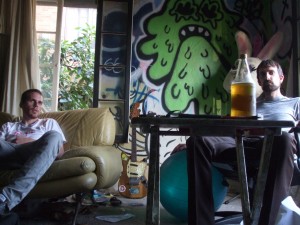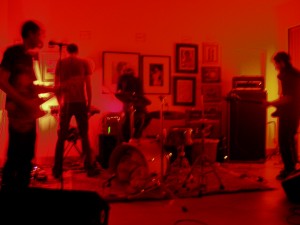 Thoughts on the rise of 'Made-In-China' vinyl toys?
They are fine as long as they don't try to masquerade themselves as Japanese SOFUBI.
If I make a toy in China I'm going to label it as 'Made in China'.
Odds n Ends
What role did toys play in your childhood?
When you think of a baby suckling at his mom's teet, thats what toys were to me.
Who was your 1st crush and why?
Alyssa Milano from the 80's television show 'Who's the Boss?' starring Tony Danza.
Does sex change everything?
Yes, I think a sex change would change everything.
Please describe your latest dream in detail…
I never sleep because sleep is the cousin of death.
J/K I never remember my dreams.
(Picture below of a 'Slave x One' zine from 2012)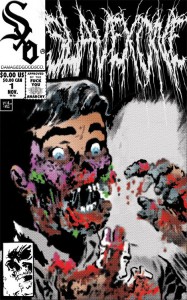 Have you ever tried psychedelics of any sort? And what was the experience like?
Yes. In high school I listened to Mr. Bungle and tripped on acid.
When I tried it again it wasn't any good. After that, I was done with psychedelics.
What are your thoughts on the current status of the art-toy 'scene', and why?
I think the current art-toy scene is great.
More artists making toys from their own visions is way cooler than toys based solely on existing licenses made by big companies.
What are your thoughts of the toy forum scene as a way for fans and artists to communicate? Is it a real 'community' or just a virtual locker-room shit talk? I ask as we are both members of Skullbrain…
It could be any of those options, but Skullbrain, to me, is definitely a real community because I have met many nice people from the message board, had lunches, gone to conventions together and formed friendships that has lasted over the years.
(Picture below of a 'Slave x One' design)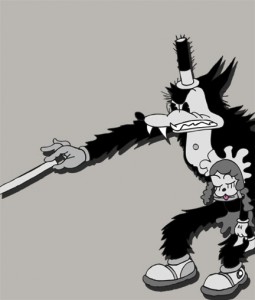 What does your wife/girl/woman/family make of the whole perpetual adolescence/Peter-Pan/man-child aspect of toy art + toy collecting?
She's my Wendy.
She sculpts the toys with me.
SLAVExONE started in 2010, and you had a business partner – Daniel Morris – back then… What happened? Some brutal alley knife fight for supremecy?
SLAVExONE actually started in December 2007 when my business partner and best friend, Danny Morris, and I were roommates in Los Angeles doing graffiti and street art at full speed.
We started a blog www.losvandales.blogspot.com leading to our first toy release and thus fueling my desire for more toys.
Fast-forward a few years to our first SLAVExONE t-shirt release in 2010.
Since that we've released shirts, hats, resin toys, stickers, buttons, coffee mugs and most recently a new vinyl figure made in Japan.
As for Danny and I, we have had many brutal knife fights to the death in many alleys but we just can't seem to kill each other.
(Picture below of a pile of 'Slave x One' gear)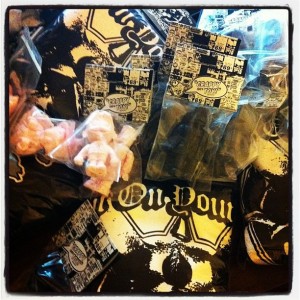 The Future
Any collaborations on the horizon?
Yes, there will be a collaboration at the Lulubell Toys booth with DSKIone at NYCC 2014.
KaijuMonster.com will be selling Geros at their NYCC 2014 booth as well.
Designer Con 2014 SLAVExONE will have our own booth and we will have over 10 guest a artists painting custom Geros also a few runs are being painted by other artists.
We will announce the details closer to the event.
Any major projects you want to hype man?
I'm pretty excited about all of the upcoming releases of our vinyl figures and our clothes.
Links