The 'Toy to the World Project' is a global charity art project overseen by Australian artist, designer and event manager Matt Jowett. The 'TTTWP' asks artists to custom a blank designer toy – at the moment a Popobe Bear – which are then all displayed at a gallery art show, with all proceeds raised being donated to fight the global scourge of AIDS.
It involves toys, art and charity – 3 things dear to us all at 'Art Whore'. And even better? Submissions are currently still open at time of publication! And don't close until October 2017. So jump on it guys!
(Photo below of Matt Jowett surrounded by a gang of blank Popobe Bears)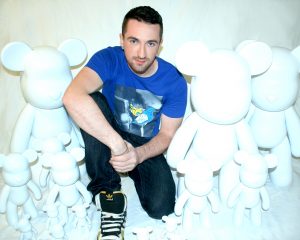 With alla the above said, we thought now would be the perfect time to chat with Matt about 'TTTW' and toys in general.
Read all about it below…
Toy to the World Questions
(*) For those at home – please explain what exactly the Toy to the World Project is?
First and foremost, TTTW is a custom toy design exhibition and charity auction. It's a project that enlists artists from around Australia and a handful of international artists to create unique one of a kind vinyl toys all using the same base figure.
These are then auctioned online through NZ based Facebook auction app BuddyBid, and the proceeds are donated to a selected charity.
Since it's inception in 2010 the base figure has been a Popobe Bear and the recipient of the funds has been the Victorian AIDS Council.
(*) If people wanted to get involved and contribute to the Project – what exactly do they need to do?
It's really easy, we've streamlined the process a lot this year with our new website (www.toytotheworldproject.com).
Basic run down, artists just need to register via the online form, reply to an email we'll send just confirming the size toy they want to work with, they pay a security deposit, really easy all done through PayPal, to secure their entry, this can be refunded to them once completed toy is returned or can be donated to help with the costs of the project.
Then they have from August until October to complete and return their toy.
(Submissions Info for the 'TTTWP', below)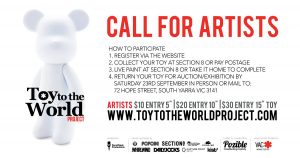 (*) Do you always support the same charity / cause with each event – and how do you decide what charities / causes to support man?
The project has always supported the VAC, that's not to say it won't support other organisations in the future. I wanted the project to support a HIV organisation that worked with children in developing nations where levels of HIV were high and access to treatment, prevention, and support was more difficult.
At the time the project kicked off there were a lot of hurdles to making this happen, and it was decided that supporting a local organisation working in the same area would ultimately still contribute to the global efforts to end HIV. The VAC have been at the forefront of response to HIV/AIDS in Australia for nearly 35 years and the difference between a HIV diagnosis today and 35 years ago is, in part – along side community responses and health care advances – due to the work the education, advocacy, and health services work of organisations like VAC.
(*) I notice the event is put on by 'PencilNeck Productions' – care to reveal what that mysterious entity is exactly?
It's not that exciting, it's just my business name.
I've been working freelance design, media, and event management contracts for about 12 years under that name and TTTW is the one that's not on anyone else's terms, it's not a contract, it's my creative brainchild, my passion project and sort of a flagship event for PencilNeck Productions that allows me to do Design, Media/Comms and Event Management all at once.
(*) The project has been put on 3 years prior to the 2017 event – in 2010, 2012 and 2014.
– what are the high points of each prior years project?
Each year the calibre of artists and entries has gotten better and better.
It's always a highlight seeing all the different things people have created from the same starting point as they all come in.
– … and what about the lows?
Can't lie, the hours are gruelling sometimes.
TTTW is a passion project and is run essentially by one person, from sponsorship to design, to artist admin to social media, that's all me in between uni and work, it's exhausting. But, it's worth it, and over the years more people have put their hands up to help where they can.
This year having the website, probably should mention that in the highlights coz I was so excited to have a website, that happened though because it was always on my to do list and always just a little out of reach, but an amazing friend offered to create this for me and it's just totally streamlined some of the more time consuming aspects as well as provided a platform to showcase past artists after the exhibition and auction, and really has added so much to the project.
– has there been a favourite submission / entry for each year – if so, please include photos of 'em ?!
Ooh, I feel like this is asking a parent who their favourite child is. You're not supposed to have favourites. I mean I do, but dare I tell you them?
I guess I've found myself bidding in the auction for a few over the years that I've just really loved, lost a few bidding wars, won a few, there's always more than one a year though. I've included some pics of some of my favourites from the last project, it's definitely not all of my favourites.
(Photos below of some entries into the 2014 'TTTWP')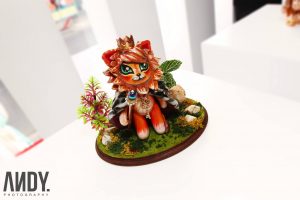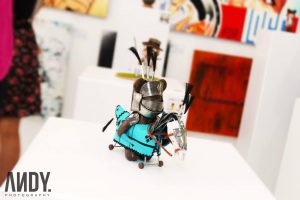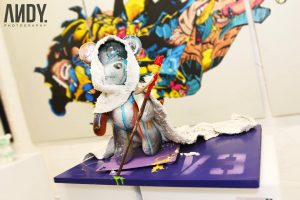 (*) What is your role with 'TTTW' and is anyone else involved? If yes, who and in what capacity?
See above, my role can be described in so many ways; Event Manager, Designer, Comms/PR/Media/Marketing/Sponsorship Manager.
There's a lot of other people who support along the way.
The Events Manager at the VAC, Renee Thompson and those who held the role before her.
Volunteers who help with everything from setting up the live painting day at Section 8 to distributing posters and flyers.
Successive housemates who's car's I borrow or who put up with all the boxes all over the house.
Andrew Polzella, who I roped into shooting photos of all the entries last year and of the exhibition opening.
The guys at ArtBoy Gallery who've been super supportive even before the exhibition was held there.
The curators of 45 Downstairs and 1 Spring St, who supported past years.
Rat Simpson who was supportive getting the project off the ground the first two times as part of Midsumma Festival's Visual Arts Program.
All the sponsors, seriously most the sponsors have supported us every single year it's run in some capacity and it wouldn't happen without them, from Kist3 who handmake all the beautiful white plinths we use for the exhibitions, to Whirlwind Print who do all our posters and fliers, to Ironlak and Villain Store who supply prizes for artists, to Section 8 giving us a space, DJ Warehouse supplying gear, DJ Kitty Kat using that gear at our Exhibitions.
There's a lot that goes into it, and while it's my role to stitch all those elements together into a single project it wouldn't happen without a great deal of support from these guys.
Last, but by no means least, the artists, this would be nothing without the time and work they donate to create the amazing artworks that they make for the project, and so many of them help recruit more artists and promote the project, I'm just so hugely thankful for them.
(*) How and why did you decide to set up the project over 7 years ago now?
Honest answer, I was completing an Events Management degree and needed to pitch an idea.
I wanted to pitch something I thought was cool and I guess all the years of collecting figurines as a kid had rubbed off and merged with all the years of getting 72 packs of derwents as kid, in the form of an interest in designer toys, at the same time a really good friend was diagnosed with HIV and somehow the things just somehow morphed into the project.
(Photos below of some entries into the 2014 'TTTWP')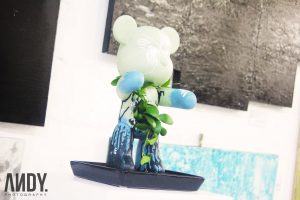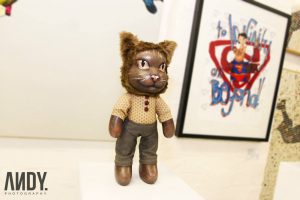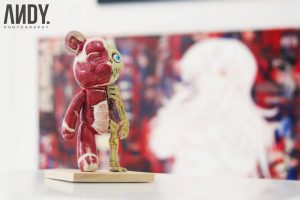 (viii) Why the decision to focus on the 'Popobe Bear' blank toy for the Project?
Was simply circumstance, they agreed to sponsor the first project and have been supportive since then with being able to sponsor and support the project while other maybe more well known manufacturers of blanks already had design comps and showed little interest in supporting the project, and it's just part of the character of the project now.
Designer Toy Questions
(*) Digital Vs Hand sculpting – what wins and why?
All these true or false questions, life's more grey.
I have to go Hand sculpt for this because the project is about Artists creating unique handmade art.
(*) Are art-toys for the kids?
I think art-toys are for anyone, but they're maybe a little less for kids, I mean I think about what I did to my toys as a kid and it's not things I'd do to art. They got mud on them, got eaten by dogs, they got played with more than appreciated.
(*) Is the rise of 'art' toys an indication of the changing nature of 'art'? OR just a bunch of nerds with too much $$$ and time?
Ha! I'm not sure I know enough to answer that.
I'm not going to pretend to be wise enough to define what is or isn't art.
(*) Thoughts on the current state of the ole Australian Art Toy Scene?
I don't really know enough about the state of the Australian scene to confidently address that question
(*) What role did toys play in your childhood?
Where to start? I was never a footy kid or a BMX kid, I was an art kid, I drew and painted. I was always drawing, Warner Bros. characters, Sonic the Hedgehog, Disney characters, my early school books (which Mum has squirrelled away, god only knows why) are littered with Cartoon doodles in the margins.
I also had the largest collection of Disney figurines you ever did see, most of which I have in a big 44L tub locked away in the garage – poor things. Of course no matter how much Mum told me they were collectors items, I was gonna play with them.
I never really reflected on this with a view towards the Project, but the more I do right now the more the Project seems to make an odd kind of sense. I collected every Happy Meal toy, Pizza Hut hand puppet, IXL jam jar, and Tazo I could get my hands on.
I used to madly collect Yowies and then when I had doubles I would pull them apart and add pieces from other animals to them and create new hybrid toys, I was always looking for odd variations of colours and patterns in them, so I guess I had a fixation on collecting from an early age.
I recall my Mum would take me to a neighbours house to trade collector cards with their son, Mark, but it was always both Mum's sitting at the table trading cards while Mark and I played with TMNT figures in the garden.
Toys were a huge part of my childhood.
(Photos below of some entries into the 2014 'TTTWP')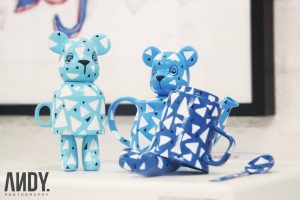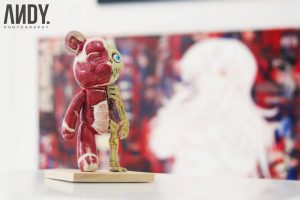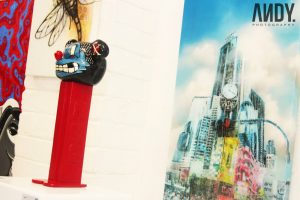 (*) What are the top 3 toys you own?
"Top 3" hmm, so many to choose from. I mean there's the stuffed bear I've had from day one that sentimentally is always "top toy" – but there's toys from the project I've bought at auction that are just exquisite works of art, then there's toys I remember being favourites as a kid just based on their character…
I'm not usually so indecisive.
Links