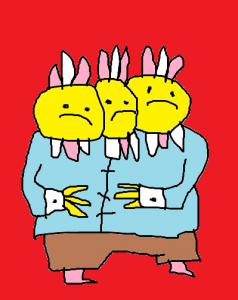 American artist Ed Edderson grew up living in a world full of pop art and culture – an uncle owning an RPG/comic shop, grandparents who both collected and a mother who did nothing but encourage him. Creating a man whose whole life is an expression of creativity – music, sculpture, digital art, traditional art, resin work and clothing.
As Ed simply states,
"Making things for me is a compulsion…. I might as well try and see what it all becomes."
Coming to Art Whore's attention thanks to his since retired Art Toy brand 'Toxic Moss', Ed has recently created his new solo venture 'Triple Bummer' as well as the 'Lift it Down' moniker for works he creates with his partner Laura Maria Ramirez Giraldo. Aside from these ventures, Ed has also collaborated with Shithouse Mouse, LATFO.com, Dain Marx from ' Buzzard Guts' and countless others.
(Picture below of the Ed Edderson X Shithouse Mouse resin figure)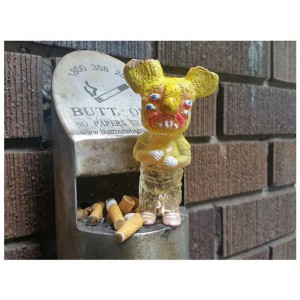 With lots in the work as always with Ed, now is the perfect time to get to know the man and his many creations, by reading the 'Art Talk' below – it's a doozy, trust us….