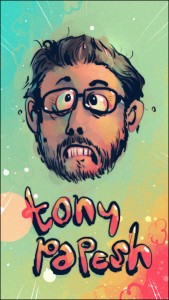 Mr. Tony Papesh is an American artist who began his life adventure of creation from the genesis of being a bed-ridden sickly child. A child with a very active imagination, ample time on his hands, and the raw talent needed to turn his mind to art!
Today Tony's art is respected world wide for it's unique style, technical brilliance, and gloop. Lots of gloop. All imbued with that 1970's patchouli freak scene – beer, psychedelics, denim and weirdos.
(Picture below of a painting by Tony called 'Keep it Down')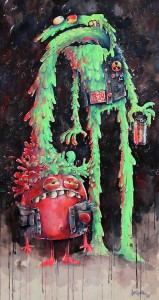 Interestingly, Tony is also a skilled digital technician – with his art being used for DJ Shadow's 2011 LP 'The Less You Know, the Better'.
With lots in the works from Tony, and a unique world view, now is the perfect time to get to know Tony the man and artist, by reading the Art Talk interview below….