Travis Keller (pictured above in a photo by Ollie Promblemas) is an American creative director, writer, publisher, record label executive, manager, skateboarder and all round artistic whirlwhind. Travis got his initial start in the art game as a photographer and skateboard video maker in his teens. Skills which took him to LA in the mid 1990s were he promptly founded cult culture website 'Buddyhead' with his best-friend-at-the-time, Mr. Aaron North.
Through 'Buddyhead', as well as his personable nature, friendship with 'The Icarus Line', writing, and photography skills; Travis spent the late 1990's and 2000s immersed in the global music scene – running the 'Buddyhead' website, releasing records through 'Buddyhead', being a journalist, accompanying bands such as 'Nine Inch Nails', 'Ink and Dagger', and the aforementioned 'Icarus Line' on tour, hanging out with 'At the Drive In', getting wasted with 'Oasis', collaborating with Raymond Pettibon, and living life as a general cultural roustabout.
Through it all Travis has remained committed to art above all else.
Travis' latest project is 'American Primitive' – an art crew that so far consists of Travis as creative director, as well as musician / producer / engineer Joe Cardamone, and filmmaker Jacob Mendel. Importantly, through Joe, 'American Primitive' have direct access to top of the line recording / performance facility 'Valley Recording Company', located in Bourbank, California.
A combination of people, skills, and equipment that allows 'American Primitive' to do pretty much anything art wise: shoot video, record music, edit, host concerts, plan events, and engage in the usual marketing, sales and hustling.
So far 'American Primitive' have released records, merchandise, videos, ephemera and more. With notable releases being Joe Cardamone's post Icarus Line solo work 'Holy War', collaborations with Annie Hardy, releasing Italian musician Nero Kane's debut LP, as well as LA electronic goth group Hide's 'Castration Anxiety' LP, The Great Sadness's 2017 LP 'Weep', and Travis' 'Past Lives' photography book.
(American Primitive logo, below)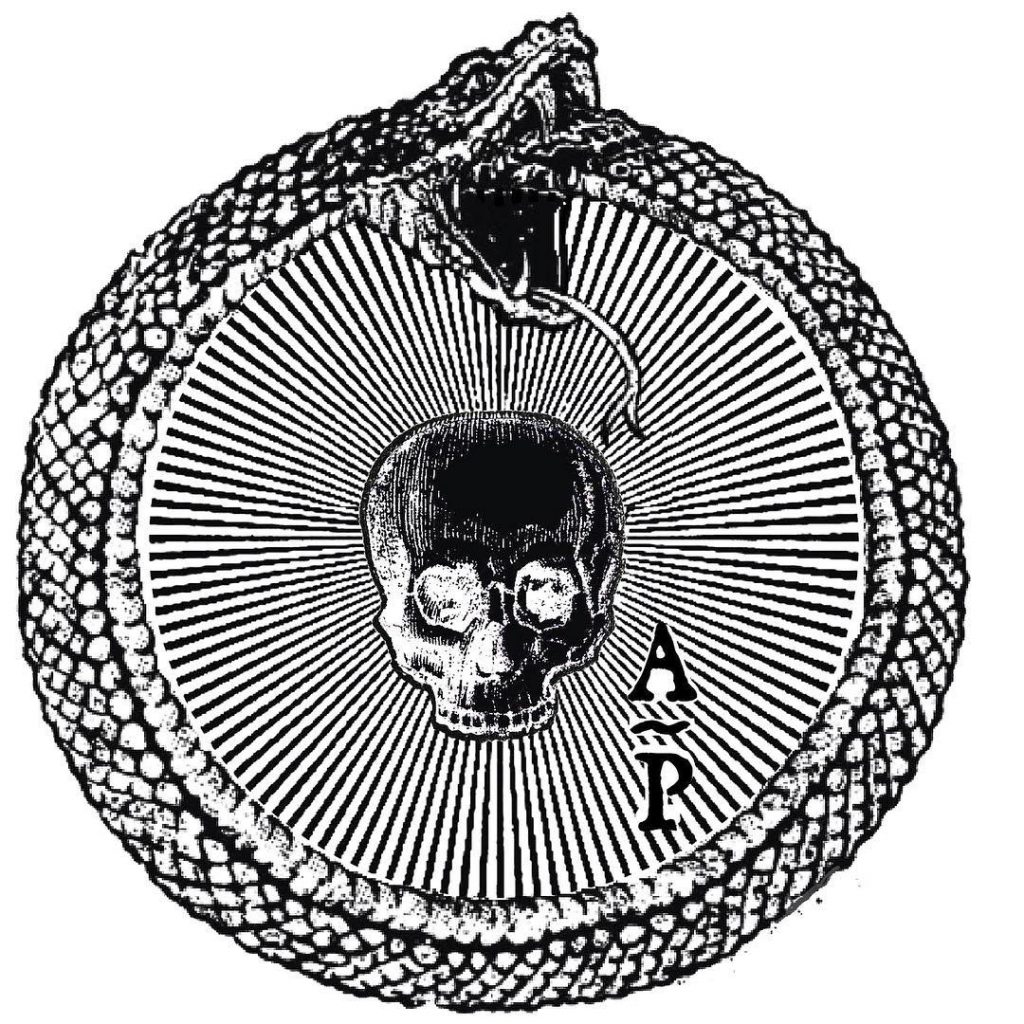 Taking it back to the beginning, Travis centres the 'why' of his artistic drive and culture hustling skills with an origin tale baked in American small-town desolation and DIY ethics:
"My first art, like on my own will….  outside of school, was at 13 years old – living in Northern Idaho – and making skateboard videos of my friends and I. The local cable company in my hometown had a non-linear Super VHS editing system that people could use for public access. I taught myself. They would play them on the local cable access channel and we sold a couple thousand copies outta my parents garage for $7 a copy.
Oh and the why? Out Of sheer boredom, ever been to Northern Idaho? It's a cultural void. Which I think, at least for me, made me create my own world and survive it. Until I could move to Los Angeles. So… outta boredom, survival and it was fun."
So with Travis having recently launched his debut photography book 'Past Lives', and 'American Primitive' on the boil big time – now is the perfect time to get to know Travis, and 'American Primitive' by reading the Culture Talk below…