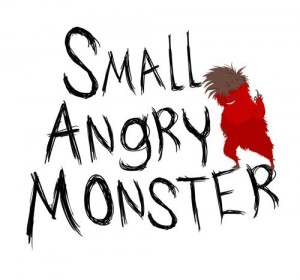 Mr. Adam Pratt aka 'Small Angry Monster' is an American multidisciplinary artist known mainly for his work as the designer toy scene's go-to painter and custom guy. Originally releasing figures under the 'Halfbad Toyz' brand – along with Ahren aka 'Improbable Cast' and Alex in 2009, Adam's reputation has grown exponentially since then and seen him work with an impressive roster of artists and groups such as: 'Goodleg Toys', 'Tenacious Toys', 'Forces of Dorkness', Tim Stephson, 'Argonaut Resin', 'Pickman's Vinyls', 'Miscreation Toys' and countless others.
Adam has a simple and poignant reason for his art:
"Art is escape for me, it is a way to channel all the howling ghosts in my head in a constructive way. I have fought depression my whole life, and mental illness is no fucking joke.
I think without art to be able to focus me, the world would have crushed me a long time ago.
The truth, to me, is the world and all of it's unforgiving harshness. It is good to become aware of it and become used to it, but we need to be able to deal with it in our own way.
Some people shoot heroin, some people play video games. I paint monsters and robots."
(Picture below of an Gergle figure by 'Miscreation Toys' – painted by Adam)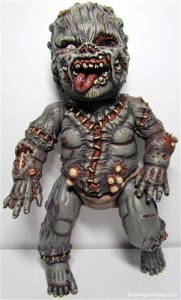 With a ever increasing reputation and many many projects in the works, now is the perfect time to get to know Adam Pratt aka 'Small Angry Monster' by reading the open, honest and very very informative Art Talk, below…