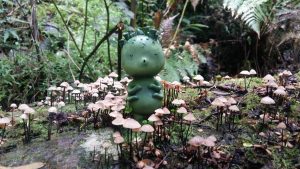 Monika Viktoria is an Australian artist, painter, designer and indie toy maker who recently debuted her very first designer toy – the Singing Bryophyte resin. Which was made in collaboration with UK based manufacturer 'Made By Cooper'.
Like many designer toy fans and artists – hello Paul Kaiju – Monika first became exposed to the world of designer toys and customising thanks to Blythe. She has been working in the fine art and designer / custom toy and doll worlds for many years now, to much acclaim.
Monika grew up as a teenager in Australia with an absent father and sick mother, taking solace as a teenager in the digital world of Zelda, and the fantasy world of elves, archery, nature and general whimsy. Themes prevalent in Monika's work to this day.
(Photo below of  some Bryophyte art by Monika)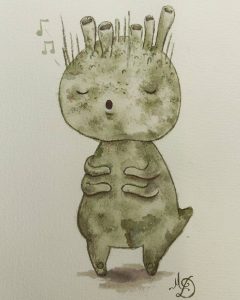 So without further ado, now is the perfect time to find out more about Monika, her art and life, by reading the Art Talk interview below…