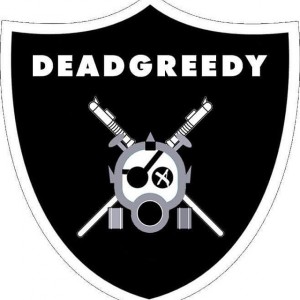 Jeremy Bourquin is an American pop artist producing sculptural resin works that are not only aesthetically interesting, but also damn damn funny. Traits Jeremy shares with the classic era art of his self proclaimed biggest influence – Morgan 'The Sucklord' Phillips.
Indeed, it was a tribute to ole Morgan made by Jeremy – the 'Popsuckle' –  that first caught ole Art Whore's eye. A resin work depicting 'The Sucklord' as that classic cheap, cold n disposable treat – the popsicle/iceblock.
Colorful. Bad For You. Ready to be consumed.
(Picture below of Jeremy holding one of his 'Popsuckle' creations)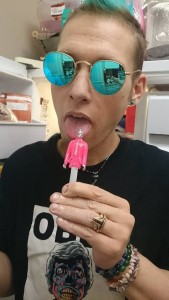 With a slew of highly regarded releases behind him, a co-sign from ole 'DKE Toys' and new works ready to debut at the 2015 SDCC, now is the perfect time to get to know ole Jeremy and 'Dead Greedy' by reading the Art Talk below…