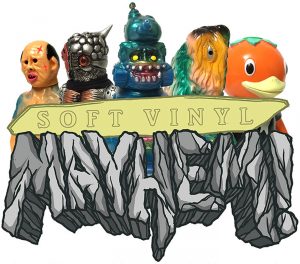 Glenn Manders (also of 'Bad Teeth Comics') and Jason Ramke are the two gents behind 'Soft Vinyl Mayhem' – an art toy show held annually in Brisbane. Debuting in 2015 'SVM' exists to showcase the work of the global soft vinyl toy art scene, right here in Australia.
For fans or newcomers to the world of art toys, shows like 'SVM' provide the rare chance to see these works up close and in personal. We can't recommend attending enough!
(Photo below of Jason and Glenn preparing some uncut soft vinyl toys)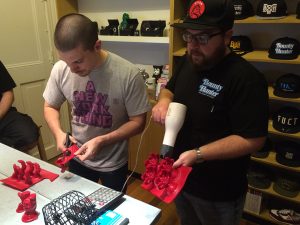 So with the 3rd 'Soft Vinyl Mayhem' show on September 15 – September 24 now is the perfect time to find out all about it, via the show's curators, the aforementioned Glenn and Jason.
Check it all out, below…
Toy + Show Questions
Why the name 'Soft Vinyl Mayhem'?
– Glenn:
 Hard to remember at this stage.. I think we kicked around a few names, some had "sofubi" in the title but we thought using "soft vinyl" was a better choice for people who would see flyers/posters on the street and had never heard of it before.
 "Soft Vinyl Mayhem" seemed to have a good rhythm to it and kind of stuck.
– Jason:
It's soft vinyl toys and it's mayhem!
Glenn actually came up with the name and I thought it sounded pretty cool and fit the event.
(Photo below of the flyer for this year's show!)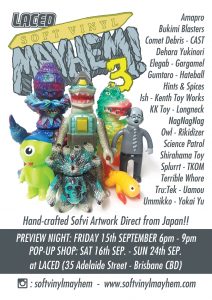 How did you get all the amazing toy artists from all over the world involved?
– Glenn:
We just reached out – at the time there was virtually no sofubi scene here in Australia, just a handful of collectors. We were friends with a few makers in Japan and USA and we wanted them to build their fan bases here in Australia to help grow their careers and also to cultivate fans here, giving them more sales.
It was also a good chance for Jason and I to bring all of the sofubi fans together and build an Australian community.
– Jason:
Both of us already knew some of our artists so we were lucky that we could approach them and they supported us, but for a lot of artists we just asked and they were keen to take part.
Australia was kind of a mystery untapped scene when we started so it was a great opportunity to test the market.
What role have you each played in putting it all together?
– Glenn:
We both had built friendships with many of the artists that have since been involved with SVM. Jason spent a few years in Japan so he would meet people at events over there and I had some contacts through producing my own toy a couple of years prior.
Actually a year before the first Soft Vinyl Mayhem exhibit, I had interviewed a bunch of sofubi artists for a zine called "Bagged With Header" – I think quite a few artists from that zine also participated in the exhibit.
– Jason:
Life's kind of gotten in the way for me this year and I've had to take a small step back from organizing, so this year Glenn is doing a lot of the hard work and I'm really grateful. I'm still organizing a few of the artists and I'll be helping out with the running of the show.
Previously we've shared the load more though, I usually also look after the artists who don't speak much English with help from my wife Arwen, who does a lot of the translating. There's actually no way I could do this show without her, she's a great help.
(Photo below of Glenn, Jason and Arwen)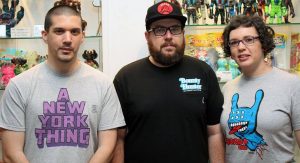 How did you two come to connect – toy wise?
– Glenn:
I'm pretty sure I received an order for my own sofubi toy, the Cheestroyer, from a guy named Jason. The thing that caught my eye was that he was a couple of suburbs away – most of the orders came from overseas so it was crazy to see one coming from Brisbane.
I think we ended up adding each other to Facebook and nerded out over sofubi toys and the rest was history…
– Jason:
I remember seeing Glenn and his Cheestroyer kickstarter on Skullbrain while I was living in Japan and I thought it was really cool that there was a toy maker back in Brisbane, I was a jerk though and didn't back the kickstarter, sorry Glenn.
When I moved back to Brisbane I then ordered a Cheestroyer from Glenn and we started talking, we realized we lived pretty close to each other and we had similar tastes in toys so we started hanging out, the rest is history I guess.
(Photo below of one of Glenn's Cheestroyer made in China soft vinyl figures.)
The project has been put on 2 years prior to the 2017 event – in 2015 and 2016…
* what are the high points of each prior year's project?
– Glenn:
The best part for me is seeing visitors flip out after seeing these crazy toys for the first time. I think people are really shocked at the amount of work that goes into these toys – especially the more horror style pieces.
On the other end of the spectrum people also are really impressed with the aesthetics of the more cute style figures with simple sprays of colour over the vinyl.
Compared to the types of toys you see in the aisles at Target – these soft vinyl toys are works of art.
– Jason:
Before SVM1 I didn't really know what the scene was like in Aus and didn't know many collectors here, SVM1 really pulled a lot of collectors from all over Australia together, it's corny as all hell but I think my highlight from that year was the people I met and the friendships I made.
SVM2 was just a huge beast, we had so many artists, toys and our first international guest artist that I was just amazed that it all came together so well. I'll never forget it.
* … and what about the lows?
– Glenn:
Hmmm I think for the first SVM we really didn't know what to expect and the "one night only" format turned into something that we were barely able to control. It was three hours of having our heads buried into our clipboards, taking toy sales and organizing packaging, etc. Neither of us could even remember the actual exhibit in the weeks after the show. It was super hard to take 5 minutes to talk with friends who came out to support us so that was a kind of low point.
As for SVM2.. we ended up seeing toys from the exhibit pop up on re-seller forums within 24 hours of the first day of the exhibit.
That was a bit shit to see happen but I guessing the whole flipping thing is part of the game.
– Jason:
The low of SVM1 was under estimating how crazy the show would get and thinking that a few hours would be enough for the whole event, the show was pretty chaotic for Glenn and I which is something we fixed for SVM2.
The hangover post SVM2 after party was brutal. Also seeing some of our toys go straight to flippers sucked.
(Photos below of some works that will feature in the upcoming 'SVM3' show!)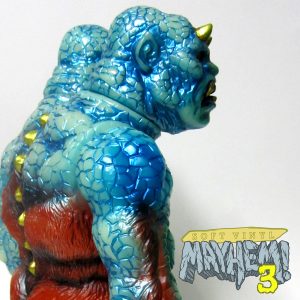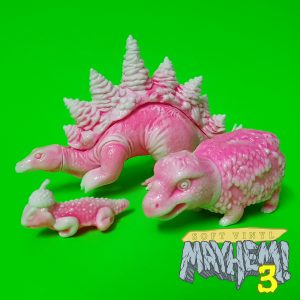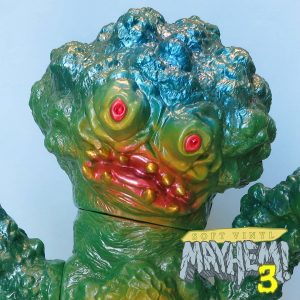 * has there been a favourite submission / entry for each year (Please include photos of 'em)?!
– Glenn:
No way I couldn't possibly choose.. Jason & I have curated this show so that it features artists that we are already fans of.
Every submission has been great over the past few years!
– Jason:
My favourite pieces from SVM1 were the huge range of Kumons that Dennis from Shirahama Toy sent us, including uncut Kumons we gave away, he just blew it out of the water and I still dream about opening that box of Kumon when they arrived on my doorstep.
SVM2 is a tough one, we had so many amazing toys, maybe the Gargamel customs, it was tough letting those go. But every artist we had really outdid themselves.
* what's the connection you have with Brisbane sneaker / clothing /  pop art shop 'Laced' – i ask as all the events have been held there…?
– Glenn:
Laced opened about 11 years ago and were the only store that stocked vinyl toys around Brisbane so of course I would visit their shop regularly. They are primarily a sneaker/streetwear shop but the owners there have always been collectors of toys themselves and have stocked designer toys since day one.
It was a perfect fit when we approached them about using their gallery space for the exhibit.
– Jason:
Before organizing SVM1 I personally didn't really know the guys very well. I used to shop there sometimes, they were one of the few places in town that sold vinyl toys and they're also collectors so it seemed like a good spot for the show.
SVM really wouldn't exist if it wasn't for them though, they've helped us out so much.
(Photos below from the two previous 'SVM' shows)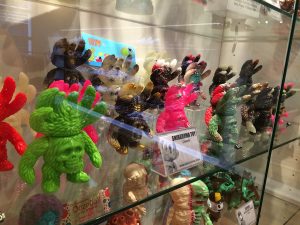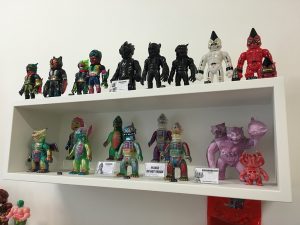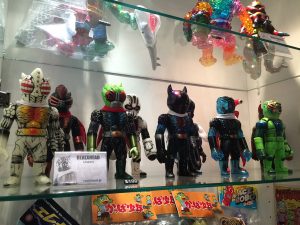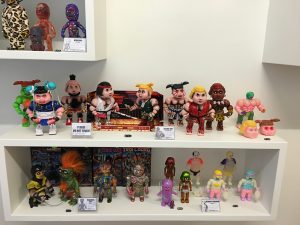 What role did toys play in your childhood?
– Glenn:
A huge role – I collected TMNT, Dinoriders, Monster in My Pocket, Toxic Crusaders, Transformers, X-Men.
I grew up with comics, trading cards, and cartoons so the habit of collecting grew fast. As a kid it was amazing to have replicas of these characters on the shelf, it was like you plucked them straight out of the tv screen on Saturday morning.
– Jason:
I grew up in country Queensland and it wasn't easy for me to hang out with friends due to distance so I used to play with toys a lot.
I was also sick a lot when I was very young and I remember every time I'd have to go to a doctor or specialist I'd get a Masters of the Universe toy to cheer me up, I think that may have actually kickstarted my collecting.
(Photo below of Jason as a kid with his Masters of The Universe toys)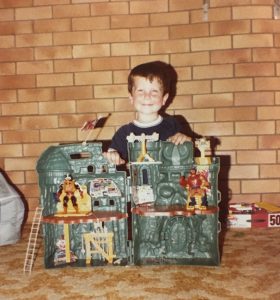 Care to elaborate on your love for the NagNagNag and associated figures by Japanese artist Shig…
* why the love?
– Glenn:
I'm more interested in toys that have some type of personality, and Nag toys are full of charm and crudeness. Older toys like Bullmark Hedorahs and IKB characters instantly grab my attention and I think Shig's figures fit right in with that group.
– Jason:
Love or hate him the guy is a legend in the scene, the hype that surrounds his toys are just extraordinary and isn't unjustified.
His paint work is top notch and the guy doesn't skimp on quality.
* how did you guys get him to contribute to previous SVM shows?
– Glenn:
The artists from the first SVM were all really impressed with how it was run and I guess word spread around the community that Soft Vinyl Mayhem was a quality show.
– Jason:
We asked.
(Photo below of a NagNagNag soft vinyl gazing lovingly at a flyer for the 'SVM2' show)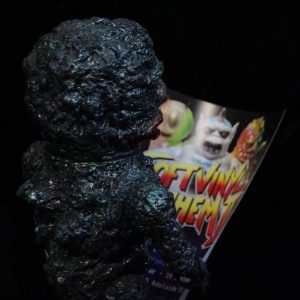 * thoughts on Shig's current role and status in the art toy world?
– Glenn:
He's one of the icons in this scene – he just makes whatever he wants, firstly because it's something he wants to see in his own collection.
– Jason:
Man, why so many Shig questions? We've had so many other interesting artists over the years too. Amapro has a long and interesting history, we've got Longneck this year who I could personally talk about for hours, Dehara Yukinori, Gargamel, we've had mother fucking Realxhead.
* if you had to explain the appeal of Shig's toys to a well educated 10 year old – what would you tell 'em?
– Glenn:
I'd tell them to go do their math homework and leave the toys for the big boys.
– Jason:
Save your pocket money kid.
(Photo below of Japanese artist Shig – of NagNagNag – holding a vintage Humphrey B Bear soft vinyl nightlight)
Thoughts on the current state of the Australian art toy scene?
– Glenn:
It seems to be pretty strong.. a few people have started up their own exhibits in Sydney and Melbourne since the first SVM.
It's been a busy couple of years for this scene in Australia.
– Jason:
It's still relatively small but I think it's a great scene.
We've got some great artists producing some high quality stuff. Hints + Spices and Tovi are both killing it down in Adelaide. Newcomer Evan from Mattree Cafe has just released his first toy and it's huge. Swamp Fiend here in Bris does incredible work. And then of course Glenn's Cheestroyer is a personal fav of mine, and that's just a few.
We've also had so many quality toy shows pop up since SVM1 both in Melbourne and Sydney, we've been extremely lucky in that regard.
I really hope the scene continues to grow.
For those who have no idea about the show and art toys in general – what would your spiel be to get 'em through the door?
– Glenn:
Something something blah blah about how these pieces are hand-crafted, initially sculpted in clay by hand with duplicates produced in vinyl using traditional methods used to make old Ultraman and Godzilla toys.
The toys you see in Target/K-Mart etc have always been cheap and kind of shit – however look at the Nickelodeon TMNT toys or those piece of shit Funko Pops and they are shameful with the amount of shortcuts being taken by the manufacturers.
These sofubi "toys" are absolutely beautiful and so much care is taken in making sure joints look flush and every detail is reproduced. We could get into the discussion of "toys" vs "art" but that's a whole other interview!
– Jason:
If you're into toys the lineup this year is just full of legends from the scene, we've managed to get some really rare and unique artists involved and you don't want to miss this opportunity to see all these toys in one spot.
If you're not into toys, this is your chance to see some unique handmade art that you probably won't see anywhere else.
Collecting Questions
When and why did you first start collecting toys?
– Glenn:
I think the first time I remember trying to collect a set of something would have been Mattel's "Monster in My Pocket" series of tiny rubber figures. I remember having some M.U.S.C.L.E. before that but I think I wasn't aware enough that there was a finite amount of characters and designs to chase down.
However with the MIMP series I was all about checking each character off the checklist.. I'm pretty sure I had close to a full set before coming home one day to see that my dog had decided to taste test most of them..
– Jason:
I never considered it collecting but I used to buy a lot of toys when I was a kid, and I had shelves of toys organised in my bedroom that I'd stare at. But as I mentioned earlier I remember getting a new toy when I had frequent doctor or specialist appointments so I think that started my collecting.
Do you think collectors are born, or created – that ole nature Vs nurture debate?
– Glenn:
Created I guess?
I was bottle fed so of course I have a deeply seeded affinity for holding plastic things.
– Jason:
Never really thought about it, I think it might be a bit of both.
My dad collected stuff but not to the extent that I do, so I might have gotten some of it from him.
(Photos below of a promo t shirt for the 'SVM2' show – with art by Glenn)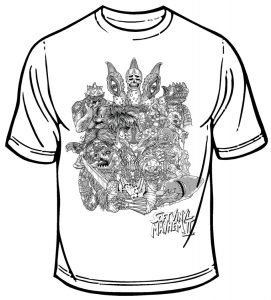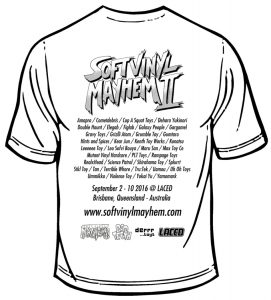 Please write a brief timeline of your collection / collecting history?
– Glenn:
I already kinda answered that in a previous question.
– Jason:
Masters of the Universe was the first toy line I remember going crazy for when I was very young, about the same time I remember also getting into Transformers.
This would probably be around the same time that I remember religiously watching Battle of the Planets, Voltron and Astroboy which got me interested in Japanese robots and monsters.
I think I then got really into Teenage Mutant Ninja Turtles, which I used to have a big collection of.
I then discovered Nintendo with my first Gameboy and got heavily into collecting video games.
As a teenager I dropped the toys, playing a lot of video games and getting heavily into music, I collected CDs / Vinyl for years and started playing drums in some terrible bands during my uni days.
It wasn't until years later that I got back into toys, just collecting random action figures and some vinyl as well as old retro video games.
Moving to Japan was what really got me hooked on Sofubi and Kaiju though. I started going to Superfestival, Wonderfestival and any random toy show that I could attend as well as hanging out at the Tokyo Mandarakes, Studio Uamou and Realxhead's shop when I could.
Since returning to Australia I've of course continued to collect Sofubi but I've also started a weird collection of bootleg South American Robocops and recently bootleg/pachi monster artwork from Japan.
Favorite 3 items you own and why?
– Glenn:
Impossible to answer at this stage.. here's a few random toys from the collection that I have a special spot for:
1) Zanika by B-Club (Bullmark Reissue)
This is probably my favourite Bullmark sculpt – the perfect example of how the company took kaiju designs from Godzilla/Ultraman/etc and sculpted cheap looking toys suitable for children.
The costume worn in the Ultraman tv series was pretty horrific but Bullmark did a great job turning Zanika into a friendly, cute looking monster for children to play with. The bug eyes, simple sprays and expressive pincers make Zanika a total winner for me – so much so that I tracked down and bought both versions to display.
(Photo below of Glenn's Zanika sofvi)
2) Standing Hedorah by Hukkokudo (IKB Reissue)
My first experience with any of the IKB Hedorah figures were through the Gargamel versions of these toys. Very similar to the IKB originals, the Gargamel versions are based on the same three "brothers" but are more cartoonish/smooth sculpts and to be honest were more appealing to me when I first started collecting sofubi.
Like many vinyl toy collectors, I started out with western vinyl companies like StrangeCo in the early 2000s so a company like Gargamel was a good introduction to Japanese vinyl for me.
A couple of years ago I wouldn't have bought a toy like this, but my tastes are moving more towards crude sculpts like this.
The details on this toy can be overwhelming, but they aren't without purpose – for example the head has some of the deepest eye sockets I have ever seen on a toy which gives the silver disc eyes even more contrast in those deep black pits. The IKB sculpts were originally produced in the 70s and are just as good, if not better than any Bemon/Nag toy out on the shelves today.
(Photo below of Glenn's standing Hedorah sofvi)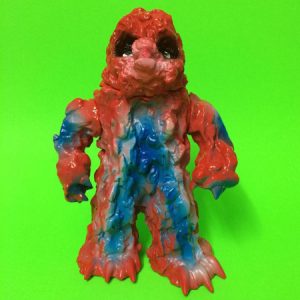 3) Garamon by Butanohana
Garamon is one of those classic characters that deserves a spot in every sofubi collection. The only problem for me was deciding on which toy producer's version to purchase.
You can't go wrong with classic sculpts by Bullmark/M1, especially M1's giant Garamon with doll eyes. Although it's a fraction of the size of the M1, the Butanohana version of Garamon has always stayed in my mind. However, there has always been a problem with acquiring any Butanohana figure though – they are virtually impossible to purchase outside of Japan!
Luckily this little guy popped up for a reasonable price on the secondhand market so I snapped it up within a heartbeat with no regrets at all. The crude yet detailed sculpt is full of charm and character with the OG colourway sprayed on top gives this figure a permanent spot on my always changing shelves.
(Photo below of Glenn's Garamon sofvi)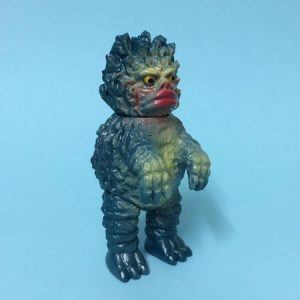 – Jason:
(*) Hawaiian M1Go Hedorah
This was the first kaiju toy I bought while I was in Japan and definitely got me hooked on the whole scene. It's just a perfect sculpt of my favourite kaiju and also a favourite colourway. I actually recently got a tattoo from Izumonster based on this toy, it means a lot to me.
(Photo below of Jason's Hedorah tattoo from Japanese artist Izumonster)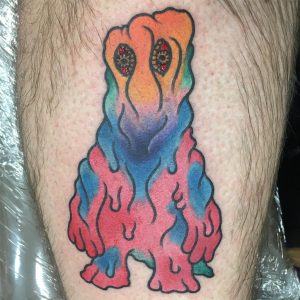 (*) Dehara x Uamou Morlin custom.
This is just a perfect collaboration between 2 of my favourite toy makers, the Uamou sculpt matches Dehara's Morlin perfectly and Dehara just did a great job customizing the toy.
This was also from one of my favourite toy shows I've attended, I chucked a sickie from my job in Tokyo to attend the show opening and it was before the current Sofubi hype so it was really low key. It was also the first time I met Dehara who actually encouraged me to get involved in the scene more.
(Photo below of Jason's custom Uamou by Dehara)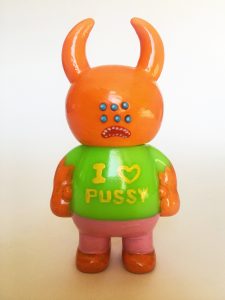 (*) Longneck Majins.
I've always been a big fan of Longneck's toys, the way his work references toys and kaiju from the past while being original and playful is something I've always admired.
It took me a few years to finally acquire one of his Majins but I've somehow recently been extremely fortunate to build a small collection of these guys and I love every single one of them like children.
(Photo below of Jason's Majin collection)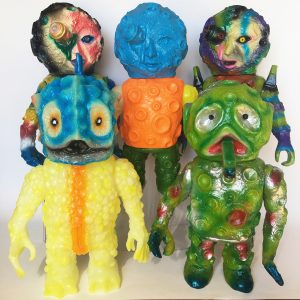 Item(s) you have lost, sold or given away that you wish you still had and why?
– Glenn:
I lost some Batman Returns trading cards in 5th grade and it totally ruined my whole week.
– Jason:
I'm a bit of a hoarder so I haven't sold many toys, I've lost a lot of my Transformers toys from my childhood though and I'm kinda bummed about it.
Top grail items you would like to own and why?
– Glenn:
Of course some HxS would be nice but there are too many hypebeasts buying them up these days to have much chance.
– Jason:
I've got way too many grail toys to list but probably the biggest one I want is an original early release green Longneck Yusei Majin, it's a great Ooze-it / Cosmos Alien tribute. I'm also chasing a Bemon Kougai at the moment, if I can ever find one for a good price.
Reselling for a quick profit aka 'flipping' is a major issue in the art toy scene…
* do you have a specific definition of 'flipping' yourself – or to put it differently – when is it ok to sell a collectible item for profit, and why?
– Glenn:
Generally speaking if you sell a piece, you sell it for what you paid for it.
The less people mention flipping the better, then new collectors don't get ideas of fame and fortune…
– Jason:
Flipping to me is buying toys for the sole purpose of selling for profit, it's a fucked up act but it's unfortunately a big problem in the scene at the moment. Straight up flipping is always wrong.
It's become a touchy subject though, but if you're a collector that wants to sell a piece always try to keep the price close to the original retail price. Trade flipping, or buying a toy just to trade it for something else is also dodgy, don't do it.
(Photos below from the 'SVM2' show back in 2016)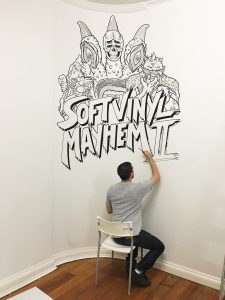 * thoughts on the oft spoken of toy conspiracy, that many artists flip their own toys through intermediaries?
– Glenn:
If I hear about any shady business going on in regards to pricing then that toymaker/artist loses all integrity and I don't want to support their art.
It's pretty easy to spot artists who are trying to squeeze every dollar out of their fans. However there are exceptions – some artists do charge more than others for the same size toy. Although anybody with a discerning eye can pick an organic sculpt with imaginative paint applications vs. a 3D sculpted, cheaply made toy with poorly executed paint apps.
Some of the sprays I've seen on $300 toys make a dog's chew toy look like Atom A quality. Simple sprays are great, but there's a level of aesthetic and skill that goes into that style of application.
A 9 inch tall standard toy with 5 joints costs a certain amount of money for vinyl – then there is the "artistry" that you're paying for on top of that. For me that covers the production, quality of joints, quality of vinyl (there's a big difference between japanese vinyl and chinese/european vinyl), the charm of the sculpt, the story behind the character, etc.
– Jason:
If toys are definitely going to get flipped I'd rather the money go to the artist, however intermediaries are the wrong way to go about it and I personally wouldn't support an artist who did it.
I've found it interesting when artists put their stuff up for public auction so then the market decides the price and that's a better solution but yeah, I don't know. It's actually always been pretty weird to me that something as simple as "toys" has this huge controversial edge with flipping and dodgy business practices.
* … what's the most either of you guys have paid for a toy over retail – and any regrets hahahaha?
– Glenn:
Maybe 30% above retail on Butanohana?
I try and stick close to retail for any purchases.. sometimes you get lucky and pay less than retail on older releases.
– Jason:
I try pretty hard to not pay too much above retail for toys, from experience if you're patient you'll be able to pick up that super expensive toy you "NEED" at a decent price eventually.
I think the most above retail I've paid is about $70 on a Realxhead piece and to be honest I felt like dirt afterwards.
(Photos below of some of the toys that featured in the 2nd 'SVM' show)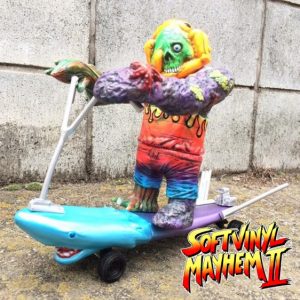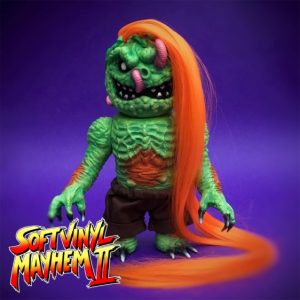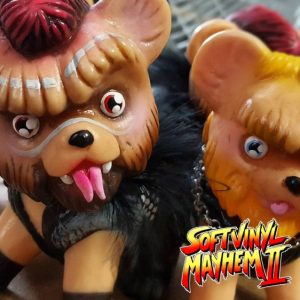 Thoughts on the Australian toy hunting scene and favourite shops or local events to find that plastic crack?
– Glenn:
There's a good range of Medicom releases constantly appearing on the shelves over at Laced.
Rockinghorse Records/Egg Records have some pretty good 80s/90s action figures from time to time.. normally loose MOTU figures and things like that.
– Jason:
Ahhhh locally there isn't that much going on for toy hunting, the Windsor toy and hobby show is usually pretty decent and it's on a couple times a year here in Bris.
I've also started going to the Collectorama shows in Nambour, it's sometimes worth checking out and Nambour actually has a few collector shops that are ok, including "The Time Machine" that even has a small selection of sofubi for sale.
The Future
2017 marks 3 years straight – can we all count on SVM being a part of the Australian toy landscape for the foreseeable future?
– Glenn:
At this stage where we have been spending 6 straight months preparing for the exhibit, sending emails, chasing down lost packages, designing exhibit layouts, etc etc I feel like saying "Fuck No! This is the last one!!" but ask me around December and chances are we will be making preparations for next year's show.
– Jason:
We'll see how we feel after SVM3.
Anything either of you would like to plug… cause now's your chance!?
– Glenn:
– Jason:
Come to SVM!!!!
Also if anyone is interested in weird bootleg kaiju, I've been posting daily stuff on Instagram at @pachidrunkers.
Links