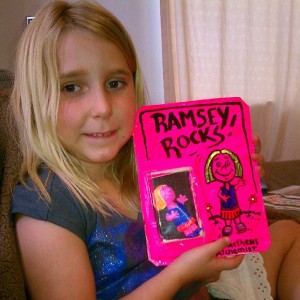 Ramsey Malone likes art toys. A lot. A vice her father Kevin is more than happy to indulge – as can be easily evidenced by the above photo of Ramsey holding her namesake one-off piece by 'Prometheus Alchemist'.
Ramsey is not only encouraged by her father to accept gifts from strangers, she is also being schooled in the ways of the toy by Kevin.
(Picture below of Ramsey loving her 'Monsters and Mecha' Raar piece)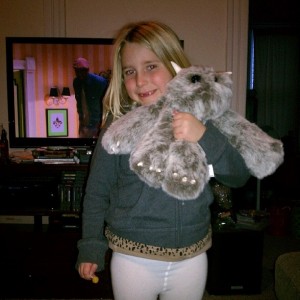 As a result of her knowledge and cute factor,  we at 'Art Whore' have decided to let Ramsey bring her expertise of toys to the people.
So stay tuned for Ramsey's upcoming review column, Ramsey's Rants.
Why? Well 'Art Whore' knows that it's always best to hide vicious criticism, behind a small-girl. I mean no one can get mad at a small girl, can they? Plus who better to review Art Toys than a well opinionated child!
So get to know Ramsey the Ranter herself, by reading the interview below… And stay tuned for her upcoming column!
Basics/Getting to Know
Name + D.O.B?
Ramsey Julia Elaine Malone. August 28th, 2006
City, State n Country you're from?
Ironton, Ohio (USA)
Favorite TV show(s)?
Deadtime Stories, Sam & Cat, Smurfs (original), Most things on the Disney Chanel lol
Favorite movie(s)?
Christmas Story
(Picture below of Ramsey approving of a 'The Mark Ultra' resin piece)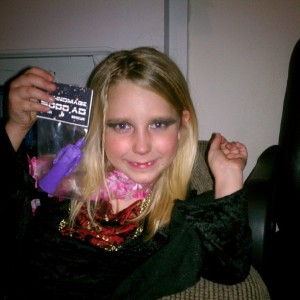 Favorite books and comics?
Splat the Cat, SpiderMan
Favorite band(s)?
Katy Perry, Jackson 5
Favorite artist(s)?
(Picture below of Ramsey holding a 'Ham FX' x 'Killer Bootlegs' collaborative work, Gollum)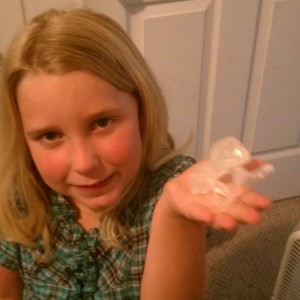 Favorite subject at school?
Gym and Reading
Toy Questions
What do you think of your dad's toy obsession?
They're cool.
(Picture below of Ramsey and her loving enabler father Kevin)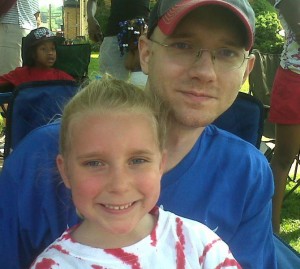 How did you get interested in toys?
Don't remember. Probably a stuffed animal I liked.
Why do you like toys?
Because they are fun to play with.
What do you think about self described 'girls toys' – like Barbie and Bratz – do you play with them or are they silly?
They are ok. But I like Monster High the best.