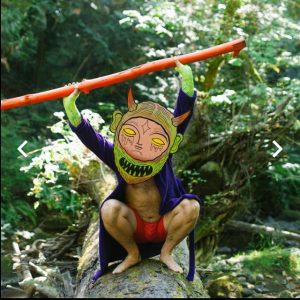 Russ Morland is a Canadian based artist and tattooist who became possessed by the seemingly benign creature LURK years ago. Scientists are not sure of the origin of LURK. Or whether it brings ill will or positivity to the world. All that is known is that when under the power of LURK there is no more Russ. No more tattooing. Only LURK.
(Picture below of some art by LURK)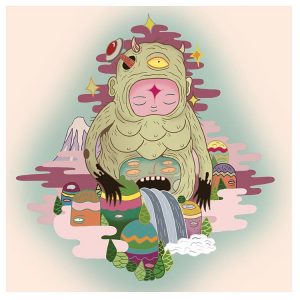 With LURK showing no sign of abandoning Russ' body and psyche any time soon, now is the perfect time to get to know this artistically prevalent entity from parts unknown, by reading the Art Talk interview, below…

Basics/Getting to Know
Name + D.O.B?
LURK
We Don't have a number that humans understand, but I guess yesterday is the closest I could say.
City, State n Country you currently call home?
LURKLANDIA
City, State n Country your from?
AIDNALKRUL
(Picture below of some art by LURK)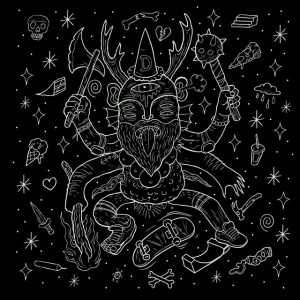 Describe a memory from some stages of your life ….basically trying to piece together your pivotal moments. Concerts, art, action-figures, romance, school, crime… ANYTHING man!
* age 5 – beginnings:
Candy
* age 10 – continuations:
More Candy
* age 15 – getting serious:
Video games, and Warhammer
* age 20 – young adult:
Dance moves
(Picture below of Russ in 1996 or so – when he was in his 20's, before ole LURK had claimed him)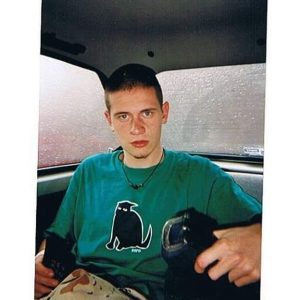 * age 25 – further continuations:
Boobs and butts
* age 30 – adult mode:
What is that, like a robot thing?
* age 35 – adult continuations:
This sounds sexy
Personal motto?
Get through the fucking day
Art Questions
Why the name 'The Lurk'?
Because I wanted to represent my home world LURKLANDIA
Favorite other artist(s)?
(Pictures below of a sneaker, hand painted by LURK)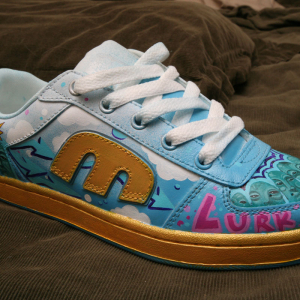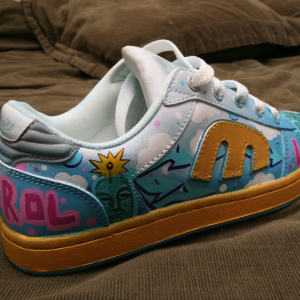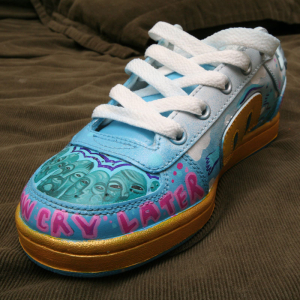 Worst aspect of the contemporary art-hustle?
Humans
Best aspect of the contemporary art-hustle?
Humans
Do you consider what you are making to be 'art', 'design', re-hashed crap?
Portraits into a world that you are lucky to see as inter dimensional travel is not possible by Humans, dogs and cats can do it and other animals but humans always die when they try to go to our world.
My art is like a travel brochure to a place that you are dying to get to.
(Pictures below of some almost complete paintings by LURK – Ed: sometimes ole Russ gains control again and the art has to take a pause until LURK regains possession)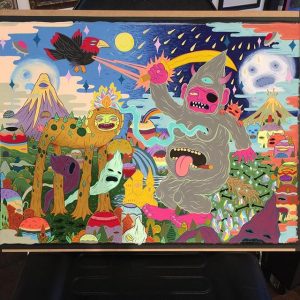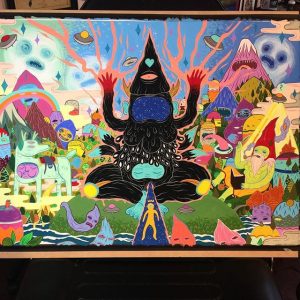 When and why did you first start making 'art' (drawings, paintings, anything)?
It's my job, I was in a room
What did you draw/make as a pre-teen child?
I created the home computer and warriors of the night
What did you draw/make as a teen?
I made bad decisions and good jokes
Any pivotal artistic moment/influence?
The spice girls outfits
(Picture below of the 'Spice Girls' – with their outfits being a key inspiration for ole LURK art wise)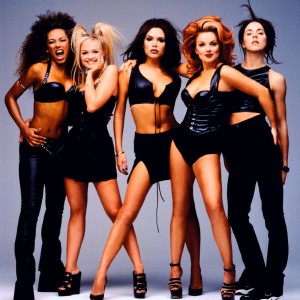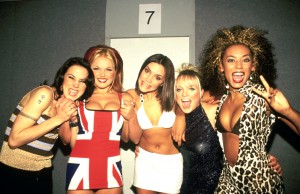 Describe the process of producing your work? – (dot point all o.k.)
* Your paintings?
I use my hands mainly sometimes my mouth and sometimes old computers I've made
* Your sketches?
Feet
* Your prints?
Humans and feet and cars and computers
What was it like working with Etnies on a Lurk capsule collection back in 2015?
It was good, we made a time machine and went into the future and the shoes were already done, easy peezy.
(Pictures below of LURK's collab capsule range with ole Etnies)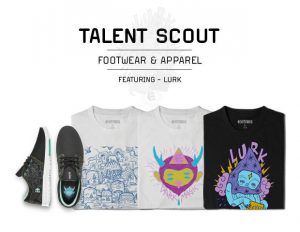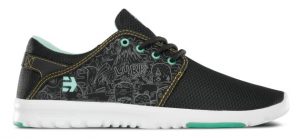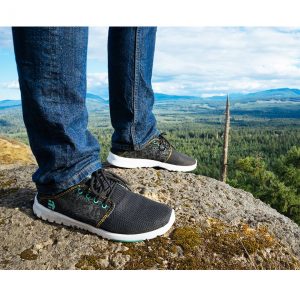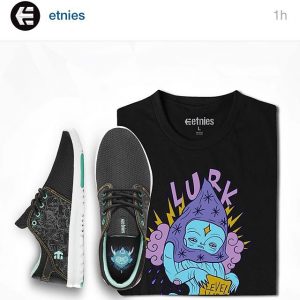 Toy Questions
Describe the process of producing a self designed soft vinyl toy? – from original sculpt, moulding, production, to finally holding that sweet sweet vinyl in your hands? (dot point all o.k.)
I just drew a picture and sent the drawings to a busy street in Japan, someone came across them and made an army of five titted big butted legends
What is the back narrative / origin tale to your kaiju creation Lurkfoot?
It's a mythical creature from LURKLANDIA, He's never been seen but won't go away.
(Pictures below of the LURK vinyl figure – Lurkfoot)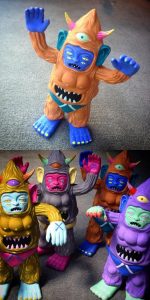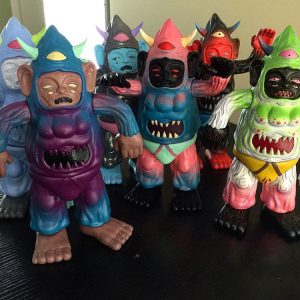 What role did toys play in your childhood?
I used to have sleep overs with them, they were my buddies.
What drove you to become a toy collector?
I only have like 3 toys or maybe 10 or 1 I'm not sure if I'm a collector, I love them all though.
What is the current art toy scene like – in your opinion?
I'm sure it's great, GI Joe seems big these days, or was it Thundercats?
Tattoo Questions
What are your favorite tattoo machines to work with and why?
Top secret
Thoughts on the rise of home tattooing?
Fucking stupid
(Pictures below of some LURK tattoos done by Russ – Ed: occasionally Russ tattoos permanent reminders of his possession on strangers)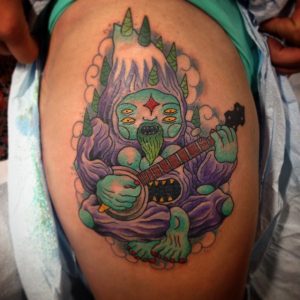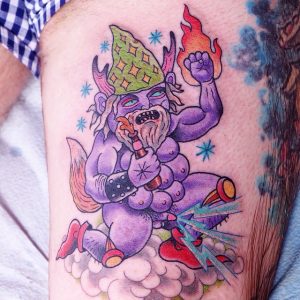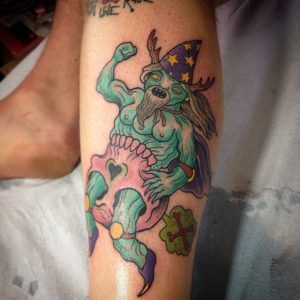 Worst tattoo customer ever and why?
Me.
I'm a big baby
Thoughts on the rise of facial tattoos?
Is there a rise?
Odds n Ends
Please describe your experiences growing up in England?
We had to move somewhere that we could morph with the Humans easily, the cold hard north of England seemed right
Who was your 1st crush and why?
Margret Thatcher
Does sex change everything?
Only on weekends
(Pictures below of some sketches by LURK)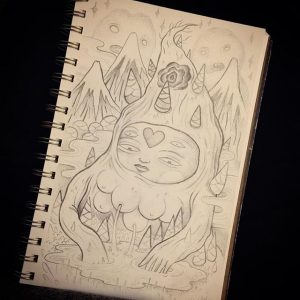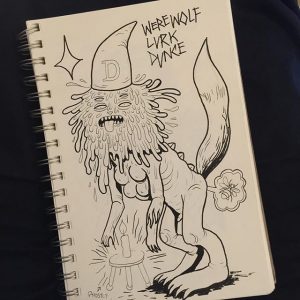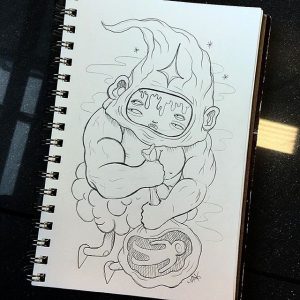 Favorite band(s)?
Abba
Favorite TV show(s)?
None of them, they are killing us
Favorite sport(s) + teams?
NO
Favorite movie(s)?
Dirty Dancing
Favorite books and comics?
I love the ones with the pictures and the words, and explosions and colours
Please describe your latest dream in detail…
I was eating
(Picture below of some LURK digital art)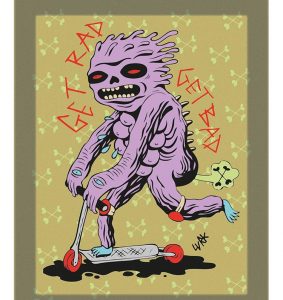 Have you ever tried psychedelics of any sort? And what was the experience like?
Oh yeah it was crazy, everything looked so normal and boring and all the conversations made me feel dull inside.
Of everything you have done what would you most like to be remembered for and why?
Being evasive and open
Drugs – waste of time or gateway to the universe?
Waste of your time, straight edge true till Dinner
Please describe what you think the Canadian Psyche/Zeitgeist is today?
I have to say it's easy breezy around these parts and awful in so many ways, being a human must be hard.
Which 1990's era cartoon, would you most like to see as a sex toy, and why?
Rocko's Modern life, it would be so much fun, all those rad colours, or maybe Rude dog and the dweebs.
(Picture below of LURK's Rocko's Modern Life tribute sex toy)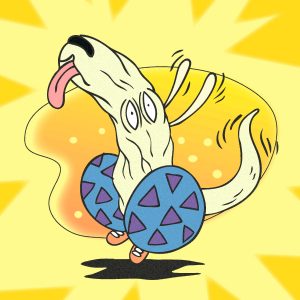 Who would win in a fight and why: a desperate early 20s toy fan Vs. A security guard at the local collectibles shop?
Hulk Hogan
(Picture below of a victorious Hulk – who Art Whore can only assume sauntered on in from ringside and leg dropped the lotta em)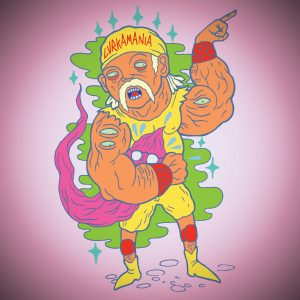 The Future
Any collaborations on the horizon?
Always, I'm infiltrating the humans quite well, I get them to come up with ideas then I ruing them
Any major projects you want to hype?
Right now I'm working on a huge lazer canon to destroy the world, or maybe it will make it more colourful.
I'm also working on LURK dance shoes with MC HAMMER
(Pictures below of some color sketches by LURK)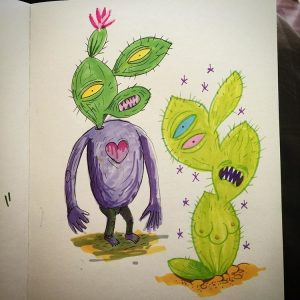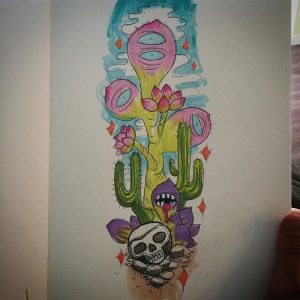 LURK – Links