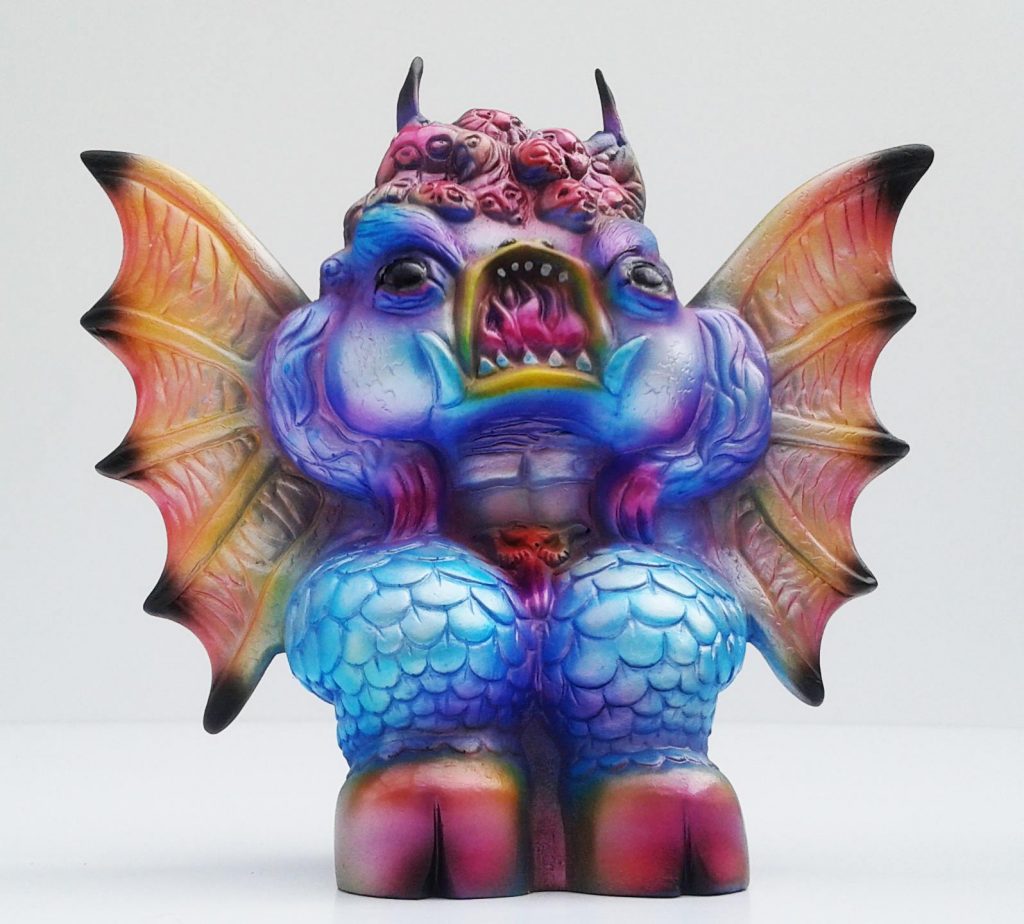 Naomi Knaff is a Canadian artist, sculptor and toy designer making hauntingly beautiful designer toys. Naomi's works are full of her unique talent and personality – bright colours, intricate sculpts and a vibe that is equal parts violent aggression and timid woodland-creature.
Originally Naomi's toys were all hand made out of resin, but recently she debuted her first factory made soft-vinyl toy – the Lamorrttt – to international acclaim. With the Lamorrtt being made in China through noted company 'Planet X'.
(Photo below of one of Namo's recently released Lamorrtt soft vinyl figures)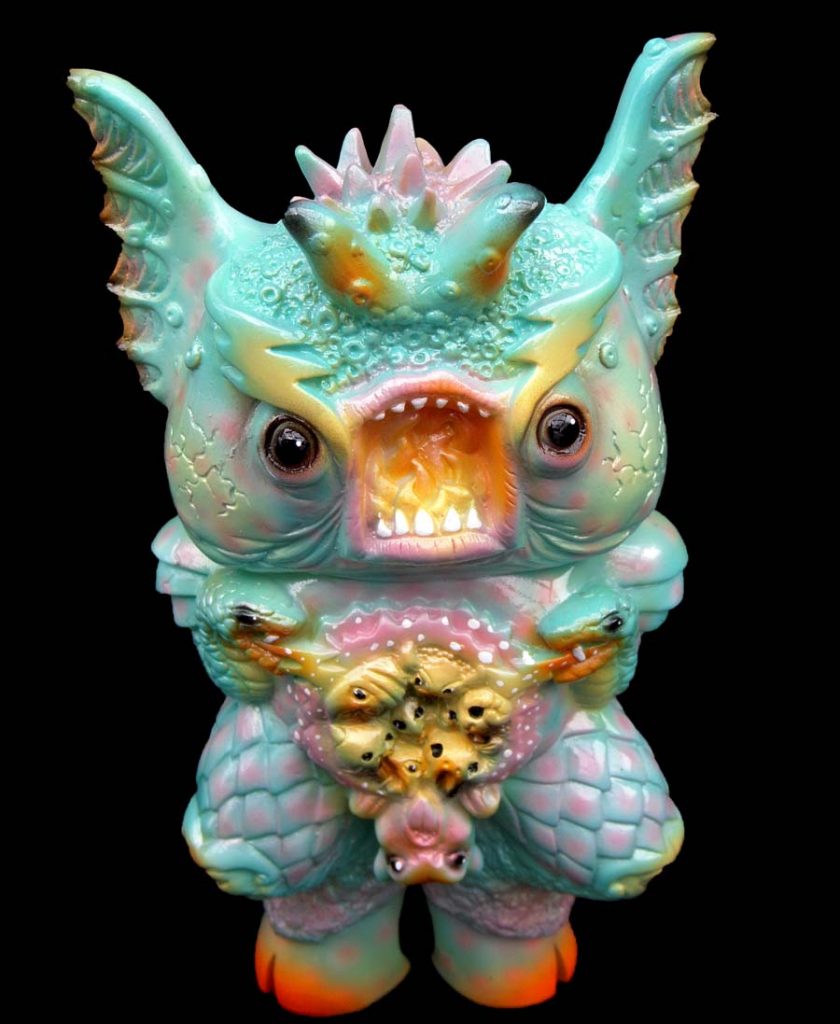 Commenting on what inspired her to become an artist, Naomi lays the blame squarely on the shoulders of her artist parents, and noted surreal American director David Lynch:
"I had a great childhood and my parents really encouraged our imagination to develop…
When I was 14 a friend showed me Twin Peaks and I was blown away.
It was the first time a saw a story being told that way and it opened a whole new way of developing ideas."
Aside from her own internationally loved work, Naomi is also a member of the recently created 'ToyRonto' art-crew, a group of like-minded artists, all living in the Toronto region of Canada, who work in the medium of designer toys. We will be interviewing other members of the crew over the next few months – so stay tuned for those!
But, at this very moment, get to know one of the members of the 'ToyRonto' crew – the ever talented Naomi Knaff – by reading her Art Talk Interview below…
Basics/Getting to Know
Name + D.O.B?
Naomi Knaff
November 28th 1979
City, State n Country you currently call home?
Toronto, Ontario, Canada
(Some resin art toys by Naomi below)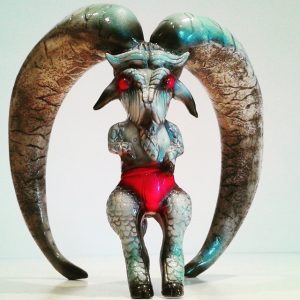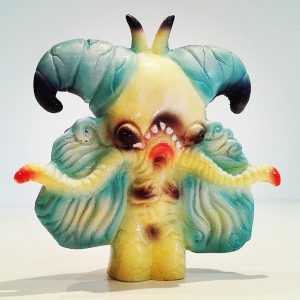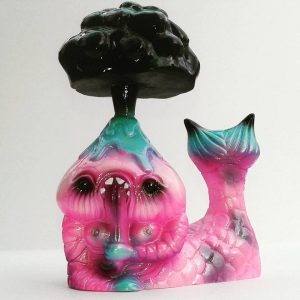 City, State n Country you're from?
I was born in Montreal but we left when I was 4.
We moved to London (UK), then to the south of France where my family is from, at age 9.
Describe a memory from some stages of your life ….basically trying to piece together some pivotal moments. Concerts, art, action-figures, romance, school, crime… ANYTHING really!
I had a great childhood and my parents really encouraged our imagination to develop.
They used to make us believe crazy stuff but my favorite was a giant bony and pink bird name Flatatatata that used to pee on the windshield and walk on the car roof (it was my dad using the washer fluid…). There were many others but no need to talk about those!
* age 5 – beginnings:
My parents, both artists, led my sister and I to be creative since we were little and art was always in the background.
(Photo below of Naomi as a child)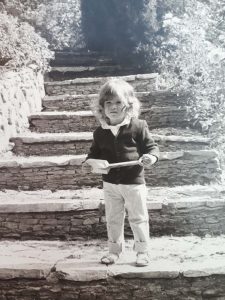 * age 10 – continuations:
We had just arrived in a small town in Provence, south of France and I still remember the not so warm welcome of the local kids! This was to set the mood for the next 10 years!
Being a metal kid in that part of the world sucks but develops the character!
* age 15 – getting serious:
We moved to Marseilles and it felt good to be in a city again although it was quite a tough one and I had to get in a few fights because being a goth kid there was even worse then being a metal kid! We had a whole bus sing the Adams Family to us once and it was pretty intimidating…
 I had started high school and was enrolled in the film/video program, which opened my eyes to a new art form.
* age 20 – young adult:
I moved back to London to study film, video and animation. These were really great years. I was able to do what I loved and meet people with the same passion.
I made a few short films and animations but I realized that I wasn't crazy about the shooting part of filmmaking but more about the preparation, the prop-making and set decorations.
* age 25 – adult mode:
It felt like time to move again! With my other half we decided to go somewhere we had never been, and having my parents in Toronto, we decided to give it a try.
* age 30 – fully formed:
The idea of making toys was creeping in slowly and I started seeing artists that I really admired. I watched a lot of you tube videos and learned how to make molds and cast my own toys. The process was a little challenging but pretty magic when the first cast popped out of the mold!
* age 35 – adult continuations:
I started doing conventions like Dcon, Toycon and now Fivepointsfest. It's great being able to meet all the people you admire in person and show your work around.
(A recent photo of Naomi below)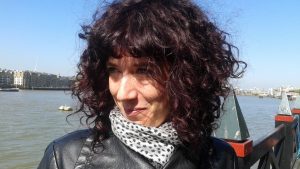 Personal motto?
"No regrets!"
Art Questions
When and why did you first start making art of any type!?
Probably as early as I could hold a crayon.
Any pivotal artistic moment(s) / influence(s)?
When I was 14 a friend showed me Twin Peaks and I was blown away.
It was the first time a saw a story being told that way and it opened a whole new way of developing ideas. I became an avid film buff from then on.
Do you consider what you are making to be art, 'design, re-hashed crap?
Maybe a mix of all 3?
Nothing is ever new!
(Some resin art toys by Naomi below)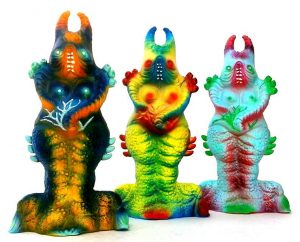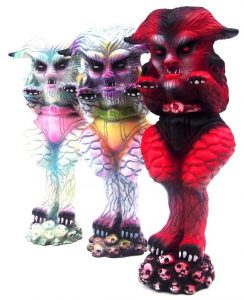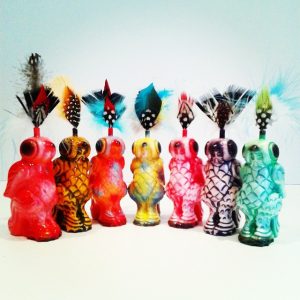 Worst aspect of the contemporary art hustle?
None!
Best aspect of the contemporary art hustle?
Going places and meeting people with the same passions.
Favorite other artist(s)?
Plaseebo, Dehara Yukinori, Bwana Spoons, Guumon, Munktiki to name a few.
Whilst we know you through your art toy and sculptural work – care to share with those at home the details of your other creative endevours… if any?!
I've made a few short stop motion animations and hope to make more in the future.
Designer Toy Questions
Describe the process of producing your toys and sculptures? – from original sculpt, moulding, production, to finally holding that sweet sweet finished product in your hands… (dot point all o.k.)
It usually starts with a vague Idea, a few sketches and some research.
I do the sculpting and casting myself so by the time I'm holding the toy in my hand, the initial idea has vanished and it's a whole new concept.
Digital Vs Hand sculpting – what wins and why?
I only hand sculpt.
Are art-toys for the kids?
If they enjoy them why not.
Is the rise of art toys an indication of the changing nature of art? OR just a bunch of nerds with too much money and time?
Maybe people enjoy the accessibility of art toys vs art.
Thoughts on the current state of the Canadian Art Toy Scene?
It's pretty small but room to grow especially with artists like Labmonkeynumber9, Modulicious and the Angry Beast promoting it and making events.
What role did toys play in your childhood?
To be honest I can't remember much of toys being important then.
What are the top 3 toys you own?
Masako by Dehara, Eyezone by Mark Nagata and 2 Mummies by Plaseebo.
(Photo below of Naomi's favourite three toys – Left to Right: A Mummy from Plaseebo, a Masako from Dehara, and lastly an Eyezome from Max Toy Co)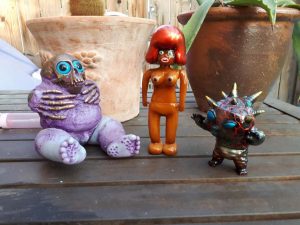 If people wanted to collaborate, work with you or just buy some art – how should they get in touch?
For those at home who may be unaware as to the process… how did you go about having one of your designs manufactured in China out of soft vinyl plastic?
I contacted Planetxasia and sent him a design which he sent to the factory for feasibility.
They then created a wax prototype.
Once that was approved, they moved on to make the metal molds and a few prototypes.
Our son Aitor was born during the process so the timeline is kinda blurry!
Once everything is approved the toy gets made and the postman delivers it and voila!
Odds n Ends
Please describe your experiences growing up in Canada?
Can only remember through pictures as I left when I was 4 but it looked fun and cold…
Please describe what you think the Canadian Psyche/Zeitgeist is today?
Not sure honestly way too busy to look around!
Who was your 1st crush and why?
Sebastian Bach from Skid Row when I was 13 because he had long hair and danced really well.
Does sex change everything?
Yes, things get more complicated!
Which cartoon character would you most like to see in a tribute sex toy, and why?
Beavis and Butthead.
(Art below of Naomi's tribute Beavis and Butthead sex toy)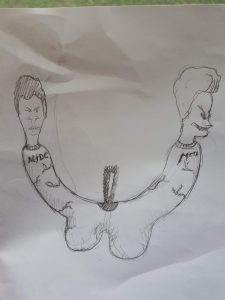 Who would win in a fight and why: The Queen of England – Elizabeth II Vs. The Wife of the Current Prime Minister of Canada – Sophie Grégoire Trudeau?
Can they both lose?
(Art below of the battle in all it's violent glory!)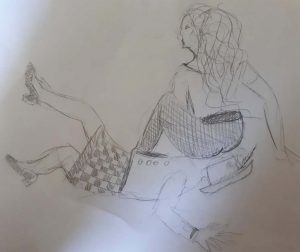 Please describe your latest dream in detail…
I only remembered maggots on the carpet.
Of everything you have done what would you most like to be remembered for and why?
Don't want to think about that yet…
Drugs – waste of time or gateway to the universe?
Never a waste of time if you like something…
Links