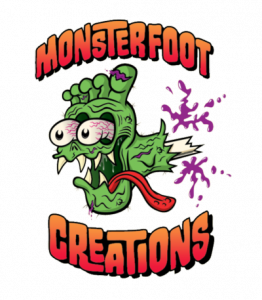 Mike of 'Monster Foot Creations' is an artist from Winnipeg, Canada who has quickly become an important player in the sculptural art scene due to his innovation, style and skill.
Mike is also not afraid to collaborate, a trait which has seen him quickly become a member of 'The Resin Syndicate' art crew.
(Picture below of the upcoming Marius figure by 'Monster Foot Creations')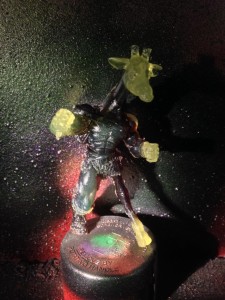 With a busy 2014 ahead, now is the perfect time to get to know Mike of 'Monster Foot Creations', by reading the Art Talk, below….
Basics/Getting to Know
Name + D.O.B?
08/25/1977
City, State n Country you're Repping?
204 Winnipeg, Canada.
(Picture below of Mike)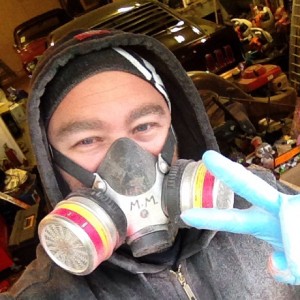 Describe a memory from three stages of yr life ….basically trying to piece together Mr. Monsterfoot's pivotal moments. Concerts, art, action-figures, women, school, college… ANYTHING man.
* age 10 – pre pubes:
'Nintendo', comics ('TMNT' Eastman n Laird), horror flicks, 'GI Joe', 'He Man', 'TMNT','Transformers'!
* age 15 – pube rage:
Skateboarding, punk, sports, video games, comics.
* age 20 – acceptance of pubes:
Sports, boxing, kickboxing, jui jitsu.
Drinking and acting a fool I imagine! Haha
Still punk n hip hop!
Personal motto?
Stay positive; don't dwell on the bullshit!
Favorite band(s)?
Most all punk and metal!
'Faith No More' is a def always!
Hip hop new and old but mostly older!
There's a new independant dude I've been vibing – @typope on insta and on soundcloud and datpiff.

Favorite TV show(s)?
'Face Off', 'Aqua Teen…', 'Venture Bros', almost any adult swim content!
'Tim n Eric Awesome Show'! 'American ninja', some trashy reality shows that I'll keep to myself! Hahaha
Favorite sport(s) + teams?
Don't watch too much these days besides UFC if someone I really dig is fighting!
(Picture below of a painting by Mike)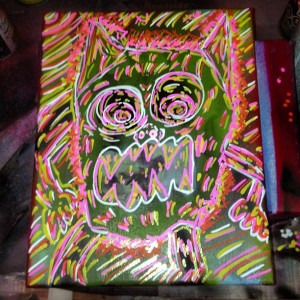 Favorite movie(s)?
Anything horror or sci fi ('Aliens' series is a def go to!)
Favorite books and comics?
'Cripple Wolf' is a def read for anyone who likes wild stuff!
Brian Lumley is a hell of a writer of things that creep ya out!
General Questions
Company motto?
Have fun and do good work!
(Picture below of the Ranthball by 'Monster Foot Creations' x 'Pe-Cu-Liar')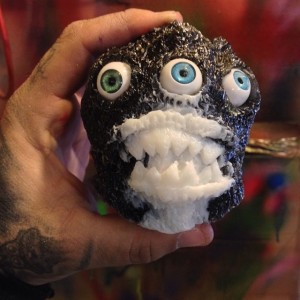 What are the worst aspects of working in resin?
Molding!
Fuck molding! Haha
What to you, are the best aspects of working with resin?
The pouring and color combos n seeing what u create in that form!
Are art-toys for the kids?
Some can be! But most aren't! Lol
Art Questions
Favorite 'other' artist(s)?
Skinner! Amazing artist and a real nice guy!
I was in a sculpting and painting mission n he pushed me to cast!
Tim Stephson gives me a lot of creative drive by his sculpts and casting!
My 'Resin Syndicate' brothers – Justin Hates You and 'Blockheads'. We txt always n push each other n we all bring something diff to the game!!
(Picture below of some 'Monster Foot Creations' + 'Resin Syndicate' pins)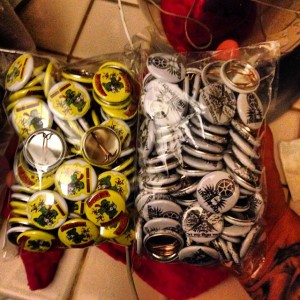 Worst aspect of the contemporary art-hustle?
People not buying your stuff!
Not for money's sake but I love seeing my stuff being enjoyed by someone!
Best aspect of the contemporary art-hustle?
See above! Ha
Do you consider what you are making to be 'art', 'design', re-hashed crap?
Little bit of everything!
When and why did you first start making 'art' (toys, drawings, paintings, anything)?
I walked away from art long ago bc of sports and no time!
I was inspired after looking at my gf's Instagram n saw soooo many cool artists n art n toys!
I've always had some toys kicking around n I thought I can make some cool ass stuff like this!
So I bought some sculpey and bam I'm loving it.
Any formal art training? Or pivotal moment/influence?
No training besides graphics in high school!
Influence comes from everywhere! All the toymakers n sculpters make me push myself!
(Picture below of the Troika by 'Monster Foot Creations')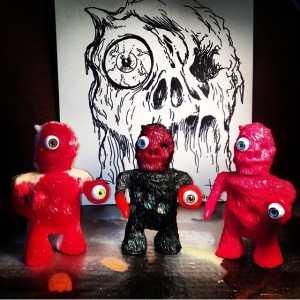 Why + when did you decide to go in on the art hustle?
It chose me!
Describe the method of making a 'Monsterfoot Creations' piece? (dot point all o.k.)
Sculpt n sculpt!

Then bake

Then mold

Then cast

Then clean

Repeat

…unless u botch the mold then swear a lot and do it again!
What was it like having Efra Sanchez provide your 'Monsterfoot Creations' logo?
Let me tell ya Efra is a solid dude who has mondo talent n loves toys! A great guy!
Toy Questions
What are your thoughts on 'The Sucklord', and his role in the art-toy scene?
It's all in the package.
Is the rise of 'art' toys an indication of the changing nature of 'art'? OR just a bunch of nerds with too much $$$ and time?
Shows me people love to create and art is what u make if it I guess!
(Picture below of a sketch by Mike)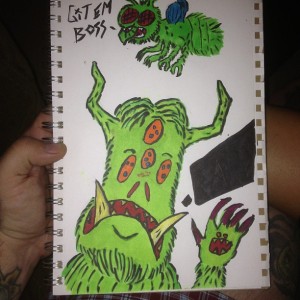 What are your thoughts on the current rise of mass-production in the resin-art world, and the move away from hand made pieces? The 2012 Designer Con Suck-con figures as an example…
I think people should look around bc the little guys are making some sick ass stuff an I have a solid collection of both resin n vinyl!
Do you think once an artist has re-used a piece of pop-culture, it becomes harem for another artist to use it/spoof too? …I am thinking of 'The Sucklord' + 'Boba Fett'; 'The Mark Ultra' + the hangman mask head, 'Buff Monster' + ice cream; etc.
If it's your premier figure or your signature piece then I feel if u get bootlegged then it's a compliment unless it's a complete rip off.
Favorite toy/figure? (I'll allow self promotion)
Krawluss hands down! Mine should be here soon! 😉
(Picture below of Krawluss by 'M.V.H' x 'Skinner' – Mike's favourite toy)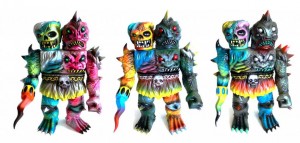 What does your wife/girl/woman/family make of the whole perpetual adolescence/Peter Pan/man-child aspect of toy art + toy collecting?
Gf likes it she sees all the hard work goes in!
Parents think it's neat n wonder why I wasn't doing it earlier on!
What was it like collaborating with Mr. Chris Tianto of 'Pe-Cu-Liar' on the header art for your recent Brain Slug release?
Great dude! Solid friend from across the world!
Watch-out for our collab on his Ranthball – he designed and I sculpted and casted!
(Picture below of the original header art by Chris Tianto for the Brain Slug)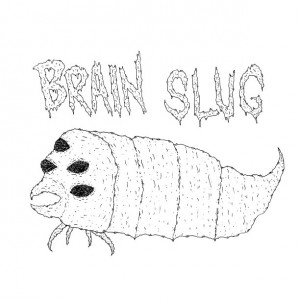 The Future
Any collaborations on the horizon?
See above, some collabs with 'The Syndicate'.
Also my Melvin weird sculpted by 'Grizzlybehemoth' coming soon as well as a possible kickstarter to make some vinyl!!
Any major projects you want to hype man?
KING KRONG drops soon as well as my charity piece for Marius the giraffe and be on the lookout for The Animal liberation Front toys coming from me and collabs with my 'Syndicate' brethren!
Thanks a lot for this Josh!
You're a great guy and love reading your interviews!
Been a pleasure!
(Picture below of the upcoming King Krong resin)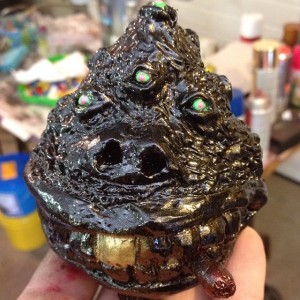 Links