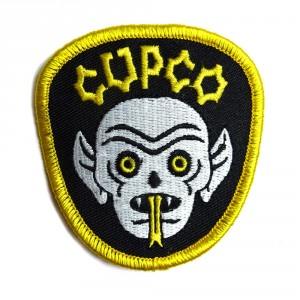 Luke Temby of 'Cupco'  is a multimedia pop-artist outta Sydney, Convict Town producing fabric sculptures, apparel and both 2D and 3D art.
A 'Cupco' sticker is part of the visual landscape of the streets of Australia – cute creations often depicted mid way through some form of metamorphosis.
Luke is also proud to claim he is 'big in Japan', a place he spent his formative adult years, and the birthplace of his wife and creative foil, Mayumi.
(Picture below of Luke 'Cupco' repping)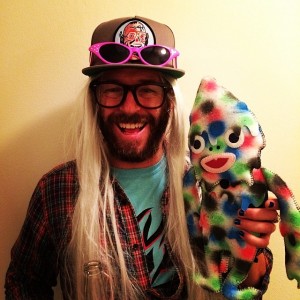 Read the Art Talk with Luke of 'Cupco' after the jump below to hear all about his artistic background, pivotal moments , views on art toys, upcoming shows – such as his 'Art Wank 2' multi artist show which is coming up on October 15th 2014 and his 6 month residency at 'Brand X'…. and more!
Basics/Getting to Know
Name + D.O.B?
Lucas Temby 27/1/1973 – No middle name.
Unbaptised/unchristened.
Kicked out of Sunday school at age 6.
City, State n Country you're Repping?
I was born in Pustralia in Pert.
I don't feel any great connection or loyalty to Pustralia but it's a very nice place to live.
I spent quite a few years living in Japan and that is also a great palce but has it's own problems which I find irritating.
Although, after watching the Socceroos at the World Cup I realised I am slightly patriotic. Sheesh!!!!
(Picture below of some 'Cupco' fabric dolls)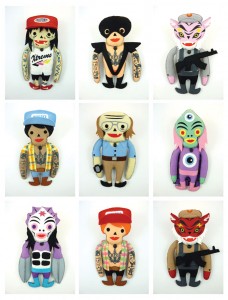 Describe some memories from your early life ….basically trying to piece together Mr. Temby's pivotal moments. Concerts, art, action-figures, women, school, crime… ANYTHING man.
(i) Pashing Jane Rimmer in primary school.
She was found in a shallow grave by the side of a country road years later. I had no involvement in her death and had a great alibi.
R.I.P. Jane. My first girlfriend.
(ii) Started skating age 8 and stealing clothes from St. Vinnies and doing wall-rides dressed like weirdo proto-hipsters and idolising Mark Gonzales and Tommy Guerrerro
(iii) Tagging and smoking cones age 14-17. First artistic tendencies? I was always a doodler. I used to tag KAPONE.What a criminal kingpinn. What an idiot!!
(iv) First band was My Bloody Valentine at the Old Melbourne in Pert. Perfect Indie credibility!!! They were good. The bass player was amazingly beautiful and had a beautiful sea foam bass.
I saw them last year in Sydney. Good but not great.
My next gig after that was MUDHONEY!!!!!!!!!!!
(v) Started our own band :SPEYED! to meet girls and kiss them and so on. It worked out pretty well.
The music was horrible.
Best song: Everybody ready for the weekend!?!
(vi) Much later. Moved to Japan married Mayumi Ito.
Moved back to Australia and settled down into occasional marital bliss.
Personal motto?
1 – Never he's…nev…Never hesitate!
2 – No brain, no pain!!
(Picture below of a pile of 'Cupco' goodies)
Favorite band(s)?
Fugazi, !!!, The Pixies, Fuck Buttons, Out Hud, The Tough Alliance, Shellac, Big Black.
Favorite TV show(s)?
Simps
Favorite sport(s) + teams?
Skating. Snowboarding.
Football (soccer) Fiorentina & Chelsea
Favorite movie(s)?
Akira. Edward Scissorhands
(Picture below of some 'Cupco' doodles)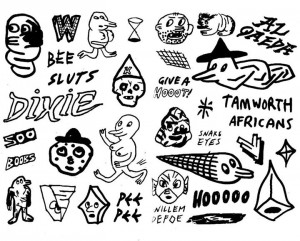 Favorite books and comics?
God. Buddha & MW & Ode to Kirihito by Osamu Tezuka.
I also Just read Letter to Adolf by him which looked really weird from the outside but was, in fact, another masterpiece!
The story of three men named Adolf set during the second world war, one of whom was Adolf Hitler.
General Questions
What are your thoughts on 'The Sucklord', and his role in the art scene?
I like his stuff.
Is the rise of 'art' toys an indication of the changing nature of 'art'? OR just a bunch of nerds with too much $$$ and time?
Both.
Cashed-up man child nerds buying affordable low-brow art. It's fun!
When I was in Japan last month I only bought things that cost less than 500 yen. Other wise I would have come home broke and destitute.
It's also more of a challenge.
(Pictures below of some fabric Gaza Kids by 'Cupco')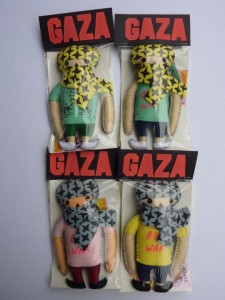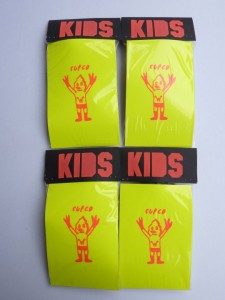 Are art-toys for the kids?
Some of them are.
Toys are fun for kids.
What are your thoughts on the current rise of mass-production in the resin-art world, and the move away from hand made pieces? The 2012 Designer Con Suck-con figures as an example…
No thoughts.
Favorite toy/figure? (I'll allow self promotion)
Obviously my FOUR BOOBED Bozwangler is pretty special!
To be honest, I don't follow the toy world that closely.
Things pop up on my Instagram occasionally.
Probably my fave are anything by Bwana Spoons or Le Merde or Dehara. I went to His studio and helped out a few years ago.
(Picture below of the Four Boobed Bozwangler by 'Cupco')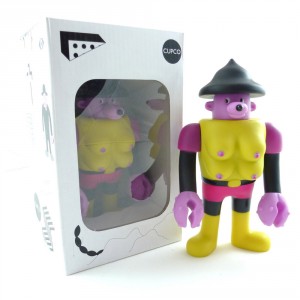 What does your wife/girl/woman/family make of the whole perpetual adolescence/Peter Pan/man-child aspect of toy art + toy collecting?
Not much interest.
Disinterested tolerance would best describe her attitude.
(Picture of Mr + Mrs 'Cupco' on the art hustle grind)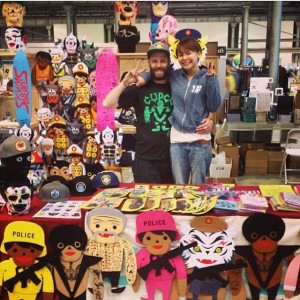 What, to you, are the best and worst aspects of being an artist in Australia – a place previous Art Talk subject Mr. Ray Ahn critiqued for being culturally barren and backwards?
I try to work in a vacuum.
It's impossible but countries are kind of meaningless nowadays. The world seems to be saturated with culture and it's all in the palm of your hand.
Best aspect: Isolation from world
Worst aspect: Isolation from world
What does skateboarding mean to you?
I love it. So fun! But I just retired.
Too old , too sore.
I spend more time making, shaping and painting skateboards now.
My last trip to Tokyo was my Farewll tour. I managed to drop in on the big bowl at Hachioji skatepark after 2 horrendous slams and then I announced my retirement! And no-one cared.
I probably spend more time cutting and shaping and sanding and painting boards than I actually do skating them nowadays.
(Picture below of Luke-the-skater, pre-retirement)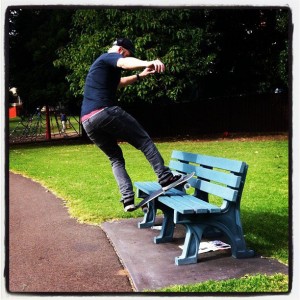 Art Questions
Favorite 'other' artist(s)?
So many!! too many to try to remember!!
Worst aspect of the contemporary art-hustle?
Selling.
Best aspect of the contemporary art-hustle?
Making.
(Picture below of the flyer for a 'Cupco' x 'MISHKA' show from 2011)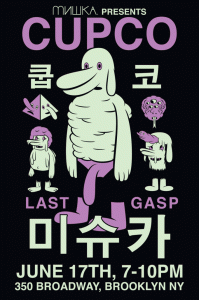 Do you consider what you are making to be 'art', 'design', re-hashed crap?
It borders on art.
The "head" sculptures that i do are pretty "arty".
The animations I do are pretty crude and pornographic.
Occasionally my doodles of poodles will cross over into something slightly more transcendental!!!
When and why did you first start making 'art' (drawings, paintings, anything)?
Fun!
Describe the method of making a 'CUPCO' piece? (dot point all o.k.)
* your sculptural work?
Generally they are felt demon heads or dog heads. That represents all of humanity: dogs and demons.
Make felt base on foam mannequin head, then attach teeth and horns and ears and sequins and whatever else is near by.
* your 2D work?
2d? Doodling is just doodling. Depends on what kind of pen I'm using.
Usually deformed poodles and ducks and dolphins surrounded by swear words and bad graffiti.
* your art toys?
Come up with dumbest idea possible.
Send plans and money to China.
Wait for boxes of toys to arrive!!!!
(Picture below of some 'Cupco' x 'Converse' sneakers from 2007)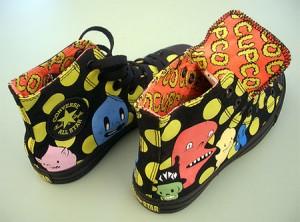 Does your self-directed work all exist in its own 'universe'? (Yes; I am basically asking if you see your characters all interacting in your head.) IF so, what do they get up to?
They are in there but when they come out they don't obey.
I almost never sketch out ideas first. Lose spontaneity and chance that way.
Just start working and see what comes out.
How did you come to be represented by the well regarded Damian Minton Gallery (outta Redfern, Sydney, Australia)?
A friend of mine was showing there and after I came back from Japan I had a huge box of dolls that we showed to Damien Minton and he was into it.
Have done three major shows with him. All fun and successful but sooooo much work.
What's my next show? Working on something totally different.
What does a mask mean to you?
? Protection.
(Picture below of a 'Cupco' head sculpture)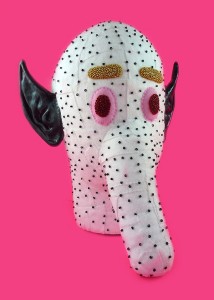 What was it like curating the 'CUPCO: Art Wank' group show at the Tate Gallery (in Glebe, Sydney, Australia) back in 2013?
Fun and lots of great work "came" in.
Art want Two: The sec on cumming is cumin soon.
I have to get onto organising that!!! oops!
Was there a standout piece at the 'Art Wank' show? What was it and why?
David R. Cornéjo two massive dick towers with hairy rubber gloves and fake cum and Mexican prison shoes all the way from Mexico was great!
Vibrator wind-chime was nice too.
They were all great and looked amazing together.
(Picture below of the Dick Towers by David R. Cornejo – Luke's most loved entry to the 1st 'Art Wank' show)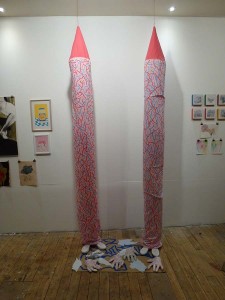 The Future
Any collaborations on the horizon?
A few. Will let you know.
Any major projects you want to hype man?
I'm working on big things but don't know how to describe them. Will keep you posted.
AND…
ART WANK 2 will be on oct 15 2014!!!!
AND…
CUPCO will have a 6 month residency at The Brand X Studios starting from July 25th with Captain Pipe (@captainpipe) .
Drop in and say hi and see all the histroical innovations of CUPCO!!!!
Links