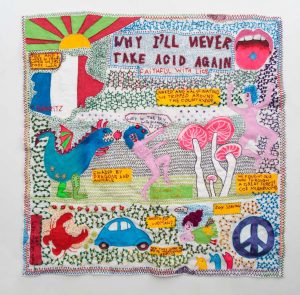 Joy Ivill is an Australian artist who came to our attention due to her beautiful, fun and technically amazing embroidery. Works that are feminine, sexual, biographical, filled with humour whilst also being tough as nails – Our kinda art for sure.
Under Joy's hands the act of sewing and embroidery is stripped from it's historically utilitarian base – think grandma sewing jumpers, mom darning socks or even a young child sewing on Scouts Badges – and transformed into a mode of storytelling, of narrative, of personal catharsis. Tales of bad acid trips, world travels, ended relationships and childhood memories told via fabric and stitchwork.
(Photo below of some art by Joy)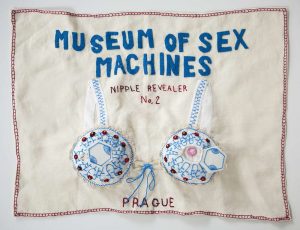 With Joy currently gaining major momentum in the pop art, fine art and fashion worlds, now is the perfect time to get to know her, by reading the Art Talk interview, below…
Basics/Getting to Know
Name + D.O.B?
"One should never trust a woman who tells one her real age. A woman who would tell one that would tell one anything."
– Oscar Wilde
City, State n Country you currently call home?
Live in Sydney, NSW Australia
City, State n Country you're from?
Born in Paddington Sydney NSW AUSTRALIA
(Photos below of an embroidered chair by Joy)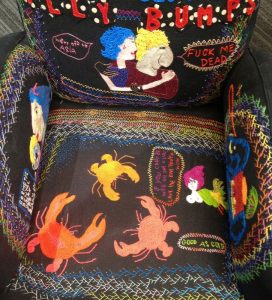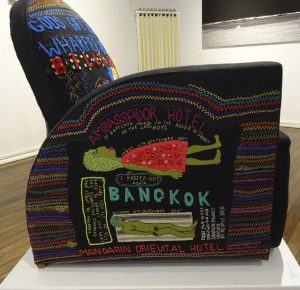 Describe a memory from some stages of your life ….basically trying to piece together some pivotal moments. Concerts, art, toys, romance, school, crime… ANYTHING really!
When I was four my father left us. Well actually my mother and I left him, however, as he never tried to see me again I processed it that way.
I was devastated for he was my first love….
* age 5 – beginnings:
We went to live in my grandmother's semi on Kingsford/Maroubra border with my grandparents, mother, aunt and alcoholic uncle.
At six stated "I want to be an artist when I grow up".
* age 10 – continuations:
At six years I won the Australian section of an international painting competition and my work toured the world for several years.
Three of us also won a place at Woollahra Opportunity School (for bright children) but I couldn't go as we didn't have a car and it was too far to travel.
I won a place at Sydney Girls High School but refused to go.
* age 15 – getting serious:
First boyfriend 'Natch' a surfer from Maroubra Beach at sixteen.
I met and first went out with Billy Bumps at 17
(Photo below of Joy aged 16)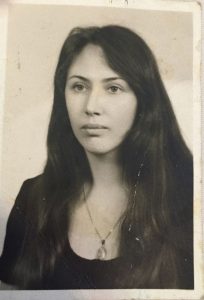 * age 20 – young adult:
At 18 years I had a boyfriend Peter, from NZ and travelled with him throughout NZ for two years.
At 20 I met Paul a surfer from Maroubra. Paul went to London and I met him there. Paul was violent and was eventually diagnosed as bipolar I'm told. Paul and I first took acid while in Biarritz France. He slept with another, picked up lice, gave them to me to me…
I left Paul and ran off with Kosta. I worked the bar in one of Kosta's restaurants in Saarbrucken, Germany and their I remained for two years.
* age 30:
After returning to Sydney I found a job and married my boss, Peter Long (Ainsworth's poker machines) who was also a surfer from Bondi Beach (and is a legend there – he's a champion ocean swimmer). Peter lived on the waterfront at Darling Point at last I'd transcended Maroubra.
Peter and I spent four years on the Gold Coast working for a real estate company that sold high rise projects, with that experience under our belt we returned to Sydney and opened our own business selling exclusive new apartments within high rise buildings i.e. 'The Quay Apartments' Circular Quay and many more. At that time, we opened a restaurant and bar 'Café Divino' in Stanley Street, East Sydney, and worked in our real estate business on the floor above. We bought an old sandstone church up the street and lived there for a few years while we tidied it up, then we moved to Woollahra.
* age 35:
We worked like dogs for decades, without any holidays.
* age 50 – mid-life crisis:
Many years later I went to a MSA (Maroubra Surfers Association) reunion in Coolangatta, met my old lover Billy Bumps, and, sick of working, didn't go home for two years. I remained there with Bumps and together we traveled through Asia and elsewhere. Billy had grown up in Surry Hills, where he survived by using his fists. He worked on the wharves, then full of gangsters. This is the story of Billy and I:  http://www.joyivill.com/8.html
After two years I tired of Billy and returned to my husband.
(Some photos below of Joy and friends from 2016)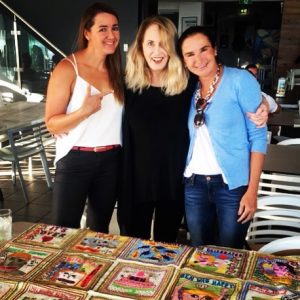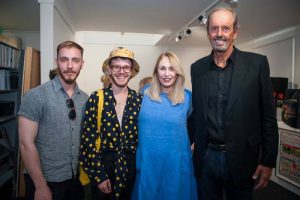 Personal motto?
Don't go to reunions!
Art Questions
When and why did you first start making 'art' of any type!?
At age six I would enter and win art competitions and knew I wanted to be an artist when I grew up. However, I also wanted a house and it was unlikely that I'd ever inherit money so I knew I would have to earn the money to buy a house on my own, so I deferred university.
What did you draw and/or make as a pre-teen child?
I watched my grandmother sew, crochet and knit. I made Christmas cards at school at age ten and loved it. I made Christmas decorations at home. I entered art competitions in the Sunday
newspapers and won something most weeks.
I drew, painted and read a lot.
(Photos below of some art by Joy)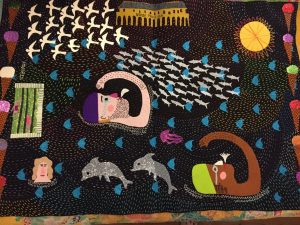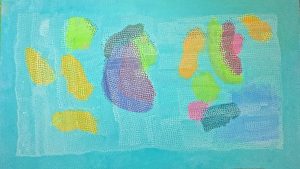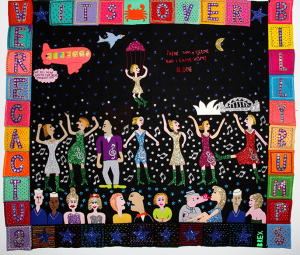 What did you draw and/or make as a teen?
My aunt, who lived with us was an art student at NAS and her work inspired me to enter newspaper competitions. The newspapers dictated the subject matter. I took Latin and French at
school, there was no art option. At seventeen I taught myself to crochet and began to crochet dresses for Strand Arcade Sydney shops. This business expanded and I hired staff. I also dressed
pop stars on Chanel nine's 'Bandstand'.
I have made art every day of my life (beginning after my father left). I had a terrible early life, while living at my grandmother's house and I have needed to make art every day since. Art has saved me, ART HEALS. This is how I found out:
My partner Peter and I went to NYC for the first time in 2011. We were staying in a hotel overlooking Central Park. He was hungry, our feet were blistered from walking all day in ninetyseven-
degree heat. I had bought some string and INSISTED ON WALKING EIGHT BLOCKS TO BUY A CROCHET HOOK! then back to the hotel. Later, when I asked Peter why I did this? he replied, 'crochet calms you'.
The truth is, making art calms me, although I didn't know until that night on the upper East Side.
Any pivotal artistic moment/influence?
Yes, winning the Australian Schools Art prize at six years of age was THE pivotal moment for me, as the field was large and winning gave me confidence.
I knew I was good.
Do you consider what you are making to be 'art', 'design', re-hashed crap?
It was art.
Worst aspect of the contemporary art hustle?
Decorative art sells more easily than conceptual art in Sydney, but it does not win competitions. M Contemporary Gallery, who represent me sold fourteen of my works at Sydney Contemporary
Art Fair in 2015 in four days. However, the buyers in general, the ladies-who-lunch, play it safe. NYC and Berlin buyers are different.
Best aspect of the contemporary art hustle?
I have a following who believe in me and I adore them.
I am presently a finalist in the Wyndham Art Prize, Melbourne, and, at the opening, I won the most coveted prize of the night, a bursary to do a PhD at Deakin University. Many fine artists were finalists yet Deakin University believed in me.
I was also finalist in the open section of the Fisher's Ghost Art Prize and my work 'It's Over, We're Cactus' (telling of the demise of my decades long on and off relationship with Billy
Bumps) hung between the work of established artists Wendy Sharpe and David Fairbairn. As an emerging artist, I felt proud: http://www.joyivill.com/2016.html
(Photos below of some art by Joy)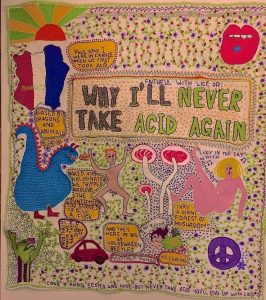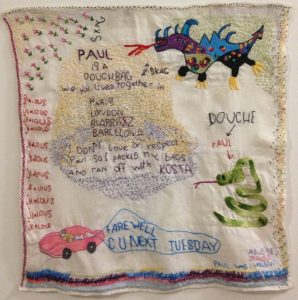 Favorite other artist(s)?
There are so many I love: Arthur Boyd, Sydney Nolan, Emily Kame Kngwarreye, Maree Clarke, John Wilson Wuribudiwi, Glenn Barkley, Egon Schiele, Raquel Ormella, Robert Rauchenberg,
Cy Twombly, Peter Sharp, Michelle Cawthorn, and so many more, however Louise Bourgeois has been the greatest influence on my work.
I majored in Sculpture, Performance & Installation, then after teaching myself to embroider in in 2013 I began to incorporate embroidery into my art. I like to make 3D embroidered sculptures now. After researching the methodology of Louise Bourgeois I realized I too could draw upon psychological and emotionally significant events from my childhood while growing up at Maroubra Beach, my travels and more, to inform my work, and I had so many stories to tell.
Maroubra is gentrified now however it wasn't then, it was an exciting and scary place and by that time my mother had left my grandmother's house and were living there at the beach. A young woman needed a protector in those days, if she lived at Maroubra Beach and being shy and without a father to protect me, I chose the biggest and strongest as boyfriends, the alpha men of the group.
Why + when did you decide to go in on the art hustle?
I always knew I would.
As a child, we had little money, and my grandfather, a welder who supported us all – he was a wonderful man.
At that time, my mother, who was very beautiful, met a man who owned his own business and whom she eventually married. My mother worked for this man for decades and that enabled us to rent a small apartment at Maroubra Beach. Joyce was not a good mother however, she took drugs (diet tablets/speed) which were available over the counter from the chemist in those days. During the 1950's my mother worked nights at the GPO and she began taking drugs to keep her awake, all the young women there did. I believe she became hooked on them. They made her angry; she was a terrible mother, she was not on my side.
Without a father nor a responsible mother, as a young woman growing up at Maroubra I felt vulnerable and had low self-esteem. Further, I WAS DETERMINED TO GET OUT OF MAROUBRA. I knew at sixteen I would not marry within my group and that I had the wherewithal to get out and make something of myself. Despite this I loved my Maroubra friends, for many of us were without two parents to support us, so we brought ourselves up.
Describe the process of producing your embroidery works? – materials, process, turning an etherial idea into tangible art etc… (dot point all o.k.)
I plan nothing, I do no writing or drawings, I just pick up the cloth and as I begin the ideas flow, it's that simple. I draw on the cloth as I would in a book, but not with a pen, with a needle.
It's not true I plan nothing, I'm always thinking about my work, always, just don't write it down, I don't have time, my work is very labour intensive, 'Acid Woman' has taken almost five months to me, working seven days a week and it's not finished yet.
(Photos below of some art by Joy)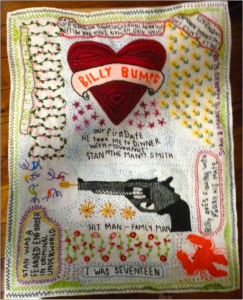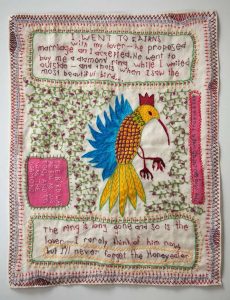 Your work often hints at criminality – drugs, your relationship with Mr Billy Bumps (nephew of the infamous Kate Leigh), living in 'wild areas' etc…
* why the fascination with criminality?
I did not know anything of Billy's family until just a few years ago when I met them and spoke with them. I did not know of Kate Leigh in particular…
When I was in my teens, Billy Bumps would drift into Maroubra from Surry Hills occasionally, I imagined Surry Hills to be a far better place than Maroubra, for he wore imported clothes and always had the most beautiful women on his arm – and he drove great cars. After leaving the wharves he worked at the Double Bay Bridge Club (an illegal gambling club) and took me to dinner, not at Maroubra but all over town, and he was generous. He was also the best looking man I'd ever seen. I found out later he was shy, and still is.
All the girls wanted Billy, they would throw themselves at him, but not me, I would not sleep with him, for I was in love, and I was serious. I wanted him for a husband and refused to be one of the many. Billy consorted with criminals, however I didn't know this until many years later; he was, I thought 'A man of the world' he had traveled. When I ran off with Billy Bumps decades later, I adored him still but not only that, I was curious, I wanted to know who he was. I'd heard so many rumours by then, I really wanted to know, and I found out, and I left him. His background at Surry Hills was actually far more difficult than mine, he was a product of that environment.
* do you think their is something about the Australian psyche that will be forever linked with criminality?
I can't say, for I grew up at Maroubra, which was, at that time, full of criminals although I didn't know then, the girls weren't told anything, they couldn't be trusted. Paddy Anderson still lives up the street from the beach I believe, a supposed 'hit man' would mow the lawn at the local catholic church every third Sunday. Perce Gallea, who ran Sydney's illegal gambling clubs, lived nearby at Coogee Beach. Several of the Maroubra boys worked on the wharves which was then full of criminals. Illegal bookmakers were rife in the area. This was all I knew, until at age fifteen I left school and got a job at UNSW in the library, at which time I began to aspire to greater things for I had a good brain and I knew it.
* favorite Australian criminals and why?
I was too shy to really know any of them, however Stan Smith, the hit man, only killed terrible criminals I'm told and he remained with his wife Maureen(?) who had alzheimers for all of his
life. Oddly, Smith had the respect of the police and many of the solicitors (i know, East Sydney was 'where it all happened', and I knew most of them).
Was he faithful? of course not. None of them were.
Thoughts on the current state of the ole Australian Art Scene?
Very exciting. I lead a very exciting life, and it's getting better each year, I love it.
My psychiatrist said to me once "all your boyfriends (excluding my partner) are psychopaths, you like the excitement. You don't need that excitement, you can make your own. Go to university and become an International Artist" and I did, and I am…and I no longer need a psychiatrist.
Odds n Ends
Please describe your experiences growing up in Australia?
Exciting, I inaugurated my way into the most exciting groups (and places) throughout Australia and the world (or the parts of the world that I've seen). After Maroubra I worked for years at the UNSW Library – I was young and pretty and attracted the attention of many men who went on to become the captains of industry, politics, medicine and more I'm still in touch with some of them
now.
This enabled me to grow and was great fodder for me as an artist. I draw on it now for my work.
You have mentioned that you "are always leaving men" in a video interview for M Contemporary Gallery'…
* why do you think this is?
Terrified of being abandoned (my father abandoned me) I probably got in first. More true is this: I had a rule, I gave them two years and if they didn't shape up I shipped them out.
Further, none of the men I left were suitable partners for me in the long term. From quite a young age I sort a partner for life.
* has a man ever left you, and if so, care to share the tale(s)?
Not that I can remember, I always managed to leave first, usually for another man. Except my current partner and I'm staying with him for the duration.
The answer is no, I don't think any men have left me, not one, although I haven't got everyone I wanted.
I left Kosta because he ran around so much and I couldn't imagine a future with a man like that, I'm far too insecure and proud to tolerate infidelity, so I packed my bags whilst holidaying with him in Thessaloniki and flew home to Sydney. No more contact, I never looked back, although he did write to me.
(Photos below of some art by Joy)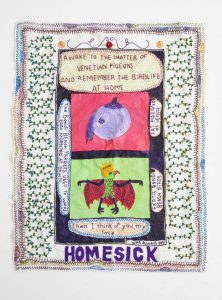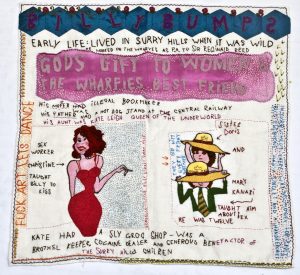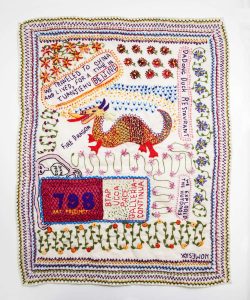 Please describe what you think the Australian Psyche/Zeitgeist is today?
Australians are wonderful people, laid back, open, helpful as per the long held stereotype, it's all true, but Australia is also changing….for the better.
…I believe Australians have always had a scorn for suburbia, the cities are where we want to live if we are able, despite the fact that a house on a good size block or in the country can produce a great form of life – for an artist in particular.
I don't think we can generalize, I think the Australian psyche differs somewhat depending on where one is and who one's friends are. Sydney is truly international now, very much like NYC in 2011. I've infiltrated so many groups, known so many brilliant and also ordinary people. I've lived in diverse suburbs, like East Sydney (ten years – then full of Italians), Maroubra (working class – five years), Kingsford (working class – ten years), Woollahra (20 years) Bondi Beach (6 years) Wahroonga (4 years – beautiful but too slow for me).
The Australian position toward racism, the place of women, migrants and Aborigines has changed greatly since I was a girl, as people travel and learn. As a child I would cringe if I saw unfair treatment of a migrant or aboriginal girls, and I saw it often. I can say in Sydney, we have become far more worldly and sophisticated. I think Australian people in general are the 'salt of the earth' a great lot, wonderful.
Whilst in Venice in 2015 I had four heavy bags which I was scarcely able to carry myself and I couldn't find my Artists Residency. I traipsed around Cannaregio for four hours overs bridges, exhausted after travelling from Berlin by plane then to Venice in 100 degree heat. I was on the verge of crying and no-one would help me. Then a woman who had seen me three hours earlier came over and said 'come and have dinner with us' and I did…and they were all Australian, and they found me a hotel and they stayed in touch, and they came back the next day and located my residency using maps. These were wonderful people, Australian people. That was one of the worst days of my life, for in Cannaregio hotels are hidden behind house like facades, and I couldn't find one. Further, I asked for help and nobody responded until I met a group from Australia.
Who was your 1st crush and why?
The dancing teacher's son, and he went to Maroubra Bay High School, that's why I refused to go to Sydney Girls High School when I won a (highly coveted) place.
Does sex change everything?
Love changes everything, but sex helps.
(Photos below of some art by Joy)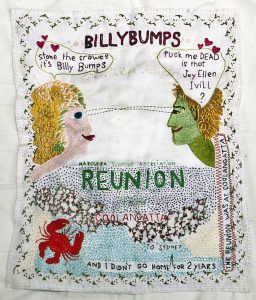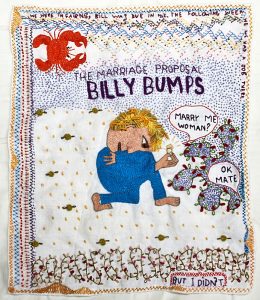 Which 1990's era cartoon, would you most like to see in a tribute sex toy, and why?
(Please sketch a prototype of your design.)
I don't read cartoons I make art, all day, every day, sorry.
Who would win in a fight and why: Kate Leigh Vs. Wonder Woman?
(Please draw the battle in all it's violent beauty!)
I didn't know Kate Leigh at all, but I did meet Tilly Devine.
Sorry, too hard and too busy to draw (humble apologies). Kate was, from what Billy says, the toughest woman he's ever known, she shot a man dead once. However, he also told me she was 'a generous benefactor to the underprivileged Surry Hills children.'
Billy always said to me "why do you have to be the toughest kid on the block".. but I'm not really, I'm overcompensating for not being that.
Please describe your latest dream in detail…
Can't remember dreaming lately, I do, but can't remember, truly.
Of everything you have done what would you most like to be remembered for and why?
I make work for posterity, and I keep much of it.
I'd like to be remembered as an artist who 'tells it as it is' or 'as it was'
Drugs – waste of time or gateway to the universe?
I'm curious, I've tried many of them, I like cocaine but can't afford an expensive habit, further it's addictive, and eccies can be good – I don't have an addictive personality. If I'm beginning to feel addicted to anything I exert willpower and go 'cold turkey' on it. I grew up with too many drunks around to give in to drugs.
I don't take drugs now, well hardly do. I drink occasionally on and off, but would rather not. Too busy. I'm not young I've got to make art while I can, I got started late. I'm serious about it.
What role did toys play in your childhood?
My mother gave me many toys, but nothing she gave me was really mine, I'd look for a favourite toy and it would be gone.
Years later I found out she'd given them all to my cousins, without my permission, I never really got over that. I had so little.
What are the top 3 toys / items you own? – please include photos or art of them!
Our home is full of my art and art materials, we trip over it, I don't have any toys left I don't think except the dolls that I've made.
You see, I don't sell all of my stuff, I keep a lot of it. It's so labour intensive, and the subject matter is so close to my heart. That's a mistake artists can make.
(Photo below of Joy's works – 'The Children I Never Had' + 'Nana')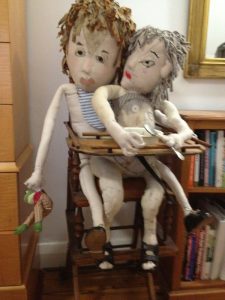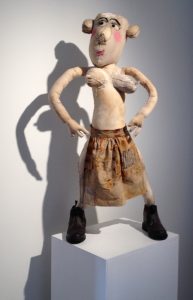 I had two favourite toys, a teddy bear my father gave me when I was three and a small plastic car he gave me as well, and an Italian doll my mother gave me for Xmas once. I threw out the doll long ago for a good reason I can't disclose (as it will give away an intimate secret about someone I love) and quite recently I threw out the Teddy Bear, as it reminded me of my father – who did nothing for me.
I do however have a cat, he's 18 years old and in very poor health and I love him dearly.
If people wanted to collaborate, work with you or just buy some art – how should they get in touch?
To collaborate please write to me here: joyivill@gmail.com
…Or go to comments – joyivill.com – and write from there.
The Future
Any collaborations on the horizon?
Lukas Vincent of Ex Infinitas Melbourne & Paris wanted to collaborate with me on a range of clothing for Fashion Week 2017, however he gave me insufficient lead time to make the samples, as my work is labour intensive. We are in touch and will collaborate at a later date.
It's a great label, I love it.
Any major projects you want to hype?
I'm making 'Acid Girl' (is curated by the brilliant Glenn Barkely) for Tamworth Textile Triennial 2017 Opening September 2017) which will tour Australian Regional Galleries until 30th June 2020. It comprises a soft sculpture of a woman well over 2 metres tall that stands on a revolving plinth and wears an embroidered dress that tells the story of 'Why I'll Never Take Acid Again' (requested by Barkley). The embroidered dress has taken four months to make and is not finished as yet.
There are some brilliant artists making work for TTT2017 in fact they're all wonderful.
They are:  Sally Balke, John Brooks, Sue Ryan, Gomeroi Gaaynggal Centre, Treahna Hamm, Carol McGregor, Rebecca Mayo, the Noongar doll makers, Raquel Ormella, Julia Robinson, Ema Shin, Jeanette Stok and Meredith Woolnough.
Links