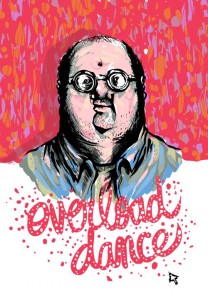 Johnny Ngai of 'OverloadDance' is a Hong Kong based artist whose art philosophy centers around the notion of big is beautiful. Or, in Johnny's words,
"I want to deliver a message that fat people can also dance the way they like. The figure can't restrain oneself. It's about freedom and fulfills personal desire. There is no actual standard about beauty".
Johnny works in a variety of media: street art, sculptures, digital and even classics like painting. Indeed, he is one of those rare artists with not only a unique aesthetic, but also the ability to create anything. And i mean anything.
(Picture below of an 'OverloadDance' sculptural work)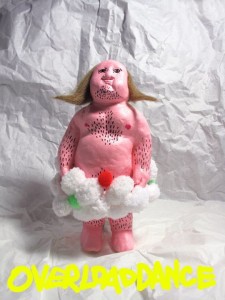 With a comic coming out in July 2014, a smart phone app in the works in collaboration with '3 Rices', and many other projects to come; now is the perfect time to get up to date on Johnny and the 'Oveload Dance' world, by reading the Art Talk below…
Basics/Getting to Know
Name + D.O.B?
Johnny Ngai – 1982
OVERLOAD DANCE, founded in 2009
(Picture below of a table filled with 'OverloadDance' wears)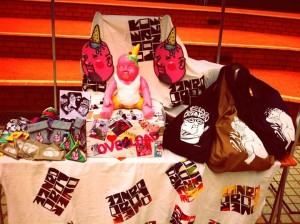 City, State n Country you're Repping?
Hong Kong – China
Describe a memory from three stages of yr life ….basically trying to piece together Mr. Yip's pivotal moments. Concerts, art, action-figures, women, school, crime… ANYTHING man.
* age 10 – beginnings:
My aunt bought me to a playground and I saw a pair of butterflies flying together in front of me. I tried to hit them by a twig. I got one down on the ground and one just flew away.
My aunt was curious and asked why I did it. I just couldn't tell. But then I picked up the butterfly and put it on the grass nearby. Well, it is still fresh in my mind.
* age 15 – getting serious:
I always thought of the time when my mother brought my brother, sister and me to a mall which located on the Hong Kong side. There was a music fountain which played once every hour and we definitely watched it when we were there.
It just shocked me every time I watched it.
* age 20 – adult mode:
When I was 20, I was still lost, graduated from school, entered to 'KTVTC'.
… I was just a student working on part-time basis. The life was tough.
(Picture below of an 'OverloadDance' painting)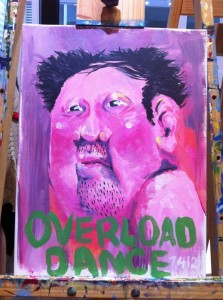 Personal motto?
There is no definite standard about beauty.
Favorite band(s)?
Favorite TV show(s)?
'X-Files', 'Fringe', 'When Heaven Burns' (Hong Kong)
Favorite sport(s) + teams?
Basketball
(Picture below of an 'OverloadDance' cartoon)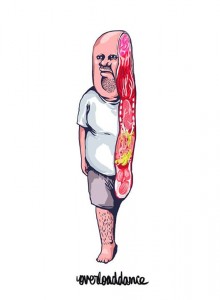 Favorite movie(s)?
'Memories of Matsuko' – Japan

'Twelve Night' – Hong Kong

'Out of the Dark' – Hong Kong
Favorite books and comics?
Parasyte、Shōjo Tsubaki、Drift Classroom
General Questions
Favorite toy/figure? (I'll allow self promotion)
OverloadDance
(Pictures below of an 'OverloadDance' self portrait sculptural work)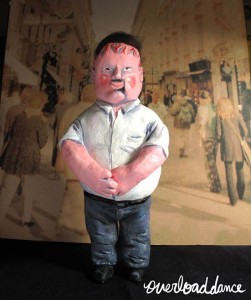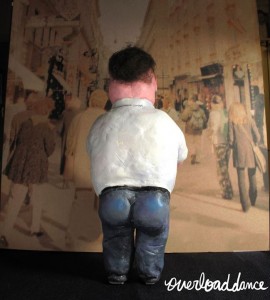 Do you think once an artist has re-used a piece of pop-culture, it becomes harem for another artist to use it/spoof too? …I am thinking of 'The Sucklord' + 'Boba Fett'; 'The Mark Ultra' + the hangman mask head; 'Buff Monster' and ice-cream etc.
Yes, I do think so and I like seeing harem pieces.
What, to you, are the best and worst aspects of being an artist in Hong Kong?
Hong Kong is a place in which people value cost-effective. That's the reason why you can find lots of fashionable arts here.
However, you hardly find some quality yet meaningful pieces.
Over a certain period of time in Hong Kong, most of the people live with the same ideology. They just blindly go into the same direction.
It's like, the same type of restaurant opened at the same time and closed down the same time as the trend faded.
What does being fat mean to you?
Fat is the opposite of the beauty standard of the modern society.
Most people won't choose to love, but choose to like.
What was it like studying at 'K.T.V.T.C' in Hong Kong; were you graduated in 2002 with an advertising degree?
'KTVTC' is a professional education institution which located near my home.
I studied there after I graduated from F.5.
I am not a degree holder in any discipline.
What is it like being a graffiti/street artist in Hong Kong?
I've never compared Hong Kong to other place.
I believe it makes no difference of being an artist in anywhere.
(Picture below of some 'OverloadDance' street art in the wild in Hong Kong)
How has the formal study of advertising affected your art?
During the two years studying at 'KTVTC', I leant a lot about creative skill and creativity thinking.
I liked traditional Chinese painting.
I've never thought of working in graphic design field thanks to the 2-year education. It affects me a lot on painting, design and of course, aesthetic.
Art Questions
Why the name "Over Load Dance"?
I want to deliver a message that fat people can also dance as the way they like.
The figure can't restraint oneself. It's about freedom and fulfils personal desire.
There is no actual standard about beauty.
Favorite other artist(s)?
Do you consider what you are making to be 'art', 'design', re-hashed crap?
I think what I am doing is inspired by other people.
I like seeing different things, no matter it's regarded as the most beautiful or the ugliest.
I love trying and create art pieces that convey different meanings.
(Picture below of some 'OverloadDance' art)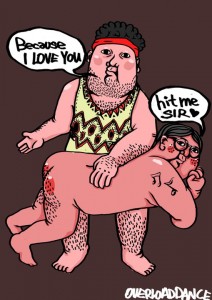 When and why did you first start making 'art' (drawings, paintings, anything)?
OVERLOADDANCE is founded in 2009.
Since then I started to make things that I really fond of and truly meaningful to me.
OVERLOADDANCE creations are all about fat guys, focusing every interesting bit of their life and even reflect the negative societal attitudes they received.
I have been trying many different ways to express the message behind OVERLOADDANCE. Besides using the Internet, I love to use other art forms like street art to deliver my thoughts and things to people.
It's somehow a good way to use street art because people can easily relate the art pieces to their own life and the environment.
Any formal art training? Or pivotal moment/influence?
Literally, I haven't studied any formal art training.
What does inspire my creativity is music and movie, especially Japan's art and design. You can find these elements in my works.
Why + when did you decide to go in on the art hustle?
Advertising is a kind of boring job to me.
I don't think my works are art. I just do what I like to do. It comes more meaningful to me.
Indeed, OVERLOADDANCE brings satisfaction to me, makes my life full and interesting.
That's the most important.
(Picture below of an 'OverloadDance' cartoon)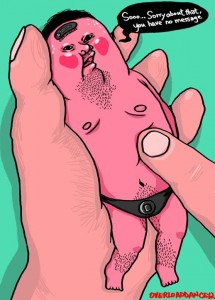 Describe the method of making an 'Over Load Dance' piece? (dot point all o.k.)
* your sculptural work?
Paper + clay

Fibre + clay

Acrylic
* your 2D work?
* your street art?
Does your self-directed work all exist in its own 'universe'? (Yes; I am basically asking if you see your characters all interacting in your head.) IF so, what do they get up to?
Sometimes, I used to analyze things and feelings surrounding me.
Sometimes, I like to use fat guys to present something or feeling.
Sometimes, I like to turn a fat guy into a monster and add some weird things.
How did you come to be represented by the well regarded 'H.K.I.D Gallery' (outta Hong Kong)?
'HKID' is actually a platform selling sculptures by Hong Kong artists.
To a certain extent, I am not a representative of Hong Kong. It's because as long as you make sculptures, you could use the HKID platform to sell your works.
(Picture below of some 'OverloadDance' x 'SHOX' skate decks)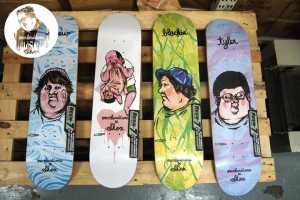 You have released phone covers, tote bags and clothing – any desire to start an Over Load Dance apparel brand?
I am still at the experimental stage so I won't mass produce my products.
It somehow satisfied myself rather than other.
I don't think I will start my own apparel brand because I don't want it to be popularized. Second, it turns out not interesting if commercializing an art.
(Picture below of some 'OverloadDance' pocket pouches)
The Future
Any collaborations on the horizon?
I am collaborating with 8 local illustrators/artists to launch a comic which will be released on July.
Any major projects you want to hype man?
It's the second time my works will be featured in an IOS apps developed by '3 Rices', named OVERLOADCAM. It's a 2.0 version and will be launched soon. Free download here:
A collection of underground brand sounds will be released this year. OVERLOADDACE will design the CD package as well as the launching exhibition.
I will have my own publication this year. Still work in progress.
(Picture below of an 'OverloadDance' illustration)
Links