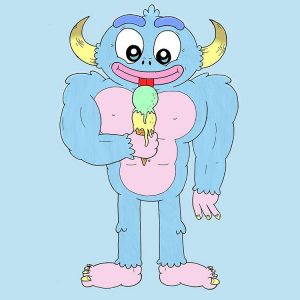 John Roderick Paine is an Australian artist, designer and animator who first came to our attention back in 2014 thanks to his amazing sticker designs. In the 3 years since then John has gotten married, gained major hype thanks to his work with the 'Hashtag Burgers' crew and continued making his epic art at a maddening pace.
(Picture below of a self portrait by John)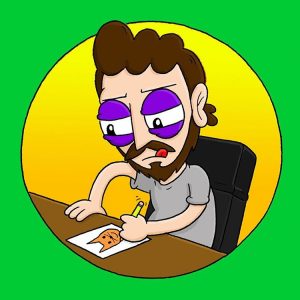 With John continuing to make inroads in the global art scene, now is the perfect time to get to know the man and his art by reading the Art Talk interview, below…
Basics/Getting to Know
Name + D.O.B?
My name is John Paine.
Born on the 20th February 1986
City, State n Country you currently call home?
Currently living in Sydney, NSW, Australia.
City, State n Country you're from?
I was born in Geraldton, WA but raised in Newcastle, NSW. Good beaches there.
(Pictures below of some cartoons by John)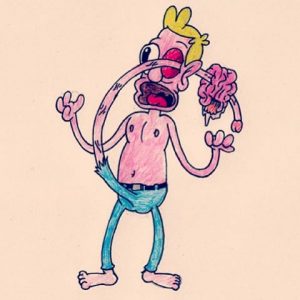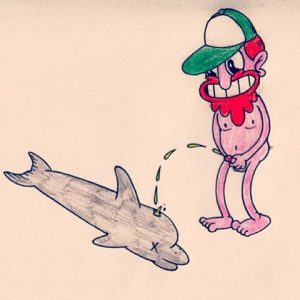 Describe a memory from some stages of your life ….basically trying to piece together your pivotal moments. Concerts, art, action-figures, romance, school, crime… ANYTHING!
* age 5 – beginnings:
I don't remember much from this time, but I've been told that when I was drawing and my hand got tired, I would just switch it to the other hand and keep going.
* age 10 – continuations:
For my 6th grade school fete I made a my first animation titled Very Badly Animated Man using my Nan's video camera and a couple of dozens of drawings. We had a screenings in the library and charged tickets for entry and even had a merch stand. We made the most money out of any stall.
If you want to see the animation and hear my pre-pubescent voice, it's on my YouTube channel.
* age 15 – getting serious:
I was far from serious at this point. A lot of my time was spent doodling, waiting for school to be over.
Video games where a big part of my life too.
* age 20 – young adult:
Still not very serious at this point.
I got a diploma in digital media which nothing really came from.
I thought I was better than I actually was back then.
(Picture below of John in his 20s)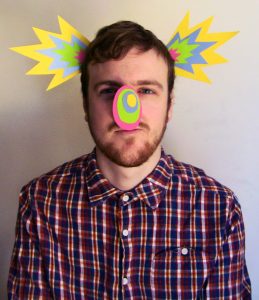 * age 25 – goings on:
I was working an IT job that I really hated but it just cemented the fact that I wanted to make cartoons for a living.
I spent a year refining my artistic style and working on some personal animations, which eventually lead to paid work. All while I was supposed to be fixing computers.
* age 30 – adult mode:
Not many pivotal have happened so far, except that I got married.
(A recent photo of John below)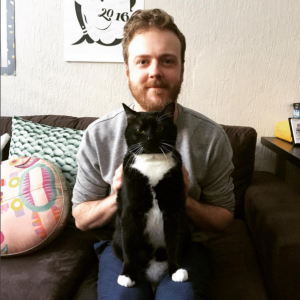 Personal motto?
I find myself saying "Alright, what's next?" a lot.
Favorite band(s)?
I'm currently on a Billy Joel kick at the moment but I like all sorts of music.
The few artists that I can listen to no matter what mood I'm in are Gorillaz, Beck, Beastie Boys & Weird Al Yankovic.
I'm a proud Juggalo & will be down with the clown til I'm dead in the ground. I actually had to buy a second copy of The Great Milenko because I destroyed the first one by playing it too much.
Favorite TV show(s)?
There are only two shows I get excited about now and those are It's Always Sunny In Philadelphia and Rick & Morty.
I'm also a life long fan of The Simpsons and still watch every episode when they come out. The new episodes aren't as bad as everyone makes them out to be.
(Pictures below of some digital art by John)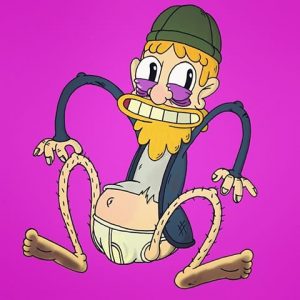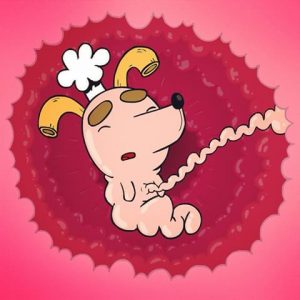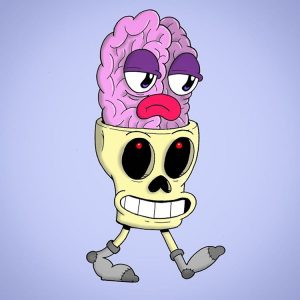 Favorite sport(s) + teams?
N/A
Favorite movie(s)?
Best Horror: The Shining
Best Drama:  Reservoir Dogs
Best Comedy: South Park: Bigger Longer & Uncut
Best Sci-Fi: Back To The Future Part 2
Best Animated Film: A Town Called Panic
The best part of any movie though is in 2001: A Space Odyssey where HAL 9000 dies. That scene messed me up good.
(Pictures below of some sketches by John)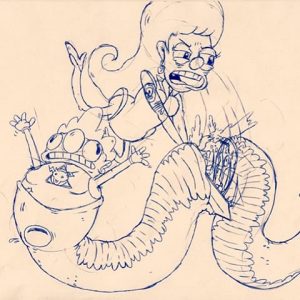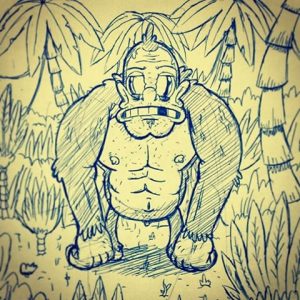 Favorite books and comics?
I recently got rid of my comic book collection. The only three I kept are The Punisher Meets Archie, New Kids On The Block and an issue of Ant-Man where he fights a cat.
I've decided that if I'm going to collect any more comics the subject matter has to be just as bizarre as these. I wouldn't mind getting the issue of Superman where Muhammad Ali beats the shit out of him.
Art Questions
Favorite other artist(s)?
My favourite artists are the ones who inspire me to create. First off there's Mr. Men & Little Miss creator, Roger Hargreaves who basically taught me how to draw by copying his drawings.
I'm a big fan of Joe Cartoon, a pioneer on web animation in the early 2000s. I remember watching his cartoon Supafly II and afterwards I decided that all I wanted to do for the rest of my life is make cartoons for the internet.
In the past couple of years, artists Jeremyville and Gary Baseman have been an inspiration to me. They both do character based artworks in a variety of mediums, which has made me think about how I can get my characters of the page and into other platforms.
(Picture below of a Gary Baseman tribute piece by John)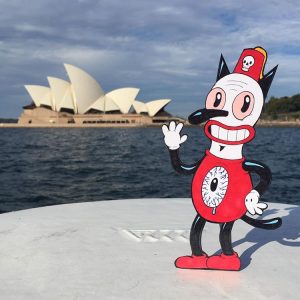 Worst aspect of the contemporary art-hustle?
The worst thing is having your stuff uploaded to Facebook with someone else's name attached to it.
Every two months I see my Brain video uploaded by someone without the correct credit. It's frustrating to say the least.
Best aspect of the contemporary art-hustle?
For me, it's the sense of accomplishment when you finish a project and then if someone is willing to pay or even leave a positive comment, that's just a bonus.
(Picture below of John on that art hustle grind)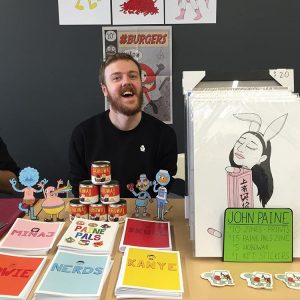 Do you consider what you are making to be 'art', 'design', re-hashed crap?
I definitely don't consider my stuff as art or design or crap for that matter.
I think of art as something you would hang on a wall, which I find my work weird when it's displayed like that.
I normally tell people I draw cartoons.
When and why did you first start making 'art' (drawings, paintings, anything)?
I've being making stuff longer that I can remember so I have no idea why I started.
I just know that when I haven't drawn anything in a few days I get really anxious, tight-chested and stressed. It's weird.
(Pictures below of some burger themed art by John – the vast majority of which was done for Australian burger slingers 'Hashtag Burgers')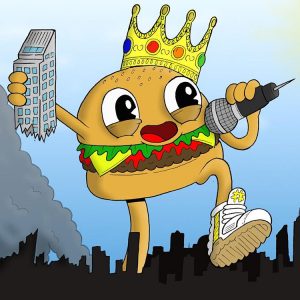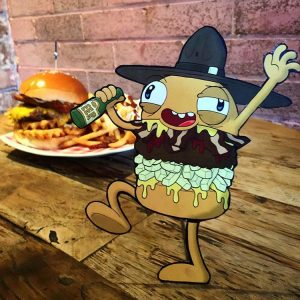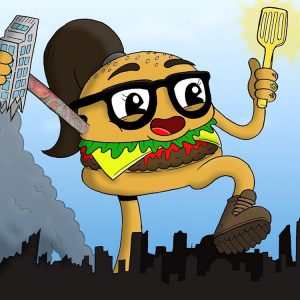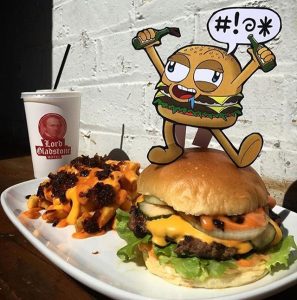 What did you draw as a pre-teen child?
I remember that I would make activity books; I guess you'd call the zines nowadays. They were full of comics, puzzles, etc. I would photocopy them and hand them out to my friends.
I also made my first animation;Very Badly Animated Man as mentioned earlier.
What did you draw as a teen?
A lot of death.
Most of my animations at the time ended in one of the characters executing all the others by shooting them in the face or disemboweling them.
Any pivotal artistic moment/influence?
It would probably have to be the early days of independent animation on the internet.
I'm not sure it's actually an artistic movement, but it was a time where people had the means to make the most weirdest, random stuff and just post it online for fun and views and likes were meaningless as the cartoons were.
(Pictures below of some John Paine art in the wild)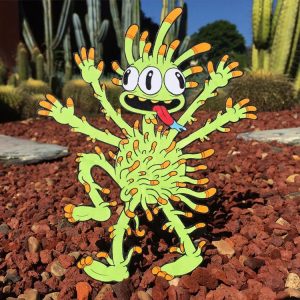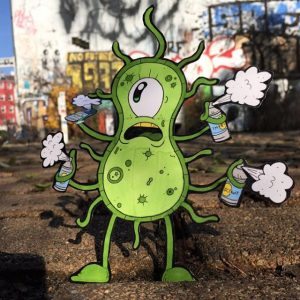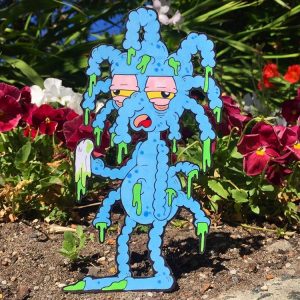 Why + when did you decide to go in on the art hustle?
As I mentioned earlier I knew I wanted to make cartoons for a living from watching Joe Cartoon.
The biggest part for me is figuring out the how.
Describe the method of making your work? (dot point all o.k.)
* your sketches and drawings?
I get most of my ideas for drawings when I'm randomly walking around.
Sometimes I'll have an idea of what I want to draw before started and other times I like to start drawing interesting shapes and see what come out from it.
All my drawings are started in pencil on normal paper and inked with an Artline Pen (normally 0.4 tip) and then either coloured digitally or with Copic Markers.
* your digital art?
The digital side of things usually involves, scanning or tracing my drawn works and colouring using Photoshop or Flash.
When it comes to animation, the original idea is normally spawned by a weird sound or stupid phrase I find myself repeating. For example; my animation 'fART' was inspired from trips to art galleries in Italy and I kept asking "What does it mean?"
I need to be really excited about the project before starting animating. Animation is such a long process, if I'm not 100% about the idea when starting, I usually second guess myself halfway through and lose interest in it.
(Picture below of Join doing art)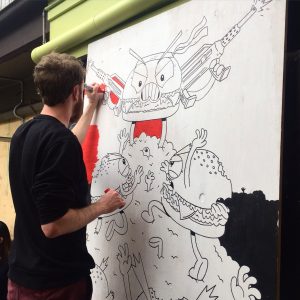 If people wanted to collaborate, work with you or just buy some art – how should they get in touch?
Toy + Collecting Questions
What role did toys play in your childhood?
Toys were a big part of my childhood. It was one of the ways I could play with my sisters. They have they're Barbies and I'd have my Street Sharks come and visit their dreamhouse.
What are your thoughts on the current designer toy scene – i ask as i know you are a collector and fan?
I love it the stuff people are making. My current favourite artist in the toy game is KONATSUYA. I just wish they were more accessible.
I'm the kinda of person that likes to see and hold the object before I buy it. Sydney really needs to open up a retail store dedicated to designer toys. Pretty sick of seeing the same Funko Pops everywhere.
Please write a brief timeline of your collecting history?
It's funny, I haven't really collected that many toys and the stuff I do have I've gotten in the last 3 years. I think it's due to a lack of funds.
Usually when I get cash, it goes into new computers.
Item(s) you have lost, sold or given away that you wish you still had and why?
I used to have the Tyrannosaurs Rex toy from the original Jurassic Park toy line and I didn't lose the chunk of meat that came with it. I hear they're worth a butt-load now. That's the only thing I can think of.
Favorite 3 items you own and why?
I'll go from 3 to 1.
Number 3: Has to be this vinyl toy I picked up when I went to Japan. It's a half robot, half monkey and has a brain in a clear dome for a head. It's that perfect mix of random and weird and reminds me of my favourite place in the world (Tokyo) whenever I look at it.
(Picture below of John's made in Japan robot, monkey brain man)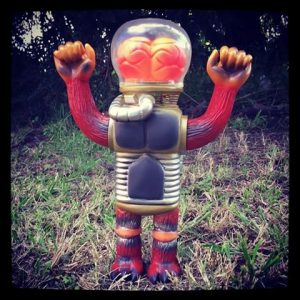 Number 2: A plush dog named 'Pup Pup' I've had him since I was a baby. I think it's one of my favourites because I had it for longer than anything else I own. I like it so much I even have a tattoo of it. He's definitely worse for wear and I'm glad I've managed to hold onto him for this many years.
(Picture below of John's tattoo of his beloved plush dog)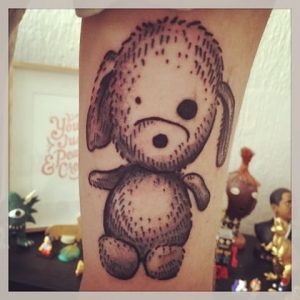 Number 1: My wedding ring. I think it's pretty self-explanatory. My wife is the best.
Top 3 grail items you would like to own and why?
Again I'll go from 3 to 1.
Number 3: As mentioned earlier; I really like the KONATSUYA toys so I plan to grab on of those one day.
They're Japanese, they're toys and they're cats. The holy trinity.
Number 2: An original animation cell from The Simpsons, preferably one from the 5th season. I remember going to a shop where they had one from the Bart Gets An Elephant episode. It was from the scene where the cleaning product mascots were attacking Homer. I regret not buying it.
Number 1: My own vinyl figure. I think it would be really cool to see my cartoons enter the 3rd dimension. I have an idea of which character I want to make but I have no idea how to go about getting it made into reality. Perhaps you can me get on the right track.
Odds n Ends
Which 1990's era cartoon, would you most like to see as a sex toy, and why?
A fleshlight version of Coredor from Plasmo.
Not that I think anyone would actually use it, it just makes sense because his mouth already looks like a vagina.
(Picture below of John's tribute Coredor fleshlight)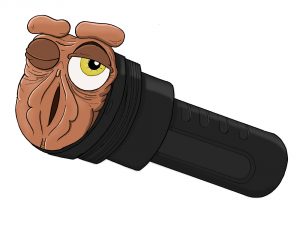 Who would win in a fight and why: Pee Wee Herman Vs. The Comic Book Guy (Simpsons)?
Honestly, I don't know too much about Pee Wee Herman apart from that he once went to prison from removing the do not remove tag from a mattress.
I'm guessing that any physical movement from Comic Book Guy would send him into immediate cardiac arrest leaving him vulnerable for Pee Wee to gut him like a fish.
(Picture below of the battle in all it's epic beauty!)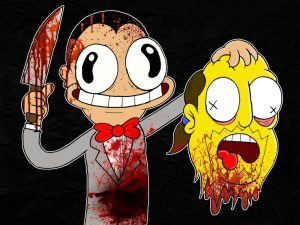 Please describe your experiences growing up in Australia?
My childhood in Australia primarily consisted of getting sunburnt.
Does sex change everything?
I had sex once and afterwards the sky was still blue so, no.
Please describe your latest dream in detail…
My dreams are usually pretty boring. A friend of mine has made me a Raspberry Pi, which has emulators for the entire, Atari, NES, SNES, Gameboy, Sega Genesis and N64 libraries.
I've been having difficulty setting up the button configuration for the USB N64 controller. My most recent dream was my friend telling me about some program I needed to install to make it work properly.
(Pictures below of some Koala based art by John)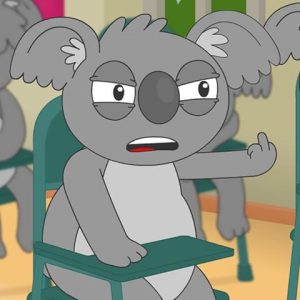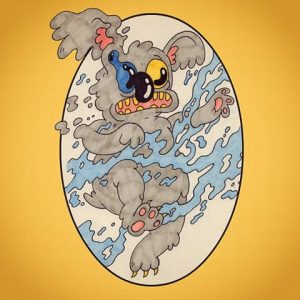 Have you ever tried psychedelics of any sort? And what was the experience like?
I took acid with a few friends one New Years. We were in a park and everything red and blue like I was wearing old 3D glasses, then the city exploded. We went back to their place where their cat shot lasers at me.
I touch a melting brick wall and then went to a bikie party where I met Jack Sparrow and gave him a cicada shell to welcome him to Australia.
I then walked home at 9am and watched Beavis & Butthead Do America while my bedroom wobbled.
Of everything you have done what would you most like to be remembered for and why?
I'm currently remembered as the guy who got fired from his job for making a cartoon about a guy humping a plate.
I think that's good enough.
Drugs – waste of time or gateway to the universe?
It's kinda both. For me, drugs are a distraction. I say, if you've got time to waste, do the drugs and open up the gateway. If not, do the things you gotta do then, do the drugs and open the gateway.
Except heroin, fuck that.
(Pictures below of some cat based art by John)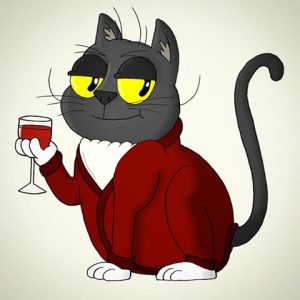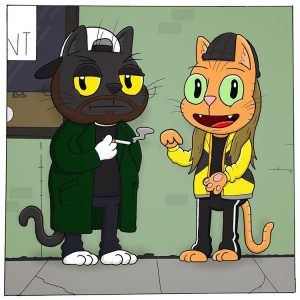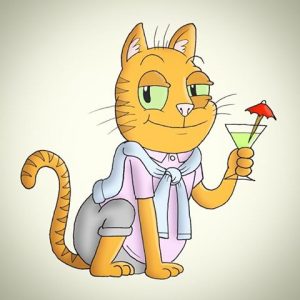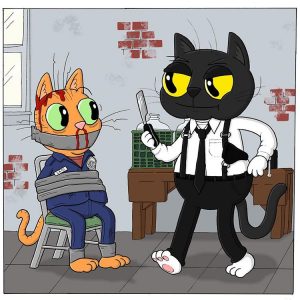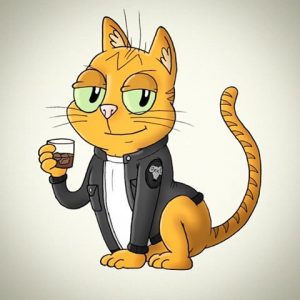 Please describe what you think the Australian Psyche/Zeitgeist is today?
I find people getting offended about stuff a lot easier and get on the attack when someone doesn't agree with them especially people who are left wing.
I think people really to not care about what other people think so much.
The Future
Any collaborations on the horizon?
The second Burgapalooza (Australia's biggest burger themed festival) is coming up in March in Sydney.
I've helped out by designing some t-shirts and characters for the festival.
I'll have my own booth where I'll be doing some live cartooning. If your interested in attending, search 'Burgapalooza' on Facebook, full details are out yet but will be soon.
Any major projects you want to hype?
I'm currently beginning the 2nd draft on a potential pilot.
It's still early days and far away from anything I'm willing to share just yet but it's something that I've wanted to do for the longest time and I'm pretty excited about it.
(Pictures below of some Paine family portraits by John)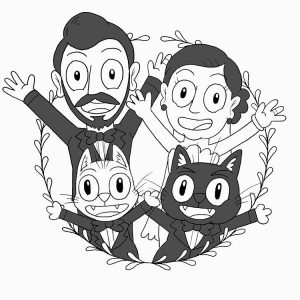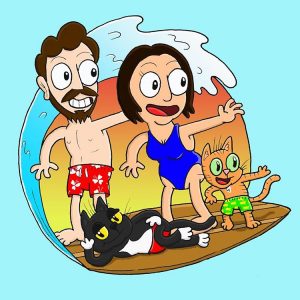 Links