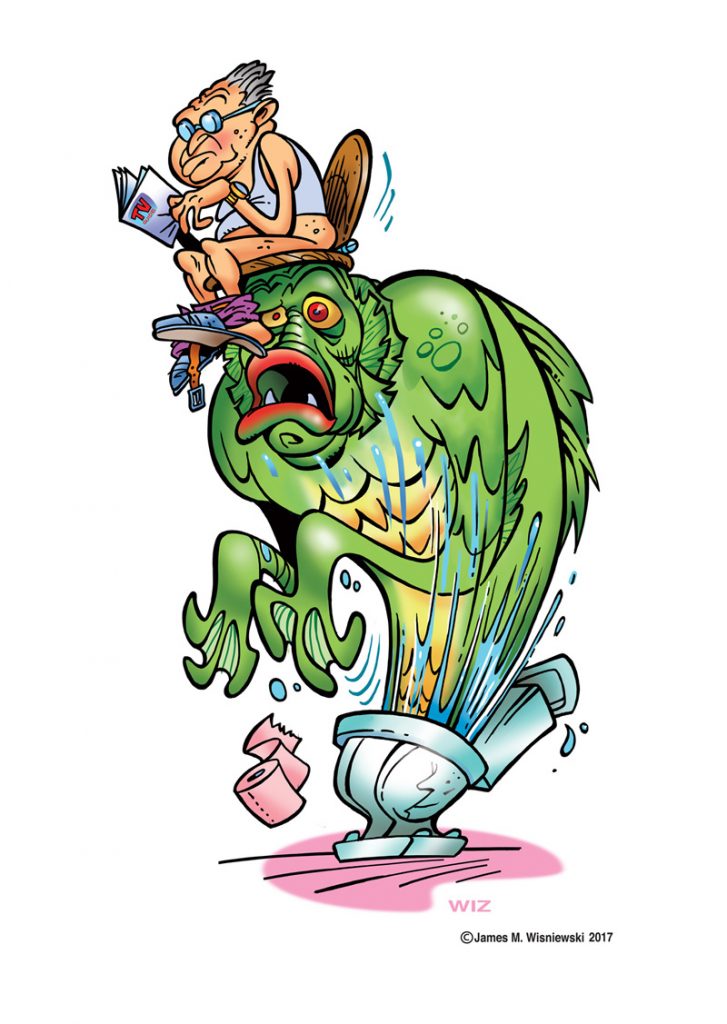 James M. Wisniewski aka Jim Wiz is a self described life-long working artist hailing from America who has been active in the industry for over 40 years now – beginning in the early 1970's. In that time Jim has worked in advertising, cartooning, story-board art and greeting cards – all whilst also being involved in the comic book industry. There he has also worked for years as a character model for his friend and fellow artist Mr. Alex Ross, worked on his own works and also notably on the 'Ghostbusters' comic series.
Indeed Jim is living proof that you can not only make a living as a full time commercial artist but also have a whole lot of fun along the way.
Now after a lifetime of primarily working for others, Jim has recently semi-retired and is finally spending time working on his many personal projects – stating:
"I'VE N-E-V-E-R,  E-V-E-R, BEEN SO CAPABLE AND CREATIVE. THINGS I WANTED TO DO YEARS AGO, I NOW DO.
I'M WRITING, ILLUSTRATING MY OWN STORIES FOR THE FIRST TIME, AND AM BUSY WITH LESSER PAYING WORK, BUT IT'S ENOUGH BETWEEN MY WIFE'S THING AND ME.
I AM DRUNK ON CREATIVE HAPPINESS, AND PRODUCING ART.
I'M 66, AND JUST GETTING STARTED ALL OVER AGAIN. I MEAN HOW COOL IS THAT?"
Jim, it is very cool indeed sir! Inspiring even.
Now we must here admit that we discovered Jim's art thanks to our ego… we were trawling the internet one day for mentions of well… ourselves, and stumbled upon a brilliant cartoon depiction of an 'Art Whore'. It was vibrant, sexy, funny and unique. We fell in love immediately. From there we found Jim on Facebook, sent a friend request and promptly begged for an interview. Which he was happy enough to oblige us with!
(The very art that made us fall in love with Jim, below)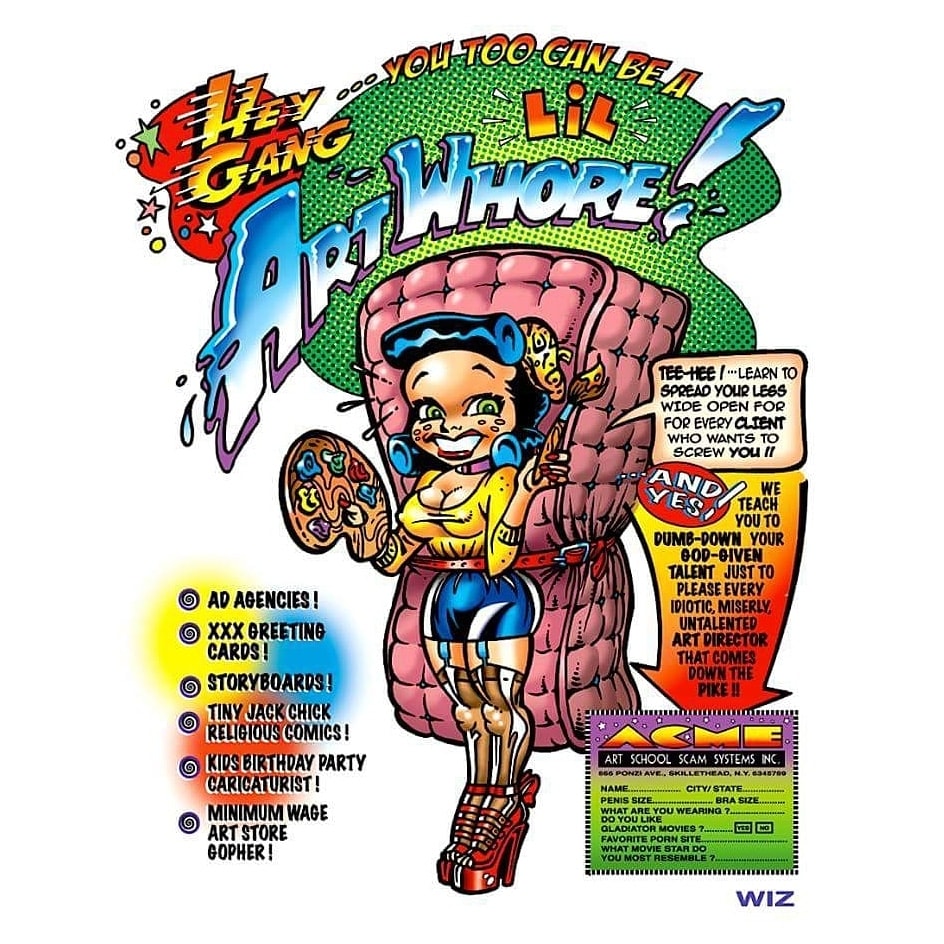 So without further ado, read all about the life of Mr Wiz in his illuminating, funny and very insightful Art Talk Interview, below…
Basics/Getting to Know
Name + D.O.B?
JIM "WIZ" WISNIEWSKI.
EVERYBODY WITH THAT LAST NAME GETS THAT NICK NAME.
JUNE 5, 1951.
City, State n Country you currently call home?
SKOKIE, ILLINOIS – CHICAGO, USA.
City, State n Country you're from?
EAST CHICAGO / HAMMOND INDIANA: 1951-1972
FORMER STEEL MILL / RUST BELT TOWNS……..
(Some art by Jim below)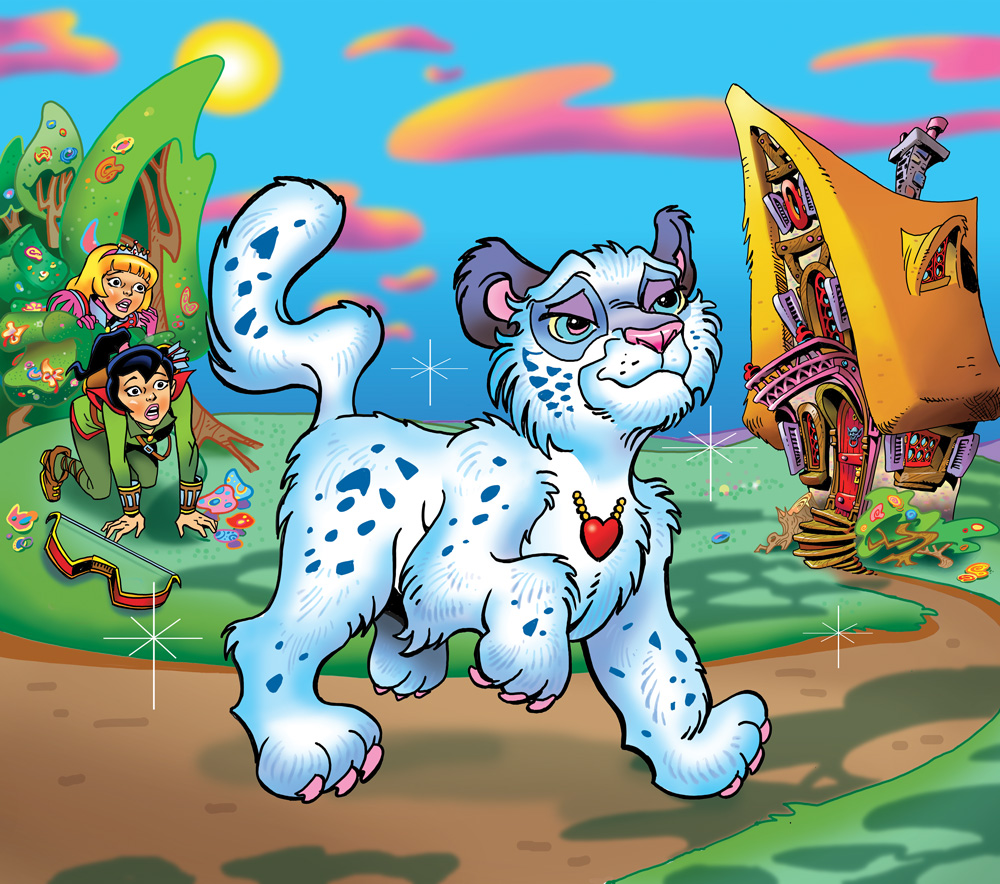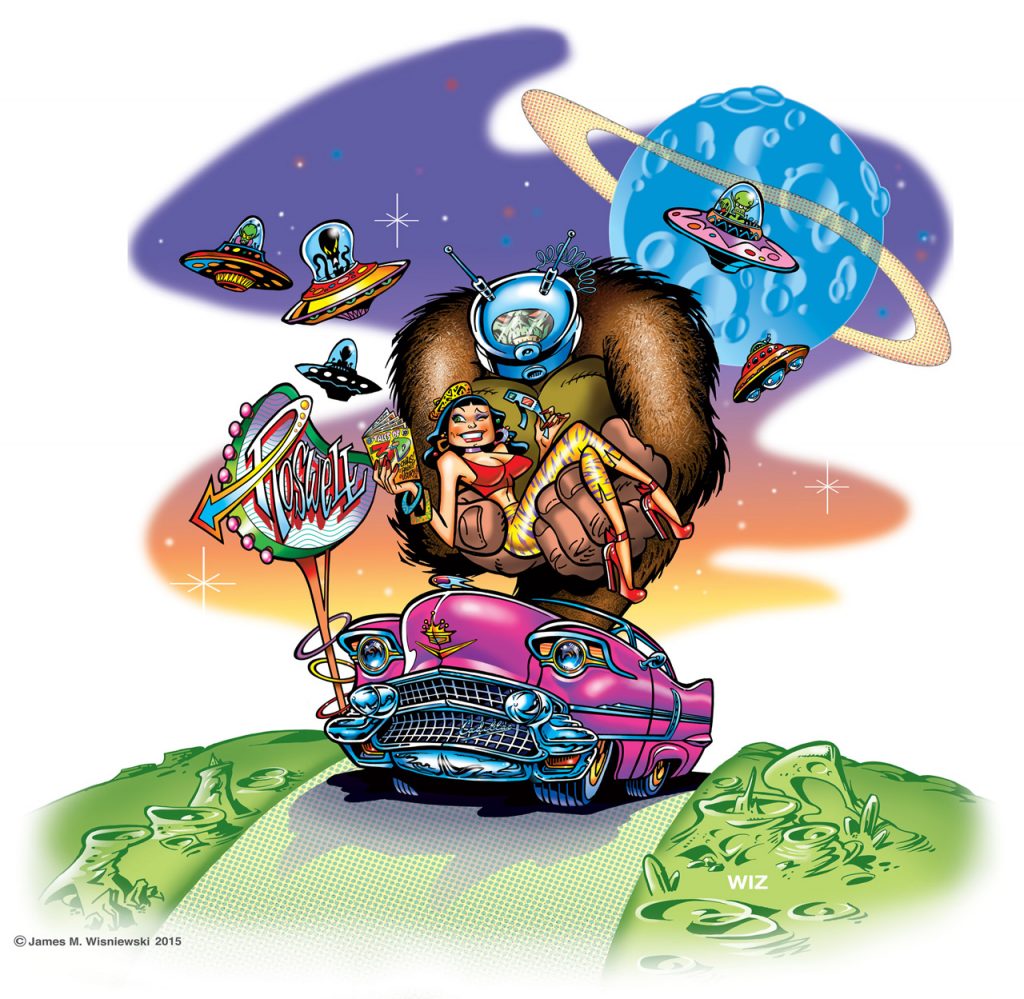 Describe a memory from some stages of your life…. basically trying to piece together some pivotal moments. Concerts, art, action-figures, romance, school, crime… ANYTHING really!
HMMMMM……. PROBABLY SEEING MY FIRST COMIC BOOK. IT WAS 1958. A KIRBY/DITKO TALES TO ASTONISH #5. MY BRAIN WAS BRANDED FOR LIFE.
FUNNY HOW A THOUSAND KIDS SAW THAT COVER, BUT TO MY CHILD FORMATIVE ARTIST BRAIN…. IT WAS A RELIGIOUS EXPERIENCE!
I MEAN I KNEW THEN I WAS NEVER GOING TO BE A DULL JOB GUY AS AN ADULT. BUT WAS GOING TO BE A CARTOONIST / ILLUSTRATOR.
IF A KID WAS EVER DOOMED TO BE BRANDED, IT WAS ME AS ,"ARTIST!" FOR BETTER OR WORSE.
[AND SOMETIMES WORSE!]
* age 5 – beginnings:
YEAH, BORN IN A STEEL MILL TOWN, 1951, EAST CHICAGO INDIANA… AMID AN ADULT POPULATION  OF YOUNG ARCHIE BUNKER GUYS, WHO HAD RECENTLY WON THE SECOND WORLD WAR, PROCLAIMING: "CHILDREN ARE TO BE SEEN AND NOT HEARD!!" + " DON'T PLAY BEHIND THOSE CARS WITH THE BIG TAIL FINS BECAUSE YOU COULD PUT YOUR EYE OUT!!"
…. AND, OF COURSE, AS YOU KNOW…. COMIC BOOKS WERE E-V-I-L…….
THANK YOU DR. FREDRICK WERTHAM…..
…. AND DIG THIS…. MY KINDERGARTEN TEACHER TOLD ALL OF US TO GET UP AND SING A SONG TO THE CLASS… SO WHEN I WAS UP, I SANG A SONG; "LOVE ME TENDER, LOVE ME TRUE"……
… WHOLE CLASS WAS UPSET, KIDS WHINING…… TEACHER TOO…..  SAYING "WHAT KIND OF A SONG  IS THAT??"
I ANSWERED "ELVIS PRESLEY! HE'S ON THE RADIO AND TV!"
… I GOT THE BIG "WHO'S T-H-A-T????!!!!!"
LIFE IN A CULTURAL WASTELAND…….
(Photo below of Jim aged 3 in 1954)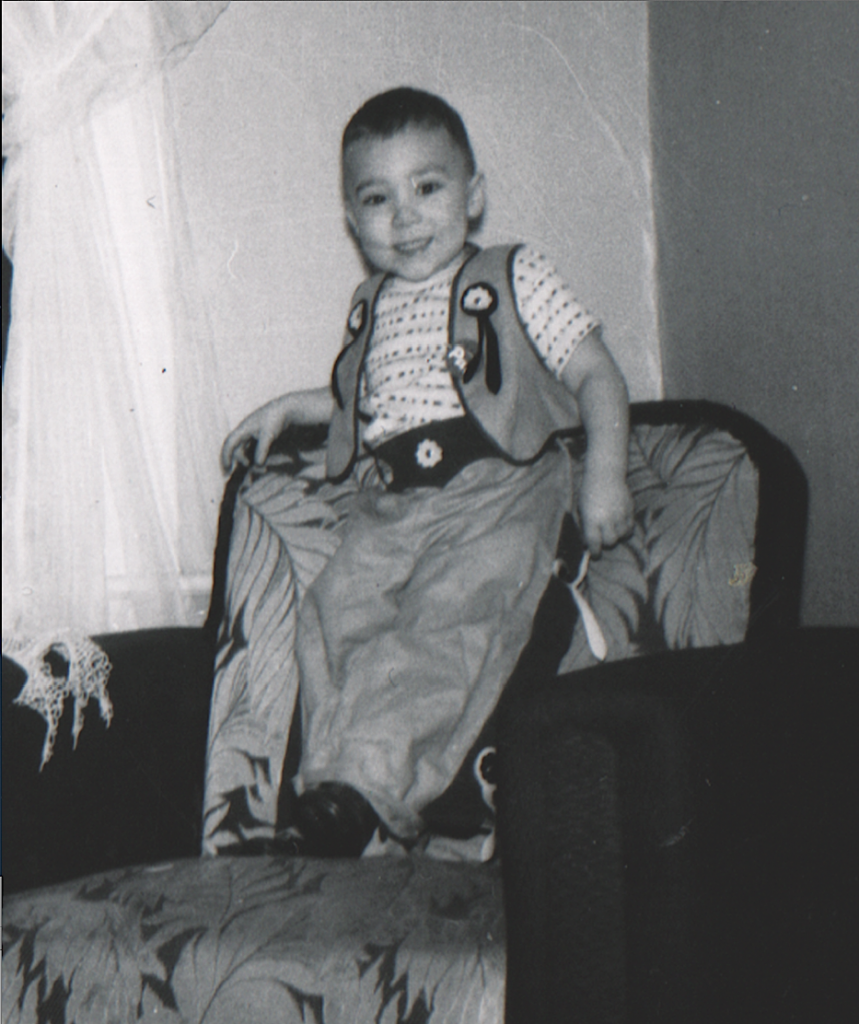 * age 10 – continuations:
MORE COMIC BOOKS.
MORE COPYING OUT OF COMICS.
DISCOVERED THE LIBRARY, KIDS BOOKS, MYTHOLOGY …
[THOR WAS NOT THE MARVEL COMICS CHARACTER A THOUSAND YEARS AGO  EITHER.]
SCIENCE FICTION, NON-COMICS PAINTERS, NON-COMICS ILLUSTRATORS…. PYLE, N.C.WYETH, PARRISH, TENNIEL…
…. AND FELL IN LOVE WITH THE OZ BOOKS, AND ALICE BOOKS…. STILL ADORE…
TWILIGHT ZONE PREMIERED…..
… GOT INTERESTED IN COMMERCIAL ART TECHNIQUES TOO….
FIRST TV HORROR HOSTS APPEARED ON TV…. SOUPY SALES, ROCKY AND BULLWINKLE, AND THE AURORA MONSTER MODELS….. ALL THE NEW NON- CONFORMIST FARE… APPEARING AT LAST IN POPULAR CULTURE.
THE PAPERBACK REPRINTS OF 1950'S MAD COMICS…
[AND MAYNARD G. KREBS……… HAW!!]
(Photo below of Jim aged 10 in 1961)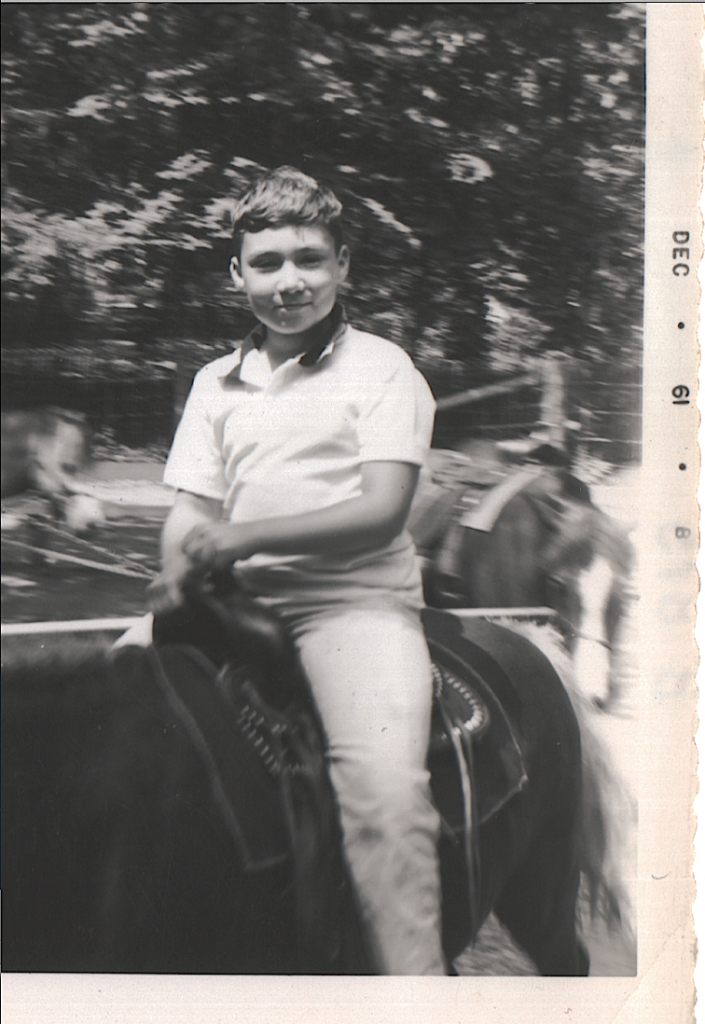 * age 15 – getting serious:
BEATLES HAD BEEN AROUND 3 YEARS, JIM WARREN HAD GIVEN US 'CREEPY' AND 'EERIE', MARVEL COMICS WAS THE COOLEST ACT IN 4 COLOR COMICS,  AND THE VERY FIRST E.C. REPRINTS HAD APPEARED IN PAPERBACK REPRINTS… YAY!!!!
OH, I KNEW WHO DAVIS , WILLIAMSON, AND WALLY WOOD WERE ALREADY… BUT HOLY CRAP, TO SEE THE OLDER ART OF  WILLIAMSON, KAMEN,  JOHNNY CRAIG, KRIGSTEIN, GRAHM INGLES…… ALARMINGLY GREAT!
WELL…. YOU KNOW THE DRILL.
STAR TREK WAS A NEW PROGRAM THEN.
SO MUCH ORIGINALITY ARTISTICALLY  AND CULTURALLY IN THOSE YEARS…. SET US UP FOR WHAT WE BECAME TODAY IN MANY WAYS…..
SATURDAY MORNING CARTOONS WERE THE BEST EVER, '66-69. PEOPLE STILL LOVE AND WATCH MANY OF THEM.
PLEASE UNDERSTAND, TOO… BEING BARRAGED WITH ALL OF THIS IN A PRE-INTERNET AGE WAS…… ASTOUNDING.
(Photo below of Jim aged 17 in 1968)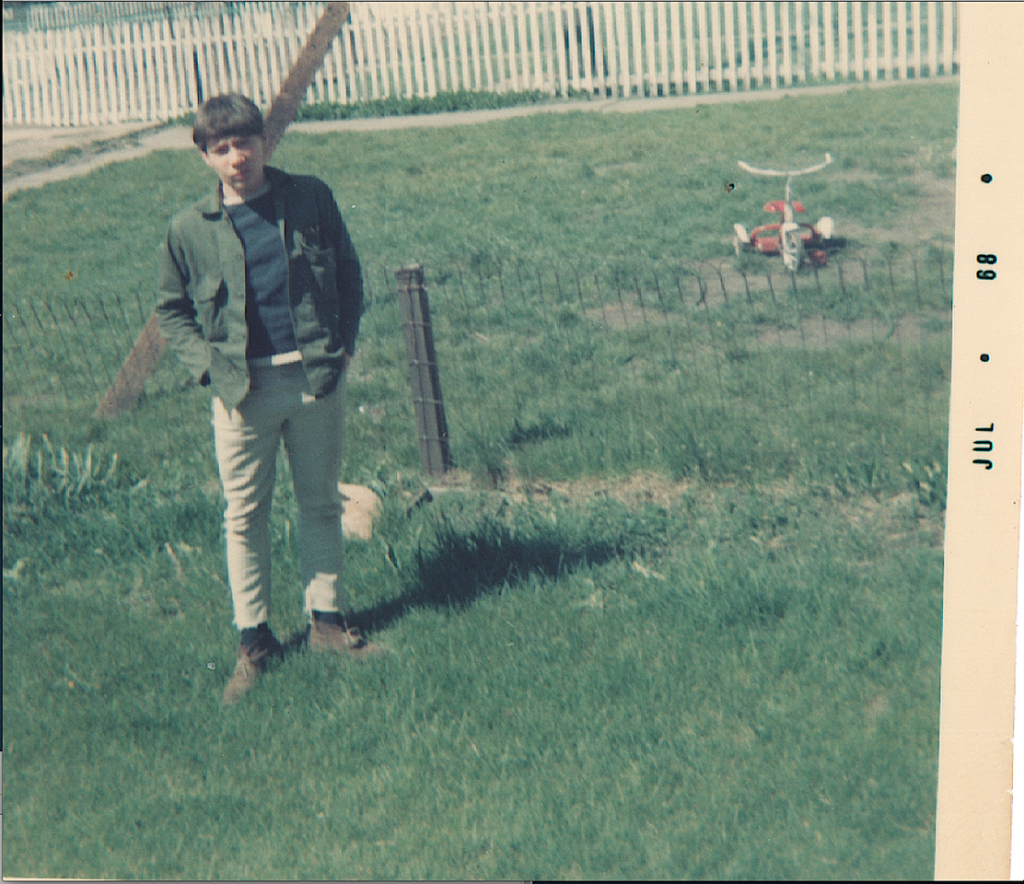 * age 20 – young adult:
OH, I WAS HEADED FOR ART SCHOOL AGAINST MY PARENTS WISHES… CHICAGO ACADEMY OF FINE ART… RANDOLPH AND MICHIGAN  AVE.
I WAS WORRIED ABOUT BEING DRAFTED, BUT EVENTUALLY I GOT A HIGH NUMBER IN THE DRAFT LOTTERY – #233 – THANK YOU PRESIDENT NIXON.
I WORKED IN THE STEEL MILLS, EVERY SUMMER TO PAY FOR SCHOOL IN THE FALL…… A LOT OF HIPPIES DID….. THAT WAS 1969-72.
I HAD TO MISS THE MOON-LANDING IN 1969..… FOR A RAY BRADBURY FAN, THAT WAS DEPRESSING.
… I WAS WORKING MIDNIGHT'S IN THE OPEN HEARTH FURNACE, UNDERGROUND  IN THE ASH TUNNELS THAT NIGHT… IT WAS LIKE 5TH CENTURY LABOR… ALL TO PAY FOR ART SCHOOL.
THE UP SIDE, WAS THAT MY ART SCHOOL CLASSMATES WERE MIKE GRELL, AND DAVID  MICHEAL BECK… AND SOME  OTHER TALENTED GUYS THAT WOUND UP AT DISNEY.
ART SCHOOL WAS A TOTAL BLAST…. I WENT FROM BEING A "D" STUDENT IN HIGH SCHOOL, TO STRAIGHT A'S.
UNDERGROUND RADIO WAS GETTING STARTED.
UNDERGROUND COMICS WERE STILL GOING STRONG – CRUMB, SPAIN, ARMSTRONG, GREEN.
MIKE GOLD [FUTURE EDITOR AT DC, AND FOUNDER OF 'FIRST COMICS'],WAS A DJ AT CHICAGO'S WOAP…
… GREAT MUSIC…..
…… DROPPED  OUT OF ART SCHOOL,  AFTER A YEAR AND A HALF THO.
…. GOT AN ART APPRENTICESHIP AT A  MICHIGAN AVE. ART STUDIO, CHICAGO IN FEB. 72.
T-H-A-T WAS AN EDUCATION.
I WAS NOW  ESSENTIALLY WORKING FOR THE TV CAST OF 'MADMEN'.
I STARTED FREELANCING NIGHTS,  IMMEDIATELY, WHILE BEING A DELIVERY BOY, MOUNT TABLE, PHOTO STAT , APPRENTICE BY DAY.
GARY GIANNI APPRENTICED IN THE SAME BUILDING A FEW YEARS LATER…… CLASSIER ART STUDIO THO!!
AND CLASSIER ARTIST!
(Photo below of Jim aged 21 in 1971)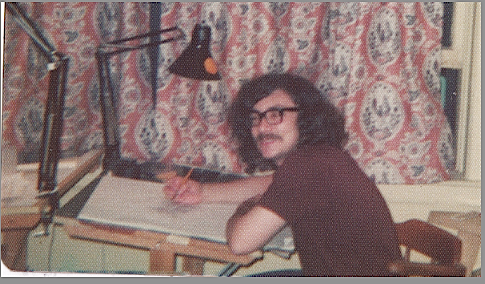 * age 25 – adult mode:
ILLUSTRATED / WROTE, A COMIC BOOK CALLED "TALES OF THE MACABRE" FOR A SHORT LIVED COMIC BOOK COMPANY……
ITS AROUND SOME WHERE…. WANNA POST SOMETIME….. NOT GREAT.
HATED WORKING IN AN ART STUDIO. YA LEARNED A LOT, BUT THEY DID EVERYTHING TO KILL ANY GENUINE CREATIVITY INHERENT IN YOU.
I THEN FREELANCED FROM MY APARTMENT, CARTOONING, '74-75……. AND SMOKING W-A-Y- TOO MUCH WEED, GOT DIVORCED.
[EH, HAD TO SELL MY MARVEL COLLECTION TO FINANCE THAT ONE]
.. BUT IN 75′ GOT A FULL TIME GIG AT A CHICAGO GREETING CARD COMPANY. I BROUGHT IN JIM ENGEL. WE ARE FRIENDS TO THIS DAY.
'MARY TYLER MOORE SHOW', AND 'RHODA' WERE THE BIG TV SHOWS THEN.
WE JUST SAT IN THE GREETING CARD COMPANY STUDIO,  ALL DAY LONG
DRAWING 10 GREETING CARDS EACH, A WEEK, LETTERED, COLORED, AND PRODUCED.
I WAS FIRED AFTER 6 MONTHS FOR BEING A SMART ASS TO MY NOT SO BRIGHT AND UNTALENTED BOSS. HE WAS BANGING HOOKERS, ON HIS 3-HOUR LONG LUNCH BREAKS, WAS SO UNTALENTED, HE COULD NEVER GET ANOTHER ART GIG, AND BECAME A RE-HABER OF SHITTY HOUSES A FEW YEARS  YEARS LATER.
WHERE ARE THEY NOW!
(Photo below of Jim aged 23 in 1974)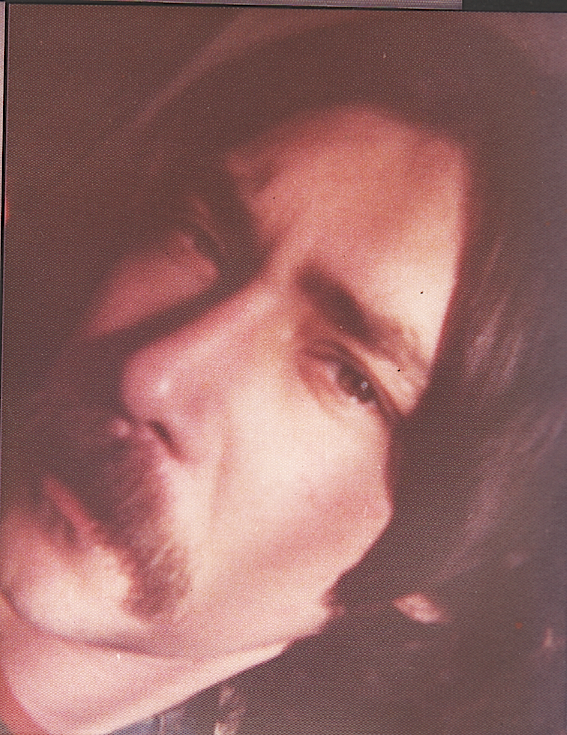 * age 30 – fully formed:
GOT ANOTHER GREETING CARD JOB, DOWN THE STREET. WHEN THEY SHOWED ME MY STUDIO FIRST DAY…. IT HAD BARS ON THE WINDOWS. THAT KINDA SPOKE VOLUMES.
THE NEW BOSS-OWNER, WAS A CONNECTED GUY FROM NEW JERSEY, WHO BRIBED COPS, EMPLOYEES, AND WAS A TAX DODGE. HE WOULD MAKE ME DO BROCHURES FOR HIS MOB BUDDIES SOMETIMES…… THEY PAID ME ROYAL THO.
I WAS NOW ART DIRECTOR, ARTIST, AND JOKE EDITOR…… GAVE MY FRIENDS ALL THE FREELANCE I COULD TOO.
BEST THING ABOUT THAT GIG WAS THAT I GOT TO DO THE 'TRIPLE X- GIRLY' GREETING CARDS.
…. OOOOH, I DID MY BEST AL CAPP DAISY MAE GIRLS-ART  ON THOSE THINGS! PANT, PANT….!!
STILL A SHITTY JOB.
BIGGEST SHOWS ON TV THEN WERE 'DUKES OF HAZZARD' , 'MASH' AND "DALLAS'.
ELVIS DIED THAT YEAR TOO. JOHN LENNON WAS SOON TO FOLLOW.
WORKING FOR THE  MOB BOSS, IS LIKE WORKING FOR A BI-POLAR MUSSOLINI.
MOOD SWINGS.
(Photo below of Jim aged 32 in 1981)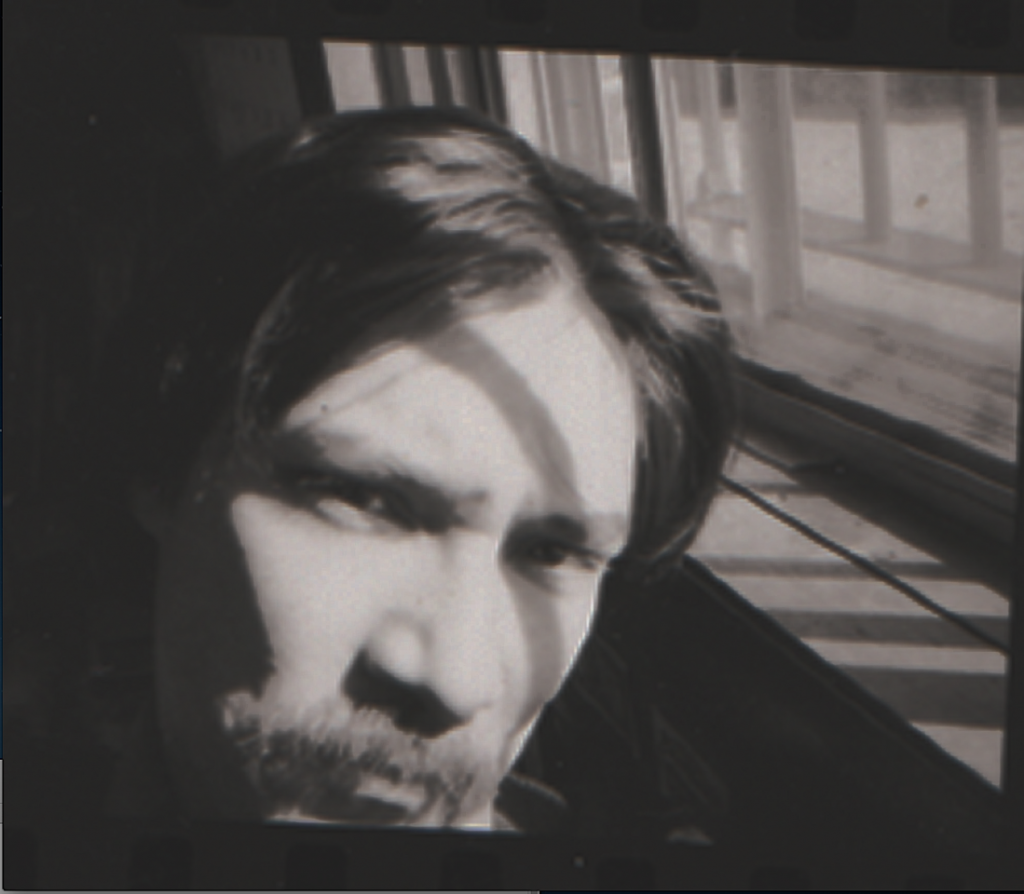 * age 35 – meanderings:
USED MY COMIC BOOK ART SKILLS TO GO FROM CARTOONIST, TO STORYBOARD ARTIST…..
GOT MY FIRST AD AGENCY GIG IN '81, AT CLINTON E. FRANK ADVERTISING…… WAS THERE FOR 4 YEARS……. MUCH MORE CREATIVE THAN AN ART STUDIO OR GREETING CARD COMPANY…. BUT ALL THOSE SKILLS WERE MORE THAN ESSENTIAL TO DOING A GOOD JOB.
'TWILIGHT ZONE COMPANION' AND 'OUTER LIMITS EPISODE BOOK' WERE NEW THEN TOO. THANK YOU JESUS!!
DIVORCE #2, WAS OVER AS WELL… VERY LIBERATING TIME OR ME.
VHS TAPES WERE KINDA NEW TOO… CLASSIC FILM-NOIRS AND 50'S SCI-FI WERE ON THE NIGHTLY MENU NOW FOR SURE.
'NIGHT COURT' AND 'MIAMI VICE' WERE THE BIG T SHOWS THEN. STAR TREK TNG, WAS SOON TO HAPPEN.
* age 40 – middle age creeping:
GREAT TIME! STARTED AT LEO BURNETT ADVERTISING/ CHICAGO …..
WORKED AT NOW COMICS, DID TWO GHOSTBUSTERS COMIC BOOKS, AT NIGHT, STORYBOARD ARTIST AT LEO B. BY DAY.
DID A REALLY BIG PRESENTATION  PORTFOLIO TO GET A GIG WITH  DISNEY ANIMATION…..
GOT ZIP. THAT'S OK… HAD A GIG ALREADY.
THAT 2-D ANIMATION DIED 8 YEARS LATER ANYWAY… HAD FUN DOING IT THO!!!
ALSO DID A LOT OF FREELANCE AD WORK TOO. MADE GREAT BUCKS TOO.
GOT MARRIED AT 39, CELEBRATED OUR 26TH ANNIVERSARY LAST YEAR.
MET A 19 YEAR OLD ALEX ROSS IN '88 TOO. HE CAME IN AS A STORYBOARD ARTIST IN ART SERVICES DEPT. HE STARTED "MARVELS" AT THAT TIME, USING MANY OF US AS MODELS… I WAS DR.HORTON, MODEL. MY STUDIO MATE, WAS THE MAIN SUPERMAN MOSEL FOR YEARS…. FRANK KASY.
ALEX GOT ME BACK INTO COMIC BOOKS AGAIN TOO…… WE RE STILL VERY GOOD FRIENDS TODAY.
I DID A TON OF SUPER REALISTIC ILLUSTRATION, DESIGN , AND CARTOONING THERE… LEFT IN '93 AFTER 10 YEARS THERE. THEY FIRED 400 OF US IN ONE FELL SWOOP!
BIG SHOWS ON TV THEN WERE 'NICK AT NIGHT NETWORK', 'CHEERS', 'LAW AND ORDER'…..
(Some art by Alex Ross that used Jim as a character reference – from 1991 + 1992)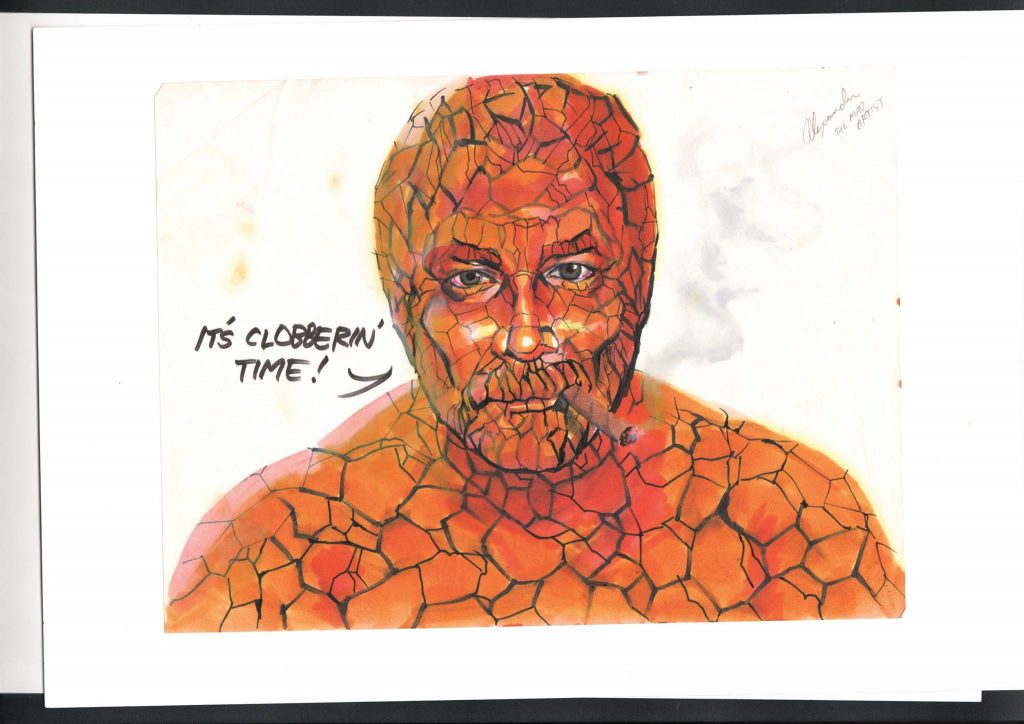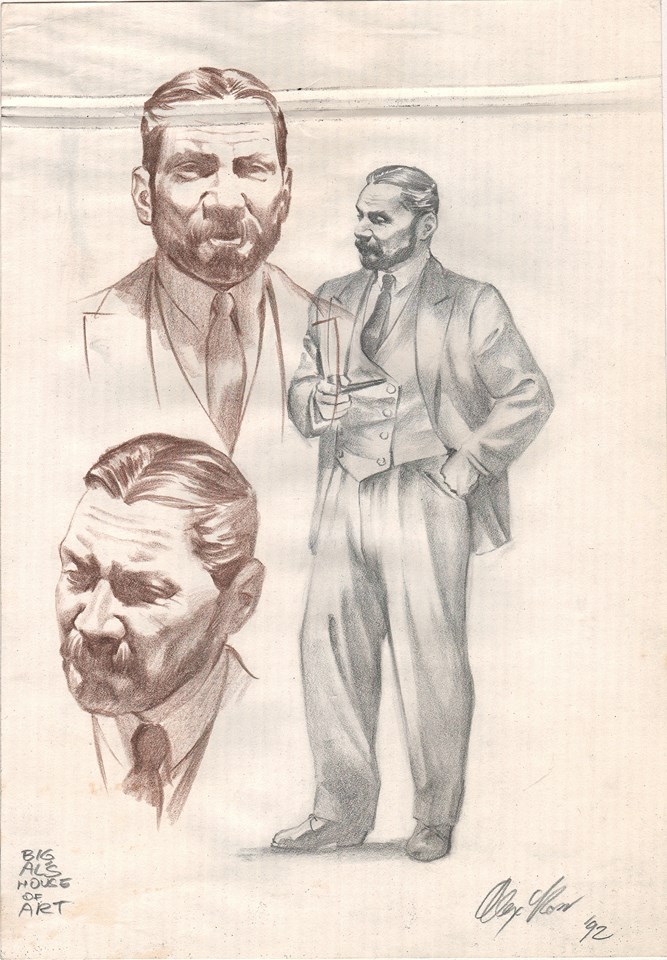 * age 45 – adult meanderings:
SADLY, ART JUST BECAME JUST "MY JOB"…… AFTER LEO BURNETT, I BECAME A STORYBOARD FREELANCER, WORKING DAYS, NIGHTS, WEEKENDS.
YEAH, IT PAID WELL, WHICH MADE THE ABUSE WELL WORTH IT BUT THE SLEEP DEPRIVATION COULD BE A BITCH. WE DID PARTY HARD THO WHEN WE CAME UP FOR AIR. HAD AN OFFICE, AND CONDO DOWNTOWN CHICAGO FOR YEARS……
BUT YA KNOW WHAT? I REALIZED I WAS DOING NO CREATIVE WORK.
TO REMEDY THAT, I DID A BUNCH OF COMICS SAMPLES, MET WITH AN EDITOR ART MARVEL, AND GOT A TEST JOB. I TURNED IN THE JOB IN 2 WEEKS, BUT HE GOT FIRED, AND I FELL THRU THE CRACKS.
SO, EH, I KEPT DOING THE STORY BOARDS, BUT ALWAYS DID SOME CREATIVE ZINE ILLUSTRATION,
SCHOOL BOOK PUBLISHING/ FOREIGN LANGUAGE BOOK  ILLOS, BUT ALWAYS KEEPING IT ALIVE FOR MYSELF SOME WAY…….
(Photo below of Jim and his wife in 1994 – Jim was 43)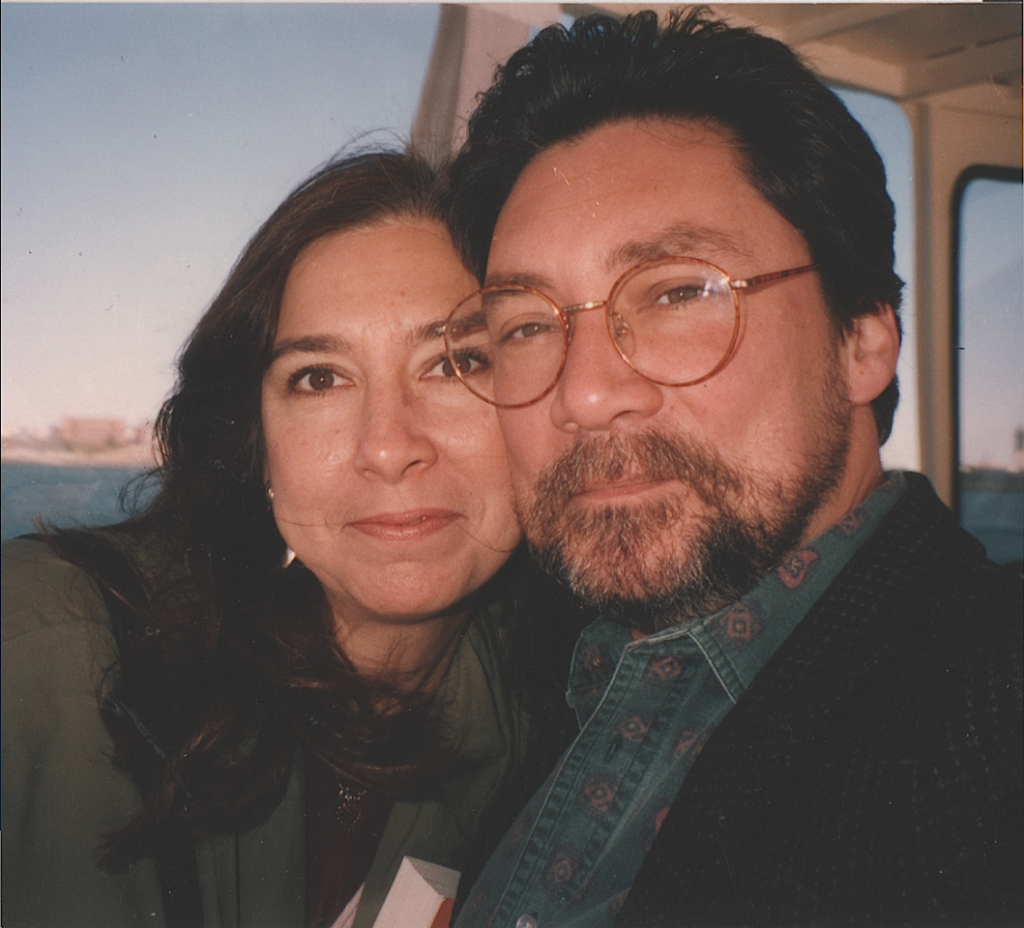 * age 50 – middle age freaking:
50-60 WAS WHEN THE STORYBOARD THING WAS STARTING TO TANK…. WHAT THE FUCK WAS I GONNA DO TO MAKE A LIVING…. EVERY YEAR WAS A LITTLE LESS, AND LESS, MONEY WISE, AND THE PEOPLE YA WORKED FOR WERE NO LONGER INDUSTRY PROFESSIONALS… IT WAS LIKE WORKING FOR INDIVIDUALS WITH AN IQ OF 50, AT 50 YEARS OLD!
WASN'T JUST ME THOUGH. TRADITIONAL ANIMATION WAS DYING – ALL BEGINNING TO BE DONE IN CHINA THEN.
LOT OF COMIC BOOK GUYS WERE NOT WORKING LIKE THEY USED TO… TRADITIONAL ILLUSTRATION IN GENERAL WAS DISAPPEARING.
SO NOW I DO CHILDREN'S ILLUSTRATION, AND AM EXPANDING ON THAT.
BEST THING THO, FOR ME, IS THAT I'VE N-E-V-E-R,  E-V-E-R , BEEN SO CAPABLE AND CREATIVE. THINGS I WANTED TO DO YEARS AGO, I NOW DO. I'M WRITING, ILLUSTRATING MY OWN STORIES FOR THE FIRST TIME, AND AM BUSY WITH LESSER PAYING WORK, BUT IT'S ENOUGH BETWEEN MY WIFE'S THING AND ME.
I AM DRUNK ON CREATIVE HAPPINESS, AND PRODUCING ART.
I'M 66, AND JUST GETTING STARTED ALL OVER AGAIN. I MEAN HOW COOL IS THAT?
SOMEBODY SAID RECENTLY: "WHEN YOU'RE ON YOUR DEATHBED , YOUR LAST WISH IS NOT GONNA BE – 'OH, I COULD HAVE MADE MORE MONEY!'
NO, YOUR LAST WISH IS PROBABLY THAT YOU SHOULD HAVE DONE MORE CREATIVE STUFF."
RIDDLE ME THAT BATMAN!
* age 60 – adult continuations:
THE CHICAGO COMIC BOOK GUYS LUNCHES THAT WE HAVE ARE JUST AMAZING.
I'VE POSTED PHOTOS OF SOME OF THEM ON FB… THE MOST TALENTED, ACCOMPLISHED GUYS I'LL EVER MEET IN MY LIFE… AND FAMOUS FOR THE MOST PART.
AND THE WORLD WAR 2 ARTISTS THAT I MET AS A YOUNGER UP AND COMING ARTIST…. HOLY CROW, THEY WORKED FOR HADDON SUNDBLUM, MAJOR MAGAZINES OF THE 40'S AND 50'S…. AND THE STORIES THAT THEY HAD TO TELL OF THOSE TIMES…INCREDIBLE.
(A recent photo of Jim below)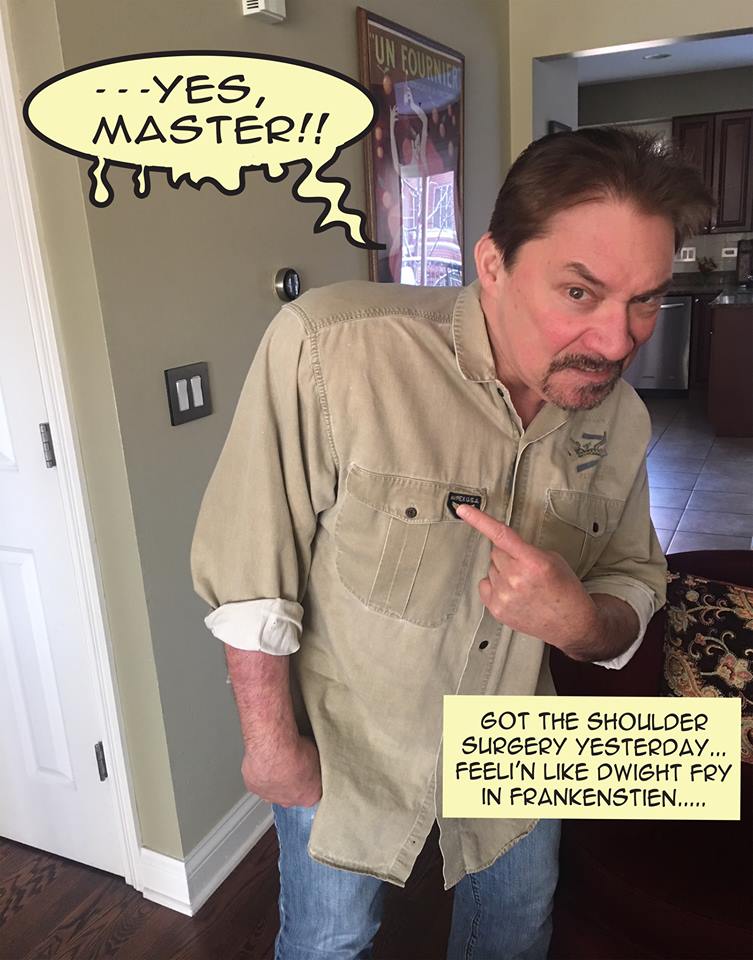 Personal motto?
I ALWAYS TELL YOUNG ARTISTS: "THE MORE YOU KNOW, THE MORE YOU CAN DO; THE MORE YOU CAN DO, THE HAPPIER YOU'LL BE."
Art Questions
When and why did you first start making art of any type!?
ALWAYS. ALWAYS.
I STILL USE THE SAME #2 OFFICE PENCIL THAT I USED AS A TOT, IN MY MOTHERS ACCOUNTING FIRM, DRAWING ON ROLLS OF ADDING MACHINE TAPE…….
Any pivotal artistic moment(s) / influence(s)?
JACK KIRBY. STEVE DITKO. WALLY WOOD. WILL EISNER.
Do you consider what you are making to be art, 'design, re-hashed crap?
A 100 DOLLAR JOB GETS THE SAME LAVISH TREATMENT AS A 100,000,000 DOLLAR JOB.
IT IS ALL ABOUT DOING GOOD WORK AND A MATTER OF CONSCIENCE.
I'VE KNOWN GUYS THAT JUST CARED ABOUT THE MONEY…..AND IT SHOWS IN THEIR WORK. AND THEN NOBODY A CALLS THEM AGAIN.
(Some cheesecake style art by Jim below)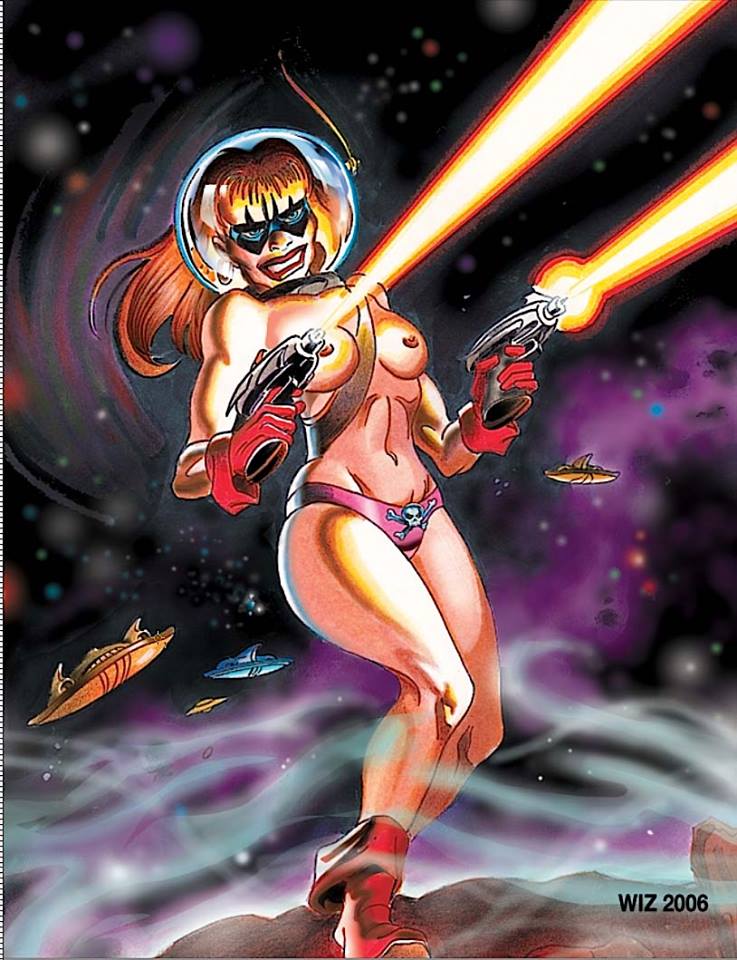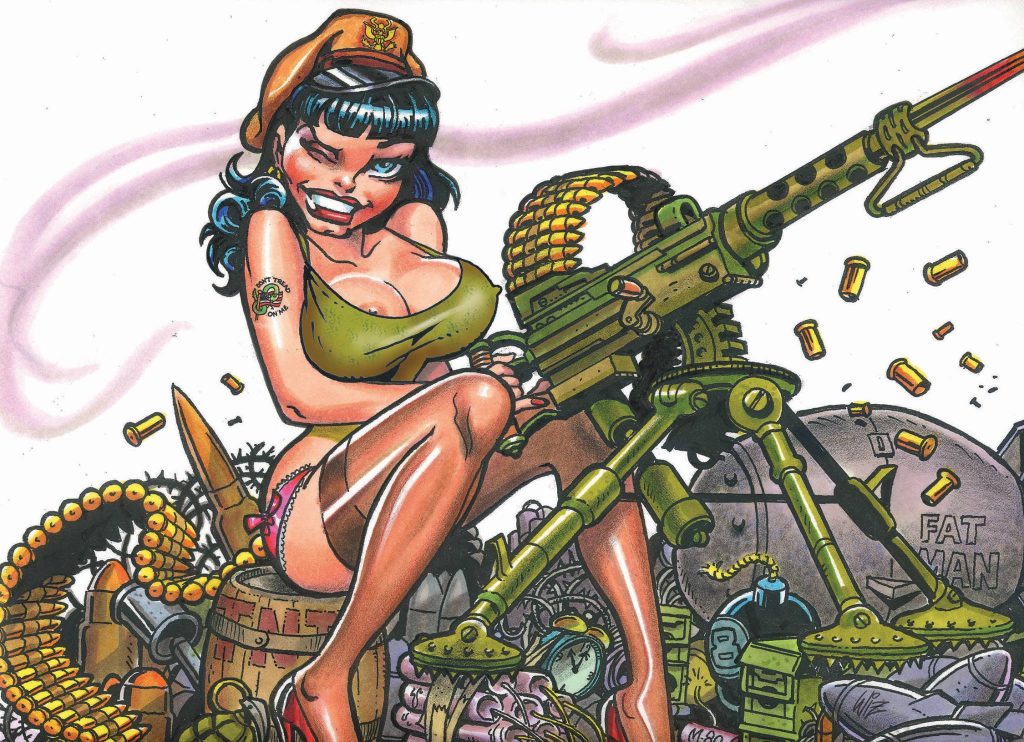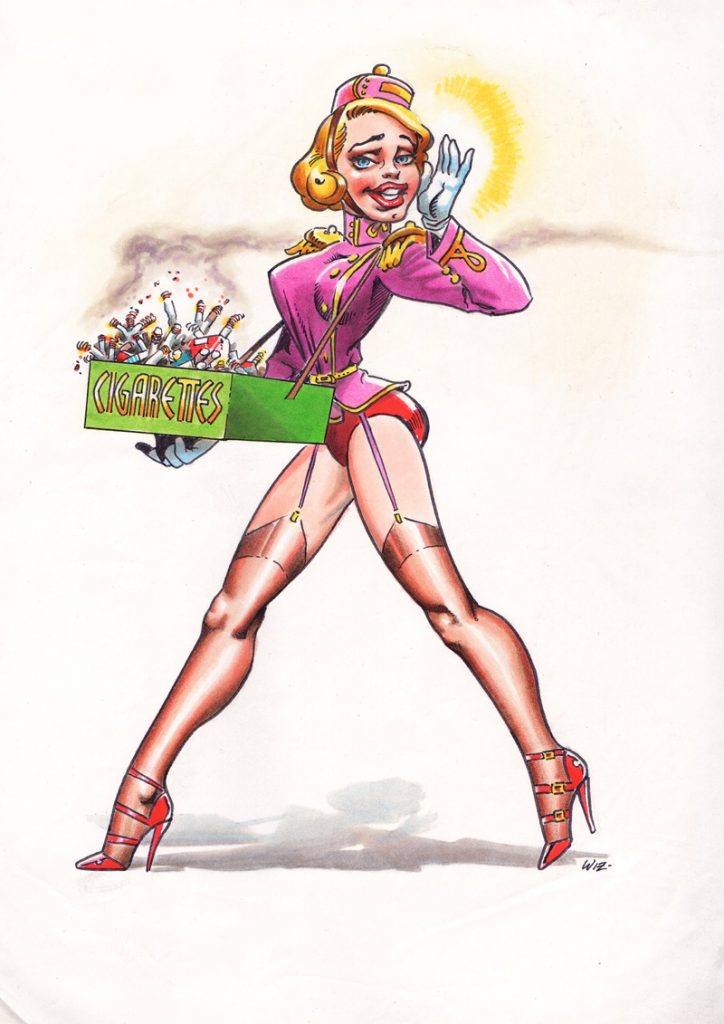 Worst aspect of the contemporary art hustle?
AVERAGE PERSON CAN'T TELL GOOD FROM BAD UNLESS SOMEBODY TELLS THEM WHAT TO LIKE, OR THERE'S A FAMOUS NAME ATTACHED.
Best aspect of the contemporary art hustle?
MY OLD DAD USED TO SAY "PEOPLE DON'T KNOW SHIT FROM SHINOLA!"
I SAY DON'T BE AFRAID TO SHOUT "THE EMPEROR HAS NO CLOTHES!" …CAUSE, THAT'S THE ERA WE LIVE IN ARTISTICALLY TODAY……
Favorite other artist(s)?
WELL, I'M PREJUDICED… MY FRIENDS ARE MY FAVORITE ARTISTS… ALEX ROSS, JIM ENGEL, CRAIG YOE, MIKE GRELL…. AND OTHER CHICAGO ARTISTS OF MY ACQUAINTANCE…
"WHAT? ME FINISH THIS LIST??"
(Some art by Jim below)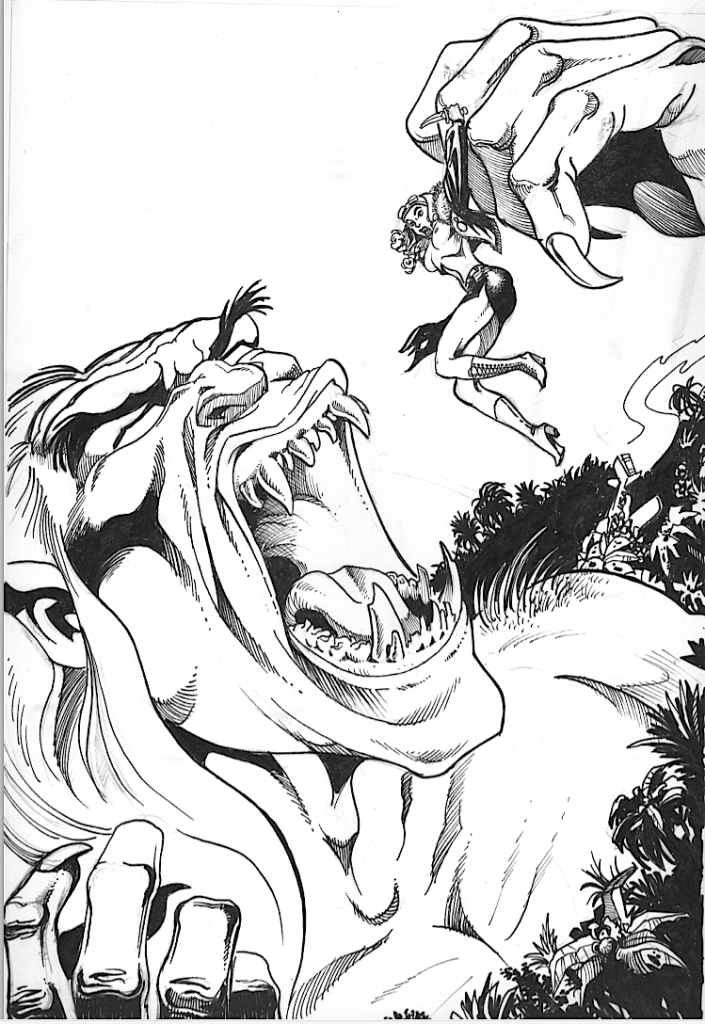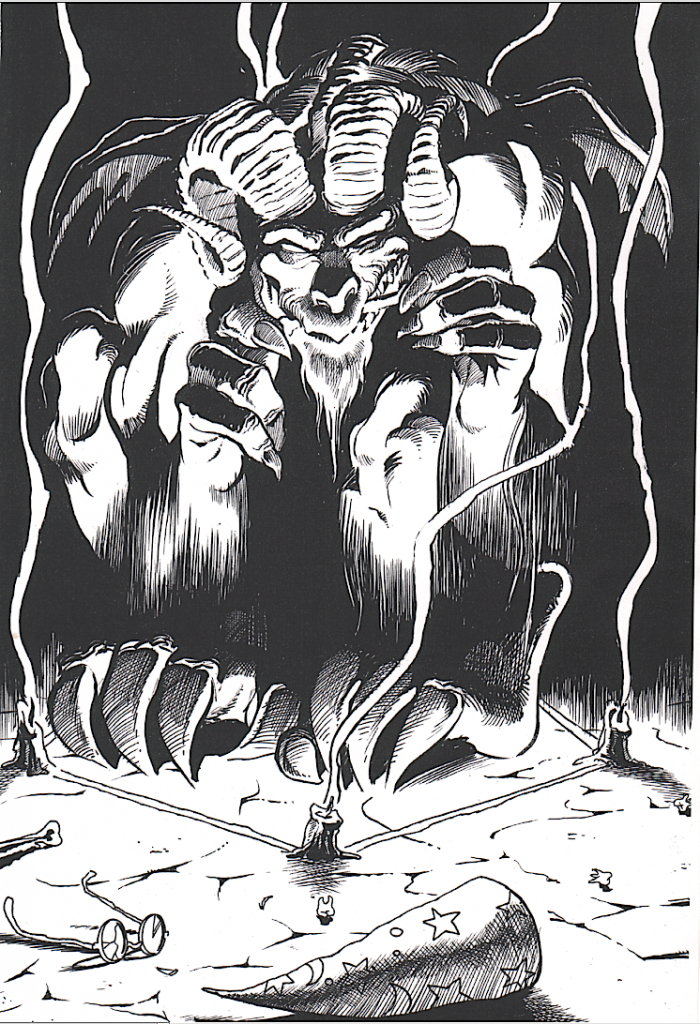 Describe the process of producing your art? – Dot point all o.k!
YA KNOW, I'M A NON-BELIEVER… BUT DOING THE ART IS TOTALLY SPIRITUAL AND TAKES ALL YOUR ENERGY.
– your drawings and sketches?
WHAT ABOUT THEM? ALL THE SAME BRO.
– your digital art?
WELL, MY ART STARTS ON PAPER, GETS NAILED DOWN TO NO MORE WIGGLE ROOM, AND THEN GET THE DIGITAL PHOTOSHOP/ ILLUSTRATOR FINISH…
I ALWAYS KEEP THE ORIGINAL DRAWINGS THO. THAT'S THE REAL ART, NO MATTER HOW MUCH YOU POLISH THE TURD.
If people wanted to collaborate, work with you or just buy some art – how should they get in touch?
MY WEBSITE HAS THAT INFO: JIMWIZARTS.COM OR FACEBOOK.
Odds n Ends
Please describe what you think the American Psyche/Zeitgeist is today?
NOT MUCH. CABLE TV AND S-O-M-E  COMICS ARE THE ONLY SOURCE OF CREATIVE ORIGINALITY ANYMORE. MOVIES PRETTY MUCH BLOW…..FORMULAIC.
PERPETUATION OF A BRAND IS EVERYWHERE… AND WHAT PASSES AS "MUSIC" AND "ART" MOSTLY……IS A TRAGEDY.
WE ASPIRE TO NO MORE THAN BEING HAPPY CONSUMERS, IN A WORLD OF ELECTRONIC DISTRACTIONS, AND HAVE FORGOTTEN HOW TO ACTUALLY TALK TO EACH OTHER DIRECTLY, ONLY TEXTS , TWEETS, AND EMOJIS.
REAL POWER TODAY IS TAKING THE  THE MORAL HIGH ROAD
SHAMING DOWN YOUR POLITICALLY INCORRECT FOES,
WHERE FORMERLY, WE USED TO AGREE TO DISAGREE.
AND WHEN'S THE LAST TIME YOU HEARD A PROTEST SONG?
NOT ON 'AMERICA'S GOT TALENT' OR 'THE KARDASHIANS' FOR SURE.
HOWEVER, THE USA, ,THE  WORLD, IS A PATCHWORK OF PARALLEL CULTURAL
UNIVERSES……AND WE CHOOSE THE ONE WE WANT TO DWELL IN.
NO JUDGMENTS.
IT IS WHAT IT IS.
Who was your 1st crush and why?
TWO IDENTICAL GIRLS,  TWINS, THAT WORE PINK CHIFFON NECK SCARVES WITH BLACK TOREADOR PANTS, IN 1958… THAT WENT TO MY GRADE SCHOOL…. THEY STOLE MY 5 YEAR OLD HEART!
THE CAMERA WOULD HAVE LOVED THOSE TWO CHARACTERS  EVEN TODAY!
(Some text art by Jim below)


Does sex change everything?
FOR ABOUT FIVE MINUTES.
ASK ANY DIVORCE LAWYER.
Which cartoon character would you most like to see in a tribute sex toy, and why?
NO CARTOON CHARACTER DESERVES THAT FATE.
FREDRICK WERTHAM DOES THO.
THE MINDS EYE WILL SUFFICE IN LIEU OF A DRAWING…….
Who would win in a fight and why: The Lost in Space Robot Vs. The Medusa aka Medusalith Amaquelin-Boltagon (from Marvel Comics)?
(Art below by Jim of the brutal battle!)
Please describe your latest dream in detail…
I DREAMT THAT I WAS TALKING WITH ROD SERLING ABOUT WRITING,AND HE THOUGHT I WAS A REALLY GOOD CARTOONIST….
SEQUEL!! SEQUEL!!
Of everything you have done what would you most like to be remembered for and why?
THAT I WAS ONE FUNNY GUY.
Drugs – waste of time or gateway to the universe?
THERE ARE DRUGS, AND THERE ARE DRUGS.
NOT FOR ME.
What role did toys play in your childhood?
I THINK THE ONES THAT GOT YOU THINKING/ ROLE PLAYING, WERE THE BEST. I STILL HAVE A BUNCH OF ROBOTS/ VINTAGE ADVERTISING CHARACTERS…
MOST ARTISTS DO I GUESS….
What are the top 3 items you own?
GOOD QUESTION.
….OR WHAT 3 ITEMS WOULD I GRAB TO SAVE IF THE HOUSE WAS BURNING DOWN…….
MY JACK DAVIS E.C. HORROR ORIGINAL PAGE.

MY PORTFOLIO OF MY FRIENDS ORIGINAL ART.

MY ORIGINAL ART.
EVERYTHING ELSE CAN BE REPLACED.
The Future
Any collaborations on the horizon?
NOPE. AND I DON'T KNOW OF ANY WORKING PROS [IN MY SHALLOW UNIVERSE ANYWAY] THAT DO THAT EITHER.
BE A GOOD FUN IDEA THO!!
Any major projects you want to hype?
UHHMM…. I HAVE THREE STORIES I WROTE, I'M DYING TO FINISH, B&W, TIME ALLOWING… GOING TO PUBLISH IT AS A "CREEPY" STYLE COMIC BOOK…..
SAME OLD STORY THO, IN THAT I ALWAYS HAVE A PAYING JOB, THAT GETS PRIORITY OVER WHAT I REALLY WOULD RATHER BE WORKING ON……
FACE BOOK IS GREAT FOR THROWING SOME KIND OF MY ART THO……
SO THERE IS ALWAYS THAT!
(Some art by Jim below)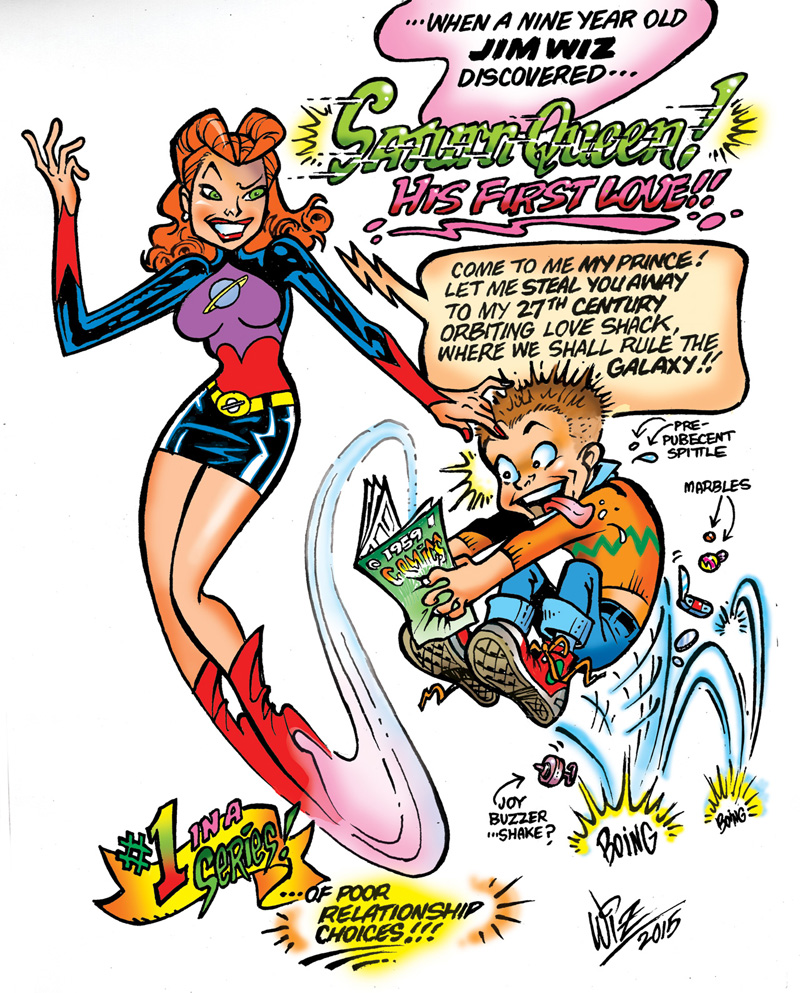 Links