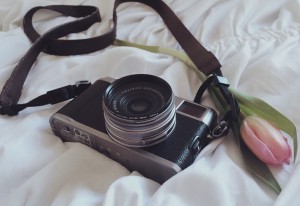 Insuh Yoon is a Korean born, New York based artist and photographer. Working primarily with the female nude, Insuh's work is evocative of the New York photography greats such as Larry Clark, Nan Goldin, Cindy Sherman, Ryan McGinly et al. Work that is erotic, personal, underground, provocative, filled with multiple themes, beautiful lightning and engaging composition.
Insuh is also an admirer and frequent collaborator with his fellow artists, models and friends – creating works that bounce off of each other in an almost endless feedback loop: photo to painting to photo to painting and on. To this end Insuh has collaborated with Bunny Lee, Frenchinald, Kelvis, Unfinished Lines, Sarah B. Whalen and many others – creating a multiplicity of artworks of various genre.
(Photo by Insuh, below)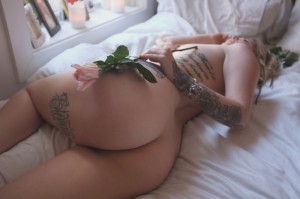 With Insuh's art finding more and more admirers and with his debut solo show 'Flowerland' just behind him now is the perfect time to get to know the man and his art, by reading the Art Talk, below…
Basics/Getting to Know
Name + D.O.B?
Insuh Yoon / 12/31
City, State n Country you currently call home?
Queens, NY.
City, State n Country your from?
Seoul, South Korea.
(Photos by Insuh, below)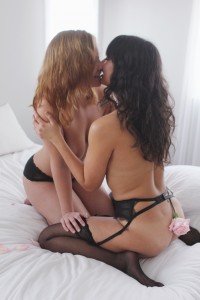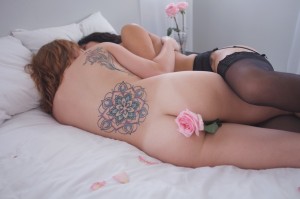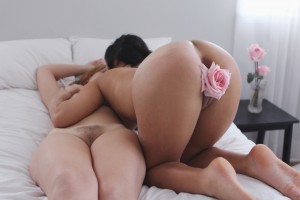 Describe a memory from some stages of yr life ….basically trying to piece together your pivotal moments. Concerts, art, action-figures, romance, school, crime… ANYTHING!
* age 5 – beginnings:
Flying from Korea to New York with my mom.
* age 10 – continuations:
I remember people making fun of my name.
My name is something I grew to embrace but at the time I remember being made fun of for being a foreigner.
* age 15 – getting serious:
Trying to find myself.  Not knowing what I was doing. Very lost.
Listening to lots of music and reading lots of books.
Watching movies constantly.
Being very alone.
* age 20 – young adult:
Just starting with photography. Creating non stop.
Exploring the city by myself, taking hundreds of pictures a day.
* age 25 – adult mode:
Working a day job.Being miserable.
Finding time to create my own work to make up for the void.
* age 30 – fully formed:
I don't think I'm fully formed yet at all.  I'm still learning.
(Photos by Insuh, below)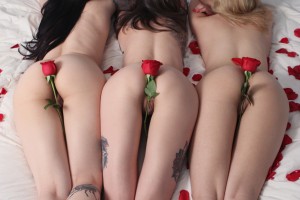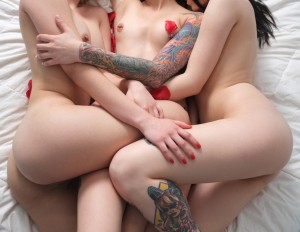 Personal motto?
"Don't let yourself get attached to anything you are not willing to walk out on in 30 seconds flat if you feel the heat around the corner."
Favorite band(s)?
Nine Inch Nails or Radiohead.
Both incredibly versatile bands with impossibly deep catalogs.  I can listen to either one all day and discover new beauty.
Favorite TV show(s)?
The Sopranos and Game of Thrones.
However, I don't really watch TV at all.
Favorite sport(s) + teams?
I don't really watch team sports.
I am a huge fan of MMA though.  My favorite fighters are Conor MacGregor, Nick Diaz, Alistair Overeem.  Back in the day it was Fedor and CroCop.
I think the courage it requires to fight for a living is borderline insane and I admire those that do it on the elite level because they have supreme confidence in themselves in combat.  People usually run away from a fight.  MMA fighters live to fight.  I love it.
I also love watching skateboarding videos for similar reasons.  Not many people know that I love skateboarding.
(Pictures below of an Insuh x Bunny Lee x Kelvis collab)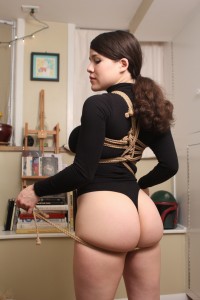 Favorite movie(s)?
Sympathy for Mr. Vengeance and OldBoy by Park Chan Wook.
These films absolutely tore me apart.  They made me interested in the craft of film and therefore started my photography.
Favorite books and comics?
Always loved the work of Bret Easton Ellis. And Murakami.
I also really loved Frank Miller's Sin City series. It was very visually inspiring for me.
Fight Club and Virgin Suicides are also some of my favorites.
Art Questions
Favorite other artist(s)?
As far as photographers go, Gregory Crewdson, Richard Kern, Ryan McGinley, Cindy Sherman.
Painters, Monet, Van Gogh, Rembrandt, Courbet.
Filmmakers, Tarantino, Scorsese.
Worst aspect of the contemporary art-hustle?
Money.
We all struggle for it.
Best aspect of the contemporary art-hustle?
The art itself.
Watching people come up making art they believe in is a beautiful thing.
(One of Insuh's text photo series, below)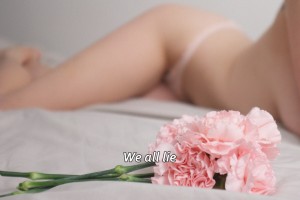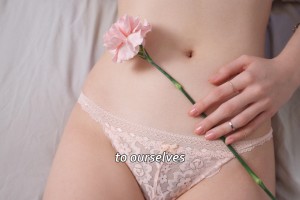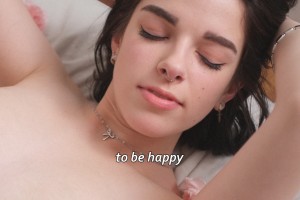 What role do you think Instagram has played in the current global art scene and why?
Instagram is the number one social media platform out there.
So many people use it and go on the explore page to see new things.  This opens up your audience so much, pretty much to the whole world.
I think Instagram is a key component to the spread of art and connecting artists to the audience in a very direct way.  However the censorship bothers me.
Some people don't know that I'm primarily a nude photographer.  If my work was posted uncensored the censorship police would shut down my page (which has happened 4x)
Do you consider what you are making to be 'art', 'design', re-hashed crap?
I consider it art.
Any pivotal artistic moment/influence?
Film school was very important for me.  It was when I first started taking pictures and making short films.  I was visually very hungry and still learning.  I watched probably a thousand movies and visited every gallery I could in a year at some point.
(Pictures below of an Insuh x Sarah B. Whalen collab series)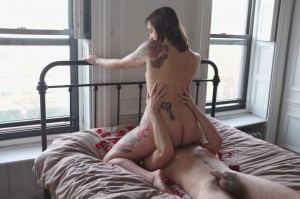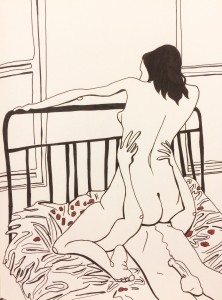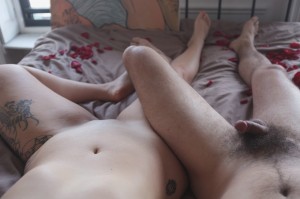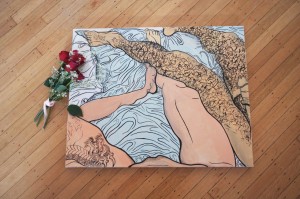 When and why did you first start making 'art' (drawings, paintings, photos, anything)?
The first time I made any kind of art was film school, a year after I graduated high school.
My family is not a family of artists.  It's something I gravitated towards organically on my own.  I felt a burning desire to express myself and capture what I felt was beautiful.  Still do to this day.
What did you draw and make…
* as a child?
Nothing
* as a teenager?
Nothing, until I was 19 and then I took thousands of pictures.
Why + when did you decide to go in on the art hustle?
I was working real estate in NYC last summer/fall of 2015 and I was extremely unhappy.
After my first solo show was offered to me in December at Superchief Gallery I realized that I could do this fulltime.  After the show happened opportunities came flooding in.  It made me realize that my art can carry me and that I can't ever work a "normal" job.
My art has to be my job otherwise I would suffer and be miserable.
Life is too short to be miserable.
Please describe the process of producing your photos, from finding the location, to arranging the setting, posing the model, snapping and everything else..
It's quite simple.  A model messages me or I message them, we set up a time and we shoot.
I almost always shoot at the model's home.  This is where they are most comfortable and themselves.  It's their home turf not mine.  This allows me capture my models in their element.
I usually have a clear vision in my head of how I want to photos to look and go through a shot list until I get all or at least most of them.
I honestly don't think I do anything special with my shoots.  I show up, I photograph, and leave.
What is your standard camera set-up?
Canon 60D with 24-70L lens.
Fujifilm X100.
Iphone 6S.
Thoughts on the multiple issues surrounding nude photography…
* consent?
Is everything.
Ask before you do anything.  Ask what they're comfortable with showing.  Ask if they'd like to keep their panties on.  Ask if they're feeling okay.  Keep asking questions and really listen.  I think nude models are so incredibly brave for what they do.
As a photographer it's my job to make them feel at ease and never step over the line of consent ever.  Before, during, or after a shoot.
* the image being seen out of context?
Everybody will see the image differently.  It's not my responsibility to consider the context of everybody viewing the work… I capture my subjects as I see fit in order to glorify their beauty and to satisfy my creativity.
I rarely consider the viewers.
Highlight(s) of your 2015 show 'Flowerland' held at Superchief Gallery in NY?
My girlfriend at the time buying me flowers
All my coworkers and friends from the past coming to support me
Nearly a dozen models I worked with celebrating with me
Meeting the fans of my work
(Photos below from Insuh's 'Flowerland' solo show)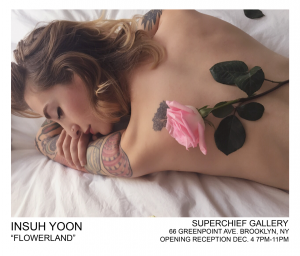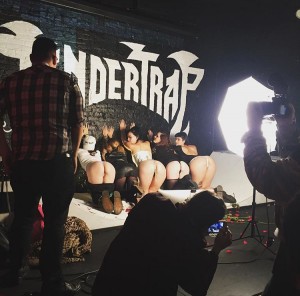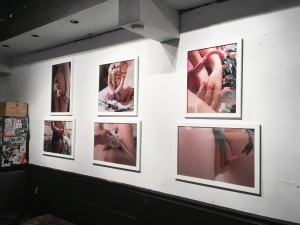 How do you find your models?
Social media, Instagram, tumblr, twitter.
Some email me.
What qualities do you look for in a model?
Beauty
What have you learned from all the women you spend time photographing?
We all have stories to tell and tragedies we've lived through.
You have hinted about your involvement with 'Unfinished Lines'… care to elaborate for those at home?
He's drawn my work for some time.  I really enjoy his work.  His lines work well with the simplicity inherent in my photos.
I met him and his wife recently and he's an incredibly funny and insightful person.
We collaborate all the time because it's fun for us.
(Pictures below of some Insuh photos and their reinterpretation by 'Unfinished Lines')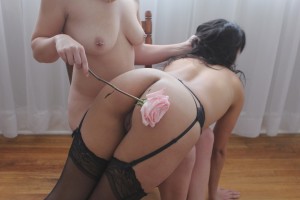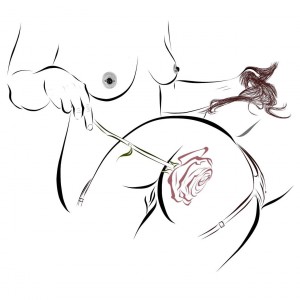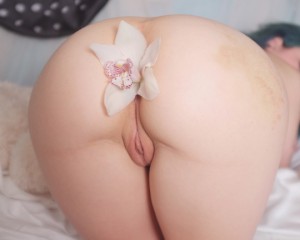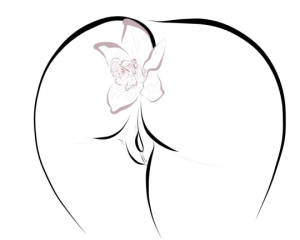 Odds n Ends
What role did toys play in your childhood?
I remember I owned a lot of Ninja Turtles stuff.
I also remember giving away a lot of my toys because I wanted to make my friends happy.
Who was your 1st crush and why?
Her name was Margaryta and I knew her in high school.
I remember writing her a love letter to give her on the very last day of school but I never gave it to her.
Years later I found her on Facebook and told her my feelings about my younger self.  We had a shoot together several years later.  Recently she came to my solo show with prints from our shoot and I signed them for her.
(Photos by Insuh, below)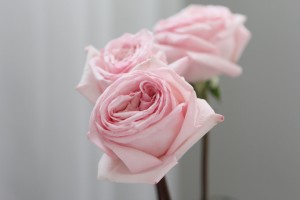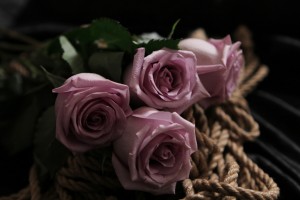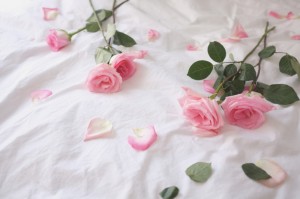 Does sex change everything?
Sometimes
Have you ever tried psychedelics of any sort? And what was the experience like?
Never have.
My mind is quite busy all the time and I don't think I can handle them.  I believe it was Dali that said "I don't do drugs.  I am drugs".
However I am interested in doing an ayahuasca retreat at some point.
Of everything you have done what would you most like to be remembered for and why?
The art that I'm making right at this moment.
And for the man I am.
Drugs – waste of time or gateway to the universe?
Depends on the person.
(Photos by Insuh, below)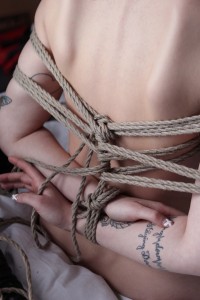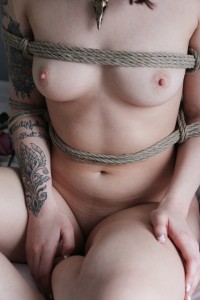 Please describe what you think the New York Psyche/Zeitgeist is today?
People in New York are always so worried about paying the bills.
The rent is ridiculously high and the cost of living is also quite high.  That being said I still believe that New York is the greatest place to live and that's why people struggle so hard to stay here.
Most New Yorkers I know love it but they also hate it sometimes.
Who would win in a fight and why: a soccer hooligan on his way home from the pub Vs. A lone art punk on her way home from the latest show?
If possible it would be great if they didn't fight at all and just talked it out.
Please describe your experiences growing up in Korea?
I remember snippets such as the time I stole a toy from the local toy store and my mother taught me never to steal again.
I remember "running" away from home when I was about 4, staying at my friend's house and my mom crying when I came back home.  Falling down the stairs while riding a bike and cracking my head open.  Getting stitched up and not crying or moving.
People that knew me as a kid way back then said I was a very kind, quiet, stoic little kid.  Almost like a little man.  I grew so much in such a little amount of time.
I remember maturing a lot in those 5 years as a kid in Korea.
The Future
Any collaborations on the horizon?
Many.
But would rather keep them secret.
Any major projects you want to hype?
I have a show coming up with my friend Reginald Pean aka Frenchinald.  I've nearly completed my series (Flowers 2) to be exhibited at this show.  It will take place on April 29th at Superchief Brooklyn (Tender Trap) and April 30th at Superchief SoHo.
I'm very excited to be exhibiting this new body of work and to have it alongside Reg's work.  He is one of my favorite people.
(Photo below by Inush of a Frenchinald tattoo)
Links