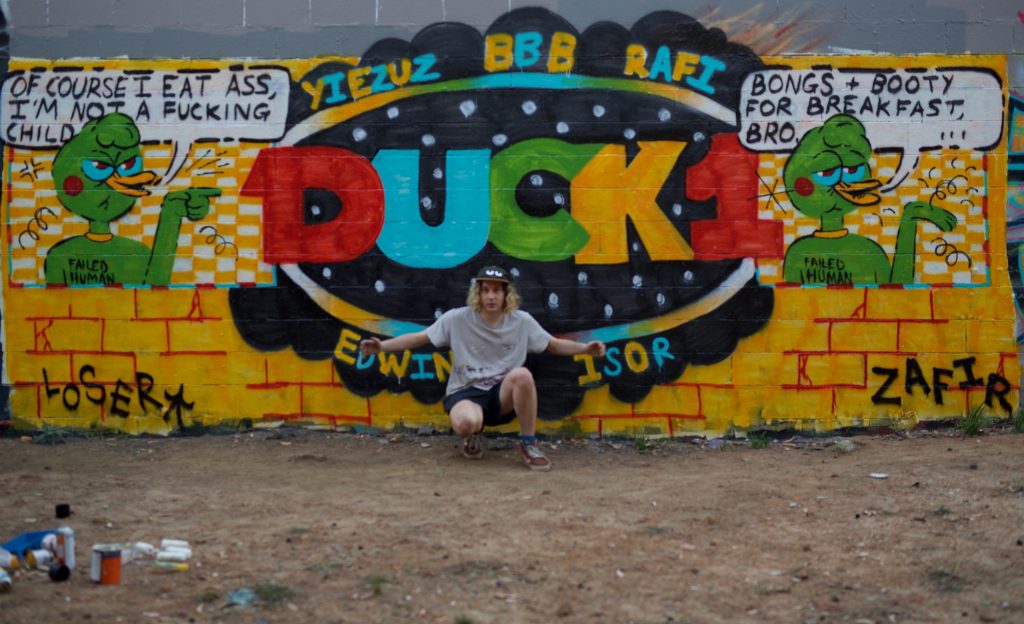 Elliot is an Australian artist, designer, director, animator, curator, vandal and head of the world famous 'Loser Unit' crew.
We at Art Whore feel that not only is Elliot himself making some of the most important art in Australia right now, his work as a scene builder with his 'Loser Unit' crew elevates him to pure Art-Mensch status. The man can do it all himself, and pushes others to do the same.
In summery – Elliot is a veritable Sad Boy Andy Warhol for these internet-everywhere-and-everything times.
Beginning as a zine in Perth, Western Australia – 'Loser Unit' quickly became an artistic force. A multi member crew producing art shows, murals, videos and more. All done under the watchful eye of Elliot himself. As Elliot has grown, so too has 'Loser Unit' and the artists within it.
Symbiotic style.
(Photo below of a 'Loser Unit' crew tattoo)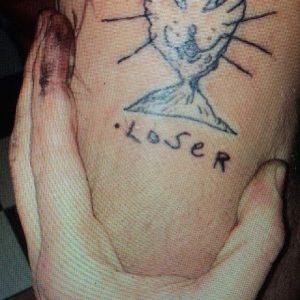 And what about Elliot himself? Well having recently moved from his hometown of Perth, to the larger city of Melbourne (in Victoria) we thought it now would be a good time to pick his brain about it all… art, life, graffiti, computer games, memes and much more.
So without further ado, get to know Elliot and 'Loser Unit' by reading his Art Talk interview below…
Basics/Getting to Know
Name + D.O.B?
Elliot.
City, State n Country you currently call home?
Between Melb + Perth, Australia.
City, State n Country you're from?
Perth, WA, Australia.
(Photos below of some art by Elliot)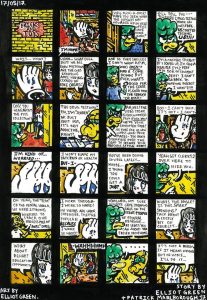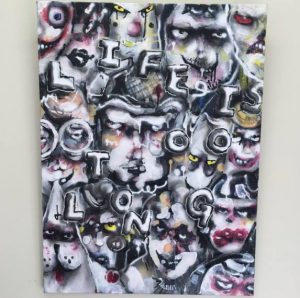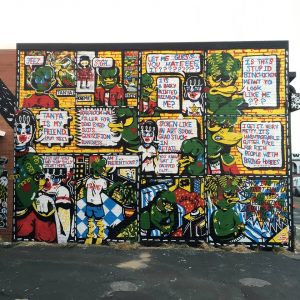 Describe a memory from some stages of your life ….basically trying to piece together pivotal moments. Concerts, art, action-figures, romance, school, politics, crime… ANYTHING really!
* age 5 – beginnings:
I have evidence of my existence but I don't remember anything!
I was big into playstation?
* age 10 – continuations:
Similar to the above answer really.
* age 15 – getting serious:
Edgy white boy who thought he was different from everyone else.
* age 20 – young adult:
Sad white boy who thought he was different from everyone else.
* age 25 – adult mode:
Sad boy.
* age 30 – fully formed:
Nearly there, not yet.
Personal motto?
I'd say generally a good attitude towards a lot of things is to observe before jumping in the deep end – not to be confused with being hesitant.
You can be smart about being productive.
Art + Graffiti Questions
Favorite artists/writers and why?
At the moment I think Edwin/Redwine is doing good work.
He is from Perth, now in the UK, and everytime he does a work it becomes a big conversation piece. Imagine if Banksy's "social commentary" actually was social commentary and it wasn't designed to belittle its audience. Edwin's work conjures up the same buzz and discussion without the hypocrisy and capitalist-anti-capitalist charade. His work is genuine and clever, but it can be lighthearted too.
Everytime he comes back to Perth, his work has made the news in some way, and he rarely makes an effort to claim it, which is humbling.
From an aesthetic standpoint, I made a huge fan of fatimadejuan, who writes Xena.
Her work is so cool, and I'm trilled to have had her in a loser unit show.
Worst aspect of the art hustle?
Everything that isn't making art!
It can become a horrible venture and very draining as an industry.
The reality is rarely as nice as the dream, you either have to sell out to some degree or work in the organization/management side of things.
I've taken a step back from selling myself as an artist, I don't like the idea of getting stuck into one 'style' as a marketing strategy, which seems counter productive and going against creative instincts to develop your work and expand your skill set.
At this point my art is for myself, and I don't make any attempts to promote it. I'd rather focus my professional efforts into music videos and animation.
Best aspect of the art hustle?
Eventually you will meet like-minded people.
Producing art can be very satisfying. I love going to paint a wall, I don't know why, but it brings me a lot of happiness.
When and why did you first start making art?
My drive has always been to do something different, and help influence trends as opposed to following them. I'm sure a lot of people say that, but it can actually be quite alienating and confronting to be passionate about the art scene.
I've been making things since forever, but the first time I decided I wanted to get involved in art was from frustration. I wanted to see things that didn't exist around me.
Moving cities and using the internet made it easier to find things I was interested in.
(Photos below of some art by Elliot)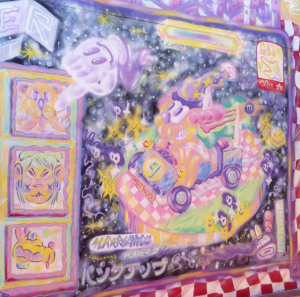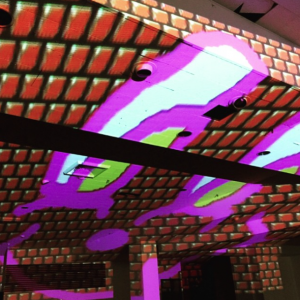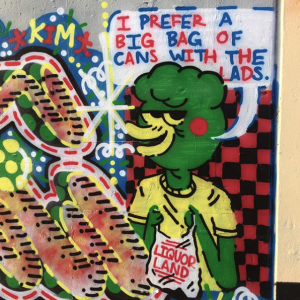 Any pivotal artistic moment/influence?
Antistyle is peak popularity at the moment, but it remains as radical as it was 5 years ago.
Australia has it's own interpretation of what is valuable work, and post-graffiti is still very rare.
What are your thoughts on the general Australian graff scene today?
Besides a lot of masculinity and the attitudes that come with that culture, all graffiti is important, so I support all young kids engaging these cultures.
Melbourne is amazing, there are so many good writers.
Do you consider what you are making to be art, design, vandalism, re-hashed-crap…?
I think a lot of my work could be all of these things. I always try to have fun with whatever medium I use.
Recently I've been painting the letter B as many times in a row as I can, sometimes morphing around objects in the physical landscape. That probably doesn't mean much to the casual observer, but it certainly catches people's attention and imaginations as to what it means and why it exists.
That being said, I recently got done, so I might have a break for a while.
Describe the method and materials used for your work?
* your murals?
I dabble in everything and multiple styles that people might not associate with being uniquely mine, but spray is usually the go to, cheap and fast. I find it hilarious when professional muralists don't bother to learn that medium and spend five days on something using a brush that could take 4 hours with cans.
Currently I'm on the Bunning's budget – if you can't do something good with shit paint, then pro paint won't help.
* your drawings and illustrations?
I'll draw anything and use anything.
I'm not a fancy person, a biro pen is fine.
* your digital work?
This answer relates to my video stuff as well, but the majority of my skills are self taught.
Usually the technical limitations shape the clip.
My latest video was made with an iphone and a shitty printer/scanner, but it's probably one of my best / most technically unique clips. That being said, I've worked with high production values, RED cameras, big budgets etc.
Loser Unit Questions
Why the name 'Loser Unit'?
Always been a weird kid with mental problems, so looking out for the underdog and outsider is the central ethos.
Collective outsiders, power through unity.
Are you guys accepting new members or is the 'Unit' exclusive?
It's not really a collective as much anymore, but the core founders are Alexjustspat and myself. James cooper, hyunji kim, Jacob kemp and nick zafir also had a lot to do when we started up.
Now it's more of a name/brand for the work we do, but it was never meant to be an exclusivity thing.
(Some 'Loser Unit' art below)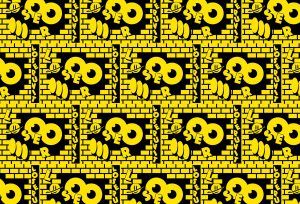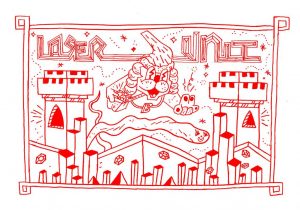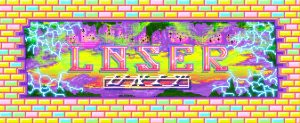 For those at home – care to explain the who, what and why of ole 'Loser Unit'?
It started as a zine to promote different art.
At the time I was pissed off with the millions of local publications that seemed to recycle the same artists/personalities. Theres only so many times you can read interviews with flume, so it stemed from a desire to showcase work that was underrepresented.
From there we started doing group shows and music videos.
Odds n Ends
Who was your 1st crush and why?
Yuffie from ffvii.
That probably says more about me than I'd like.
(Image below of Elliot's first crush – Yuffie!)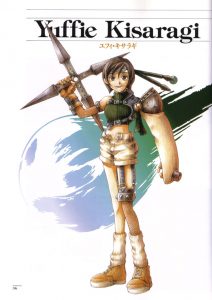 Does sex change everything?
It's a normal thing everyone does.
Please describe what you think the Australian psyche / zeitgeist is today?
That's probably to broad a question for me and I have a lot of angry opinions, so maybe it's better to avoid this one. haha
Which cartoon character, would you most like to see in a tribute sex toy, and why?
(Please sketch a prototype of your design.)
Pretty sure the internet and 'creative' fans have turned everything into a sex toy now. Has someone made a bojack horseman dick dildo yet?
I have enough problematic anime toys, we don't need anymore. I've seen pickle ricks and minions shit that I wish I could erase from my memory.
Who would win in a fight and why: Milhouse (The Simpsons) Vs. a Koala?
(Please draw the battle in all it's violent beauty!)
Loser unit does not condone the abuse of Australian animal icons.
Millhouse seems to be in constant battle with his inner demons, he has enough going on.
Drugs – waste of time or gateway to the universe?
Use responsibly, have fun, don't get carried away, and look out for those that do.
Drug abusers are real people, keep them in your hearts.
What role did toys play in your childhood?
They turned me into a nerd.
I'll include some pictures of my old bedroom in perth, the pictures answer this question better than I could.
I have no idea how I ever got laid when I lived there.
(Photos below of Elliot's old 'no-sex' room in Perth)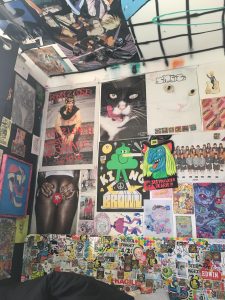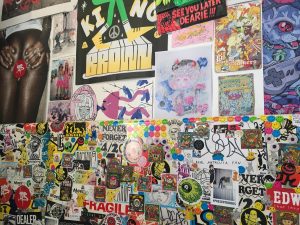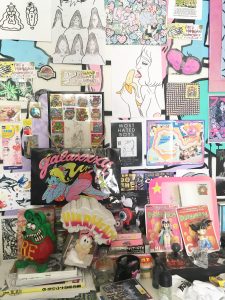 What are the top 3 items you own?
(Please include photos or art of them!)
Hand painted arcade machine by alexjustspat.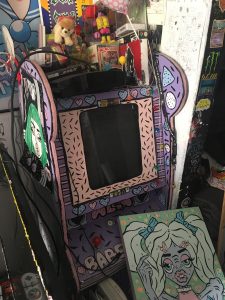 Collection of crazy games and stickers from japan super potato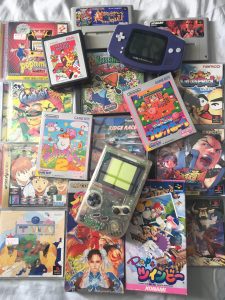 This jacket by my friend ican harem.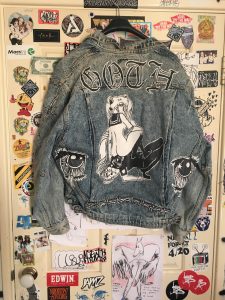 Please describe your latest dream in detail…
Bad dreams can bring up that internal anxiety you have deep down.
Of everything you have done what would you most like to be remembered for and why?
The honest and unfortunate answer at the moment is probably the attached graffiti that became a meme, that is still making rounds on certain meme pages every now and then.
There's probably a few things, but I imagine different people will remember me for different things.
I've done a lot of shit over the years.
(Photo below of Elliot's FF fanboy graffiti)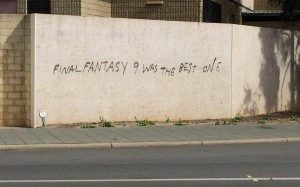 If people wanted to collaborate, work wth you or just buy some art – how should they get in touch?
I'm not selling personal work at the moment, but I'm happy to make exceptions and do commissions.
Hit me up for music videos!
The Future
Any collaborations on the horizon?
So much stuff I wish I could talk about, but can't yet!
I've got a clip for blackheart, from America, coming out soon, and working with candy guts, from perth, on another one.
Any major projects you want to hype?
Keep an eye out for bricks and toys in the future. Its an animated cartoon project between myself, music video collaborator Jacob kemp, and writer/comedian Patrick malborough.
Links