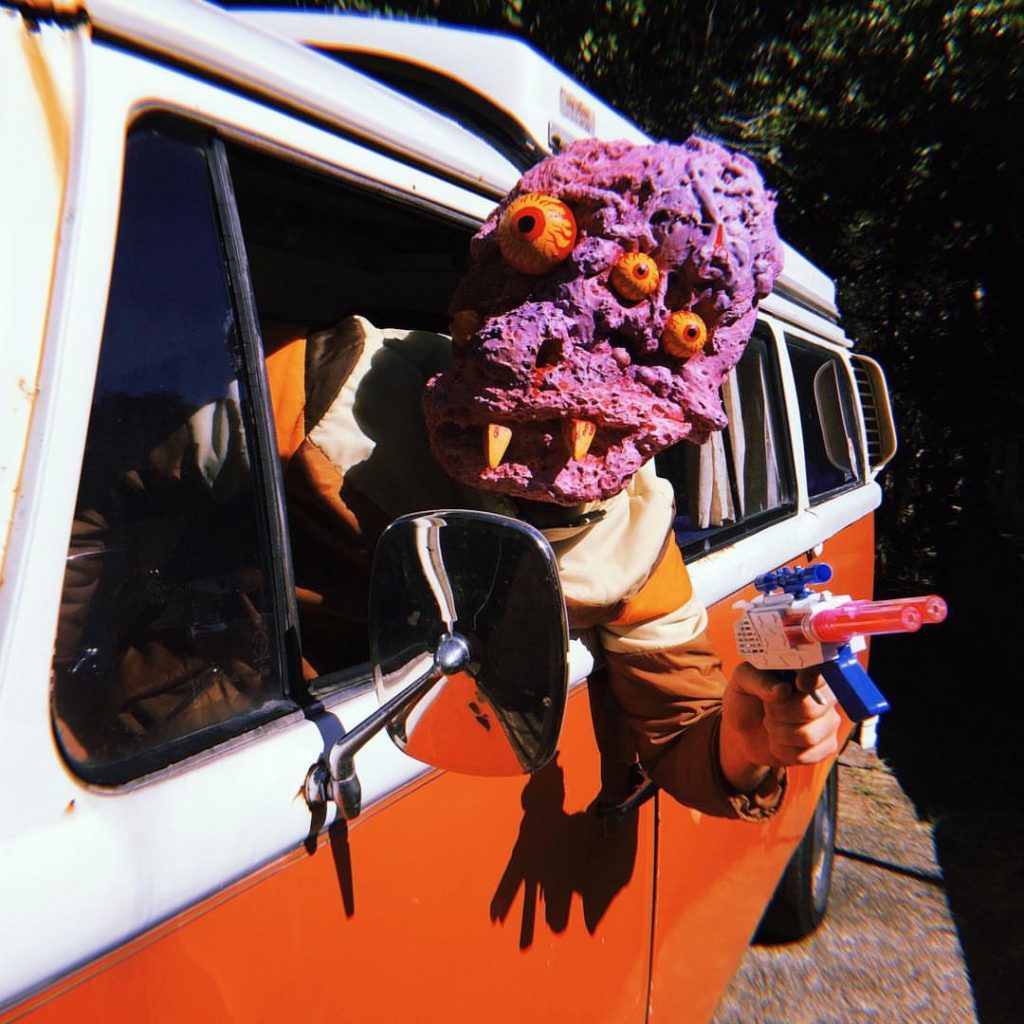 Ben Adams is an Australian artist, designer, screen printer and sculptor going by the name 'Freak Street'. Ben creates unique work that  is imbued with a vibrant, frenetic DIY-punk-fury. It's a style reminiscent of the 1960's outre-comic scene, combined with the results of growing up in the 1990s – weird lines, hypercolour, drugged out dudes, surfing, monsters, pop culture references and lots of weirdos.
Ben freely admits that his style comes from a youth spent skateboarding, that one time he did hallucinogenic drugs, toys and the underground comics scene, stating:
"As a youngster, all of the World Industries and Blind skateboard graphics were hugely influential, I used to draw them all day in my books at school.
In later years, discovering counter-culture artists like Robert Crumb and Gilbert Shelton was very eye opening, they set my drawings on a forward trajectory."
(Some art by Freak Street below)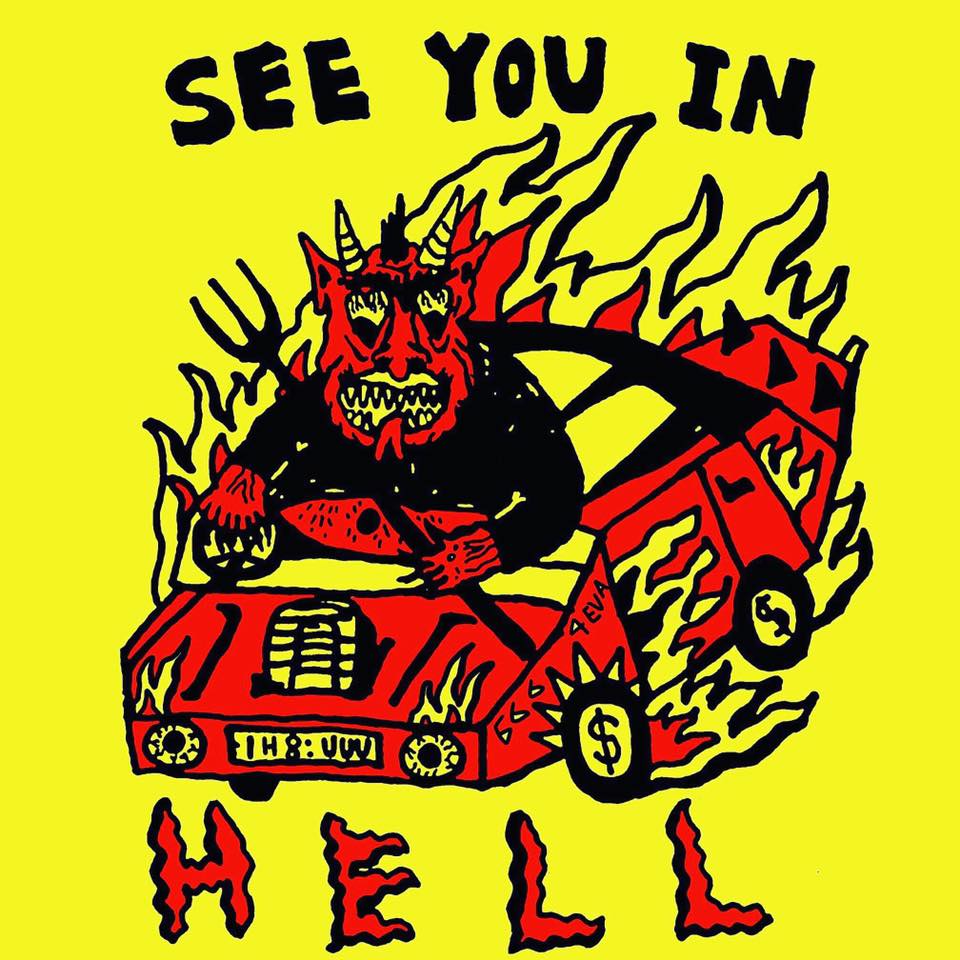 Recently, Ben has been firing on all cylinders art wise: he set up his own screen printing studio and is taking orders; has been working on his masks and sculpts; and in epic news – has did the art for the new 'Regurgitator' LP Head Roxx, and also provided the band some masks to wear onstage!
So get to know Ben and his art, by reading the Art Talk Interview, below…
Basics/Getting to Know
Name + D.O.B?
Ben Adams, aka Freak Street.
3 April 1991.
City, State n Country you currently call home?
Fingal Head, NSW, Australia.
City, State n Country you're from?
Yowie Bay, NSW, Australia.
(Art by Freak Street below)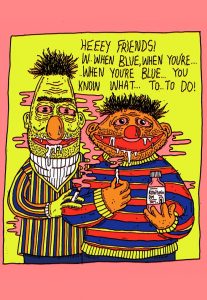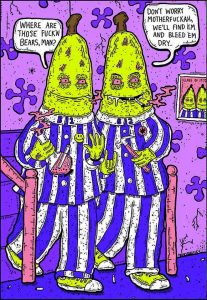 Describe a memory from some stages of your life ….basically trying to piece together some pivotal moments. Concerts, art, action-figures, romance, school, crime… ANYTHING really!
* age 5 – beginnings:
I remember winning a Video Ezy Power Rangers colouring in competition, and won this huge Power Rangers toy set, including a fucking sick Ivan Ooze slime toy that I wish I still had, I can still remember the smell of it.
I also remember mum buying me a Skeletor action figure from an op shop. Can you imagine that now, finding a Skeletor in an op shop! I think I'd shit myself.
* age 10 – continuations:
Started skateboarding with the homies, which inevitably lead me to lots of new music, new art, new ways of thinking. Skateboarding has always been a very pivotal and influential part of my life.
Also, my parents buying me all of the Street Sharks toys.
Seeing Small Soldiers in the cinema.
* age 15 – getting serious:
Moving from Sydney to Brisbane.
Adjusting to humidity.
Growing facial hair.
Young love.
* age 20 – young adult:
Doing hallucinogens for the first and only time, it's a very, very cringe thing to say, it changed how I was drawing.
Finishing a degree in animation. Never wanting to draw again. Ultimately finding myself drawing again.
Being in a Grateful Dead bubble for four years. It was all I listened to for four years.
* age 25 – adult mode:
Moved from the city to the beach. Helped with a lot of stuff, mental health, physical health.
I'm a lot happier here, it's enabled me to work freelance nearly full time. I can wake up, go for a surf, and then hang at home and draw and print shirts in my garage.
(A recent photo of Freak Street below)
Personal motto?
'Smile Through the Pain'
Art Questions
When and why did you first start making art of any type!?
I drew from a very young age, I used to draw these spindly vine creatures with Venus fly trap mouths, mum used to tape them to the walls.
I've always liked monsters.
Any pivotal artistic moment(s) / influence(s)?
As a youngster, all of the World Industries and Blind skateboard graphics were hugely influential, I used to draw them all day in my books at school.
In later years, discovering counter-culture artists like Robert Crumb and Gilbert Shelton was very eye opening, they set my drawings on a forward trajectory.
Do you consider what you are making to be art, 'design, re-hashed crap?
Some of it, I suppose. Everyone is influenced by things they see, art is regurgitated and regurgitated, and some of it comes out looking sick, and sometimes it comes out looking shit.
I like what I draw, and I think it's pretty interesting.
There are so many people making so much art these days that it's difficult not to feel like you're re-hashing something or other. People have been drawing monsters for years, decades and decades of werewolves, vampires, Godzillas. It's interesting when you see these characters done a little differently.
I like the masks I make a lot, not so many people make masks.
(Some t-shirts by Freak Street below)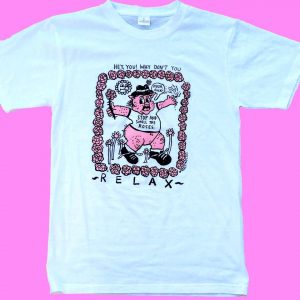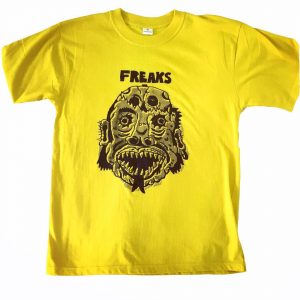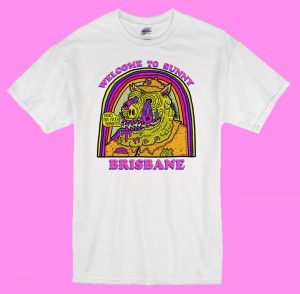 Worst aspect of the contemporary art hustle?
Social media has obviously helped and hindered artists, it's created a platform for anyone to share their creations, yet also created a vortex where its hard not to compare yourself to the people you look up to and admire, and can inadvertently cause people to feel that their art is shite and no one is seeing it.
Also trying not to sell yourself short for jobs, trying to be a business person when you're really just a weird dude who enjoys drawing slimy freaks.
Best aspect of the contemporary art hustle?
Artists supporting one another.
Small businesses supporting small artists.
People helping other people. I've been supported by so many incredible people from Brisbane. I'm really grateful.
(Photos below of the Freak Street Screen Printing studio)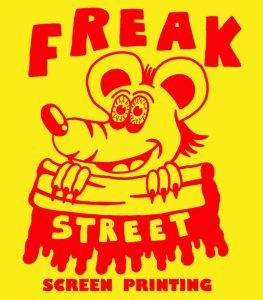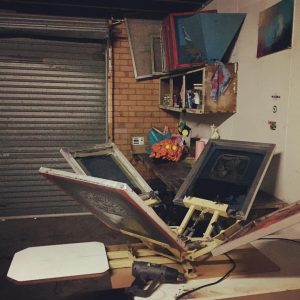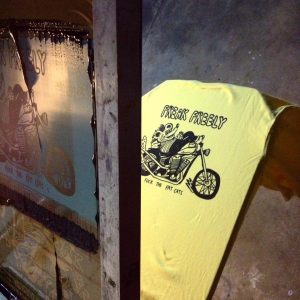 Favorite other artist(s)?
Too many to name…
My partner Bree, she makes unbelievably cool ceramics and does very beautiful paintings.
My buddy Liam Eaton makes great music and draws funny cartoons.
What on Earth is going on with the strange seemingly home-made masks and assorted head-gear you are often seen wearing man?
I started printing my designs on shirts, and then started wearing my old monster masks when I'd pose for photos in the shirts, satan masks and shit.
From there I started buying masks in Japan and in dollar stores and getting really psyched on all of these American artists making monster masks. I tried to make a few for an exhibition that didn't turn out well.
Its all just been a big experiment with different materials. It's been really, really, really fun. It's what I think about when I go to sleep. It's really refreshing to get into another medium after drawing for so long, I think that's important for creativity.
(Masks by Freak Street below)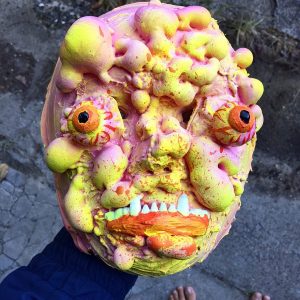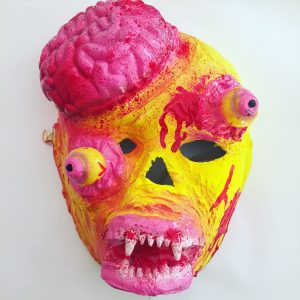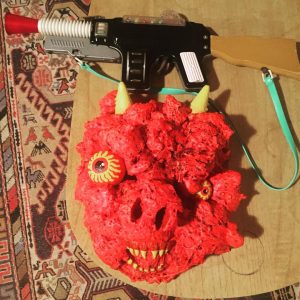 Describe the process of producing your art? – Dot point all o.k!
– your drawings and sketches?
It's all generally the same process up until the end.
I'll always sketch something on paper, generally always starting with the eyes.
Then ink it, detail and stipple it, take it into Photoshop, edit and colour it and it's done.
– your sculpts?
With my masks I'll just get some foam filler and spray it onto a generic paper mask. I might have a vague idea of what I want to create. The foam expands and I add bits and bobs to it.
Paint it, shadow, highlight it. It's a fun process.
If people wanted to collaborate, work with you or just buy some art – how should they get in touch?
I've got a pager and a fax machine. Just kidding, great joke.
My Instagram @freakstreeet if they wanna get in contact with me, or my freakstreet.bigcartel.com to buy some of my shirts.
(Some sculpts by Freak Street below)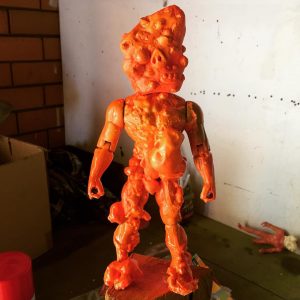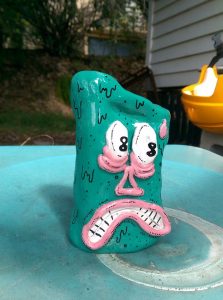 Odds n Ends
Please describe what you think the Australian Psyche/Zeitgeist is today?
It's okay.
It's good to think that at least our generation is headed in the right direction in terms of progressive thinking. We're all a bunch of idiots though, really.
Who was your 1st crush and why?
Strange question.
My year six teacher.
Does sex change everything?
No, I don't think so.
(Art by Freak Street below)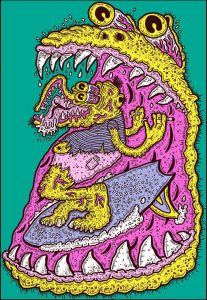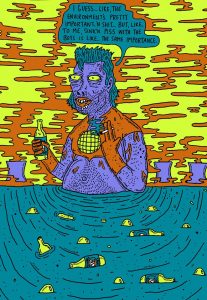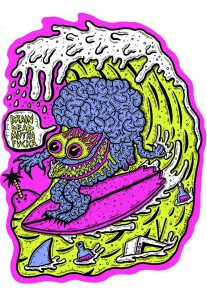 Which cartoon character would you most like to see in a tribute sex toy, and why?
Skeletor…
Who would win in a fight and why: Agro Vs. He-Man?
I mean I think He-Man would absolutely destroy Agro..
Please describe your latest dream in detail…
I was walking around a South Korean shopping centre and I bought a baby crocodile, maybe about half a metre long.
It kept licking me with this huge tongue, but would try to bite anybody else who went near it.
Of everything you have done what would you most like to be remembered for and why?
Probably the guy who made the really freaky cool masks that gave me a nightmare that one time.
Drugs – waste of time or gateway to the universe?
Not for me, but served a purpose in the younger years.
I think everyone should try 'em.
What role did toys play in your childhood?
They were very important I think.
I had a lot of toys, I was a very spoiled child.
I loved the Street Sharks toys so much. I read a quote somewhere that went 'Nothing sums up the weirdness of 90's toys like Street Sharks' which I really like, cause they're fucken weird. That animated scene when they first turn into sharks, and they're at this outdoor burger shop next to a drain sewage, and their shark fins like rip out from the back of their heads, it's so cool and powerful, it's always stuck with me.
I'd like to think the cartoons and toys from my childhood have influenced my art in some way. At least the insane colours of everything.
(Photos below of some of Ben's toy collection)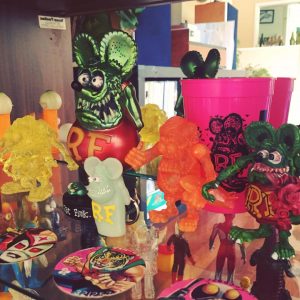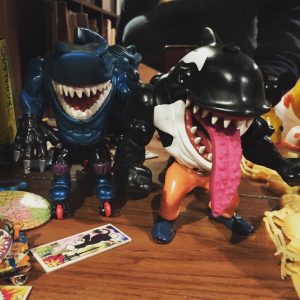 What are the top 3 items you own?
1) My 1975 VW Kombi, I've had it for ten years. Although I'm a very different person to the 17 year old when I bought it, I'm more attached to it than anything. Have had a lot of adventures in it.
2) My record and toy collection. They're always growing and something I'm really proud of.
3) My Hobie surfboard. It's orange and it's fun.
The Future
Any collaborations on the horizon?
Hopefully I'll be doing a collaboration art show with Ben Ely from Regurgitator sometime this year.
Any major projects you want to hype?
I just finished designing the album cover for Regurgitator's new album Head Roxx. Has been a really fun project. So go and buy it, it's going to be fucking sick.
They're also doing a nationwide Australian tour and they'll be wearing some huge monster masks I've made for them, so go and see them play!
(Art by Freak Street below)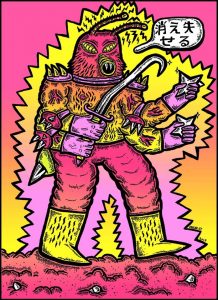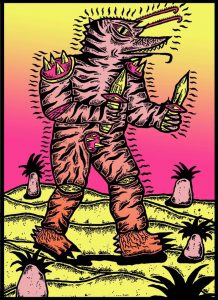 Links