Alden Klaput aka 'Skeleghoul' aka 'THEE Turbo Lich' aka "Mullet Wizard" is an American artist and all round rad guy. He cites 1980's video game manuals, the 1982 'Conan the Barbarian' film and childhood exploration as his major influences. Or to put it in his own words:
"I AM ALSO A FETISH ARTIST. FANTASY BEING THE FETISH."
(Picture below of a self portrait by 'Skeleghoul')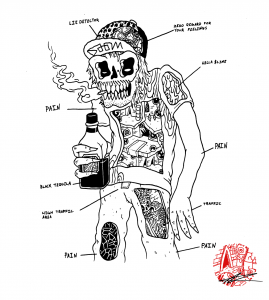 Alden, like every great artist, produces works in a variety of mediums – from apparel, to prints, paintings and traditional drawings. His paintings, usually done in watercolour, catapult Alden into the world of fine art. All Ethereal multi dimension landscapes, swathes of colour and the occasional magical artifact or monster. If there was more justice in the world, they would adorn the walls of National Art Galleries the World over… but we digress…
So, without further ado now is the perfect time to get to know the man, myth and legend that is 'Skeleghoul', by reading the Art Talk interview, below…
Basics/Getting to Know
Name + D.O.B?
ALDEN KLAPUT, SKELEGHOUL, T H E E TURBO LICH, WHAT WAS BORN IN THE 90'S SOMEPLACE.
City, State n Country you currently call home?
BALTIMORE MARYLAND. TRAVELERS, BEWARE. BALTIMORE DON'T LIKE YOU.
City, State n Country you're from?
HAILING FROM PARTS UNKNOWN…
(Art by 'Skeleghoul', below)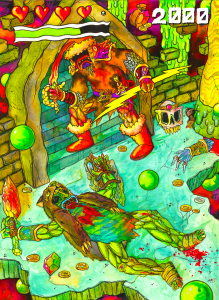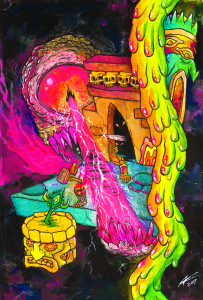 Describe a memory from some stages of your life ….basically trying to piece together pivotal moments. Concerts, art, action-figures, romance, school, crime… ANYTHING man!
* age 5 – beginnings:
AT AGE FIVE, I WAS BORN WITHOUT A SKELETON, SO I STOLE ONE FROM THE LOCAL BULLY. I'VE HAD ODD FITS OF RAGE, AGGRESSION, AND AN OVERWHELMING DESIRE TO TAKE THE OTHER YUNG BLUDS MONEY EVER SINCE.
THAT'S A LIE.
SORT OF.
BY THAT AGE I WAS THE NEW OWNER OF MINE MOTHER'S OLD GAME SYSTEMS, BOTH HER NES AND SNES, AS WELL AS HER GAMEBOY. IN THAT WAY, YOU CAN SAY MY TASTES WERE ALL AT ONE POINT IN TIME HERS, WHICH IS WHY IT BOTHERS ME THAT SHE'S NOT AS INTO MY ART AS I IMAGINED MOST MOTHERS OF ARTISTS WOULD BE. SHE HAD ALL THE GOODS, THO. ZELDA, KIRBY, FINAL FANTASY, STARTROPICS, CASTLEVANIA, DRAGON WARRIOR, KILLER INSTINCT, MAHJONG, LESTER THE UNLIKELY, SKOBBLESETZIN, REVOLUTION X, TURKIN HYMER SAM, THE INCREDIBLE ADVENTURE OF AXE RAT, CONNECT FOUR OR DIE, BALLZ 3D. OH MAN, BALLZ 3D, THOUGH, THAT WAS FUN. TURBO AND BOOMER WERE MY FAVORITE CHARACTERS, BUT NOW IT'S ALL BOOMER. HONK HONK.
THE THING ABOUT ALL THOSE GAMES, TOO, WAS THAT SHE HAD KEPT ALL THE MANUALS IN A BIG OL ZIPLOCK BAG, J'KNOW? AND AS SOME OF YOU KNOW, THEE GAME MANUALS WERE THE SHIT BACK THEN BECAUSE THEY HAD ALL THE COOL ART IN EM. THIS WAS ALL FROM A TIME WHERE THE GRAPHICS WERE RELATIVELY MINIMALISTIC, SO THEY WOULD HIRE ILLUSTRATORS TO SHOW US WHAT WE'RE LOOKING AT WITH GOOD OR GOODER DETAIL.
BY THIS POINT, I HAD ALSO SEEN CONAN THE BARBARIAN, WHICH INFLUENCED HOW I PERCEIVED ALL THOSE GAMES AND OTHER FILMS THAT I THOUGHT WE'RE MILDLY SIMILAR. LIKE LEGEND OF ZELDA WASN'T ABOUT LINK THE HERO. IT WAS ABOUT LINK THE RAIDER. TUFF BOY LINK GO IN YOUR HOUSE COLLECT HE PROTECTION MONEY FROM YOU, BREAK ALL YOUR SHIT OVER YOUR HEAD. WHAT YOU GONNA DO? I GOT A RED HOT SWORD, MOTHER FUCKER.
CONAN WAS THE BAR FOR SWORD AND SORCERY, EVERYTHING GOT COMPARED TO IT, SEEN THROUGH IT'S LENSE, AND STILL IS TO THIS VERY DAY.
* age 10 – continuations:
THE DARE CAMPAIGN ROLLED THROUGH OUR SCHOOL, INDOCTRINATED US ON THE REJECTION OF MIND ALTERING CHEMICALS. THEY TAUGHT US THE SONG, WHICH I REMEMBER THE PREMISE OF AND BOY OH BOY LET ME TELL YOU. IF'N THAT WEREN'T THE MOST BLATANT FORM OF BRAINWASHING, THEN I DON'T KNOW WHAT IS. THEY MADE US WATCH FILMS AND AGREE THAT THE BAD DUDES WE SAW ON THE SCREEN WAS IN FACT MENACES AND SHOULD BE AVOIDED AT ALL COSTS. BUT DEEP DOWN INSIDE, I KNEW I WANTED THE SWEET VAN, I WANTED HIS SICK LOOK, AND ALL THE STREET CREDIT.
NOW I'M OLDER, AND I DON'T HAVE A CAR, AND I HAVE A MULLET, AND I'M A RECLUSE THAT LIVES WITH HIS FOLKS. GG.
ACTUALLY, BY THIS TIME, I HAD DONE MADE MY OWN TRADIN CARD GAME, HAVING BEEN INSPIRED BY YUGIOH. I ALSO DID A LOT OF EXPLORING ROUND MY DOMAIN. TWO SPOTS IN PARTICULAR I REMEMBER FONDLY…
LET ME TELL YOU OF THE DAYS OF YUNNNG ADVENTURE:
The front of my old home faced the north, with the main road on the east side. It was one story high, and had a big yard. There was a few trees here and there, with a magnificent dogwood in the center, where the most shade was. It was the perfect tree to climb, with footing everywhere you'd want it to be. In bloom, the tree bursted with color, a magnificent pink. I spent many days high in it's branches, often with mine own paper in hand so that I may draw monsters and wizards with it.
The driveway curved along the outer border of our yard, and on the outer rim of the bend was a small patch of dirt and rock, where cars would turn around or park on. This spot was a small desert for my men of plastic to explore, but it had nothing on Big Hill…
Big Hill was to the west. To get there from my house, you would pass through the parking lot of the Roto Rooter next door, beyond where they kept there piles of rock and dirt and their dumpster (which I must profess, I had dived into many a time, and usually came out with treasures such as pornography in both video and magazine, video games and old game consoles which surprisingly worked well).
On the western side of this place, lie a wall-like hill of similar height to that of a two story building. It was crawling with weeds and thickets of briar, save for one narrow path that lead straight up to the top. Once there, and after a few seconds navigation, you would see the area below; a sprawling plot of land with more longitude than latitude. In the open center grew a tall, golden grass or weed, I'm not too sure. But it was tall, and went up to my yung blooded gullet. In intervals, there was a break in the tall grass, devoid of plants, which came up some nine inches. One of these breaks was modified by local tuff boys, with little mounds and dips to ride their dirt bikes and ATVs on.
On the northern side, there was a long warehouse that followed along the length of the field. There was a slight elevation in land between the two, and this selection of earth had more dirt and rock than it had plants. Someone had sprayed the fabled Super S on the middle of the wall.
In the northeastern corner, a small collection of concrete structures that looked like they had some correlation with sewers. The majority were cylindrical chambers with two openings on the sides and one on the top with a ladder to the top, save for the one that was on it's side, which was more of a pipe than a chamber. There were a handful of oblong rectangular block.
On the southern side of the field, was a row of trees, which acted as a barrier between this plot of land, and the neighborhood to which my house was a satellite of.
On the far western side, was a smaller hill, which had a significant amount of small trees and more weeds.
Beyond this small hill was by far the best part of Big Hill; a dried up pond, with all manner of colors of clay and earth, with what looked like tiny rivers of dry mud and sand. The southern side of this spot was polychromatic, with blacks and whites and greys and blues and reds and yellows and oranges and greens…
Directly behind the hill was a flat of medium grey soil, which was surrounded by where the pond and rivers once flowed. In front of it, lie the pond itself, the size of a cabin, round and uneven. The edges all cracked into leg deep, tiny canyons.
On the far northwestern side of the pond was the mouth of the bulk of the expired river. There lied once water, now wind and dust worn rocks, with blackish and rusty orange hues, which had decorated the bed generously at first, but as the depth waned to shallowness, the rocks presence grew scarce, until the river was completely level with the ground was depressed into.
There were no animals living in big hill. You seldom saw even birds in the area, though they did come, for their foot prints were often left in the mud after days of rain.
The area came to a halt after the pond, as it was boxed in by two more warehouses, the southern one was white, with it's lot fenced off, and with busy workers being as busy as they ought to be. The northern one was of a golden brown color, and seemed quite plain in contrast to the southern one, with it's lot empty of all vehicles but had two half sized trailers parked in the back.
I used to go there with my friends often, but as I grew older, I traveled there more by myself. Hardly anyone came there, not while I was there anyway. The occasional rider would careen about, but by this time, video games were so good that you didn't really see many kids out playing to begin with.
(Photo below of the mythical Big Hill from 'Skeleghoul's childhood adventures)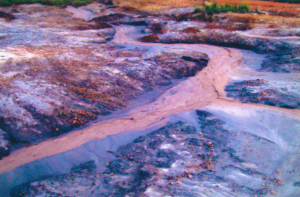 The second place I remember visiting often was White House, which was owned by the Roto Rooter.
Between my house and their property, was a significant patch of trees and shrubs and vines. Beyond this and south of Roto Rooters lot, was what once seemed to be a sizable yard for an uninhabited two story white house. The front porch faced southeast, and behind it was a fenced off ring of cattails, which was a pen itself for a tiny sewage lagoon. Overlooking both the basin and the the house, 10 paces west of the fence, was a towering, gorgeous tulip poplar. The house was two floors, with grey roof tiles, and a front porch of solid concrete. The door had a lock pad but the windows were still just glass. The second floor was only accessible by a steel staircase on the  northeastern side of the house. The basement only had one entrance, and it was on the southwestern side.
I never accessed the extra floors for the 2nd story door was locked and the window was too far away to climb towards, and the basement was severely flooded. I was always curious about this place, so on a weekend, I broke the window left of the front door, and climbed in. It was mostly bare inside. The musty smell of dust, old electronics, and mildew lay heavy in the air. The walls inside were all white, with an unmemorabley dull colored floor. The first room I set foot in must have been a living room or bed room. There was an old treadmill here, but it didn't work. The hall lead into another similar room on the right side of the house, parallel to this one, a bathroom which was also on the right, and a kitchen, which was in the back. The kitchen lead into what presumably once was a dining room, which now had two tables covered with old computers and TVs. One TV worked. Me and my local friends would peruse through this house after school sometimes, but usually, I would go alone. It was nice and relaxing, with no one around, no noise, no movement. The houses insides were the epitome of stillness.
It's the memory these places and ones I'd explore later that I feel I most draw inspiration from in my art nowadays.
ANYWAY, MY FRIENDS WERE THE MOBLEY BROTHERS. THEY WERE KINDA BULLIES AT TIMES, BUT OTHERWISE WERE THE ONLY KIDS AROUND THAT WANTED ME AROUND. I FEEL LIKE I WAS RAISED A LITTLE MORE BY THEIR PARENTS BECAUSE THEY ENGAGED ME IN CONVERSATIONS, WHERE AS MY FOLKS WE'RE MORE LIKE "Mhmm that's nice dear, go away" I MEAN SHIT, THEY TAUGHT ME HOW TO RIDE A BIKE WHEN I WAS 8. THEY ALSO ALLOWED US TO WATCH TITTY VIDEOS, PLAY WITH FIREWORKS, SET SHIT ABLAZE, AND LOANED ME FRIDAY THE 13TH ON VHS. ANYWAY, THEIR SONS WERE ALSO TUFF BOYS LIKE MOST EVERYONE ELSE IN THE NEIGHBORHOOD, SO AS A LOOPY CHILD ARTIST, IT WAS OFTEN DIFFICULT TO BE RESPECTED, ESPECIALLY WHEN THEY HAD OTHER FRIENDS AROUND AND MADE ME OUT TO BE THIS PUNCHING BAG FOR JEERS AND ROUGH HOUSING. I EVENTUALLY STARTED TAKING A MORE OFFENSIVE DEFENSE AGAINST THIS BEHAVIOUR, WHICH I GUESS I KIND OF APPRECIATE NOW. HOW MUCH MORE OF A WUSS WOULD I BE IF THEY WEREN'T ASSHOLES TO ME EVERY NOW AND THEN? I REMEMBER LIKING JOHN, THE YOUNGER OF THE TWO, A LOT MORE THAN HIS OLDER BROTHER, WHO WAS TYPICALLY AN AGGRESSIVE MORON AT TIMES BUT HE WAS STILL PRETTY COOL, I GUESS. I THINK ME AND JOHN SHARED A MUTUAL INTEREST IN ART? BUT MY INTEREST WAS STRONGER. LIKE HIS BROTHER AND HIS DAD, HE WAS MORE INTERESTED IN WHAT THE TYPICAL TUFF BOY WAS INTO; MOTORBIKES, HUNTING, SPORTS, AND BEING TUFF FOR THE SAKE OF BEING TUFF. I RECKON HE STILL IS THESE DAYS. PROBABLY A SWOLE MOTHERFUCKER NOW. GOOD FOR HIM.
AS FAR AS ART WAS CONCERNED, I WAS REALLY INTO DRAWING STUFF (ALMOST EXCLUSIVELY) FROM VIDEO GAMES, ESPECIALLY FINAL FANTASY. I KNOW I DREW A LOT OF MONSTERS AND WIZARDS, AND AT ONE POINT I VAGUELY REMEMBER DRAWING A MONSTER TRUCK ARMED TO THE TEETH RIDING OVER MOUNTAINS OF SKULLS WHILE I WAS IN THE HEALTH ROOM AT SCHOOL.
Yeaahhh real cool.. yeaaaaaahhhh, cooool, hell yeah.
(Photo below of a young 'Skeleghoul' and his childhood friend John Mobley)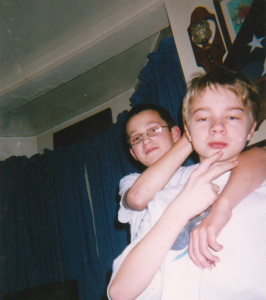 * age 15 – getting serious:
AT THIS POINT, I HAD EXPLORED A LOT OF THE AREA. THERE WAS THESE TRAIN TRACKS THAT TRAVELED FROM THE SOUTHEAST TO THE NORTHWEST. TO GET THERE YOU'D PASS THROUGH AN AUTOMOTIVE WORKSHOP AND JUNKYARD, AND END UP ON THE PLATFORM FOR THE MARC TRAIN. NO TRAIN REALLY STOPPED THERE, AT LEAST NONE I'VE EVER SEEN. LIKE BIG HILL, I SPENT A LOT OF TIME HERE…
Running parallel to the tracks on both sides was small creeks for run off. Following the tracks south there was an overpass that intersected the tracks, and on the other side of the tracks, the creek was wider there than it was anywhere else.
Passed the overpass, there was a thicket of trees, bushes and weeds, with a small glade of sand that acted like a beach to the creek. If you've seen the movie Drive, there's this scene where driver takes his date and her son down to a drainage canal. It's cooler in the movie, but it still had the same impact on me as it did for the scene.
Following the tracks north, and you pass the lot and building of a cement company. Even further, there was a small path that led into the back of their operation. And there they were… rocks.. rocks.. rocks.. rocks.. rocks.. rocks.. rocks as far as the eyes. Tall mounds, three or four stories high of light grey rock. To me, these were mountains.
And even further back, following along the tracks, were some woods that went up and down some lumpy hills, and looked over the tracks. There were many paths worn in from the nearby neighborhood folk. At this point, I had all the terrain you could ask for, despite it being what most would call "shitty".
One of my friends (who isn't a fan of Drive, and actually cites the drainage canal scene as stupid and dumb and why would anyone take their date into the dirty sewers) likes to make a point to say that it sucked because this is what we had as a kid. We didn't have actual mountains, or huge sprawling plains and quiet forests, deserts, etc.. we had this shit which was mostly all a product of industrialism. He and I see these places in two totally different lights, though. The adventures felt more real, more meaningful, and all around more potent than they would have on a TV screen or in writing or drawing.
IT WAS ALL PRETTY TIGHT.
I DON'T REMEMBER A WHOLE LOT ELSE FROM THESE YEARS, BUT I DO REMEMBER THAT THIS WAS WHEN MY IDENTITY AS AN ARTIST STARTED TO CRYSTALIZE. THIS IS WHEN I SAID TO MYSELF "OH BOY, I WANNA BE AN ARTIST YEAH! IT'LL BE GREAT! I'LL PRINT POSTERS AND SHIRTS AND MAKE TRADING CARDS AND PEOPLE WILL LOVE IT AND BUY IT ALL AND IT'LL BE FUN!!" HAHAHAHAHA WHAT A JIP.
I NEVER REALIZED BEING AN ARTIST WAS A CAREER IN COMEDY UNTIL I REALIZED HOW MUCH OF A JOKE IT WAS.
I HAVEN'T STOPPED DRAWING WIZARDS YET, BUT I DID START BRANCHING OUT INTO OTHER GENRES, AND TRIED MY HAND AT DRAWING MORE FROM REAL LIFE. I DID A LOT OF FUTURE ROBOTICS KIND OF STUFF, WHICH WAS INSPIRED BY A VINYL FROM NEED FOR SPEED UNDERGROUND, WHICH LOOKED LIKE A CIRCUIT BOARD.
I PLAYED A FEW NEWER GAMES TOO, WITH A GAMECUBE IN TOW. ANIMAL CROSSING, MARIO SUNSHINE, LOOGOOPS CABANA, WIND WAKER, TWILIGHT PRINCESS, PHANTASY STAR ONLINE, PENCIL PUSHER 9, CRYSTAL CHRONICLES.. I REMEMBER SPENDING A LOT OF TIME ON ANIMAL CROSSING, ESPECIALLY AT THE TAILORS. THESE GAMES, WE HAD BOUGHT GUIDES FOR, WHICH OFTEN HAD SOME COOL PICTURES IN THEM, TOO. THOUGH, THEY WERE TYPICALLY JUST 3D MODELS, BUT SOMETIMES THERE WAS STRAIGHT UP ILLUSTRATIONS INSIDE.
I THINK, DESPITE THE AMOUNT OF "HOW TO DRAW" BOOKS I GOT FROM THE LIBRARY, I ALWAYS ENDED UP JUST USING THESE GAME GUIDES AS REFERENCE, BECAUSE DRAWING BOOKS WERE ALWAYS LIKE "HOW TO DRAW TREES, HOW TO DRAW HOUSES, HOW TO DRAW CARS, HOW TO DRAW SNOOZERVILLE SHIT GO FUCK YOURSELF THERE'S NOTHING INTERESTING IN HERE OK?" AND THE STUFF I WANTED TO DRAW ALL CAME FROM VIDEO GAMES.
* age 20 – young adult:
SO BY NOW WE HAD MOVED TO BALTIMORE, I GRADUATED HIGHSCHOOL, BOUGHT WEED FOR THE FIRST TIME, ALONG WITH MY FIRST BOWL WHICH I STILL HAVE TO THIS DAY, STARTED LISTENING TO STONER METAL, AND MY QUEST TO BECOME A GREAT ARTIST OFFICIALLY BEGAN.
I GOT MYSELF A JOB AT A RECORD STORE, WHICH SOUNDS COOL, BUT THAT STORE WAS A REAL TWO BIT ATTEMPT AT BEING A RECORD STORE. I MET A LOT OF COOL PEOPLE THOUGH, AND USED MY TIME AND EVENTUAL POWER THERE AS A LAUNCH PAD FOR MY WORK. THERE I MET SOME BANDS, LIKE VLMA, RATBOILER, OUTRAM, AND MARTIAN ARCHITECT. OF ALL THOSE BANDS, VLMA IS THEE ONE AND ONLY THAT I STILL LISTEN TO, AND I RECOMMEND THEM TO EVERYONE I TALK TO. SERIOUSLY GO CHECK THEM OUT, VLMA.BANDCAMP.COM FUCK YOU THEY'RE PRETTY DAMN GREAT. YOU'RE GONNA LIKE THIS.
I ALSO MADE A FEW FRIEND LIKE HANNAH (@DREAMYHORRORS ON IG), AND TROY FROM MARTIAN ARCHITECT. I LIKE TO THINK AT THE TIME OF TYPING THIS, WE'RE STILL FRIENDS, BUT I HAVEN'T HEARD MUCH ANYTHING FROM THEM LATELY, AND I'M NOT TYPICALLY THE HAND HOLDING, CLINGY FRIEND SOME OF YOU MIGHT HAVE (OR BE), SO IF THAT'S THE WAY IT'S GONNA BE… ANYWAY, HANNAH'S A COOL WEIRDO ARTIST, AND WE BONDED OVER OUR MUTUAL INTEREST (AT THE TIME) IN RECORDS AND ART. SAME WITH TROY BUT WITH MUSIC INSTEAD OF ART.
I PUT ON SHOWS AT THE RECORD STORE IN HOPES TO DRIVE PROFITS UP (WHICH IT DID) AND MEET NEW FOLKS (WHICH I HAVE), AND EVENTUALLY QUIT BECAUSE THE OWNER WAS USING THE MONEY TO BUY DRUGS, WASTING ALL MY TIME AND EFFORTS FOR A MERE FEW HOURS PLEASURE. TO THE SURPRISE OF NO ONE, THE STORE SHUT DOWN WITHIN A MONTH. I HAVE CUT OFF ALL TIES WITH PEOPLE WHO WERE HEAVILY ASSOCIATED WITH THE STORE AND IT'S OWNER. THE FOLLOWING YEAR, I WENT ON TOUR WITH RATBOILER AND SKULL THEFT, CAPTURING IT IN DIGITAL VIDEO FORMATS ON MY PHONE. ON THAT TOUR, I DID SHROOMS FOR THE FIRST TIME, GOT A JOB AT A WAFFLE HOUSE WHICH I ALLEGEDLY BIKE TO EVERYDAY, AND WE HAD PURCHASED FIREWORKS ON ONE OCCASION.
DURING THIS ERA, MY DRAWING AESTHETIC WAS TRANSITIONING FROM MY TEENAGED HALLOWEEN AND HORROR SHIT, TO FANTASY AND VIDEO GAMES ALL OVER AGAIN. I HAD DISCOVERED AN ARTIST THAT MADE ME FEEL REALLY NOSTALGIC FOR ME OLDER SWORD AND SORCERY IMAGINING, AND I HAD SINCE ADOPTED A PART OF HIS ART INTO MY OWN WORK; THE DUNGEON. GOBLINTOWER, HE WAS CALLED. I BOUGHT A COPY OF HIS MAP LIKE ZINE CALLED OUBLIETTE, AND IT'S ALWAYS GREAT TO FLIP THROUGH EVERY NOW AND THEN AND SEE THE SECRETS I'VE MISSED. IT WAS A DOMINO EFFECT FROM THERE, I ALSO DISCOVERED SKINNER, LEARNED OF FRANK FRAZETTA, AND STARTED GETTING BACK INTO MY OLD HABBITS WITH THE BYGONE ERA OF FANTASY.
LATER WHEN I TURNED 21, OR MAYBE I WAS 22? I WAS GIFTED MY FIRST WATERCOLOR PAD BY MY FRIEND MADDY (@WAKEYBAKEY69 ON IG) AND THAT FOREVER REVOLUTIONIZED MY WORK. BECAUSE UP UNTIL THEN, MY WORK WAS EITHER JUST BLACK AND WHITE, OR COLORED DIGITALLY. I HAVE SINCE GROWN ILL FAVORED TOWARDS DIGITAL ILLUSTRATION, THOUGH THERE ARE EXCEPTIONS THAT STILL REMAIN LIKE IGUANAMOUTH, WITNESSTHEABSURD, AND ARIEL ZB.
* and today:
I'M MORE RECLUSIVE THAN EVER BEFORE, AND I SUFFER GREAT AMOUNTS OF ENVY, FRUSTRATION, LONELINESS, AND WEIRD INTERVALS OF ME BEING LOCKED IN CONVERSATIONS WITH PEOPLE THAT AIN'T THERE.. BUT AT LEAST MY ART IS GREATER THAN IT EVER HAS BEEN BEFORE!
I REBRANDED TO SKELEGHOUL LAST YEAR WHILE I WAS STARTING TO PICK UP SOME GROUNDSWELL, MOSTLY DUE TO THE HELP OF KEEGAN KAYA MCGEE.
I MET A SMALL FEW OTHER ARTISTS AND BEFRIENDED THEM ON INSTAGRAM, BUT NOWADAYS I ONLY TALK TO MAYBE TWO OR THREE OF THEM.
OF ZINES, I HAVE RELEASED ONE OF MY OWN AND TAKEN PART IN FOUR, WHICH I DON'T THINK I'M EVER GONNA DO AGAIN. CRYSTAL WEAPONS, MY SINGLE ZINE, WAS MADE AS HOMAGE TO THE GAME GUIDES AND MANUALS OF YORE, WITH A FOCUS ON ART BUT WITH THE INTENTION TO CONVINCE YOU THAT THE GAME WAS REAL ONCE UPON A TIME. I'M DEFINITELY MAKING MORE, AMONG OTHER BOUND MATERIALS LIKE BART TO THE PAST AND A FEW COMIX, WHICH ARE CURRENTLY IN PLANNING.
I DID ACID EARLIER THIS YEAR FOR THE FIRST TIME, AND I CAME OUT WITH THE CONCLUSIONS THAT I AM SEVERAL PEOPLE WHO ARE TRYING TO GET YOU LOST THROUGH CREATION, DECEPTION, AND GENUINE CONFUSION, AND THAT I AM ALSO A FETISH ARTIST. FANTASY BEING THE FETISH.
I ALSO CONCLUDED THAT THE ONE THING I WANT THE MOST OF IS FOR MY WORK TO LOOK AMAZING ON ACID, BECAUSE RIGHT NOW, IT DOESN'T. NOT TO ME, ANYWAY. SO I STARTED A SERIES OF PAINTINGS CALLED SPECTRUM 18, WHICH IS GONNA LOOK GREAT ON MY IG FEED WHEN THEY'RE DONE, I TELL YOU H'WHAT, WHICH I FEEL IS GONNA HELP ME REALLY LEARN HOW TO ONE, LEARN HOW TO USE A BRUSH TO LINE THINGS, AND TWO, EXPLOIT ALL I KNOW AND HAVE CONSUMED TO MAKE THE DOPEST FUCKING ART I'VE EVER SPAWNED WITH MINE HANDS.
I ALSO STARTED LOOKING INTO DOING MORE BIGGER PAINTINGS BECAUSE TINY PAINTINGS ARE TOO EASY. BABU SHIT. PAINT'NS FOR BABS. BIG PAINTS, THO.. OO GRRL.
(Art by 'Skeleghoul', below)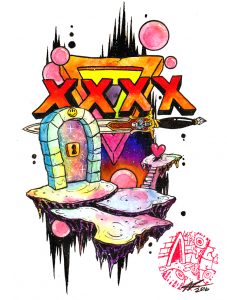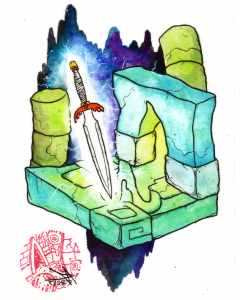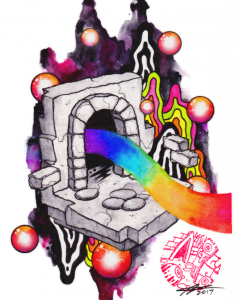 Personal motto?
"NEVER HALF ASS ANYTHING. ALWAYS USE YOUR FULL ASS."*
*Just don't waste your damn time on bullshit. Sometimes going full in isn't worth it.
"ON THE PATH TO GREATNESS, THE PEOPLE WHO WILL HINDER YOUR QUEST THE MOST ARE THOSE WHO TELL YOU YOU'RE ALREADY THERE."
Art Questions
Why the name 'Skeleghoul'?
BECAUSE I AM A SKELTN LOOKN MOTHFUCKER AND ALSO IT RHYMES WITH HELL COOL. SKELEGHOUL WAS MY PERSONAL USERNAME FOR A WHILE, WHICH I LATER SWAPPED OUT WITH ZERO HIT POINTS.
ULTIMATELY, IT WAS A BRANDING CHOICE THAT LEAD ME THERE. YOU GOOGLE 0 HP AND IT'S LIKE WHATEVER DUDE HERE'S BULLSHIT. YOU GOOGLE SKELEGHOUL AND THERE I AM.
… and what about 'Turbo Lich'?
I'M A FAST PACED BONE MAN, CALL ME THE TURBO LICH.
THERE'S A VLMA LYRIC THAT GOES "I THINK THAT I THINK TOO MUCH, MY MIND HAS A MIND OF IT'S OWN" WHICH IS SINGULARLY THEE MOST RELATABLE REMARK I EVER DID HEAR. I REALLY DO FEEL LIKE I'M THINKING A MILE A MINUTE, WHICH MIGHT SOUND COOL AND GREAT, BUT IT'S MORE OF A PROBLEM BECAUSE I'M ALWAYS GETTING WAY AHEAD OF MYSELF. I MIGHT STOP DRAWING SO I CAN GO JERK IT TO ASA AKIRA, AND THEN COME BACK WITH A THREE OR FOUR NEW PROJECT IDEAS THAT I INSIST I HAVE TO START PLANNING OUT IMMEDIATELY. SO A LOT OF THINGS NEVER GET DONE. I DO SAVE THESE IDEAS FOR LATER, BUT THAT STOCKPILE IS GROWING REAL BIG AND WHAT ZE FRANK WOULD CALL BRAIN CRACK IS UNGODLY ADDICTING.
Favorite other artist(s)?
I LOVE SKINNER TO DEATH. REALLY, IF I EVER GOT MY HANDS ON HIM, I'D SACRIFICE HIM TO MYSELF AND DRINK HIS BLOOD AND CONSUME HIS UNHOLY POWERS.
I ALSO LOVE KATSUYA TERADA, WHO DID ARTWORK FOR THE DRAGON WARRIOR, LINK TO THE PAST, AND LINK'S AWAKENING PLAYERS GUIDES.
THEN THERES FRAZETTA WHO I'M LOOKING AT TO HELP ME BRING LIFE INTO MY GENERALLY VERY MUCH EMPTY DUNGEONS AND FANTASY SCAPES.
I LIKE FUCKYOUBAKER AND HIS SELF PROCLAIMED RAGE PORN WHICH ENDS UP ALSO BEING VERY RELATABLE.
BILL WATTERSON IS ANOTHER REALLY GREAT INFLUENCE.
THERE'S ANOTHER WHO HAS PROFOUND INFLUENCE OVER ME, BUT WE'LL TALK ABOUT HIM LATER, AND A BUNCH OF OTHER ARTISTS THAT I GENERALLY ENJOY.
(Art by 'Skeleghoul', below)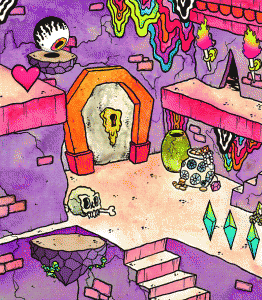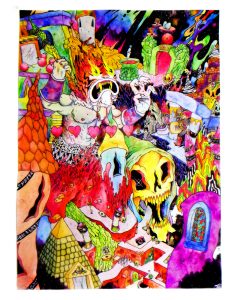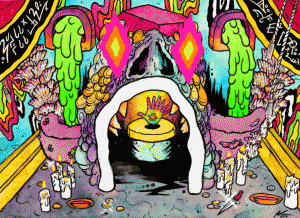 Worst aspect of the contemporary art-hustle?
IT'S DIFFICULT NOT TO LOOK AT OTHER ARTISTS WHO MAKE SERIOUS BANK AND GET REALLY ENVIOUS OF THEM WHEN YOU FEEL LIKE YOU'RE PUTTING MORE EFFORT INTO EACH PIECE THAN THEY ARE. IT'S DISCOURAGING TO WATCH PEOPLE SELL THINGS FOR HUNDREDS AND YOU STRUGGLE TO SELL ANYTHING FOR MORE THAN A PALTRY FIVE BUX.
THE ADVENT OF THE INTERNET BROUGHT US THIS SUPER CONNECTED COMMUNITY, SO IT'S EASIER NOW MORE THAN EVER TO WRITHE IN YOUR OWN FRUSTRATION WHILE YOU WATCH OTHERS HAVE MORE FUN AND SUCCESS THAN YOU, NO MATTER HOW MUCH YOU WANT TO LOOK AWAY. IT'S JUST TOO EASILY ACCESSIBLE.
Best aspect of the contemporary art-hustle?
THE PART WHERE I GET PAID IS NICE. I LIKE THAT ASPECT A LOT.
MAKE NO MISTAKE, Y'ALL, I ENTERED THIS ALL FOR THE MONEY BY EXPLOITING MY INSATIABLE DESIRE TO CREATE THE ART I WANT TO SEE. SKELEGHOUL IS A FUCKING GREEDY MISER AND WANTS TO REMIND YOU THAT THERE ARE NO REFUNDS. HE ALSO WANTS TO WARN YOU YUNG BLUD ARTISTS OUT THERE THAT THERE'S LITTLE PROFIT TO BE HAD IF YOU'S THINK YOU GON MAKE ORIGINAL ART FOR A LIVING.
(Photos below of some metallic pins released by 'Skeleghoul')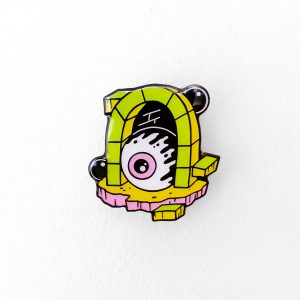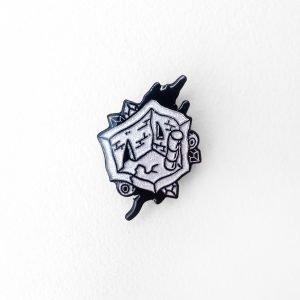 Do you consider what you are making to be 'art', 'design', re-hashed crap?
WHILE I HAVE A LOT OF IDEAS FOR MERCH THAT I CAN'T AFFORD, I TYPICALLY BELIEVE EVERYTHING I MAKE TO BE ART. IF I WERE TO MAKE VIDEO GAMES, THEY'D STILL BE ART BEFORE THEY WERE VIDEO GAMES.
I NEVER REALLY CONSIDERED MYSELF A DESIGNER. FEELS TOO TECHNICAL AND I'M JUST TRYNA RUN WILD WITH COLORS AND MADE UP LEGENDS. NOT TRYNA BE A REPEATER AND JUST CRANK OUT CHARACTER WHITE BACKGROUND EVERYDAY.
When and why did you first start making 'art' (drawings, paintings, anything)?
WHEN I WAS A YUNG BLUD, MY FOLKS GOT ME SUPPLIES, LIKE PAINT AND CRAYOLA, AND FROM THEN I'D JUST CREATE.
ULTIMATELY, I FEEL I FIRST STARTED DOING IT BECAUSE OF MY OBSESSION WITH THE IMAGES INSIDE THEM MANUALS, AND BECAUSE I WAS GENERALLY KIND OF A LONER ANYWAY. I WAS GROUNDED A LOT, TOO, SO I SPENT A LOT OF TIME IN MY ROOM, SOMETIMES AFTER HAVING MY SHIT THROWN AWAY BECAUSE I NEVER CLEANED MY ROOM, JUST SITTING AT MY DESK DRAWING STUFF ON PAPER I STOLE FROM SCHOOL.
What did you draw as a pre-teen child?
WIZARDS AND MONSTERS AND SHIT.
ESPECIALLY MONSTERS.
What did you draw as a teen?
IN ADDITION TO THE WIZARDS AND MONSTERS, I DID A LOT OF HALLOWEEN AND CYBERPUNK KIND OF STUFF TOO.
A BIG CHUNK OF MY LATE TEENS WAS DEVOTED TO WHAT I CONSIDERED TO BE THE REINVENTION OF CLASSIC HALLOWEEN. NOT TO MENTION A BUNCH OF GARBAGE EMOTIONAL PIECES. HAHAHAHA, TRASH.
(Photos below of some 'Skeleghoul' stickers)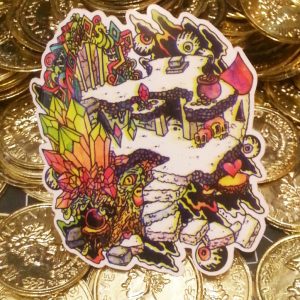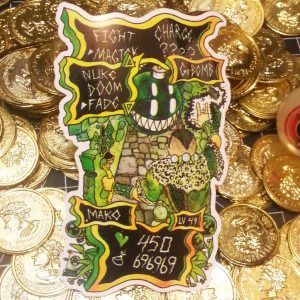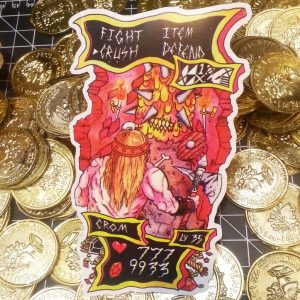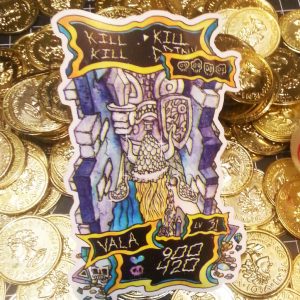 Any pivotal artistic moment/influence?
WHEN I READ AN ARTICLE THAT SAID HIGH ON FIRE ONLY FUCKS WITH TRADITIONAL ARTISTS. I KNEW THEN THAT I HAD TO DROP THE DIGITAL SHLOCK AND GET INTO USING TRADITIONAL MEDIUMS. IT WASN'T A HARD CHOICE TO MAKE BECAUSE I ALREADY FELT THE DIGITALLY COLORED SHIT WAS TOO FLAT AND SOULLESS. I CHOSE WATERCOLOR BECAUSE I REMEMBERED I COULD GET SOME GNARLY TEXTURES OUT OF EM.
Why + when did you decide to go in on the art hustle?
BECAUSE I WAS SICK OF POTENTIAL EMPLOYERS ALWAYS EMAILING ME BACK "We're sorry, but we're gon' go ahead and look for more qualified applicants"
FUCK COMPUTER APPLICATION PROCESSES.
Describe the method of making your work? (dot point all o.k.)
* your paintings?
THE SKETCHING IS ALWAYS THE MOST FUN. RUNNIN WILD ALL OVER THE PAPER. IT'S LIKE A CHAOTIC DANCE, WHICH OFTEN IS PACED BY THE MUSIC WHICH I'M LISTENING TOO.
AFTER THAT THE FUN IS OVER AND THE PARTS WHERE I ACTUALLY HAVE TO SHOW SOME SELF CONTROL BEGIN. I START BY ADDING A BASIC INK OUTLINE OF MOST THINGS, WHICH SERVES AS A GUIDE FOR THE FOLLOWING WATERCOLOR TREATMENT.
WHEN I COLOR, I USUALLY LIKE TO DROWN MY PAPER SO I CAN GET THOSE  SICK TEXTURES AND FIGHTS FOR DOMINANCE BETWEEN TWO OR MORE COLORS THAT TAKE UP THE SAME PUDDLE. THAT PROCESS CAN TAKE DAYS SOMETIMES WEEKS BECAUSE I CAN'T USE A HAIR DRIER TO SPEED THAT PROCESS UP, OTHERWISE I'M JUST PUSHING THE WATER AND PIGMENT AROUND AND THAT AIN'T COOL.
AS MORE AND MORE OF IT GETS COLORED, I START TO FLESH OUT THINGS A LITTLE MORE, ADDING MORE LAYERS FOR SHADE AND LIGHT, USUALLY WITH GOUACHE.
AFTERWARDS, I PUT MY FINAL LINE WORK OVER TOP TO BRING IT TO A FINISH.
* your drawings and illustrations?
LITERALLY I JUST DO THE SAME THING AS PAINTING, BUT WE GO FROM FIRST STEP STRAIGHT TO  THE FINAL STEP, AND USUALLY THAT TAKES A LOT LESS TIME.
* your digital art?
HAHAHAHAHA never again
I DO PIXEL ART SOMETIMES BUT NOT ENOUGH TO TALK ANYMORE ABOUT IT.
* your prints?
WHATEVER I CAN AFFORD, WHICH RIGHT NOW, IS EAST HARBOR PRINTING. SHOUT OUT TO DRAG, ALWAYS A PLEASURE TO WORK WITH YOU.
* your apparel – such as t shirts and enamel pins?
THESE ARE THINGS THAT I USUALLY LET OTHERS HAND AS WELL.
PIZZA PARTY I PAY TO MAKE SHIRTS (IF I MAKE SHIRTS), AND TITTYBATS RELEASED MY LAST BATCH OF PINS.
MAYBE ONE DAY, I'LL BE ABLE TO PRINT MY OWN BULLSHIT.
(Art by 'Skeleghoul', below)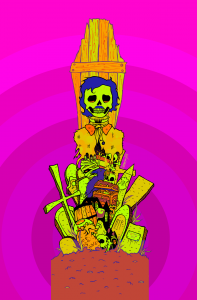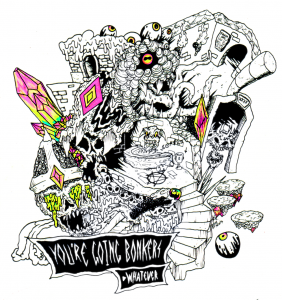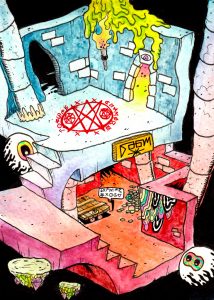 If you could oversee the collaboration of any 2 artists – living or dead…
* who would you choose?
LISA FRANK AND FRANK FRAZETTA
* what would you have them work on together and why?
I WANT THEM TO MAKE WHAT FRAZETTA BASICALLY ALREADY WAS MAKING, BUT WITH MORE INTENSE COLORS AND 90'S PATTERNS. THAT SHIT WOULD LOOK SO COOL.
I know you and ole Tony Papesh are tight – i mean you have drawn him for god's sake – so i wanna know…
* what impact has ole Tony had on your personal and artistic life, and why?
TONY IS A GREAT MENTOR AND AN EVEN BETTER FRIEND.
I FEEL SOMETIMES I DON'T APPRECIATE HIM ENOUGH, AND I'D LIKE TO RECTIFY THAT WHERE I CAN. HE'S TAUGHT ME A GOOD FAIR BIT ABOUT ANIMATION, SHARED OUR MUTUAL FRUSTRATIONS ABOUT OUR CAREER CHOICE, AND HE GENUINELY HAS BEEN A HUGE HELP TO ME.
WE'VE NEVER MET, BUT REST ASSURE, IF WE DO, WE'RE HITTING THE BOOZE HARD AND IT'S GONNA BE A GRAND OL GAY OL TIME. MAYBE THEN I CAN BETTER CONVINCE HIM INTO A CO-OP IN PERSON…
STRAY THOUGHT; WE KINDA SHARE THE SAME APPROACH TO COLOR.. AS TONY WOULD SAY "COLOR THEORY? WHAT'S THAT? USE ALL THE COLORS!" IF YOU LOOK AT OUR WORK, DESPITE THE DIFFERENCE IN STYLE AND MEDIUM, THE COLORS ARE GENERALLY DONE THE SAME WAY, WHERE WE SNEAK IN A BUNCH OF COLORS WHERE MOST PEOPLE WOULD ONLY PUT ONE. SHHHH, IT'S A STANKY PINK SECRET TO EVERYONE.
HE'S ALSO THE REASON I PICKED UP GOUACHE IN THE FIRST PLACE. I REMEMBER WELL BEFORE WE CONNECTED, I HIT HIS TUMBLR UP ABOUT WHAT HE USES. HE SAID GOUACHE. SO I PICKED UP GOUACHE.
(Tony Papesh tribute art by 'Skeleghoul', below)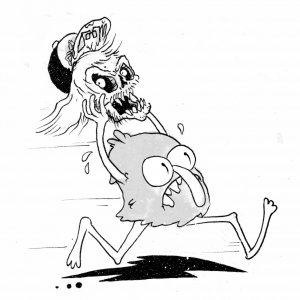 * how did you and Tony come to make that initial connect and what united you two fellow artists… into… well… friends?
HE STARTED STREAMING LIVE ON PERISCOPE AND I HAVE THIS THING ABOUT STREAMING, SPECIFICALLY AS A VIEWER, WHERE I'M GOING THERE FIRST OF ALL TO BE SOCIAL, AND SECOND OF ALL BECAUSE I'M INTERESTED IN WHAT THEY'RE DOING.
I WOULD EVENTUALLY GO IN AND MAINTAIN CONVERSATIONS BETWEEN HIM AND FELLOW VIEWERS. KINDA WISH MORE PEOPLE WERE LIKE THAT SKELEGHOUL BOY WHEN I STREAM., ANYWAY, EVENTUALLY I JUST HIT HIM UP ON IG. WE BONDED OVER OUR LOVE OF CASTLEVANIA AND JUST VIDEO GAMES IN GENERAL.
* if you and Tony ever decided to act on your desires and make sweet sweet love, what music would you choose to play to accompany the act, and why?
PLAAYYYING. PLAYING WITH BOYS. ONE OF LIFE'S SIMPLE JOYS.. PLAYING WITH THE BOYS.
('Playing with the Boys' by Kenny Loggins – from the 'Top Gun' soundtrack – 1986)
MAYBE FOLLOWED UP BY 'ROCK N ROLL QUEEN' BY THE SUBWAYS.
('Skeleghoul's' portrait of Tony Papesh, below)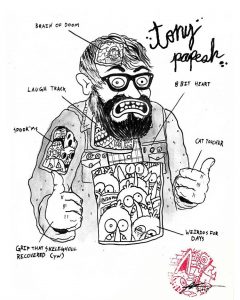 * to your knowledge and / or imagination, what does a typical day for Tony currently involve?
WAKE UP TO CAT

GO TO WORK (IF APPLICABLE, SKIP IF UNEMPLOYED)

COME HOME AND DRINK

CHUCKLE

PAINT OR DRAW SOME SHIT

PLAY SOME VIDEO GAMES

CHUCKLE

GO OUT WITH THEE GIRLFRIEND

SET SELF ABLAZE AND BECOME A RAGING FIRE DEMON THAT CRUSHES EVERY MALL EVER WITH THE SOUND OF THEE BLACKEST OF METALS PLAYING IN THE BACKDROP

SNAP BACK TO REALITY

BE SALTY WITH THE DRUNK KIDS OUT AT NIGHT

SLEEP EVENTUALLY

CHUCKLE IN SLEEP
(Photo below of Mr Tony Papesh in mall crusher fire demon mode)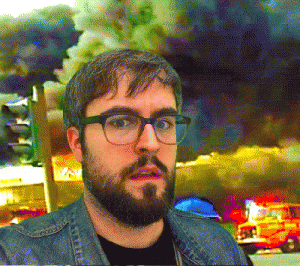 * if Tony was an animal, what animal would he be, and why?
A ST BERNARD THAT TAKES NO ONES SHIT. HE KINDA LOOKS LIKE ONE, TOO. A JEWISH ST BERNARD. HE'S NOT EVEN JEWISH. AMAZING.
If people wanted to collaborate, work wth you or just buy some art – how should they get in touch?
IG AND EMAIL IS USUALLY KEY.
ESPECIALLY IG BECAUSE I'M ALWAYS ON IT, BUT ESPECIALLY EMAIL BECAUSE MY PHONES LED FLASHES WHEN I GET EMAILS.
BUT ESPECIALLY IG BECAUSE IT'S EASY.
Toy + Collecting Questions
What role did toys play in your childhood?
I PLAYED WITH LEGOS A LOT AS A KID BECAUSE THEN I COULD CREATE MY OWN TEMPLES OF DOOM AND SECRET CASTLES. GET THAT LOUD INDIANA JONES SHIT ROLLIN, J'KNOW? BEYOND THEMS, AND SOME ACTION FIGURES, THEY WEREN'T VERY MUCH TOY TIME WITH ME. DO VIDEO GAMES COUNT AS TOYS?
I THREW MY HOT WHEELS OUT ON THE STREET JUST TO DESTROY THEM BECAUSE IT WAS FUN AND THE ONES THAT STILL FUNCTIONED AFTERWARDS I KEPT, WHILE THE OTHERS I MADE A JUNKYARD FOR THEM AND SET THEM ON FIRE SOMETIMES.
EDIT;  I RECENTLY ACQUIRED AN IRON KLAW ACTION FIGURE JUST LIKE THE ONE I USED TO HAVE AND IT STILL LOOKS SO FUCKING CASH.
(Photo below of 'Skeleghoul's Iron Klaw GI Joe Extreme toy – made by Kenner)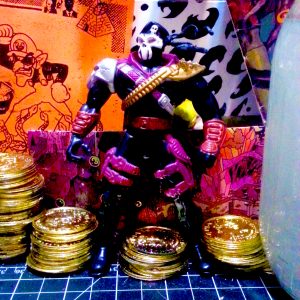 Please write a brief timeline of your collecting history?
BIRTH – 2014 = …. NADA
2015 – NOW = …..Y'ALL GOT ANY OF THEM GAME GUIDES LAYIN ROUND? I SURE WOULD LIKE TO TAKE THEM OFF YOUR HANDS. 80'S TO EARLY 2000'S ONLY PLEASE.
Item(s) you have lost, sold or given away that you wish you still had and why?
MY XBOX 360 BECAUSE FABLE 2 AND DEAD RISING WERE FUN AS SHIT AND I SOLD IT FOR 80 BUX AND SOME TIME TO HANG OUT WITH THE BUYER BECAUSE I WAS LONELY.
Favorite 3 items you own and why?
MY COPY OF LINK TO THE PAST BECAUSE IT'S CURRENTLY MY FAVORITE ZELDA GAME (NO I HAVE NOT PLAYED BREATH OF THE WILD. I'M A BROKE ASS MOTHFUCK, SO THAT WON'T BE FOR A WHILE).
MY YARDSTICK THAT I USE TO PLAY STICK GUITAR ON LIKE NOBODY ELSE CAN AND GRAB THINGS FROM AFAR OR HIT POWER SWITCHES WITHOUT GETTING UP.
MY DAGGER BECAUSE I LIKE TO WAKE UP EARLY AND SACRIFICE BITCHES IN THE MORNING. THE GODS LOVE DOGS, J'KNOW?
Top 3 grail items you would like to own and why?
A SWEET RIDE SO I HAVE SOMEPLACE TO CRASH WHEN I GET KICKED OUT FINALLY.
THE ORIGINAL PAINTING OF SKINNER'S 'AZATHOTH INVOKED" BECAUSE THAT SHIT BLOWS MY MIND.
A VALID CHECK FOR A COUPLE MILLION DOLLARS.
Odds n Ends
Favorite TV show(s)?
THE ONLY SHOWS I REMEMBER WATCHING AND LIKING PROFOUNDLY ARE THE SIMPSONS, RICK AND MORTY, GRAVITY FALLS, AND DARIA.
I DON'T WATCH TV MUCH. HARDLY AT ALL.
Favorite sport(s) + teams?
I DON'T GET REALLY INTO SPORTS, BUT IF THE MOOD ARISES, IT'S FOR HOCKEY. SKELEGHOUL RIDES WITH THE CAPS. SKELEGHOUL ALSO WOULD LIKE TO MAKE HIS OWN HOCKEY JERSEY.
Favorite movie(s)?
CONAN THE BARBARIAN, THE MASK, WHO FRAMED ROGER RABBIT, YOJIMBO, THE DOLLARS TRILOGY, NEVERENDING STORY, DRIVE, BOTH OF THE OUTRAGE FILMS, HOBO WITH A SHOTGUN, INGLOURIOUS BASTERDS, AND SMUGGLER.
(Art by 'Skeleghoul', below)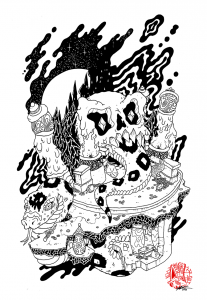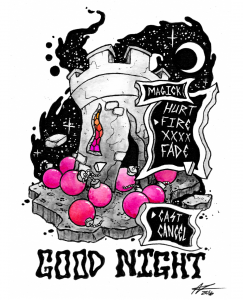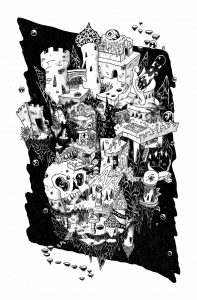 Favorite books and comics?
BESIDES MOST OF MY PLAYERS GUIDES, BRAM STOKERS DRACULA, SPACE RIDERS, AND VARIOUS CALVIN AND HOBBES COLLECTIONS.
FOX TROT WAS COOL, I GUESS.
Please describe your experiences growing up in America?
A LOT OF MACHO BULLSHIT WHICH IS CONTRASTED BY BRATTY FLAKEY WANKS.
A LOT OF PEOPLE HERE TAKE SHIT TOO FAR. I GREW UP THINKING THIS WAS THEE COUNTRY BLESSED WITH STRENGTH BY UNITY BUT THIS PLACE JUST GETS MORE AND MORE DIVIDED.
ALSO, EVERYTHING IS TERRIBLY RUINED BY PC CULTURE AND IT'S EXTREME OPPOSITION.
Who was your 1st crush and why?
SAMMY BECAUSE SHE WAS THE ONLY OTHER GIRL WHO WOULD TALK TO ME, AND BECAUSE I DON'T ACTUALLY REMEMBER HOW TO SPELL THE OTHER GIRLS NAME.
Does sex change everything?
IT CAN AND ABSOLUTELY DOES CHANGE A LOT.
Please describe your latest dream in detail…
I DON'T KNOW ABOUT THE LATEST, BUT THE LAST ONE I REMEMBER…
I WAS ON THE BEACH IN CALIFORNIA WITH THIS BEAUTIFUL GIRL I KNEW FROM IG, AND WE WENT TO A FORTUNE TELLER'S PLACE BECAUSE IT HAD HELLA NEON SIGNS OUTSIDE. BUT IT WAS COMPLETELY BARE INSIDE SAVE FOR THE FORTUNE TELLER'S TABLE AND CRYSTAL BALL.
SO WE STOLE THE BALL, LEFT, HIT UP THE BOARDWALK ROLLER COASTER, GOT OFF, AND WE SAW A TRUCK THAT LOOKED LIKE IT WAS PAINTED BY BOTH ME AND ROB ZOMBIE AND IT HAD HER ART ALIAS "DAEHKCUF" ON THE BACK, AND THE KEYS WERE IN MY POCKET.
SO WE DROVE OFF AND IN 3 MINUTES WE WERE IN SOME SWAMPY PART OF FLORIDA BUT IT WAS ALL PALM TREES, AND WE STOPPED AT A TRUCKSTOP AND ATE IN THE CABIN OF HER TRACTOR TRAILER AND WATCHED TWO BUFF SWOL DUDES, ONE A BIKER LOOKING MOTHERFUCKER, THE OTHER A MECHANIC, GET INTO A MAD GNARLY FIGHT ALL OVER THE PLACE. THE BIKER DUDE WAS WINNING 'CAUSE HE HAD BRASS KNUX, WHICH WERE ANODIZED TO LOOK SHINY AND RAINBOW LIKE, BUT THE MECHANIC TURNED IT AROUND REAL QUICK WITH A HUNK OF TWISTED METAL THAT HE PICKED UP AND STRAIGHT UP DECAPITATED THE OTHER GUY. THEN HE DIED FROM HIS WOUNDS AND BEATINGS.
DAEHKCUF TOLD ME TO GO GRAB THE DUDES KNUX CAUSE THEY LOOKED COOL SO I DID, AND WE LEFT FOR MEXICO, ARRIVING IN JUST 2 MINUTES.
WE STOP AT THIS JUNK YARD LIKE PLACE AND UNLOAD OUR HAUL; A FUCK TON OF SCRAP METAL, WHICH WE EXCHANGE FOR CASH. WE GET TACOS AND NACHOS AND THEN HEAD TO MARYLAND, AND CRASH DRIVE THROUGH THE SHITTY PARK I GO TO OFTEN. THE TREES WERE ALL DIFFERENT THO, ALL WITH PINK LEAVES AND EVEN PINK FLOWERS. WE GOT ONTO THE BELTWAY WHILE THE COPS CLOSED IN ON THE PARK, MISSING US COMPLETELY.
ON THE BELTWAY, I SAW A BUILDING CALLED THE TOWER OF TERROR (BUT IT DIDN'T LOOK LIKE THE RIDE.. IT LOOKED WAY COOLER) AND I SAID "I ALWAYS SAW THAT PLACE AS A KID BUT NEVER WENT AND I STILL WANNA GO" AND SO SHE PULLED OFF AND WE FOUND A DIFFERENT PLACE THAT WE ASSUMED WOULD HAVE BEEN THE SAME EXACT THING, CALLED THE CALL OF CTHULU, AND IT WAS A 7 STORY BUILDING LOADED WITH SUPER PSYCHED OUT ART AND DECOR, TWISTED PASSAGEWAYS AND THE COLORS WERE…
THAT'S WHEN I WOKE UP.
Which 1990's era cartoon, would you most like to see as a sex toy, and why?
** Please sketch a prototype as well. **
HARD TO SAY. I DON'T REMEMBER A LOT OF 90'S CARTOONS 'CAUSE I DIDN'T WATCH TOO MANY OF THEM, AND I DON'T WANT TO JUST GIVE ANY OL ANSWER WITHOUT THINKING IT THROUGH.
SO HERE'S A SCHEMATIC OF A DILDO I DESIGNED LAST YEAR OR THE YEAR PRIOR, I'M NOT TOO SURE. WOULD ABSOLUTELY LIKE TO MAKE A NEW DESIGN AND ACTUALLY HAVE IT MADE.
(Picture below of the 'Skeleghoul' prototype dildo)
Who would win in a fight and why: Kirby ('Nintendo') Vs. Skeletor ('Masters of the Universe')?
** Please draw the battle in all it's violent beauty! **
KIRBY HAS KILLED ENTIRE HOARDS OF LIVING THINGS, THE WEATHER, SKILLED EDGE LORDS, GIANT ROBOTS, AND NIGHTMARES THEMSELF. WHAT HAS SKELETOR DONE? SAID MYAH AND CALLED PEOPLE BOOBS A LOT.
KIRBY WOULD BEAT TF OUTTA HIM AND ABSORB HIS ABILITY TO DELIVER A LOT OF CONDESCENDING AND OTHERWISE, SNIDE REMARKS TO EVERYONE.
(Picture below of a victorious Kirby, post draining the power of the feeble Skeletor)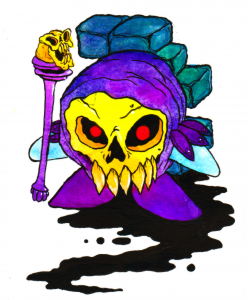 Have you ever tried psychedelics of any sort? And what was the experience like?
I TRIED MORNING GLORY SEEDS ONCE. IT WASN'T MUCH, JUST A LOT OF PRETTY COLORS.
THEN I TRIED SHROOMS WHILE I WAS ON TOUR WITH RATBOILER. THEY SCORED THEM AT THEIR PREVIOUS GIG, AND WE DID THEM WHILE WE WERE AT THE SINGER OF SKULL THEFTS PARENTS TIMESHARE IN MYRTLE BEACH. WE LEFT ON FOOT TO GET A MOVIE AND THE DRUGS STARTED TO TAKE EFFECT.
I REMEMBER THEY KINDA JUST HIT SLOWLY AT FIRST, AND THEN ALL AT ONCE. WE GOT OUT OF WHATEVER STORE WE WERE IN, THE MAJORITY OF US WHO DID DO THE SHROOMS, AND JUST STARTED LAUGHING OUR ASSES OFF. WE EVENTUALLY GOT A MOVIE AND I REMEMBER THE 7-11 THAT THE RED BOX WAS AT HAD THIS ABSURDLY UGLY MOTHER FUCKER IN THERE WHO I THOUGHT WAS A TROLL, AND THIS SOUTHERN VALLEY GIRL WHOSE ACCENT WAS SO THICK, IT MIGHT AS WELL HAVE BEEN AN ALIEN LANGUAGE. WHEN WE GOT BACK, MY ASS WENT STRAIGHT TO COUCH, AND I JUST PLUGGED IN MY MUSIC DIRECTLY TO MY EARS, AND STARTED TO DRAW, WHILE THE FLOOR BECAME LIKE SLIME, AND EYES AND MOUTHS FORMED ON MY KNUCKLES.
ON THAT DAY, I DECIDED MY AESTHETIC WOULD BE EYES SLIME AND TEETH, WHICH YOU CAN STILL SEE IN MY WORK, BUT NOW IT'S DONE WITH TASTE AND NOT JUST FOR THE SAKE OF DOING IT.
I STARTED DRAWING UP IDEAS FOR A COMIC THAT WOULD STAR MATT PIKE BUT NOT ACTUALLY MATT PIKE HE JUST LOOKED LIKE MATT PIKE, AND IT WAS CALLED MORE REVENGE. A WARRIOR GETS CALLED UP BY THE KING TO DO HIS BIDDING AND DECLINES AND ENDS UP PAYING FOR IT, SO HE GOES ON A QUEST TO KILL THE KING AND HIS COURT WIZARD.
Of everything you have done what would you most like to be remembered for and why?
MY FURY WIZARD PAINTING BECAUSE THAT'S SO FAR THE BEST PAINTING I'VE DONE.
ALSO MY BETTER-THAN-ALL-THE-OTHER-ARTISTS SUPERIORITY COMPLEX. I'M ON A QUEST TO BE THE BEST ACCORDING TO ME.
Drugs – waste of time or gateway to the universe?
NEITHER.
BUT ALSO BOTH.
Please describe what you think the American Psyche/Zeitgeist is today?
EVERYONE IS STRESSED THE FUCK OUT AND MOST PEOPLE HAVE TROUBLE ENJOYING ANYTHING BECAUSE THEY LET THEIR POLITICS RUIN EVERYTHING FOR THEM AND THOSE AROUND THEM.
I ALSO THINK WE HAVE A HUGE THROW BACK RETRO CULTURE COMING UP BECAUSE THE PREVIOUS GENERATION GOT TO SELF AWARE AND WE'RE SCARED THAT WHAT THEY LIKED AS KIDS WOULD BECOME INSIGNIFICANT LIKE HOWDY DOODY AND WHATEVER OTHER SHIT THAT THEIR FOLKS ENJOYED DID FOR THEM. FEW PEOPLE ARE GETTING ANY FOOTING WITH ORIGINAL NEW THINGS BECAUSE THESE GIANTS ARE EVERYWHERE HOARDING EVERYTHING.
DEATH TO GIANTS OF ALL SIZES.
The Future
Any collaborations on the horizon?
PROBABLY NOT.
AS MUCH AS I LIKE THE IDEA, MY FAITH IN PEOPLE ACTUALLY KEEPING IN TOUCH FOR A COLLABORATION HAS BEEN RUN THIN. MY EXPERIENCE WITH ATTEMPTING COLLABS SO FAR HAS BEEN A HUGE WASH, THOUGH NOT A TOTAL ONE.
REAL TALK THOUGH, I REALLY WANT TO RESTORE MY FAITH IN OTHERS BUT I JUST CAN'T BRING MYSELF TO DO SO. SO FOR NOW, I ONLY DREAM OF CO-OPS WITH TONY, SKINNER, WIZARD CLEAVE, AND GRADY GORDON.
Any major projects you want to hype?
I HAVE A BUNCH OF SHIT LINED UP, LIKE I SAID BEFORE. RIGHT NOW IT'S JUST PAINTINGS IN THE SPECTRUM 18 SERIES, WHICH I MAY END UP DOING MORE OF IN THE FUTURE. BART TO THE PAST, SELF EXPLANATORY CONCEPT IF YOU'RE SHARP ENOUGH TO CATCH MY DRIFT, WHICH WILL BE A FULL COLOR FULL BLEED ZINE SOONER OR LATER.
I HAVE A BUNCH OF GAME GUIDES FOR GAMES THAT DO NOT EXIST PLANNED OUT, TOO, LIKE FOR GRIND PLANET, APOCRYPHAL, SUNSET RED, CRAWL, LEGENDARY, THE DOPENESS, GLOOPOIDS REVENGE, AND EVENTUALLY, A CRYSTAL WEAPONS REMAKE, WHICH I ONLY WANT TO DO SO I CAN CHECK ON MY IMPROVEMENT, AND UPDATE THE LORE.
I HAVE A BUNCH OF DREAM PROJECTS, TOO, IN SCULPTURE AND VIDEO GAMES, BUT THOSE ARE ALL VERY FAR OFF INTO THE DISTANCE AND YOU SHOULDN'T EXPECT TO HEAR OF EITHER FOR A VERY LONG TIME, IF EVER.
BEYOND THAT, I STARTED STREAMING ON TWITCH, YOU CAN CHECK THAT OUT AT TWITCH.TV/SKELEGHOUL, I'LL POST ON IG WHEN I GO LIVE, USUALLY IT'S AT NIGHT ON WEEKDAYS.HOPEFULLY, I'LL GET KEEGAN ON BOARD FOR A COUPLE STREAMS, THAT'D BE GREAT.
I'M WORKING TO SAVE UP FOR A NEW COMPUTER SO I CAN DO THE OCCASIONAL GAMING STREAM AND MAKE VIDEOS AGAIN. I LIKE MAKING VIDEOS, THEY'RE FUN. I JUST DON'T LIKE DOING THEM WHEN MY COMPUTER OVERHEATS AND SLOWS DOWN. AND THAT'S ABOUT IT.
THANKS FOR THE CHAT AND INTEREST JOSH. SHOUT OUT TO VLMA FOR BEING LOUD, AUSTEN FOR HELPING ME WITH MY GAME GUIDE COLLECTION, AND TONY FOR BELIEVING IN ME MORE THAN ANYONE USUALLY DOES.
Links